If you are willing to have a home theater set up in your house for a better and more immersive listening experience but with a tight budget, you could not afford to have it.
No worries, we have some better ideas for you. Get the Best Soundbar with Dolby Atmos technology and enjoy virtually expansive sound quality in your home.
Soundbar with Dolby Atmos is the perfect alternative to height speakers that bounces off the ceiling and create a 3D surround sound environment, bringing all channels to the job for audio depth and clarity.
Assuming the amazing features and high demand for the best Soundbar with Dolby Atmos, we have tested and reviewed the top products available in the market.
Let's explore each soundbar in detail and choose the best for our regular music streaming.
List of the Best Soundbar with Dolby Atmos in 2023
1. VIZIO M512a-H6 M-Series 5.1.2 Soundbar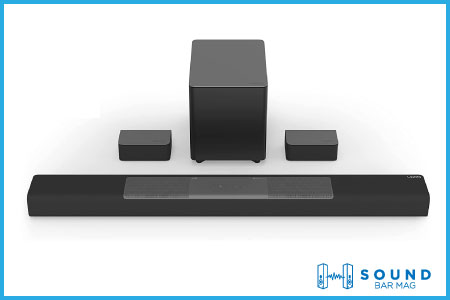 Vizio M512a-H6 M Series 5.1.2 Premium soundbar has great sound quality when playing music or watching movies. We tested it with music, movies, and podcasts and loved the overall performance.
It also has useful features like the Dolby Atmos mode, which creates an immersive experience by placing sound effects above and around you in 360 degrees.
Plus, the built-in subwoofer provides extra bass sounds that come in handy when watching movies, listening to bass-heavy content, or playing video games with plenty of gunfire.
The voice assistant compatible feature means you can control the soundbar using your voice, which is great for people who have difficulty manually operating electronics. Overall, this is a great soundbar that's perfect for anyone looking for quality audio without having to break the bank.
It does come with one drawback, though – it isn't the most portable soundbar, so you might not be able to take it with you if you're planning on moving often.
But altogether, this soundbar can easily be considered one of the best options currently available on the market with Dolby atmos.
It features great quality with an aesthetic black in color design, making it look classic and cool simultaneously.
Not only that, but two up-firing speakers are also in the package with dynamic and accurate sound quality. So, there is no need to get external speakers when installing this soundbar in your home theater setup.
Pros
• 5.1.2
Dolby Atmos
• Included Speakers
• Remote Control
• Voice Assistant
• Accurate Sound Quality with Aesthetic Design
2. VIZIO P514a-H6 Elevate Soundbar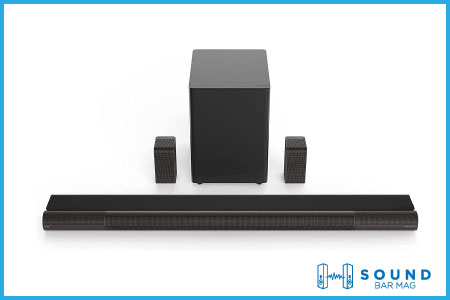 If you want a more upgraded Dolby atmos version under the Vizio brand, then the VIZIO Elevate soundbar is perfect.
As it comes with two HDMI ports for connecting other devices and one optical output, you can use it to power your A/V receiver as well. With its 4K Ultra HD resolution support and built-in wireless subwoofer, this soundbar lets you enjoy immersive sound right from your TV.
And if Dolby Atmos is something that you are looking forward to experiencing, then the VIZIO Elevate soundbar is worth considering. Though it is worth trying because the sound is incredibly well with enriched projection.
It also features four up-firing speakers with accurate sound quality, Dolby atmos, and DTS-X cinematic sound. Moreover, you can connect this soundbar to your TV using the included HDMI cable or the optical output if you have a 4K Ultra HD television.
Additionally, we loved the performance of the built-in subwoofer that goes well with the bass-heavy content. It smartly catches the low frequency notes and deliver with much power and energy.
The VIZIO Elevate soundbar has a sleek design that will look great in any home theater setup. It is pretty easy to install and use, making it perfect for anyone new to home theater. The soundbar's quality is amazing, and it offers great value for the price.
Some downsides of this soundbar are that it doesn't come with remote control, and its installation process might be a bit tricky for some. However, overall, the VIZIO Elevate soundbar is a great choice if you want to upgrade your home theater setup and experience an immersive soundbar with Dolby atmos in all its glory.
Pros
• The sound quality is amazing
• Easy to set up and use
• It features four up-firing speakers
• Accurate sound quality and Dolby Atmos
• Included HDMI cable

Cons
• Tricky Installation process
• Not Remote controlled

3. SAMSUNG HW-Q70T Soundbar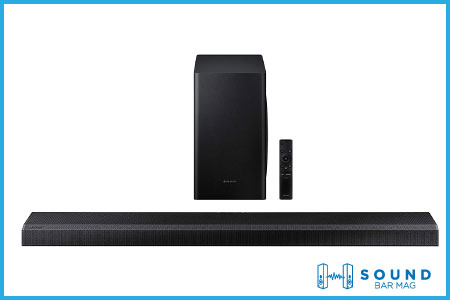 Next on the best Samsung Soundbar with Dolby Atmos list is a brand that needs no introduction toward its class and quality.
Samsung's HW-Q70T Soundbar is a soundbar of top-notch quality with Dolby Atmos and DTS:X technologies. It comes with a sleek design and is easy to install, and it took us hardly a few minutes to unbox and set it on the furniture.
The sound quality produced by this soundbar is simply amazing, especially when paired with a good pair of speakers. The brand offers a 2-year warranty, which shows its confidence in its quality.
If you are looking for the best sounding Soundbar under $500, look no further than the Samsung HW-Q70T Soundbar. It highlighted features that attract are the Q symphony Sync system and True 3.1.2 sound.
The soundbar has 3 sound channels: two are upfiring sound speakers, and 1 is a subwoofer to add some bass to the room. 
The Samsung HW-Q70T soundbar is a great choice for those looking for a high-quality soundbar with Dolby Atmos and DTS:X technologies. It is easy to set up and produces amazing sound quality.
It also features Samsung acoustic beam technology and adaptive sound for every entertainment genre. You can enjoy movies as well as games with clear and immersive sound.
The product's only downside is that it does not come with a remote. However, connecting it to a TV using the included HDMI cable wasn't rocket science. Navigation with the included buttons and the TV remote is available, so no problem.
Overall, the Samsung HW-Q70T Soundbar is an excellent choice for those looking for a top-quality soundbar that offers Dolby Atmos and DTS:X technologies.
Pros
• Produces amazing sound quality with Dolby Atmos and DTS:X technologies
• Easy to set up
• It comes with a 2-year warranty
• Sleek design
• Adaptive sound

Cons
• It does not come with a remote

4. TCL Alto 9+ Soundbar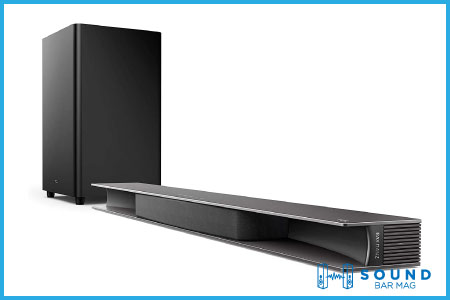 Well, if you don't want your hands on the product as mentioned above, you can dive into something fresh and different cause our next best soundbar with Dolby atmos is from TCL. TCL alto 9+ 3.1 is a great soundbar with amazing Dolby Atmos surround sound.
TCL alto 9+ is a great device because it has Dolby Atmos support and comes with a wireless subwoofer and built-in Chromecast, which means that you can easily stream audio from compatible devices to the soundbar.
Another great feature of this soundbar is its ability to connect wirelessly to your home network, allowing you to stream music from any device without messing with cable clutters.
TCL also provides a deep bass feature because the wireless subwoofer and Dolby Atmos surround sound system double the joy. It has all the connectivity options you could hope for, with a 3.5mm input and output, optical audio out, and a built-in Bluetooth connection.
Plus, it also comes with WiFi, so you can easily stream music from your smartphone or tablet to the soundbar without having to use cables.
The only downside of this soundbar is its lack of an HDMI connection, limiting your compatibility choices when it comes to gaming devices or other cinema-grade equipment.
Overall, we think that the TCL Alto9+ 3.1 Dolby Atmos soundbar ar is a great alternative if you are looking for a soundbar with Dolby Atmos support. It features Ray Danz technology and is wireless, perfect for easily streaming audio from compatible devices. 
Pros
• Has Dolby Atmos support
• Wireless subwoofer and Chromecast built-in
• Plenty of connectivity options
• Comes with WiFi

Cons
• Lack of HDMI Connection

5. VIZIO SB36512-F6 Soundbar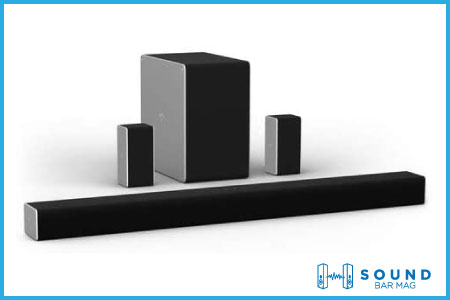 Vizio SB36512-F6 36″ 5.1.2 soundbar is another great addition to your home theater if you need the best, along with the comprehensive technology of Dolby Atmos.
It has a similar design to many other soundbars with Dolby Atmos features, but the low-key profile blends into our space.
Nevertheless, the addition of a Bluetooth subwoofer makes it different, which allows you to fill up entire rooms with sound. Though the subwoofer requires a sweet spot to perform at its full potential. We found it after some testing.
Features that distinguish it from rivals are premium cinema sound experience at a home-built theater with up-firing speakers and a true surround sound system with Dolby Atmos.
The soundbar has a 6-ohm impedance rating and supports digital audio output up to 5.1 channels with a frequency response of 38Hz to 20kHz.
It also supports Bluetooth 4.2 with A2DP, AVRCP, and HFP profiles for wireless music streaming from your smartphone or tablet.
The built-in Chromecast support makes it easy to stream online content from your compatible devices directly to the soundbar without having to leave your couch.
The HDMI ARC and optical input make connecting this soundbar to your TV easy and allow for great flexibility regarding placement.
Overall, if Dolby Atmos is your top priority in a soundbar, then Vizio SB36512-F6 36-inch 5.1.2 Soundbar should be at the top of your list, ensuring convenience, sound quality, and versatility at this price.
Pros
• Dolby Atmos
• Surround Sound
• Chromecast Built-in
• Premium Cinema Sound Experience
• 6-ohm Impedance Rating
• Supports Digital Audio Output Up to 5.1 Channels

6. Philips PB603 Soundbar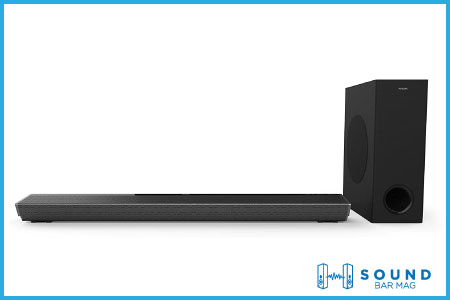 Philips PB603 is another soundbar with Dolby Atmos and has a wireless subwoofer. After hearing good word of mouth about the product, we couldn't resist testing the profile.
The soundbar looks attractive and rigid, and comes with a loud and strong vocal performance.
It also offers 3.1 channels, 320W output power, 4K passthrough, 1x HDMI-in (ARC), and 1x HDMI-out. The sound quality is good, and the design is sleek.
It features a TAP 603 remote with a built-in microphone to control the soundbar with your voice. The Philips PB603 is also eligible for Amazon Prime Day 2019 deals.
The Philips PB603 comes with an AmazonBasics power cord and a user manual, and we found it at the top when unboxing the unit.It also includes a 3-year warranty card that hints for its reliability.
What makes us add it to the list of the best Soundbar with Dolby atmos is that it has a good sound quality with 320w output power and three-dimension virtual surround sound to add crispness to the entertainment.
It also comes with 2 HDMI connectivity options, perfect for TVs with 2 HDMI ports. Apart from that, it also has 1x optical and 1x coaxial digital audio output.
Slim and minimalist design makes it an excellent choice for any home entertainment center. One downside is that it doesn't have an optical audio output which may be an issue. Philips PB603 is a good soundbar with Dolby Atmos and a wireless subwoofer.
Pros
• Good sound quality with 320w output power
• 3-dimensional virtual surround sound
• Dolby Atmos compatible
• 2 HDMI connectivity option

Cons
• No Bluetooth connectivity

7. LG SP9YA Soundbar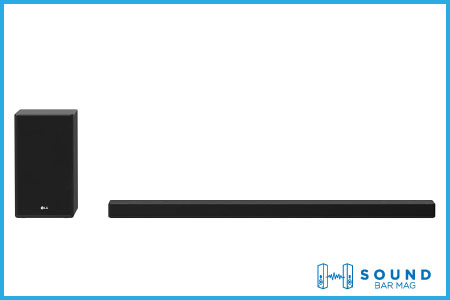 LG is another great soundbar that comes with Dolby Atmos. This sound format is a technology that allows you to experience sounds from all directions with perfect clarity.
It also comes up with a wireless subwoofer that makes it easy to get the bass you need. When we turned it on, it instantly started aligning the frequencies and made the sound more enriching and solid.
The design of this soundbar is also great, and it has a subtle yet modern look and is easy to set up. You need to connect the soundbar to your TV and the subwoofer, and you are ready to go.
One downside of this soundbar is that it does not have a lot of features. However, it is still a great option if you are looking for a simple and effective soundbar to upgrade TV speakers.
This LG SP9YA 5.1.2-ch Dolby Atmos Soundbar with Wireless Subwoofer (2021) is a great preference for those who want a quality audio experience without having to spend a lot of money.
Pros
• 5.1.2 Dolby Atmos soundbar with wireless subwoofer
• Sleek, modern design
• Excellent sound quality
• Meridian Dolby Atmos technology

Cons
• Bit Expensive to Some Users

Best Soundbar for Dolby Atmos – Buying Guide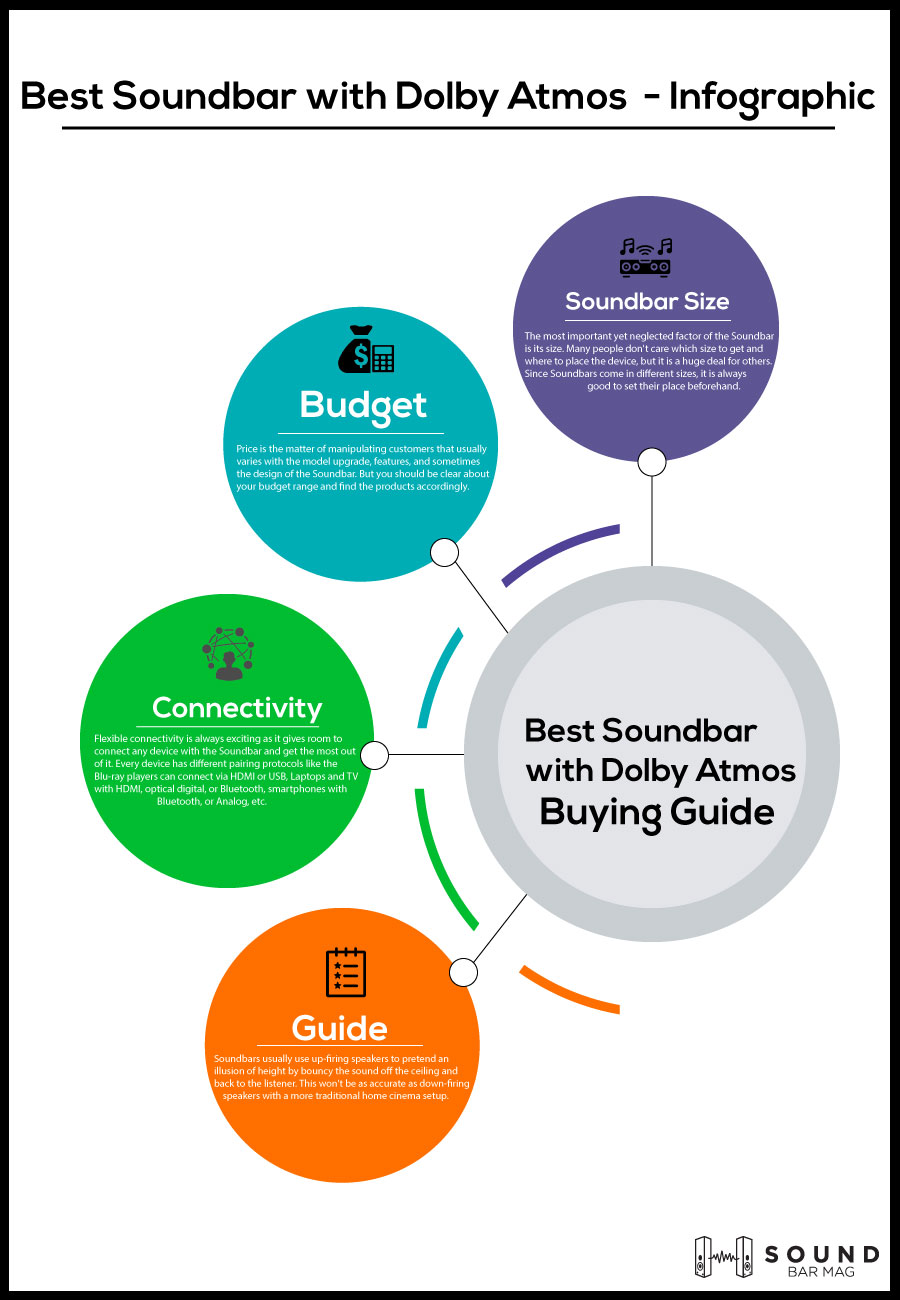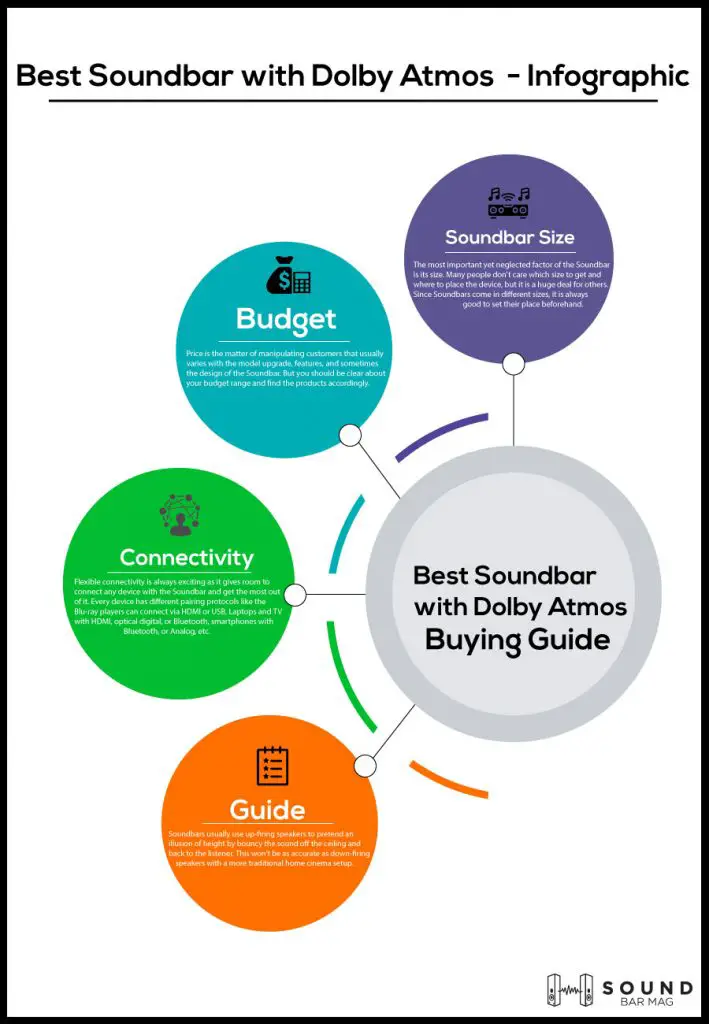 Soundbars usually use up-firing speakers to pretend an illusion of height by bouncy the sound off the ceiling and back to the listener. This won't be as accurate as down-firing speakers with a more traditional home cinema setup.
The ones that do incline to be more costly than most, but if you're after a more normal listening experience, they're worth considering. Apart from that, other factors need attention before making the final decision about getting the Soundbar. Here are some things that are better to consider to avoid any potential trouble post-shopping.
Soundbar Size
The most important yet neglected factor of the Soundbar is its size. Many people don't care which size to get and where to place the device, but it is a huge deal for others. Since Soundbars come in different sizes, it is always good to set their place beforehand.
Luckily, the Soundbar with Dolby Atmos delivers virtually rich sound that bounces off the ceiling and ensures excellent clarity so that you can place it anywhere in the room. But you still need to estimate height and width if you plan to set it underneath the TV.
Budget
Price is the matter of manipulating customers that usually varies with the model upgrade, features, and sometimes the design of the Soundbar. But you should be clear about your budget range and find the products accordingly.
Always remember that the more qualities you demand in the Soundbar, the more you have to pay. But your main focus lies on better sound quality with rich detailing and clarity.
Connectivity
Flexible connectivity is always exciting as it gives room to connect any device with the Soundbar and get the most out of it. Every device has different pairing protocols like the Blu-ray players can connect via HDMI or USB, Laptops and TV with HDMI, optical digital, or Bluetooth, smartphones with Bluetooth, or Analog, etc.
So, you should get the Soundbar with multiple connectivity options toalways be ready to operate with whatever device you want.
Frequently Asked Questions (FAQs)
What is the best Soundbar with Dolby atmos?
TCL Alto 9+ is the best Soundbar, with Dolby Atmos having impressive features and a decent design. Apart from a Dolby Atmos support, it comes with a wireless subwoofer that enhances the sound performance by adding some bass. Besides, the built-in Chromecast and WiFi pairing gives you enough room for unlimited music streaming.
Is it worth to buy a Dolby Atmos soundbar?
If you want to experience virtual 3D cinematic sound, buying a Dolby Atmos Soundbar is worth it. The audio format technology ensures high-resolution audio with next-level clarity.
Does Dolby Atmos work with any soundbar?
Soundbars come with the built-in technology Dolby Atmos, the advanced audio format to deliver crisp, clear, and loud audio. However, not every Soundbar integrates Atmos; you can find the top 7 products with the technology in this article.
Conclusion
A soundbar is a great device that can bring unlimited entertainment to our homes by connecting to smartphones and other devices. It is a reasonable update to traditional speakers that struggle to deliver high-resolution audio with clarity.
Besides, Soundbars are easy to set, quick to pair, and relaxing to hear. The best Soundbar with Dolby Atmos has more to offer than regular Soundbars as they ensure a 3D virtual surround sound experience in our places. We hope all the products above can help you make the right decision.
Mia Evelyn is a soundbar specialist and she love to test and review different soundbar brands. She shares her neutral and in-depth reviews through the Soundbar Mag.