Are you willing to set up a home theatre without breaking the bank?
Well, you are at the right place to explore how you can enjoy high-definition audio with terrific quality and maximum power output with the best soundbar with surround sound.
The soundbars equipped with surround sound technology deliver spacious, wild, and powerful sound that no typical speaker can produce. So, don't forget to check out these 10 best soundbars with surround sound that will transform the idea of music listening and provide easy setup and rich connectivity options for no hassle.
Also, don't forget to catch up on the mini buying guide for more valuable knowledge about this incredible innovation.
List of the Best Soundbar with Surround Sound in 2023
1. YAMAHA SR-B20A Sound Bar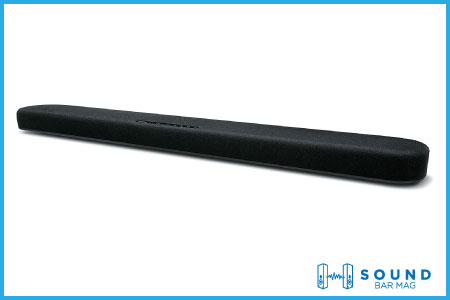 No one ever wants a soundbar less than the best, and it comes as more of a choice pick in the case of a surround soundbar. So, after picking and taking a look into every bit of detail, we can assure you that the Yamaha SR-B20A soundbar is one of the best surround sound soundbars.
When I say this, I mean it because it has every feature that a user may need in a soundbar to enjoy quality audio coming from their expensive devices.
The design of the Yamaha SR-B20A soundbar is sleek and modern. It looks great on any TV stand or in a home cinema. It also has a built-in subwoofer which gives it the power to provide deep bass sounds. This soundbar is ideal for adding a touch of sophistication and class to their home cinema.
Yamaha SR-B20A is a great soundbar with surround sound. It has a powerful digital amplifier that delivers clear and crisp audio. The built-in subwoofer ensures you get deep bass sounds. You also get 5 speakers, which provide rich and immersive surround sound. 
The only drawback I found in this soundbar is that it is available in only one black color. But still, the Yamaha SR-B20A soundbar is packed with features that make it a great choice for those looking for the perfect soundbar with surround sound.
Pros
• Sleek and modern design
• Comes with a built-in subwoofer
• Perfect for home cinema
• Delivers clear and crisp audio

Cons
• Comes in only one color, black

2. Bose Smart Soundbar 300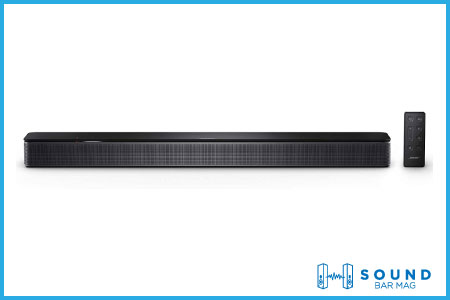 The next top-notch product that stands reputed as the best soundbar with surround sound list is Bose smart soundbar 300, a complete home theater solution that offers amazing sound quality with crystal clear dialogue and immersive surround sound.
The sleek design complements any home decor, while the convenient Bluetooth connectivity allows you to wirelessly stream your favorite music, movies, and TV shows without any mess. Plus, the voice control features enable you to operate it hands-free with just your voice. 
Apart from its amazing sound quality, the Bose smart soundbar 300 is packed with other features such as multi-room audio, virtual assistant support, etc. This means that you can enjoy your music and movies in any room of your house, even if multiple people are using the soundbar at the same time.
The virtual assistant support allows you to control playback preferences, volume, and more with your voice commands, making it a breeze to use. Plus, the sleek design means that it will look great in any room of your home while sitting on the furniture or mounted under the TV.
However, it is a bit expensive and can cost you around 400 to 500 dollars which is a little high for a soundbar with this channel system and features. But with the premium quality, it is surely worth the money, and you will not be disappointed by the performance at all.
Pros
• Superior sound quality
• Convenient Bluetooth connectivity
• Virtual assistant support
• Multi-room audio

3. Polk Audio MagniFi Max SR Home Theater Surround Sound Bar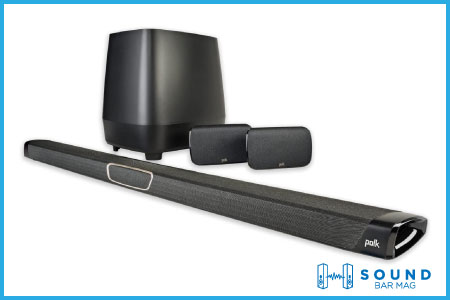 We have a Polk audio 5.1 surround sound home theater as our next best selection on the list. This soundbar features a versatile design that works with both 4K and HDTVs. It has a powerful amplifier that allows for clear sound playback even when listening to music, podcasts, or movies. You can also hook it up to your wireless subwoofer for an added bass boost.
The included speakers are of high quality, ensuring you get great sound from this product. It also has an HDMI input to easily connect it to your TV, gaming console, or any media player.
Overall, it is an impressive choice for anyone looking for a soundbar with surround sound for heavy parties and celebrations, as it will provide clear audio playback.
It seems to be a complete entertainment package with a powerful soundbar, wireless subwoofer, and wireless rear surround speakers. They create a wide soundstage without ruining the audio quality. Google Chromecast gives you access to online music streaming services, and Bluetooth keeps up with wireless connection support.
The sound system gives value to money by delivering what you could ask. A handy remote control provides primary control, and the voice adjust technology offers immersive listening by customizing the audio according to the content.
Pros
• Premium product quality
• Boosted bass
• Voice adjusts technology
• 4K and HD compatible
• Easy to set up

Cons
• Lack of detailed resolution

4. Sony HT-A5000 Soundbar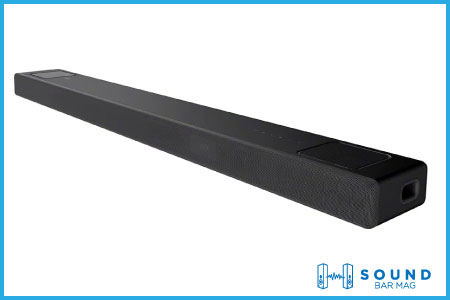 Sony HT-A5000 5.1.2ch Dolby Atmos Soundbar is a Surround Sound Home Theater system with DTS:X and 360 Spatial Sound Mapping. It delivers a spacious sound and works with Alexa and Google Assistant.
It is one of the best soundbars for multipurpose due to its rigid profile and powerful audio delivery. We loved the overall shape, as it didn't take much time to break in and produce a heavy punch.
Sony is a well-reputed brand in electronic products, and they have come up with a soundbar with Dolby Atmos and DTS: X, which are known to enrich the sound quality and make it clearer and more detailed.
This soundbar is perfect for those looking for an immersive surround sound experience without leaving the comfort of their house.
With this soundbar, you will enjoy a 5.1.2ch Dolby Atmos audio output and 360 Spatial Sound Mapping, which will allow you to pinpoint the exact location of sounds in any room.
Connectivity with Bluetooth, HDMI, and Wi-Fi allows you to pair a variety of devices and enjoy most of the devices. You can enjoy Amazon music, Apple, or Spotify without connecting to an external device via Wi-Fi support.
Additionally, this soundbar is compatible with Amazon Alexa and Google Assistant, making it easier to control your music and settings via voice commands. Plus, it comes with a three-year warranty to ensure you get a quality product.
However, you may find it quite expensive compared to the competitors. It is worth the investment for its high-resolution clear audio that can reach the sky limit without compromising enjoyment.
Pros
• Premium sound quality
• Multiple connectivity
• 8K And 4K supported
• 360 Spatial Sound Mapping
• 3-year warranty

5. Samsung HW-A450/ZA Soundbar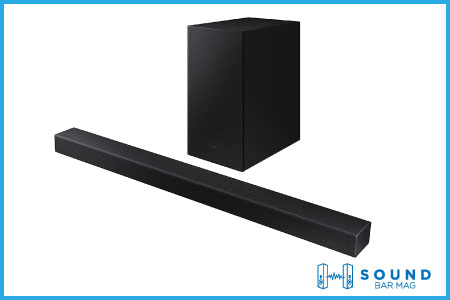 Samsung is the name of quality in their respective products, and this specific soundbar truly defines how professional they are in maintaining quality standards.
Samsung always sets the bar high with its soundbar production, and this HW-A450/ZA 2.1ch Soundbar is no exception. It is one of the best soundbars with surround sound we tested, but the limitation of audio format supports like Atmos is a big turn-off.
This soundbar is perfect for any home theater system with a sleek design. The rich sound quality and immersive surround effects will make you feel like you are right in the middle of the action. You don't have to sacrifice quality for price with this product, as it offers great value for your money.
One of the wildest things about this soundbar is that it does not require any external devices to work properly. It means that it is perfect for anyone who wants high-quality sound without spending a lot of money on extra components.
You only need an HDMI cable, and you are good to go for streaming, gaming, or enjoying high-quality audio. Besides, this affordable soundbar offers a Bluetooth connection for seamless pairing with smart devices. We were impressed by the Bluetooth range and signal quality.
 Moreover, Dolby Digital decoding minimizes sound delays and enhances content clarity for more immersive listening. The EQ preset of the game delivers a directional sound and is easily adjustable via remote control. The remote had buttons at the front, which was heaven for us.
The soundbar may have limited functions, but the sound quality is incredible enough to give it a place with your TV. We call it the incredible centerpiece for cinematic systems to enjoy high-definition sound in transparent quality.
Pros
• Rich sound quality
• Immersive surround effects
• Dolby Digital decoding
• 2-year warranty

Cons
• Not the most compact soundbar on the market

6. VIZIO VOP514AH6 Soundbar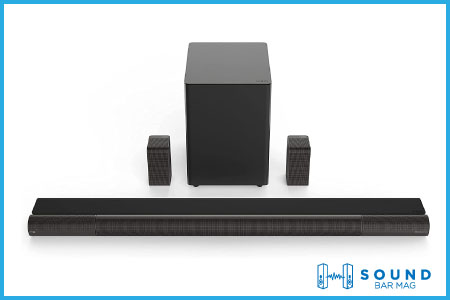 Vizio elevates soundbar is a good-to-go product for everyday music, podcast, or eBook listening. Vizio Elevate TV Soundbar is packed with features that give us a fantastic home theater experience while testing.
We noticed the 5.1.4 surround sound would immerse you in the movie or game, and the subwoofer delivers unbeatable bass for a truly immersive listening experience. Plus, the built-in Bluetooth makes it easy to connect your devices without messing with cable clutter.
The soundbar measures just under a foot tall, making it fairly portable. And its sleek design means it can be placed anywhere in your home theatre setup. Plus, the built-in magnets make mounting the soundbar very easy.
The sound quality of the Vizio Elevate TV Soundbar is excellent. The surround sound is very spacious and wide, and the bass is powerful enough to make your movies and games come to life.
The 5.1.4 channel system means there will be up-firing and side-firing speakers that widen the soundstage, and the dedicated center channel will polish the vocal delivery for better understanding.
It also features a number of other great features, like a built-in HDMI port to easily connect it to your TV and a control panel on the front that makes it easy to adjust the sound settings. The HDMI performance was great and perfectly aligned with the video.
However, it is an expensive soundbar; the Dolby Atmos and DTS: X compatibility justifies every penny. It delivers up to 107dB pressure level enveloping sound, exactly what you need to enjoy fast-action gaming and music.
Pros
• Excellent sound quality
• Immersive surround sound.
• Very portable and easy to mount.
• Atmos and DTS support

Cons
• Bass could be more thumpy
• Limited features for the price

7. Denon DHT-S316 Home Theater Soundbar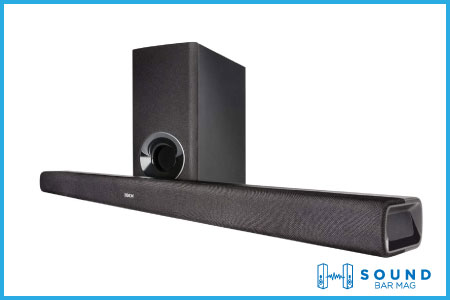 The Denon DHT s316 home theatre soundbar is designed with virtual surround sound technology, which delivers an immersive audio experience. The soundbar also has a subwoofer for added bass impact and a slim profile for easy wall-mount installation.
The Denon DHT-S316 employs a digital audio processor for enhanced clarity and detail. The soundbar is also smart and slim, making it easy to mount on the wall. We also checked the wireless connection and were impressed and Bluetooth compatibility allows you to connect your soundbar with compatible devices.
It is a budget-friendly soundbar that hosts dual mid-range drivers and one tweeter compatible with DTS for surround sound. The stereo dynamics are great, pushing the sound pressure to go up while maintaining the dialogue clarity. It was loud and thundering, enough to bang our windows.
We also loved the Dialogue enhancers that optimize the sound by isolating the dialogues from background tuning, so you understand even the whispers.
The bass and serious rumble deliver dramatic sound, making you feel the center of attention by pinching every beat in your direction.Finding a downside of the Denon DHT-S316 soundbar was quite hard for us, but we must say the limited audio customization option would be a shame.
The bar should have EQ presets that automatically adjusts the sound calibration and dialogue performance based on the content preferences for easy use. Overall, it is the best and perfect soundbar with surround sound for the money.
Pros
• Great build quality
• Smart and slim design
• Virtual surround sound technology
• Adaptive sound
• Wireless subwoofer

8. Sonos Beam (Gen 2) Compact Smart Soundbar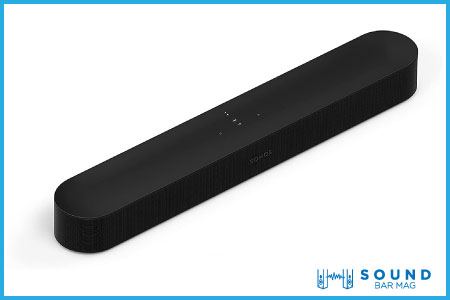 Sonos Beam Gen 2 is a smart soundbar that comes with Dolby Atmos surround sound technology, making the audio output more spacious and wilder for the bedroom.
It has a compact design and is perfect for people who want to add some great sound quality to their home theater setup. The Sonos beam gen two also comes with Alexa built-in to control your entertainment from the comfort of your couch.
We noticed the sound quality of the Sonos beam gen 2 is amazing and emerging. It gets loud with excellent stereo dynamics and maintains the audio output like a pro.
It features Dolby Atmos surround sound technology, giving us a truly immersive experience when watching movies, playing games, or listening to music and podcast.
Besides, rich connection support with Wi-Fi and control via Sonos App makes the usage super convenient. Get hold of the online music streaming platforms, browse your playlist, and enjoy the high-resolution sound from the portable design.
This modern soundbar from the second generation of Sonos can go a long way with true play tuning, crystal clear dialogue with speech enhancement settings, and 3D surround sound. The Atmos clarifies the vocal while making the sound more virtual and dimensional for everyday music listening or gaming.
Easy installation and setup are attractive points for many. You may not notice anything to not like about the soundbar, but its struggle with low-frequency extension is real that can impact the bass delivery. Overall, it is a great choice to enjoy cinematic surround sound at home.
Pros
• Features Dolby Atmos surround sound technology
• Easy to set up
• Comes with Alexa built-in,
• Great sound quality

Cons
• No audio calibration options

9. Samsung HW-Q600A Soundbar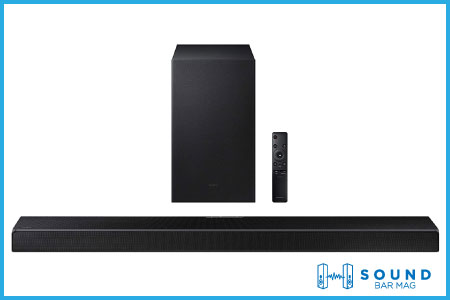 Samsung HW-Q600A is a great soundbar for mixed usage. It is a 3.1.2 channel system soundbar with a plain grille-like structure in black, sitting confidently under the TV.
It is designed specifically for surround sound systems and hence accompanied by a wireless subwoofer for the crisp bass with some serious rumble mixture.
The soundbar hosts up-firing channels and one subwoofer. The full-range drivers throw powerful sound with perfect content optimization and next-level clarity.
The 3.1.2 channel indicates the bar has a dedicated center channel that delivers outstanding vocal performance, clear enough for TV streaming and podcast listening.
We loved how it works terrific while pairing with Samsung QLED TVs as the Q-Symphony function is enabled to synchronize content and deliver immersive audio perfectly. It also features acoustic beam technology that makes the audio directional and moves with the action for gaming.
Dolby Atmos and DTS: X complement the other supportive functions and make the sound richer, letting you elevate the audio from every possible direction in the room.
The setup and using the device are not hard as it sounds. The remote help you access all the built-in functions, and wireless connectivity allows seamless pairing with the available devices.
Though it was challenging to find the drawback, the stereo dynamics disappointed us a little. It can get loud, but there were some noticeable disruptions in the maximum volume, distracting you while listening to the music. But it should be avoidable by enabling the wireless subwoofer.
Pros
• Plug, tap, and play
• Spacious sound without wires
• Smooth setup
• Sound optimization
• Q-Symphony with HDMI

Cons
• A stereo dynamic response could be better

10. JBL Bar 5.1 Ultra HD Soundbar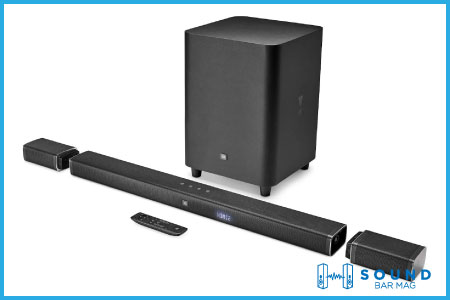 JBL Bar 5.2 is a true piece for home theatre setup with wireless battery-powered surround sound speakers, giving you a luxury experience of music listening.
After giving it a shot, you will forget the cinematic directional sound because the 5.1 system is eager to deliver 510W of maximum power output. The sound quality is loud, engaging, and energetic enough to keep us hooked, especially with hip-hop.
Also, with a sleek and slim design in black and a few buttons at the top panel, the soundbar is not stopping to grab your attention. A built-in display at the front notifies you about the volume and connection support, and the included remote control keeps up with convenient management.
Connectivity with Bluetooth and HDMI with 4K compatibility ensures quick pairing and the best sound reproduction from all your devices. For unlimited home entertainment, it includes 3 HDMI inputs, one Analog, optical digital, and one USB to pair up your 4K devices, including TV, gaming consoles, and media players.
The 10-inches wireless subwoofer will surprise you with fantastic low-frequency extension and delivers room-filling and ground-shaking bass. However, the lack of voice control is a big shame for an advanced soundbar at this price.
Pros
• 10-hours playback with battery-powered surround speakers
• 4K connectivity
• 510W power output
• Ground shaking bass
• Clear audio quality

Best Soundbar with Surround Sound (2023 Buying Guide)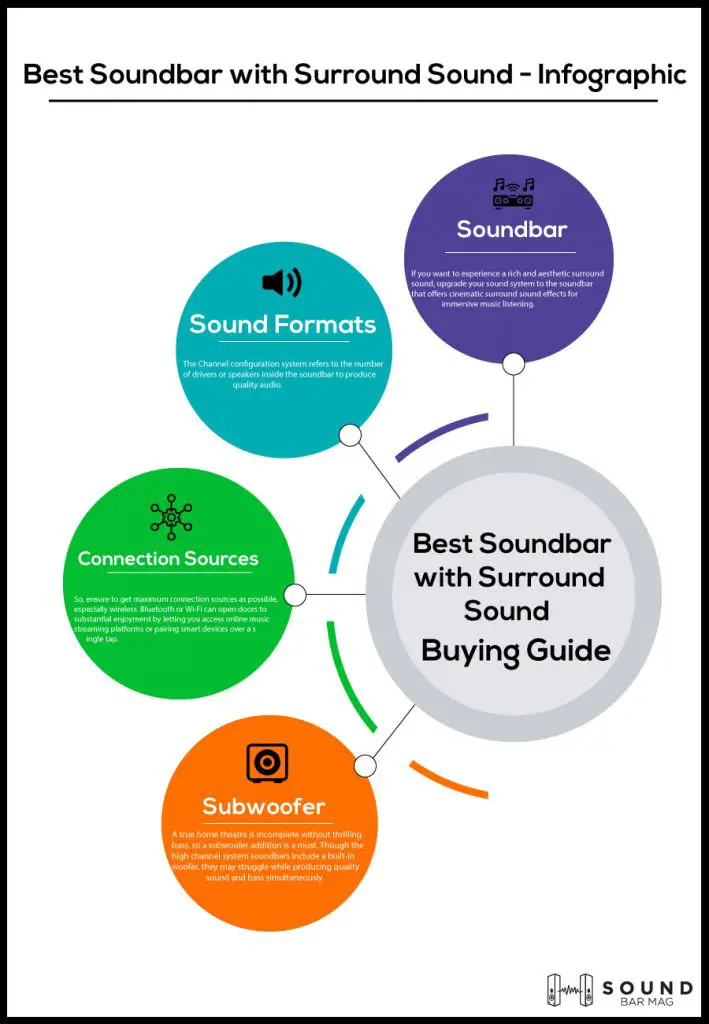 If you want to experience a rich and aesthetic surround sound, upgrade your sound system to the soundbar that offers cinematic surround sound effects for immersive music listening.
We will mention some of the common functions that can turn your soundbar into a surround sound system that you should never avoid considering while shopping. So, let's discuss this without further ado.
Sound Formats
The Channel configuration system refers to the number of drivers or speakers inside the soundbar to produce quality audio. The drivers alone can deliver high-definitionaudio with clarity and reasonable bass. But, if those drivers are compatible with the latest audio formats like Dolby Atmos or DTS:X, they can produce a more thrilling and dimensional sound that reaches everyone in the room without ruining the quality.
The sound effects deliver the surround sound experience from a soundbar, so you don't have to invest in high-end and expensive home theatre setups. The formats enhance the sound reproduction quality
The audio formats enhance sound production, making it rich, pure, and realistic for true music, convincing audiophiles for the worthy purchase. A soundbar with a 3.1 or 5.1 channel system with Atmos and DTS support comes in this particular category.
Connection Sources
What is the point of having a surround sound in your home when you can't make the most out of it by connecting to different devices, including your gaming consoles?
So, ensure to get maximum connection sources as possible, especially wireless. Bluetooth or Wi-Fi can open doors to substantial enjoyment by letting you access online music streaming platforms or pairing smart devices over a single tap.
Moreover, optical digital gives a stable connection with any device, or HDMI adds charm to the TV streaming in 4K. Choose the input ports wisely.
Subwoofer
A true home theatre is incomplete without thrilling bass, so a subwoofer addition is a must. Though the high channel system soundbars include a built-in woofer, they may struggle while producing quality sound and bass simultaneously.
Therefore, a wireless subwoofer comes into action that hosts a downward-facing driver that takes care of low-frequency extension for realistic bass performance. You will find a soundbar with a built-in woofer and a wireless one on our list, so choose according to your placement and budget preferences.
Read also: Samsung Soundbar Equalizer Settings
Frequently Asked Questions (FAQs)
What is the best soundbar with surround sound?
JBL BAR 5.1 is hands down the best soundbar with surround sound with 510W maximum power output, excellent vocal delivery, and multiple connectivity options. It comes with detachable battery-powered surround sound speakers that widen the soundstage and make the sound quality more immersive for listening.
Is surround sound or a soundbar better?
Surround sound is a wise choice if you are after a home theatre setup. However, you have towatch out for specifics like channel configuration, power output, and others to enjoy the surround sound. On the other hand, a soundbar is better for entertaining a large audience while staying on a tight budget.
Do soundbars have good surround sound?
Many latest and high-end soundbars, like Sony HT-A5000, Vizio Elevate, etc., support the Dolby Atmos and DTS: X surround sound formats to deliver enveloping and overhead sound. These sound effects will satisfy you with home-theatre sound quality. 
Can a soundbar be surround sound?
You have to connect external surround sound speakers, for more rich sound performance. A soundbar can provide a simulated surround sound effect if they are compatible with advanced sound formats like Dolby Atmos or DTS: X. However, they can entertain to the limited seating area.
How can I make my surround sound better?
Choose the location wisely and place the speakers carefully in the position where the sound reproduction reaches everyone in the room. Go to the sound settings and calibrate and use the best possible surround sound formats to make the sound enriching and spacious.
Also read: Best Settings for VIZIO 5-1 Soundbar
Conclusion
A soundbar can be more than you think. It is an incredible innovation that can perform as a regular but upgraded speaker for TV watching and deliver a surround sound for a loud, thrilling, and exciting music listening experience.
Check out our review collection of the best soundbar with surround sound and enjoy unlimited entertainment in the comfort of your bedroom. The dramatic sound quality sets the cinematic soundstage at lower prices.
Read also: Best Settings for Samsung Sound bar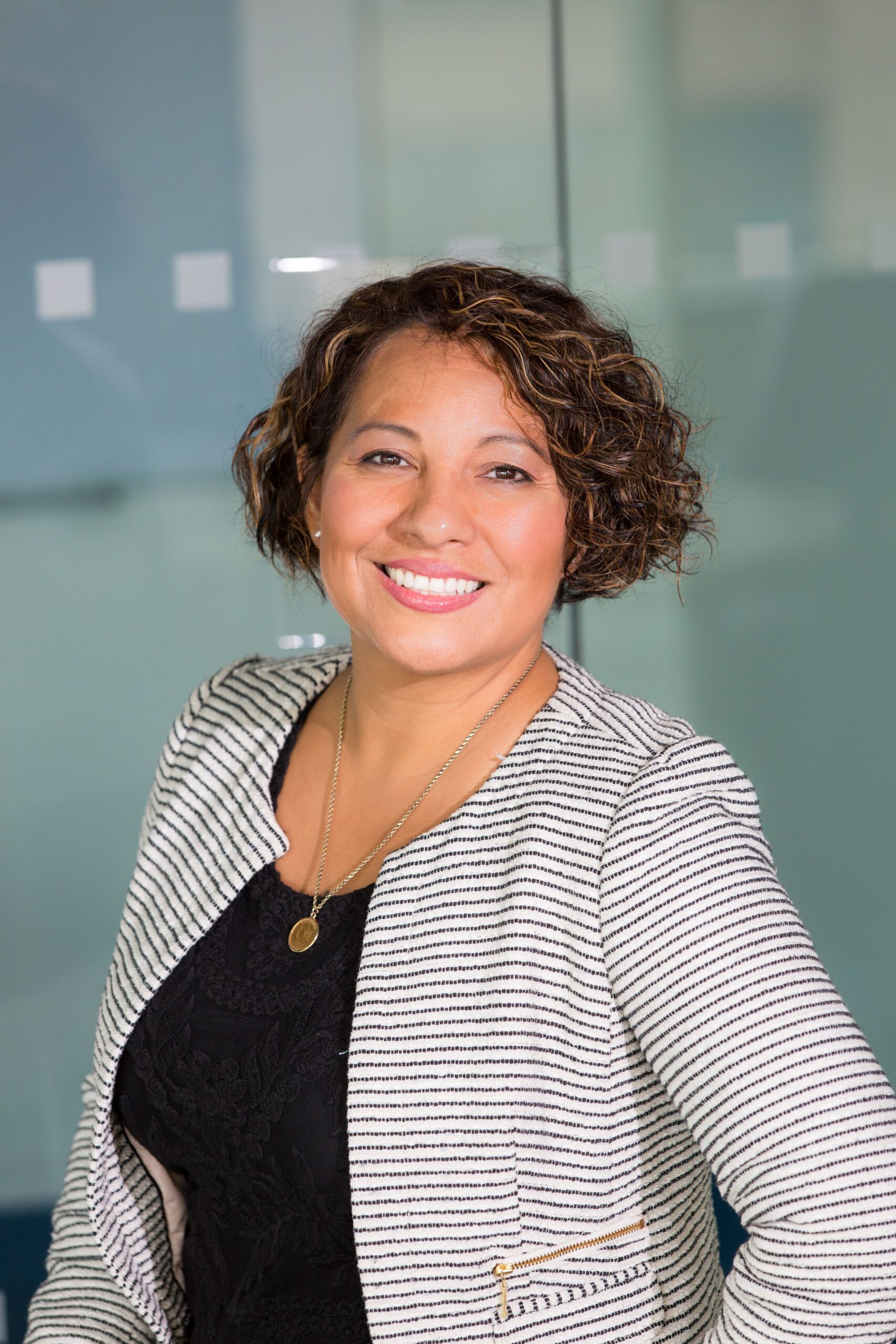 Mia Evelyn is a soundbar specialist and she love to test and review different soundbar brands. She shares her neutral and in-depth reviews through the Soundbar Mag.