While this Bose Soundbar 700 vs. Sonos Beam article may appear harsh at first glance, it is not intended to be. As Bose's most premium offering, the Soundbar 700 is excellent. By contrast, the Sonos Beam soundbar from Sonos is smaller, more affordable, and more compact. Currently, there are many options on the soundbar market, but I think these two are the best.
If you are not sure whether to buy the Bose Soundbar 700 or the Sonos Beam, this article will help. Here we will compare these two speakers in-depth and help you decide which is best for you.
Sonos Beam vs Bose Soundbar 700 Compaison Chart
| | | |
| --- | --- | --- |
| Device | Bose Soundbar 700 | Sonos Beam Soundbar |
| Design | Bar | Bar |
| Weight | 10.5 Pounds | 6.35 Pounds |
| Sound Bar Size (inches) | 2.25″ H x 38.5″ W x 4.25″ D (10.5 lbs) | 2.70″ H x 25.625″ W x 3.94″ D |
| Airplay | Apple Airplay2 | Airplay 2 |
| WiFi | Yes | Yes |
| Control by App | Apple iOS, Android | Apple iOS, Android |
| Voice assistant | Yes | Yes |
| Bluetooth | Yes | Bluetooth low energy BLE |
| Spotify | Yes | Yes |
| Audio Technology | ADAPTIQ audio calibration | Optical Audio |
| Dolby Digital | Yes | Yes |
| Dolby Atmos | No | Yes |
| App | Bose music app | Sono app |
| DTS | Yes | Yes |
| HDMI ARC | Yes | Yes |
| Includes Remote | Yes | No |
| Microphones | Yes | Far-field microphone |
| Separate Subwoofer | Optional | Optional |
| Voice Control | Alexa & Google Assistant built-in | Alexa & Google Assistant built-in |
| Amazon Music | Yes | Yes |
| Wall-mountable | Yes | Yes |
| Colors | Black and White | Black and White |
| Warranty | 1 Year | 1 Year |
| Owner's Manual | Yes | Yes |
Sonos Beam and Bose Soundbar 700 Descriptive Comparis
Lets discuss Sonos Beam and Bose Soundbar 700 all features in detail.
Design
The Bose Soundbar 700 features a sleek design and is ideally suited for living rooms. This soundbar is a perfect mix of sophisticated design and outstanding sound, making it one of the best on the market.
Although the Bose Soundbar 700 may appear slim, it is packed with the latest technologies that promise users the best audio experience possible at any time.
The Bose Soundbar 700 features tempered glass on the top and a wraparound metal grille. Customers will find this product pleasing both to the eyes and ears.
With the universal remote included with the soundbar, you can control all functions and manage your entertainment with a touch of a button. The remote comes with six presets and only lights up when needed, so it is easy to find your favorite entertainment modes.
Its dimensions are 2.25″ H x 38.5″ W x 4.25″ D (10.5 lbs). It comes in black and arctic white colors.
Smart and compact, the Sonos Beam is an ideal soundbar for watching television, listening to music, and other entertainment. Due to its high definition sound, it provides clear and detailed sound at any volume.
Sonos Beam is a modern and compact speaker that would fit into any environment and look elegant without consuming too much space. Capacitive touch controls on the soundbar's top panel let you control volume, play, pause, previous, and next tracks, as well as mute the microphone.
This speaker comes with a remote control so that you can control its functions. In addition, the soundbar is equipped with an LED light that indicates whether it is mute or receiving voice feedback. Overall, the Sonos Beam looks pretty basic and doesn't stand out as much. The dimensions are 2.70″ H x 25.625″ W x 3.94″ D. The colors are black and white.
Features
Sound is dispersed in the best way possible when bouncing off walls with Sonos Beam's 3-channel construction. A TV can be switched off using HDMI CEC through voice command.
In addition, it has a Night mode that reduces sound (but keeps its range the same) when necessary.
Sonos Beam is distinguished by the fact that you choose two voice controls: Amazon Alexa and Google Assistant, versus Bose Soundbar 700's only Amazon Alexa.
Bose's Alexa, however, features eight custom microphones that are designed to pick up voice commands even in noisy environments.
Alexa has a 5-array microphone on the Sonos Beam, which isn't so powerful but still doesn't require complete silence to work.
The best Bose soundbar offers immersive sound, deep bass, and many other features.
Bose Soundbar 700 comes with an app that enables you to manage all your music sources, including Internet radio stations and streaming platforms.
Music
Sonos Beam supports WiFi and Apple Airplay 2. Additionally, the company offers you the Sonos S2, an app that combines voice, streaming, and control features in one place.
Music, podcasts, radio, and audiobooks can all be accessed by one platform, and users can easily switch between them. With this app, you can stream and play music from applications such as Amazon Music, Spotify, and Apple Music.
Users can wirelessly stream content using Bluetooth, WiFi, and Apple Airplay 2 devices with the Bose Soundbar 700. You can play music through apps like Spotify, Amazon Music, or Apple Music. You can also use Bluetooth to play any mobile phone or tablet content.
Additionally, Bose offers a Bose Music App where you can access all your music right from one place and choose from various music stations, playlists, and music services. The application comes with a walk-through guide, and it is easy to use. It gives users the chance to personalize their experience and content.
Voice Control And Voice Pick Up
Sonos Beam's built-in Google Assistant and Amazon Alexa allow users to control music, set alarms, play news, and control other features using voice commands.
Furthermore, the Beam includes LED lights that indicate whether the microphone is on or off.
The Bose Soundbar 700 offers superior voice quality with its in-built voice assistant. Because the soundbar features a custom microphone array, it can pick up your voice clearly, even if background music is loud.
The soundbar also has a stylish light bar that indicates whether the voice assistant is listening, thinking, or speaking.
Bose Soundbar 700 comes with voice control, with apps like Google Assistant and Amazon Alexa built-in. You need to choose your voice assistant, and then you can manage your day and control music through your voice.
Sound Quality & Performance
By enhancing the sound of human voices, the Sonos Beam has been developed by award-winning engineers to make any story easier to follow. With Speech Enhancement, the Beam provides both whispers and action scenes with superb dialogue clarity. You can hear each word clearly and crisply.
In addition to providing deep and rich bass, Beam's four woofers accurately reproduce the mid-range frequencies of your voice. Featuring five far-field microphones, it offers advanced beamforming and multi-channel echo cancellation.
Bose Soundbar 700 also features ADAPTiQ audio room calibration, which adjusts the soundbar's acoustic performance according to your room's environment so users can hear their music clearly.
Using PhaseGuide Technology, which utilizes tiny transducers and multi-directional sound beams, the soundbar delivers an unprecedented level of spaciousness, providing the illusion that the sound comes from outside the speaker.
Although the design is exceptionally slim, the transducers ensure exceptional sound clarity.
Remote Control
I have never experienced a better remote on any soundbar I have used than the one found on the Bose Soundbar 700. Even though I have used the remote many times, I still marvel at how good it is.
Bose soundbars generally offer more presets, but this soundbar gives you more control over the sound than any other. Moreover, it has these fancy lights that only appear based on your selected settings, which is just incredible.
There is no remote on Sonos! You can instead program your TV remote to control the volume. The application for Sonos is also available, but I think that's a step too far.
Price
In my opinion, the Bose Soundbar 700 is the best soundbar that Bose offers. Brand new, the retail price of this expensive product is under $800. This is the most costly soundbar Bose currently offers, and it is a true premium model.
On the flip side, there is the Sonos Beam. In my opinion, this is one of the best soundbars Sonos offers. Currently, it is priced at around under $400, but you can find it for less if you shop around.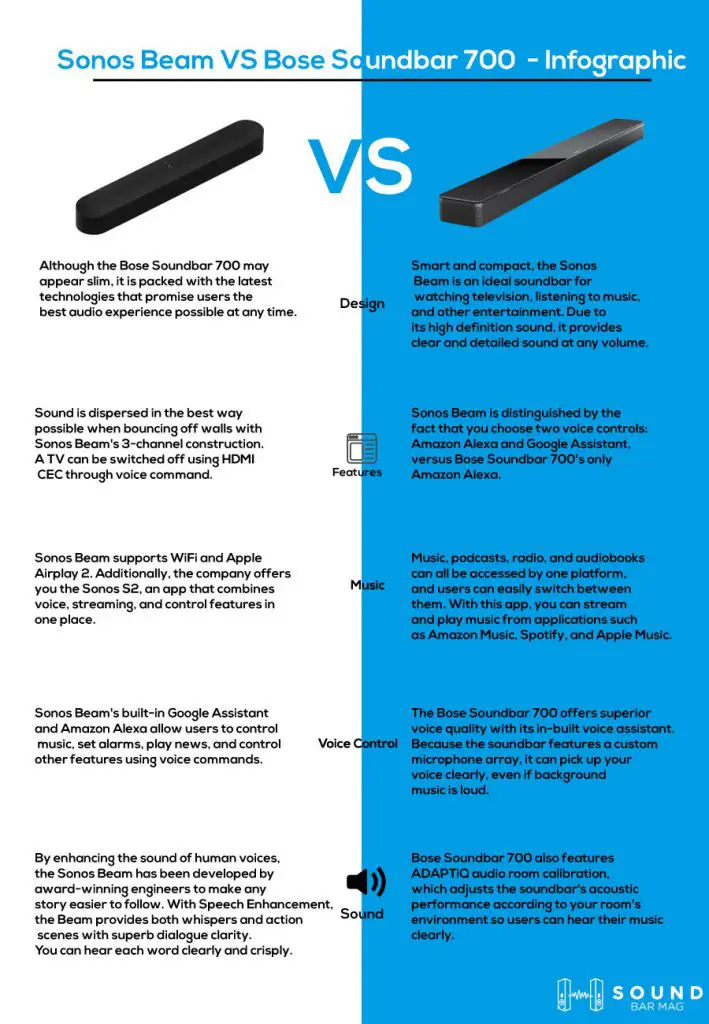 Frequently Asked Questions (FAQs)
Is Sonos Better than Bose 700?
The Bose Smart Soundbar 700 is slightly better than the Sonos Beam. Although the Sonos isn't as well-built, it supports Atmos, making listening to music more immersive. Conversely, The Bose has a more neutral sound profile, supporting Bluetooth playback.
Is Bose as good as Sonos?
Sonos speakers provide crystal-clear sound and built-in voice control via Alexa and Google Assistant. In terms of pairing and connectivity, Bose is better than Sonos. Bose offers WiFi, AirPlay, and Bluetooth streaming, whereas the Sonos One only offers WiFi and AirPlay options.
Will Bose 700 get Dolby Atmos?
The Bose Soundbar 700 does not support Atmos. It is among the leading audio technologies for delivering remarkably accurate sound. However, The 700 uses only DTS and Digital.
Conclusion
The Bose Soundbar is significantly more attractive, elegant, and delicate when it comes to design and appearance. While the Sonos Beam boasts many of the same features as the Bose soundbar, it doesn't stand out in terms of looks.
Setting up the Sonos Beam is much easier than the Bose soundbar 700. The speaker includes just two cables and an automatic detecting remote, and one can begin listening to music right away after unboxing.
Bose Soundbar 700 is slightly more challenging to set up, and its remote has to be programmed to fit the user's devices.
Those who care about the appearance of their speaker and who want a speaker with an elegant design and slightly better sound quality can opt for the Bose Soundbar 700.
In terms of features such as voice control and music streaming, both the Bose and Sonos offer similar advantages.
They both offer apps that allow users to organize their entertainment platforms in one location. In the Bose Soundbar 700, voice pickup is slightly more premium.
In terms of overall performance, both speakers are nearly equal. The Bose Soundbar 700, however, performs a bit better at maximum volume than the Sonos Beam.
The design is much better because it uses fancy materials like a glass panel, making the device look and feel much better.
However, the Bose soundbar 700 requires more setup time since it has multiple inputs, supports DTS, and is compatible with WiFi and Bluetooth.
The Bose Soundbar 700 is an excellent product for those who want a premium product with a great design.
For those who want premium features, a smart and compact design, and a wonderful 100-day return policy, the Sonos Beam is the best option.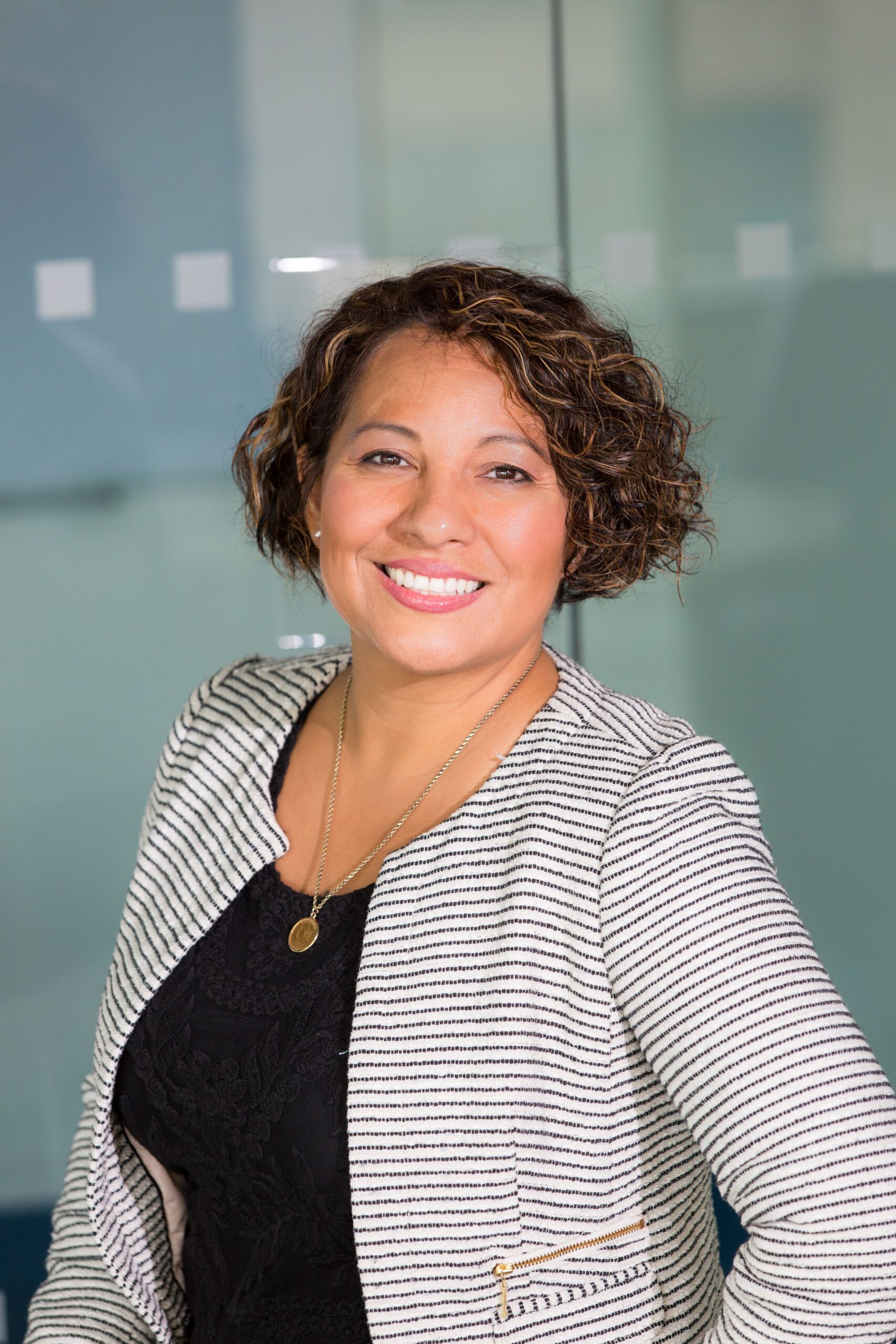 Mia Evelyn is a soundbar specialist and she love to test and review different soundbar brands. She shares her neutral and in-depth reviews through the Soundbar Mag.