Many people struggle with controlling smart devices, especially the sound system at parties or family dinners. Therefore, it is thoughtful to get the best soundbar with Google Assistant and enjoy an unlimited entertainment session with ease of use.
We gathered the top 8 soundbars that reproduce lifelike sound for parties, movie nights, and gaming sessions with built-in Google Home support. Connecting via the internet will combine all the other smart devices at home and let you enjoy a hands-free adventure.
So, let's get into the details and explore the best Google Assistant soundbar (Google Home) and benefit from the evolving technology.
List of the Best Soundbar with Google Assistant & Google Home in 2023
1. Bose Soundbar 500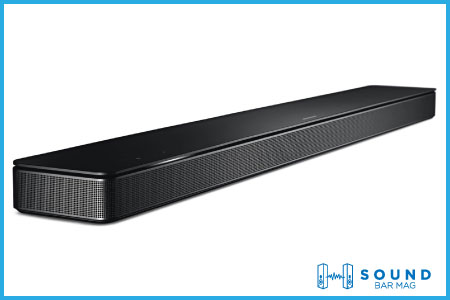 Bose soundbar 500 is a decent upgrade to inexpensive speakers that produce muddle sound and poor dialogue performance. It is a 3.0ch soundbar that produces well-balanced sound for mixed usage.
After unboxing, the simple profile caught our attention. We liked the overall appearance, which is quite traditional but powerful enough to provide room for multiple speakers. The speaker at the side expands the soundstage, and the center channel improves the dialogue performance.
The soundbar gets loud but struggles to perform well compared to its rivals. We heard some compressions at the max volume so that the bass-heavy sound may compromise your experience.
In addition, the soundstage is decent while listening to soft or rock music and better while watching TV. We had a great time watching shows or movies with warm and natural sounds at different levels.
Other features include room correction that adjusts the sound performance according to the surrounding and dialogue enhancement mode that purifies the vocal until you hear them perfectly. According to the content and mood, bass and treble adjustments also help you determine what you want to hear.
Setup and connection are a breeze with HDMI ARC, optical digital output, and Ethernet port. On the upside, Wi-Fi, Bluetooth, Apple Airplay, and built-in Chromecast open doors to unlimited digital entertainment.
Besides all the exciting features, Google Assistant compatibility secures full points. It gives premium convenience to the user by keeping up with the device with voice commands.
Pros
• Durable built quality
• Excellent dialogue performance
• Rich wireless connections
• Bass adjustments
• Dolby Digital

Cons
• No advanced audio format support

2. Sonos Playbase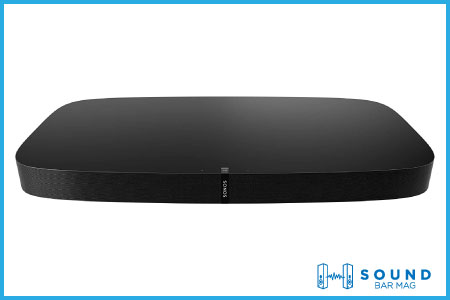 Sonos Playbase has an unusual but attractive design, but we liked the handy profile. This sleek, portable, and space-saving soundbar have over 43,000 holes that throw thundering voices using ten internal drivers.
The soundbar has multiple buttons at the top for usual navigation, and the ports are basic, limiting to power, optical, and Ethernet. No one can argue over Sono's installation and setup processes, and we found no soundbar more seamless to operate than Sonos Playbase.
Speaking of setup and navigation, the soundbar has built-in voice assistant control that helps with modes selection, volume control, and other enabling functions. We hardly used the remote or any other tool for navigation as the voice control was convenient enough to get us on board with the device.
Also, Sono's app helps with the connection setup and adjusting some major settings to make the device according to your listening taste. Wired and wireless connections are offered to pair with external devices easily to make the most out of this valuable investment.
However, no specs would matter if its performance wouldn't top-notch. It delivers sound confidently with good depth and height to immerse you in the content.
The built-in speakers produce a loud and clear sound that never compromises the experience while watching different content. Also, the serious rumble is enough not to make you miss the external subwoofer.
Hence, this best google assistant soundbar is ready to be a part of your next Thanksgiving dinner and gaming night with friends with the room-filling sound that is keen to adjust with different sources.
Pros
• Lifelike sound
• Elegant and portable design
• Trueplay calibration
• Voice assistant support
• Wireless connection

Cons
No serious bass
Limited connections

3. Sonos Beam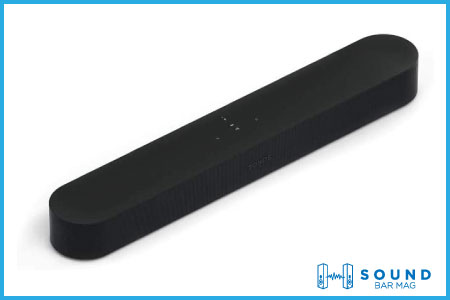 Sonos Beam is a smart soundbar and a premium addition to pair with a smart TV. It offers excellent specs and detailed sound reproduction under 600. We loved the shipment protocols as it came with factory aroma, and unboxing was a piece of cake.
After setting it up, we realized the portable body with edgy rounds looks spectacular sitting on the table, and the matte black finish throws some sophisticated vibes, making it an ideal choice for bedrooms.
While testing, we carefully examined its performance with different content and the soundbar delivers high-definition, rich, and detailed sound for music and TV. It is almost a plug-and-play device with a wireless connection and built-in voice control, giving enough usage flexibility to users.
It is designed with three channels, but its powerful, room-filling sound performance is better and feels like a high-channel setup. The TruePlay function fills the room with a clear and crisp sound that hits every individual to gain their attention.
The built-in tweeter and subwoofer also produce reasonable low frequencies for decent bass to enjoy fast-action gaming and rock music. Thus, many people prefer this compact, handsome soundbar with multiple control options.
Pros
• Best soundbar with Google Assistant
• Simple and quick setup
• Wireless connection
• Room-filling loud sound
• TruePlay function

4. Bose Smart Soundbar 700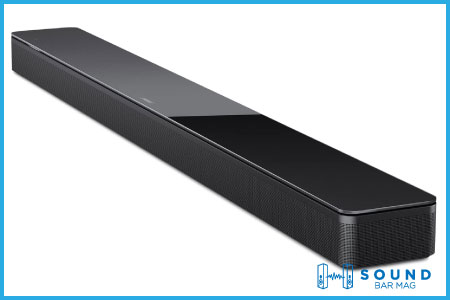 Unlike its previous model Bose smart soundbar 500, Bose 700 is another premium addition to the product line with a premium design and audio quality. It is a 3.0-channel sound system that houses multiple speakers, including full-range, height, and center ones, to boost your music listening performance.
Moreover, the side-firing speakers expand the soundstage and make the sound more lifelike and spacious in the space. While playing country music, the high and mid-range notes were moving us with them, and the dialogues were transparent enough to understand.
Also, unlike others, the stereo dynamics are decent, and we didn't feel any compressions or distortion at max volume. So, we highly recommend the bar for casual gaming, podcast listening, or heavy music streaming.
However, it struggles to produce low bass, which is quite disappointing, but the heavy and next-level clear sound covers the pitfall. The dedicated channel improves the vocal performance by isolating it from the background music to make it richer and detailing.
At last, the most important thing to notice is its navigation and setup system. Thankfully, like all Bose smart soundbars, Bose 700 also includes a built-in voice control assistant that helps the user keep up with navigation. It lets you manage all the functions with voice control, including connecting certain devices via wireless pairing.
Pros
• Neutral sound profile
• Wide soundstage
• Wireless connection
• Seamless setup via Assistant

5. VIZIO SB36512-F6 Soundbar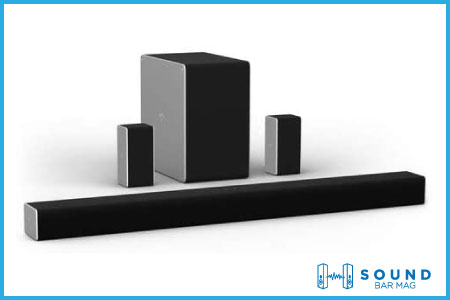 Vizio SB36512-F6 is a complete entertainment package with a wireless subwoofer, Dolby Atmos, and Google Assistant support. We loved its overall profile and the seamless navigation properties.
With 36 by 3.19 x 2.5-inches soundbar dimensions, it is sleek enough to fit under the huge TVs as it won't compromise the IR functionality. Also, the subtle and metallic design gives luxurious vibes to the room and instantly catches the audience's attention.
Moreover, the wired connections with optical, HDMI, and Bluetooth pairing let you connect external devices and enjoy playlists, podcasts, and eBook listening in the best possible audio quality. Though we think the connectivity inputs are limited at this price.
On the upside, the sound adjusts automatically without setting a certain EQ, and the built-in Google Assistant lets you further make advanced settings. Navigation was seamless with the assistant support, and sound customization saved us time while testing.
Thanks to Google Assistant support, you would not have to waste time setting up the device and finding the right music to play. Pairing with Google Home allows you to control other smart devices and make the most out of your invested sound system.
Hence, we may call it the best soundbar with Google Home as it gives value for money with all the comfortable usage properties. Nonetheless, the sound performance is exceptional with a 5.1.2 channel, comprising lots of speakers to produce high-resolution and clear audio.
The side-firing speakers widen the soundstage, height channels bounce the audio to fill the room with fulfilling sound, and the center channel works for vocal enhancement.
Pros
• Deep and low bass down to 40Hz
• Multidimensional sound quality
• Dolby Atmos support
• Upward-firing speakers
• Google Assistant

6. Polk Audio MagniFi Mini Soundbar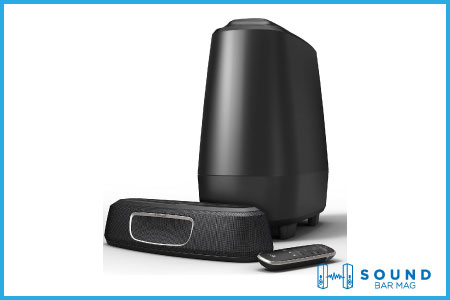 Polk Audio always surprises the user with its stunning innovation and fascinating design. It is a TV soundbar designed to work with 4K HDTVs to improve their built-in speakers.
The Polk Audio MagniFi Mini Soundbar it comes with a wireless subwoofer to perform the job, which is also shocking at this price. Also, it didn't require a sweet spot to perform, so it was a catchy point for us.
It may have a compact structure but contains four mid-range speakers and dual tweeters that deliver a maximum of 150W power. All the speakers work together to deliver directional, more spacious sound than we could imagine.
Also, the built-in voice adjusts technology, customizes the voice levels according to the content, and produces clear and crisp audio for great acoustics. We were amazed by the performance with news, sports, and podcasts.
Additionally, the Dolby Digital decoding minimizes sound delays, reduces the compressions at max volume, and encourages the volume to go higher by expanding the sound stage. The dialogue performance is decent but could be more personalized.
Like other soundbars we mentioned in this list, Polk Audio MagniFi Mini promotes soundbar usage by offering a breeze setup and exciting control. Besides rich wired connectivity inputs at the rear panel, it comes with Bluetooth and Google Home support, which is surprising at this price.
Pros
• Polk Voice adjusts technology
• Different sound modes
• Wireless subwoofer
• Heavy surround sound
• Google Home and Bluetooth support

Cons
No Atmos or DTS
Bass could be serious

7. Polk Audio Signa S3 Soundbar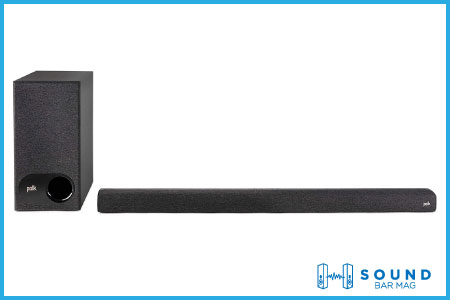 At last, we have the outstanding device from Polk. This ultra-slim soundbar with a wireless subwoofer is designed to turn your space into an entertainment hub. The best soundbar under 250 has multiple connectivity options, including Bluetooth, AUX, HDMI, and Wi-Fi.
The Polk Audio Signa S3 Soundbar support for Google Home with Google Assistant is a valuable function that ensures ease of use. The mid-range drivers deliver excellent sound that precisely reproduces every sound detail, making you feel every beat coming out of the device.
It forces you to dance on the perfectly produced upper notes, and the tweeter and bass reproduction deliver low frequencies for the ground-shaking bass. It was almost banging our windows when played at full volume, so it can be your partner at parties or festive.
It also allows you to upgrade your home theater system with additional powered speakers, and the wireless connectivity gives you access to the music streaming platforms for a more entertaining experience.
Built-in Chromecast makes the device flexible for audio streaming on different apps over Wi-Fi with a Google Home speaker. We tried the Chromecast and were satisfied with the smooth and rapid response.
Moreover, the voice adjusts technology, customizes the sound, and makes it optimized with the content. It never lets you miss a single word while streaming movies or shows, and the crisp audio reproduction make it a worthy investment for regular listening.
Pros
• Polk Voice Adjust technology
• Room-filling virtual surround sound
• Built-in Chromecast
• Google Home
• Compatible with all HDTVs

Cons
Poor frequency response
Stereo dynamics could be better

8. Polk Audio React Soundbar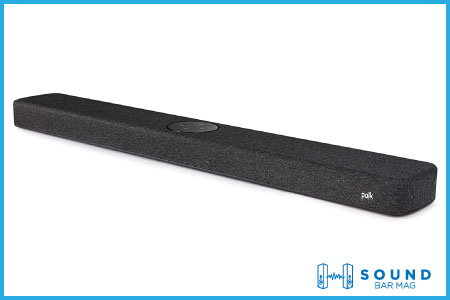 Another one from the Polk that could make it to our list for amazing qualities and durable build quality. It is the most powerful Polk soundbar we have ever come across.
The Polk Audio React is a smart soundbar with all the necessary features one would dream of, with two mid-range drivers, passive radiators, and dual tweeters to reproduce room-filling clear sound.
The sound is rich with Dolby Atmos and DTS: X support, giving us immersive surround sound without any distortions. It gives value for money by giving you a smooth setup with a wireless connection and built-in Google Assistant.
It integrates Polk's voice adjusts technology to enhance audio quality by optimizing it precisely with the content. It comes with a wireless subwoofer that reproduces low-frequency bass that mixes with upper notes to create a multidimensional virtual sound to promote heavy and rich sound.
Different sound modes and night modes allow you to customize the sound for immersive listening. The best thing is you don't need to mess with the remote or apps to find and adjust the modes, we used the assistant support, and everything happened smoothly.
Moreover, the multi-room feature allows you to pair the soundbar with other Alexa-enabled devices, including Google Home, and enjoy seamless navigation throughout the usage.
Hence, these stunning qualities make the soundbar flexible for indoor and outdoor use, and we recommend it to everyone looking for a quality escape from the hectic routine. It will be a worthy investment for the entertainment setup.
Pros
• Low profile design
• Multiroom music
• Polk adjust technology
• Night mode function
• Pure and clear dialogues

Best Soundbar with Google Home – 2023 Buying Guide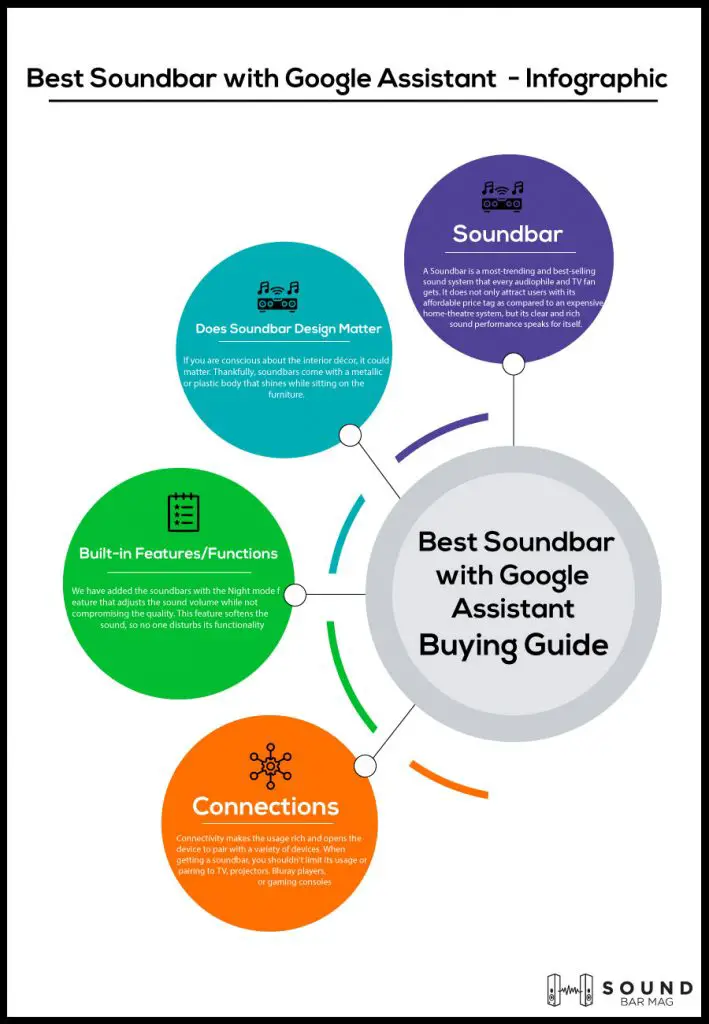 Lets discuss each term in detail.
Why Soundbar?
If you ever caught yourself doubting to get a soundbar, twist the question to why not a soundbar?
A Soundbar is a most-trending and best-selling sound system that every audiophile and TV fan gets. It does not only attract users with its affordable price tag as compared to an expensive home-theatre system, but its clear and rich sound performance speaks for itself.
Moreover, its elegant and slim profile easily adjusts and blends in the home, and small offices and the built-in speakers create an expansive soundstage to entertain everyone in the room.
Does Soundbar Design Matter?
If you are conscious about the interior décor, it could matter. Thankfully, soundbars come with a metallic or plastic body that shines while sitting on the furniture. Besides, a grille at the front and top gives next-level aesthetics that increases the excitement of watching something and listening to your favorite podcast.
Built-in Features/Functions
The built-in specs and qualities make a significant difference in the user experience, no matter the exterior appearance.
We have added the soundbars with the Night mode feature that adjusts the sound volume while not compromising the quality. This feature softens the sound, so no one disturbs its functionality, and you can continue listening or streaming the content. Moreover, some soundbars have room calibration or multiroom feature that blends the soundbar into the room environment, adjusting the performance accordingly.
Polk soundbars have this Polk adjusts technology that customizes the sound according to the content and environment. You don't have to waste time messing with the settings or adjusting each audio component individually; it will do the job with a single push button.
At last, different sound modes are also available in different soundbars that also customize the sound according to the content. Using a soundbar for gaming will boost the volume and make it directional to move you with every scene. Similarly, the sound mode brings the bass, minimizes the distortion, and polishes the dialogue.
Connections
Connectivity makes the usage rich and opens the device to pair with a variety of devices. When getting a soundbar, you shouldn't limit its usage or pairing to TV, projectors, Bluray players, or gaming consoles; it is not made for a single device. Therefore, we have added soundbars with Bluetooth or WiFi support that gives hassle-free entertainment.
Moreover, the built-in Chromecast gives you access to different music streaming platforms that work without connecting to any external devices. And the Apple AirPlay2 can be a game-changer for audiophiles.
Speaking of connectivity, we have added many soundbars with Google Home support that only needs Bluetooth or WiFi connection to pair with smart devices for easy control and monitoring.
Frequently Asked Questions (FAQs)
What is the Best Soundbar with Google Assistant?
Polk Audio Signa S3 is the best soundbar with Google Assistant, compatible with all 4K and HDTVs via a wired and wireless connection. It produces powerful sound with a wireless subwoofer, and the Google Home compatibility lets you pair the device with other smart devices.
Does Samsung soundbar have Google Assistant?
This is the feature the owner of every smart device looks for. However, unfortunately, Samsung soundbars do not have the Google Assistant feature. However, it has Alexa as an alternative, the safest but limited option.
Does JBL 5.1 have Google Assistant?
JBL 5.1 has a built-in Chromecast, Alexa, and AirPlay support that lets you enjoy the passionate adventure from the digital platforms. Just ask Alexa to find your favorite song, and boom.
How do I set up Google Assistant on my Samsung soundbar?
Login your phone with your Google Account
Install Google Assistant
Turn on the TV and navigate the settings
Go to the voice assistant, choose Google Assistant, and connect to the preferred device.
Bottom Line
The best google home and assistant soundbar lets you pair the device with Google Home to expand your usage. All the soundbars we discussed have amazing features with detailed sound performance to become a reasonable upgrade to traditional or built-in devices.
Mia Evelyn is a soundbar specialist and she love to test and review different soundbar brands. She shares her neutral and in-depth reviews through the Soundbar Mag.