The latest smart TV collection does not offer the expected audio performance, forcing us to rewind and play the content to understand, which can sometimes be pretty annoying. Well, the bad days are almost over.
We are here with the seven best Soundbars for Dialogue clarity, designed to connect with smart TVs or media players for smooth, rich, and transparent content streaming. The enticing built-in features set a tough sound stage for your gaming, movie, and streaming sessions.
So, let's unwind each soundbar and select the one according to our budget, space, and requirements. We invited the bars to our testing lab so we could test them in detail and provide you with an honest review.
Also, don't forget to check out buying guide at the end for further clarity, and the article will enclose some FAQs to address your common issues.
List of the Best Soundbar for Dialogue in 2023
1. SAMSUNG HW-Q950A 11.1.4ch Soundbar with Dolby Atmos/DTS:X Alexa Built in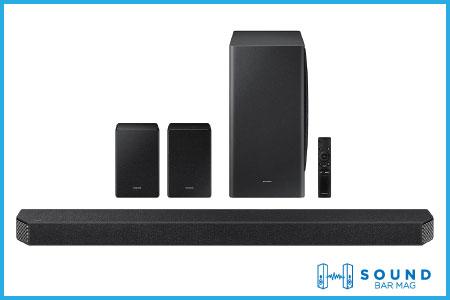 Enjoy the 3D Cinematic performance with the new Samsung HW-Q950, a sturdy 11.1.4 channel Soundbar with a wireless subwoofer. It can turn the tables for your music streaming with excellent audio output, precise and detailed dialogue delivery, and room-shaking volume.
The soundbar may be heavy and wide, but its smart features and impressive build quality can bring life to your living/cinema room. We had help unboxing the wide and heavy soundbar, but it was fun unwinding this powerful unit.
Its 11.1.4 channel configuration lets you enjoy powerful and rich sound quality from the front, behind, top, and sides. The soundbar contains up-firing, up-front, top, center, and drivers at each side to ensure the place is filled with compelling sound output without any distraction or distortion.
Moreover, Dolby Atmos and DTS:X compatibility further project the sound and ensure high-quality audio performance. It is undoubtedly the world's first 11.1.4 Dolby Atmos Soundbar for voice clarity that can take your movie/show or gaming experience to the next level.
The dedicated voice enhancement technology catches every word from the high-frequency music so that you can hear it hassle-free. While connecting to other devices, especially TV, the soundbar optimizes sound for each scene you play.
So, you no longer have to rewind the content and hear it again and again; the soundbar knows when to elevate the music and isolate the spoken word.
The soundbar offers WiFi, Bluetooth, HDMI, and Optical digital cable for connectivity. If you connect the soundbar to the latest Samsung TVs, you get to experience premium features like SpaceFit and Q-Symphony that work together to boost your streaming experience.
Navigating and setting up the device is not rocket science. It comes with remote control and SmartThings App that is iOS and Android compatible, helping you navigate, set the preset, and play with other settings.
Also, the built-in Alexa support takes care of searching, navigating, and other managing issues over your voice command. Hence, a high-end Soundbar can offer you a theatre-like listening experience in your living room.
Pros
• Dedicate center channel for clarifying voices
• Dolby Atmos-certified drivers
• HDMI with 8K passthrough compatibility
• Wirelss subwoofer for rich bass
• Easy controlling and feature customization via Klipsch Connect App

Cons
• A little expensive
• No wireless connectivity

2. VIZIO M512a-H6 M-Series 5.1.2 Immersive Sound Bar with Dolby Atmos, DTS:X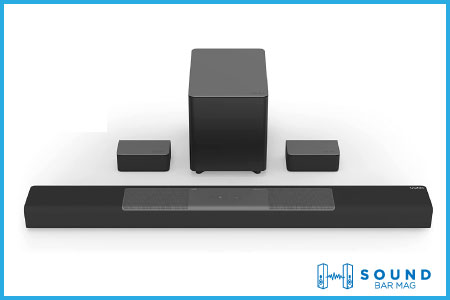 Enjoy the loud, captivating, clear sound performance with this Vizio voice clarifying soundbar. It is another high-end 5.1.2 channel Soundbar in our list that comes with impressive features to make premium audio quality accessible to you.
The VIZIO M512a-H6 Soundbar has 11 built-in drivers, including separate tweeters and up-firing front speakers, deliver deep, rich, and thrilling sound quality that reflects overhead to create a cinematic experience.
The compatibility with Dolby Atmos and DTS:X ensures a dramatic surround sound experience with next-level clarity and accuracy. We tested it with classical, country, and rock music and loved the multidirectional energetic sound projection.
The Soundbar measures around 36 inches, which will suit your 42 or higher smart TV well, whether you mount on the wall or set it on the table. We recommend setting it under the TV as the low-key profile upscales the décor.
Moreover, the wireless connectivity via Bluetooth and the other option via optical and HDMI gives you enough flexibility to pair the device. Also, the soundbar instantly detects the connection and performs according to the content.
Also, the audio format support utilizes object-based decoding that catches the sound quality from exactly where it is coming from. The soundbar lets you enjoy the 3D surround sound by optimizing the audio quality or enabling the presets to perform according to the content.
And the center channel gives you hope of precise clarity and a detailed voice that will create thrilling and shaking vibes for gaming, movies, and documentaries.
The 6-inch wireless subwoofer delivers booming or deep bass that will bring life to the parties, and the controlling is also pretty convenient. This best TV soundbar for dialogue clarity seamlessly operates with a handy remote control and built-in voice assistance.
Pros
• 11.1.4 channel system Soundbar with DTS:X and Atmos compatibility
• Alexa support for managing and navigating
• Excellent, loud, and clear sound performance
• Dedicated technology for clear dialogue delivery
• Wireless connectivity
• Subwoofer for high-profile bass

3. Sony Z9F 3.1ch Sound bar with Dolby Atmos and Wireless Subwoofer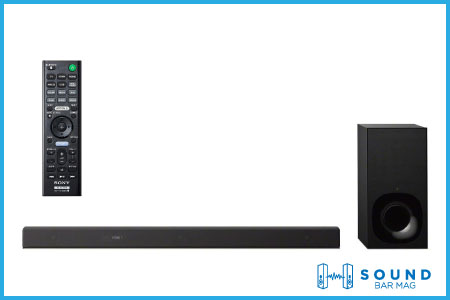 Sony Z9F is a decent, elegant, modern Soundbar with a removable grill that beautifully hides the built-in drivers. We loved the profile that possibly adds charm to the house decor.
Also, it is only a 3.1-channel system that produces quality audio accompanied by a wireless subwoofer containing a forward 16-cm driver for deep bass.
All the drivers included in the bar are certified by DTS:X and Dolby Atmos, enhancing the sound performance to create a 3D surround sound with a virtual sound engine.
Also, with the voice enhancement feature, you can expect stunning clarity of every spoken word coming out of the soundbar. Trust me; we tested it with news and movies, and it sounded better than the TV speakers.
Besides, the center channel also makes it the soundbar for voice precision and isolates every word from the high-frequency tunes to ensure clarity.
Furthermore, the soundbar features seven different modes that optimize the audio quality. For example, the music mode brings a powerful voice with high frequency and balanced treble and bass, whereas the news mode focuses on delivering clear and rich discussions.
Also, the DSEE HX technology upscale the audio output to offer high-resolution audio with improved tuning, rumble, and flute performance while perfectly aligning with the playing video when consuming digital media.
The soundbar is undoubtedly designed for the home-theatre formats featuring 4K HDR, 18 Gbps passthrough, and HDCP 2.2 support. All the connectivity inputs are available at the rear panel, including two HDMI inputs, HDMI output, Analog, optical, and LAN input ports.
Controlling the device and playing your favorite online content is become super smooth with the Sony Music Center App. Built-in Chromecast also gives you unlimited entertainment and keeps you hooked during boring times.
Pros
• 5.1.2 channel configuration
• Rich, deep, and filled sound performance
• The high-frequency range ranges between 45Hz-20kHz.
• Balanced tremble, rumble, and bass performance
• Dolby Atomos and DTS:X support
• Wireless connectivity

4. Yamaha Audio YAS-209BL Sound Bar with Wireless Subwoofer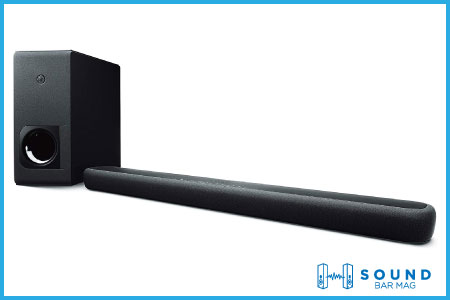 Yamaha is famous for high-quality manufacturing products that last longer than you expected. If you are after a great loud sound with clarity, then Yamaha YAS-209BL should be your utmost priority.
We invited it to the testing lab after hearing positive reviews, its online presence, and the affordable price for the features it offers. Besides, the built-in features that constantly upgrade to meet the advanced needs of users are enough to convince us of the purchase.
This particular unit stands out concerning the huge Soundbar range of Yamaha Soundbars for its compact size, affordability, wireless connectivity, and rich surround sound effects.
It is the best budget Soundbar for dialogue delivery; you may disagree with it, but the extra features the brand has added compared to the rivals are worth every penny.
Alexa compatibility and user-friendly functionality make it a great device for quick access. The dynamic sound quality satisfies all the music, movie streaming, and gaming audio needs, elevating the audio output according to the content. Therefore, we are safe to call Yamaha YAS-209BL perfect for mixed usage.
Multiple media presets and DTS:X support ensures the virtual surround sound experience, creating a 3D vibe in the room. The high-frequency audio with almost no distraction simulates stunning surround effects that will be a game-changer for your parties.
Furthermore, the wireless subwoofer offers flexible placement; measuring 16 inches wouldn't give you a hard time. It produces powerful yet deep bass that will be thrilling while vibing on the songs.
WiFi and Bluetooth connectivity allow you to stream music or podcasts online via Spotify. Also, we loved the WiFi range and the stability when switching different devices to try other playlists.
Pros
• Room-filling soothing voice
• Elegant design
• WiFi music streaming
• Built-in Chromecast
• Voice assistants
• High-resolution audio with incredible clarity

5. Bose Solo 5 Soundbar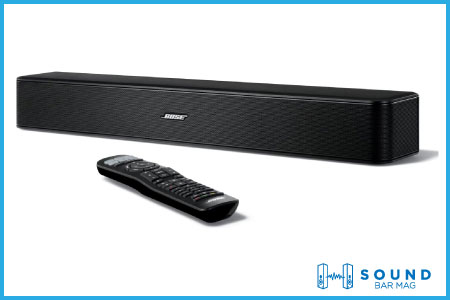 Have you ever heard of great things coming in small sizes? Well, Bose Solo 5 is proving it true. It is a 55cm long soundbar with a plain black grille at the front concealing all the drivers inside and the plastic coating at the top, keeping a low profile with style.
You won't find any buttons or tiny display screens at the front to complicate things, and there are no EQ or preset settings for adjustments.
It is an entry-level soundbar designed to plug and play for dynamic sound listening performance. From setting up to navigating through the device, we loved the unit and recommended using it for daily home use.
The soundbar contains two drivers present almost at the front. The narrow placement of the drivers may struggle to produce a wide sound field, but it is better than the awful TV speakers.
You may also feel the sound falling flat and a lack of thrilling bass in the high volume, but the factual voice enhancement grabs our attention.
Yes, the soundbar is perfect for streaming movies, shows, documentaries, and dialogue-sensitive content due to the excellent clarity of the spoken word.
You no longer have to rewind movies or struggle with the background music to understand what they are saying because the soundbar automatically decodes the content and toggles to compensate for the poor sound performance.
A very detailed yet handy remote control comes with dedicated buttons to manage the device effortlessly. The universal remote has additional buttons to control channels, menu buttons, and connectivity options.
Besides, the auto-wakeup feature saves you the trouble of turning the soundbar on and connecting it to the respective devices. Yes, it will start performing as soon as it detects the compatible device is in range.
Luckily, it offers a Bluetooth option to save from the wired mess and instantly pair with smart devices. Boso Sole 5 includes moderately better connectivity, considering the affordable and entry-level soundbar. You'll only get optical, coaxial, and auxiliary inputs to pair other devices.
Pros
• Dialogue clarity is pretty good
• Room-filling sound
• Minimalistic design
• Universe remote control
• Bluetooth streaming

Cons
• Narrow soundstage
• A little pricey considering basic specs and mediocre sound quality

6. Sonos Beam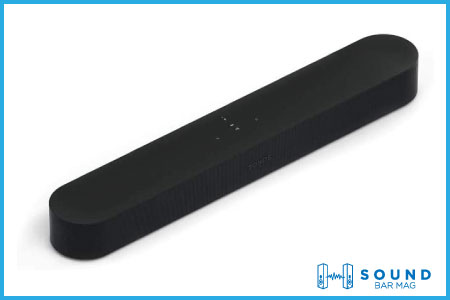 Sonos Beam is a smart soundbar for your smart TVs to boost its awful sound quality and terrible dialogue delivery.
Due to the lousy audio output, you must not stand ruining the gaming, streaming, or podcast listening sessions on your smart devices. Therefore, it's time to invest in a compelling soundbar like Sonos Beam, a one-unit bar for mixed usage.
It is a tough, budget-friendly soundbar that weighs only 2.8kgs, salute for its incredible portability. The black and white finish of the soundbar throws stunning vibes, and the touch-sensitive buttons at the top for the volume control, play/pause/next/rewind wouldn't create any distraction at all.
The Sonos beam Soundbar houses four full-range drivers, one tweeter, five class-D amplifiers, and three passive radiators that simulate the surround sound effect and ensure a thrilling listening experience.
The front speakers deliver virtually tough audio that goes loud without ruining the quality. There will be no distortion, making you feel the flutes, tunes, and bass separately to immerse you in the music.
After creating a stunning sound stage with a room-filling yet thrilling sound performance, the soundbar can be a great choice for streaming movies or listening to podcasts.
It undoubtedly matches the standard for the best TV Soundbar for dialogue delivery as it isolates every spoken word and delivers it with confidence for better understanding.
This multi-room Soundbar offers wireless connectivity that allows online music streaming via Spotify, Google Play, Apple Music, etc. Besides, it can hold a stable connection with optical digital, HDMI, HDMI ARC, and Analogue inputs.
The Soundbar compatibility and communication with other Sonos products are incredibly well, as it instantly catches the same content playing and optimizing.
Pros
• Wireless music streaming via different platforms
• Multi-room sound
• Deep and rich bass
• Incredible voice clarity
• Portable and flexible device
• Excellent audio punch
• HDMI ARC support

Cons
• Limited connectivity
• Lack of Dolby Atmos

7. Klipsch Cinema 800 Dolby Atmos 3.1 Sound Bar & Wireless Subwoofer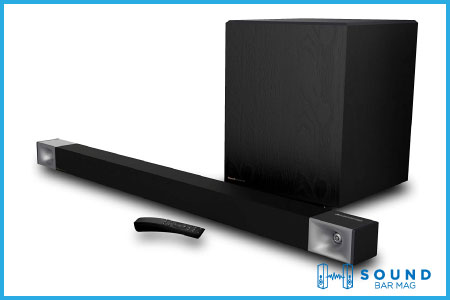 Klipsch Cinema 800 Soundbar with 10-inches wireless subwoofer is a great choice for regular use. You can connect the ideal combo with TV, smartphones, Blu-ray players, and other devices and enjoy excellent dialogue delivery.
Klipsch Cinema 800 has a plastic build quality with the front and top covers with durable fabric. However, the 10-inches wireless subwoofer is made of premium wood, and the included under is present underneath to deliver thrilling bass. The Soundbar measuring 47.8″ by 2.8″ by 3.3″ (WHD) is wide enough to not fit properly between any TV less than 60-inches. However, if you plan to mount the bar on the wall, it can perform well without disturbing the TV functionality.
It could be a little pricey, but the high-profile Soundbar produces terrific sound quality with a balanced rumble and deep thumb while maintaining low-bass performance. The 3.1 channel system produces a subtle and profound sound profile that is perfect for every type of content.
 The bar also comes with a dedicated center channel that enhances the delivery of spoken words by isolating the dialogues from the sound. The dialogue enhancement feature also elevates the sound profile and improves the dialogue delivery.
This Soundbar for voice clarity also features different EQ modes that optimize the sound performance and adjust bass and treble according to the content. The wireless subwoofer produces thrilling bass that is enough to shake the entire room and take you to the depth of the music.
In addition, the preset night mode automatically reduces the dynamic range and makes the sound performance warmer, so you can enjoy live streaming matches at night without disturbing neighbors. The voice clarifying Soundbar also has a special Dialogue mode that revolves around the content and adjusts the volume and other audio tools accordingly for better performance.
The Soundbar contains two HDMI inputs, one HDMI output, HDMI eARC, Optical digital, and Ethernet. However, despite its high price, it does not offer wireless and USB connectivity.
Pros
• Dedicate center channel for clarifying voices
• Dolby Atmos-certified drivers
• HDMI with 8K passthrough compatibility
• Wirelss subwoofer for rich bass
• Easy controlling and feature customization via Klipsch Connect App

Cons
• A little expensive
• No wireless connectivity

Best Soundbar for Dialogue & Voice Clarity – Buying Guide
If you love watching Netflix and your smart TV is ruining the whole vibe of chilling by poor dialogue quality, then it's time to invest in the best budget Soundbar for dialogue. It is not a different category, but you can find all the voice clarifying Soundbars for movies, shows, videos, documentaries, or gaming enthusiasts.
However, getting the TV Soundbar for dialogue clarity is not a walk in the park. Many other factors demand your attention because it will be a device that decides your future audio streaming experience, so it has to be perfect.
Therefore, we will discuss some of the common elements you should consider before getting the Soundbar for speech clarity.
Center Channels
You must know that the Soundbar contains different channels/speakers with different jobs to perform. The more channel configuration any Soundbar offers, the higher number of speakers it will contain. The speakers work together to produce a balanced profile sound with clarity and depth.
However, a dedicated channel takes care of dialogue delivery performance. Yes, a center channel in every Soundbar has a job to enhance the spoken work output that eventually boosts your content streaming enhancement. Yet if the Soundbar lacks a center channel, it is a red flag that you should never avoid.
Smart Controlling
Since the technology is advancing with each passing day and the Soundbar prices are touching the sky, the brands should include a smart and easy controlling system in the Soundbars.
Well, what is the point of investing in a Soundbar when it is complex to operate and takes time in pairing and stat functioning?
So, apart from a traditional remote control, try to get a Soundbar with built-in Voice control Assistants or a smart App. It will help you quickly pair the device with external devices, switch modes, adjust volume, and access the other features.
Size and Design
It may not matter to many, but it can change the whole perspective of the Soundbar. A decent yet modern design can be a game-changer for your TV and home décor. Your Soundbar will be accompanying your smart TV, so both devices should have a similar vibe.
Also, don't get the Soundbar with exact measurements, like a 48-inches Soundbar won't go well with a 50-inches TV or smaller. Instead, you can invest in the 42-48-inches Soundbar for your 54-60-inches TV. Remember, we always measure TV diagonally, whereas the Soundbar measurements happen based on its length. So, your Soundbar should not disturb you in your TV operating system, so be careful and get your homework before going shopping.
Audio Format Support
It is wise to invest in the Soundbar that supports multiple audio formats. You can find Soundbars with Dolby Atmos and DTS:X technology in our list as they tend to get louder, virtually stronger, and never compromise on the clarity.
Budget
We always recommend setting the budget range beforehand because it gives you direction and helps you select the right product without breaking the bank. If you know what you need under what range, you will save a lot of time and energy.
Frequently Asked Questions (FAQs)
Which Soundbar is best for dialogue?
Samsung HW-Q950A is an 11.1.4 channel system Soundbar with excellent sound quality and wireless connectivity. Along with other built-in Dolby Atmos-certified drivers, it features a center channel and voice enhancement feature that enhances the dialogue delivery for uninterrupted digital streaming.
Do soundbars improve dialogue?
Luckily, Soundbars are not only designed for rich and loud sound performance; their built-in features polish the audio and isolate the spoken word to enhance dialogue delivery. 
How can I improve my dialogue clarity on my TV?
Check out the voice enhancement feature in your Soundbar settings or remote; it will enhance the dialogue delivery while optimizing sound according to the content. Besides, you can rely on Soundbars with a dedicated center channel for crystal clear voice output.
Conclusion
Check out our collection of the best Soundbar for clear dialogue that will turn the tables for your TV streaming and podcast listening. It will deliver every word with excellent clarity to wonder what you have been listening to.
All the Soundbars mentioned above can stand true to your listening experience and are designed to set a new standard. This specific article set also includes a detailed buying guide if you are getting your hands on the Soundbar for the first time. We hope you can make a sound decision for all your sound-sensitive requirements.
Mia Evelyn is a soundbar specialist and she love to test and review different soundbar brands. She shares her neutral and in-depth reviews through the Soundbar Mag.