The Yamaha YAS-209 is a soundbar that has been initiating a lot of buzz in the audio world. Its simple and elegant design and powerful sound delivery capabilities have gained popularity among home theater enthusiasts.
Here we aim to provide an in-depth analysis of the YAS-209, covering everything from its build quality to its sound performance.
The detailed review based on our experience will give you a comprehensive understanding of the YAS-209 soundbar and help you determine whether it is the right soundbar for your sound needs.
Yamaha Audio YAS-209BL Sound Bar with Wireless Subwoofer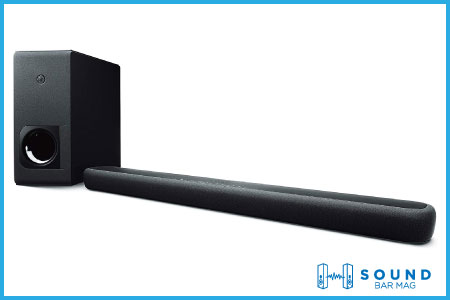 Unboxing the Yamaha YAS-209 Soundbar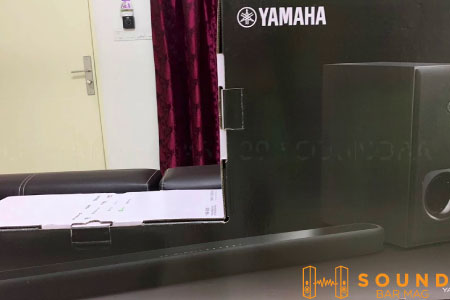 Unboxing the Yamaha soundbars is quite an experience as everything comes in excellent condition, followed by premium shipment protocols.
We received YAS-209 with terrific packaging, including padding foam to protect the included speakers. The subwoofer also came in a solid box designed specifically for the woofer.
Besides, the soundbar box has some other accessories, including a remote control with batteries, power and optical cables, and a manual guide for setting and managing the device.
Let's explore the stunning combo of soundbar and subwoofer and see why it has become the top choice for movie and music lovers.
Size and Design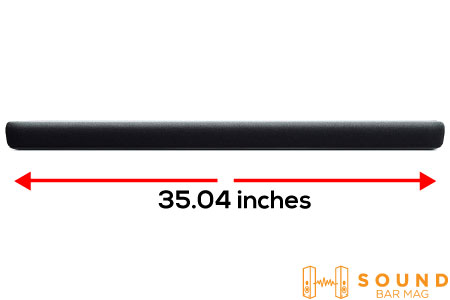 The Yamaha YAS-209 soundbar boasts a compact and sophisticated appearance, measuring 35.04 inches in length, making it ideal for space-conscious living spaces.
Its slim profile and sleek, modern look will seamlessly integrate into any home entertainment setup. The YAS-209 has a clean, minimalist aesthetic with a sleek black finish that will upscale any television or décor.
The soundbar comes with a wireless subwoofer with an unusual but catchy appearance compared to usual subwoofers. But it can be placed conveniently, freeing up space and eliminating the need for additional speakers.
Channel System
Unlike the Yamaha YAS-109, this model is a noticeable upgrade with a 2.1 channel system, featuring dual full-range speakers with tweeters and a built-in woofer for the bass touch.
The speakers are placed at the front, so you can expect a directional sound output. However, there is no audio from the sides, so you can add external surround sound speakers to expand the soundstage.
Moreover, the wireless subwoofer has a dedicated driver that delivers the lower frequencies, responsible for reproducing deep, punchy, and rich bass that turns the tables for music listening.
Connectivity Options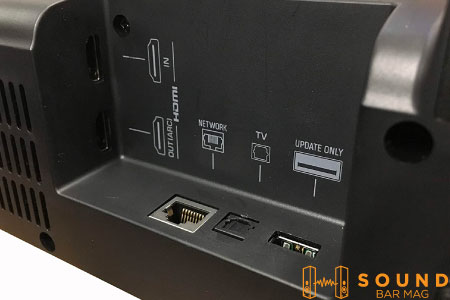 The Yamaha YAS-209 soundbar offers a variety of connectivity options to suit different user preferences and setups.
The soundbar has an HDMI ARC port for wired connections, which allows you to connect it directly to your TV. It means you can control the soundbar's volume and power with your TV remote, making it a suitable option for those who don't want to use multiple remotes.
In addition to HDMI, the YAS-209 also has an optical audio input, which is perfect for those with a TV and other entertainment devices that don't support HDMI ARC.
Wireless connectivity is also a strong point of the YAS-209. It supports both Bluetooth and Wi-Fi connectivity, allowing you to listen to your favorite music from your phone, tablet, or other compatible devices.
Controlling and Navigation
The Yamaha YAS-209 soundbar offers an intuitive navigation experience that makes it easy to control your audio. The soundbar comes with a remote control with a straightforward layout and large buttons, making it easy to use.
In addition to the remote, the YAS-209 also has an on-soundbar control panel, which is a handy alternative to the remote if you misplace it or need to make quick adjustments.
The control panel has power, volume, and input selection buttons, allowing you to quickly change the settings without searching for the remote.
One of the standout features of the YAS-209 is its compatibility with the Yamaha MusicCast app, available for both iOS and Android devices. The app allows you to control the soundbar, stream music from your smartphone or tablet, and access different audio modes.
Moreover, the soundbar also comes with a built-in Alexa voice assistant that provides a hands-free navigation option. You can give voice commands to the soundbar and manage the functions, offering a seamless and user-friendly experience.
Sound Performance
The Yamaha YAS-209 is a top-of-the-line soundbar that delivers exceptional audio quality and performance no matter what you stream and what device you connect with it.
With its powerful built-in and external wireless subwoofer, it is able to produce deep and punchy bass, making it an ideal choice for those who want to enhance their movie and music listening experience.
The soundbar is also equipped with Yamaha's exclusive Clear Voice technology, which enhances dialogue and makes it easier to understand, especially in noisy environments.
Additionally, the YAS-209 supports Dolby Digital and DTS audio formats, providing a truly immersive and 3D sound experience.
Overall, the Yamaha YAS-209 is a highly recommended soundbar that combines performance and versatility, making it an ideal choice for anyone looking to improve the sound of their home entertainment system.
Pros
· Balanced audio quality
· Solid construction
· Alexa support
· Rich connections
· Great dialogue clarity

Cons
· Not good for surround sound

Bottom Line
In conclusion, the Yamaha YAS-209 soundbar is a top-notch audio device that offers great value for its price.
Its deep bass and clear voice technology bring life to movies and music, providing an immersive sound experience. Its compatibility with popular audio formats, easy setup, and sleek design make it a great addition to any home entertainment system.
Whether you're a movie buff or a music lover, the Yamaha YAS-209 soundbar is a reliable choice that will enhance your audio experience and take it to the next level.
Mia Evelyn is a soundbar specialist and she love to test and review different soundbar brands. She shares her neutral and in-depth reviews through the Soundbar Mag.