In recent times, soundbars have been brought into primary use by many audiences. Because people demand a massive and perfect sound experience, they use a soundbar. Now, the trouble with using a soundbar is regarding the space that the loudspeaker acquires. For the efficient functioning of your television and your soundbar, you are supposed to raise your television above the soundbar.

Basically, soundbars are more comprehensive than taller in their structure. Therefore, they end up hindering the space in front of your television or your speakers, posing a severe problem in operating your electrical devices. Therefore, it necessitates the need to raise your television above the soundbar.
However, it can be confusing to figure out the placement of the soundbar in a manner where the TV is raised above it. But we are here to clear all your confusion. In this article, we will discuss several ways that you can use to raise TV above soundbar. Let's get started
How to Raise TV Above Soundbar?
You don't want all those wires to clutter the space in front of your TV. Moreover, improper placement of the soundbar hinders the easy operation of the devices. The best way to ensure the most fulfilling experiences from your soundbar is to raise your TV above it and you can do that in more ways than you might think.
Here are some things that you can use and try:
1. Use TV Stands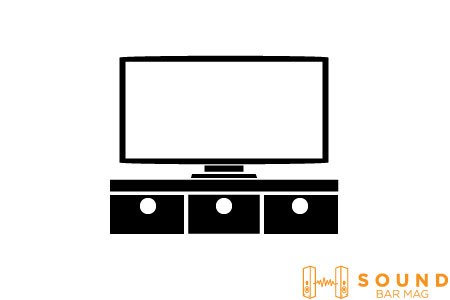 Unless you are one of those who are too conscious and concerned regarding their budget and you can pay the price for experiencing a better sound quality, you can use the readymade TV stands to raise your television above the soundbar.
These stands are made of metal, ensuring a sleek design and reliable security for your television. The TV stands are sturdy and super-strong. In no time, you can assemble them to your wall, and subsequently, you can place your television on these stands, thereby raising it to a level above the soundbar. 
2. Use Blocks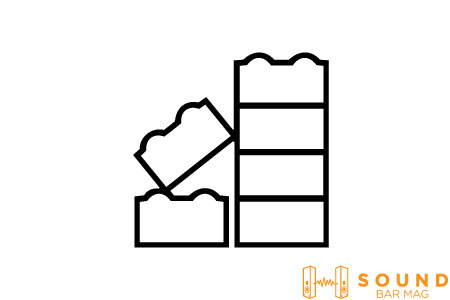 Another convenient and budget-friendly way to mount your television above the soundbar is to make use of blocks. To serve your purpose, you can opt for a wooden or metal block. Effortlessly, you can find the perfect size of a block(s) according to your television.
Further, you can fix them properly and place your television over the blocks to make the setup sturdy, and ensure your television does not fall or get damaged.
Here are the steps that you can follow to ensure a proper setup when raising TV above soundbar using blocks:
Firstly, ensure that you're doing this on a flat surface. If the surface is uneven, level it up using shims under the corners as required.
Once, you've leveled the surface, you can start placing the blocks. Place the blocks below the TV alongside each other keeping a consistent distance between them. the height of the blocks is to be determined as per the height at which you want to raise the TV. Make sure to stack up the blocks sufficiently enough to maintain stability.
Once you're satisfied with the placement of the block, it's time to mount your TV in them. Careful get your TV and rest its bottom on the blocks making sure it's stable in its place.
3. Use TV Mounts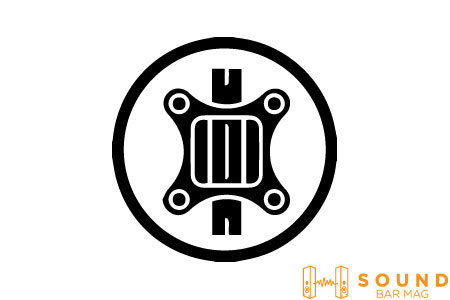 Mounting your TV on the wall will save you a lot of space and hassles. TV mounts are effortless and easy to use and make up for a very sturdy and strong setup of a TV.
Installing the mounts at your home is easy too. Once you've got the mount installed in its place, you simply have to put your TV on the mount and the space below the mounting will give a lot of room for placing the soundbar in a declutters and organized manner.
4. Use Dry Wall Screws & Anchors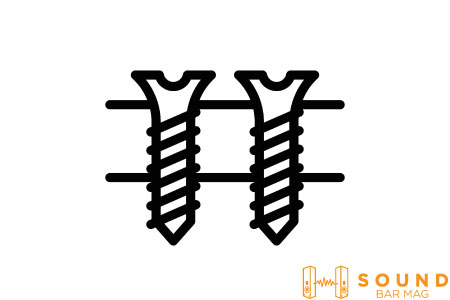 These will do the same job as the TV mounts. However, you need to be open to drilling holes in your walls for this setup. Additionally, their installation takes more time. However, once done, they look great and are also very sturdy, strong, and stable to hold your TV.
5. Use Dry Wall L Brackets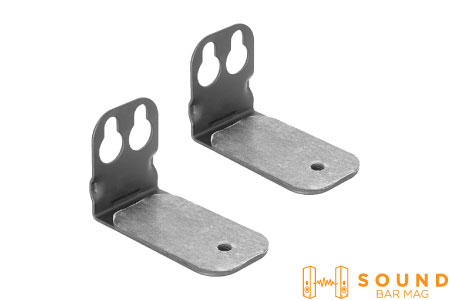 If you want your setups for raising TV above soundbar to withstand weight while being mounted on the walls, then using dry wall L brackets can be a great decision.
These brackets are strong and can easily manage a lot of weight. Moreover, if you use two brackets, you can even tilt your TV according to your requirements. So, the setup takes care of both visual and audio experiences.
Advantages of Rising a TV Above the Soundbar
In the conventional ways, you might have been keeping the widest soundbar right in front of your television. Undoubtedly, you might be facing problems with the smooth operation of your television. Moreover, you might not be able to view the bottom angles with a lot of clarity. 
It's for such reasons that it's recommended to raise TV above soundbar. The setup comes with multiple advantages, some of which are elaborated hereinbelow-
1. No Nesting
In this case, nesting refers to the interlinking of wires in such a way that it results in degradation of the sound quality. Placing your soundbar in front of your television might cause nesting, and it might not provide you with a clear audio experience.
Contrary to this, if you raise your television slightly above your soundbar, no nesting will be experienced, and you will get to have the perfect sound quality. 
2. Ease of Using the Remote
If your television is placed at a prominent position above your soundbar, then it will become easier for you to access the television through the remote. An instant connection would be established between the television and the remote.
Hence, mounting your television above the soundbar would reduce any hindrance created by the wide loudspeakers.
3. TV Protection
Placing the television at a lower elevation makes it in the reach of kids or your pets, and unfortunate pulling of the cables by either of the two will permanently damage your television. As a result, you will have to incur a heavy loss.
To prevent your television from the same, it is advised to raise your television slightly above the ground level or your soundbar. 
4. Remarkable Viewing Experience
As you are well aware of the fact that the soundbar placed in front of your television hinders the bottom viewing area of the television, therefore, to overcome the issue, it is suggested that you raise your television above your soundbar and get a clear picture of your television.
Conclusion
Raising your television above the soundbar comes with multiple benefits and the setup is easy, convenient, and gets finished in no time at all. We hope this article gave you the insights that you needed and you'll try one of the methods to raise your TV as well as experiences on your home theater system.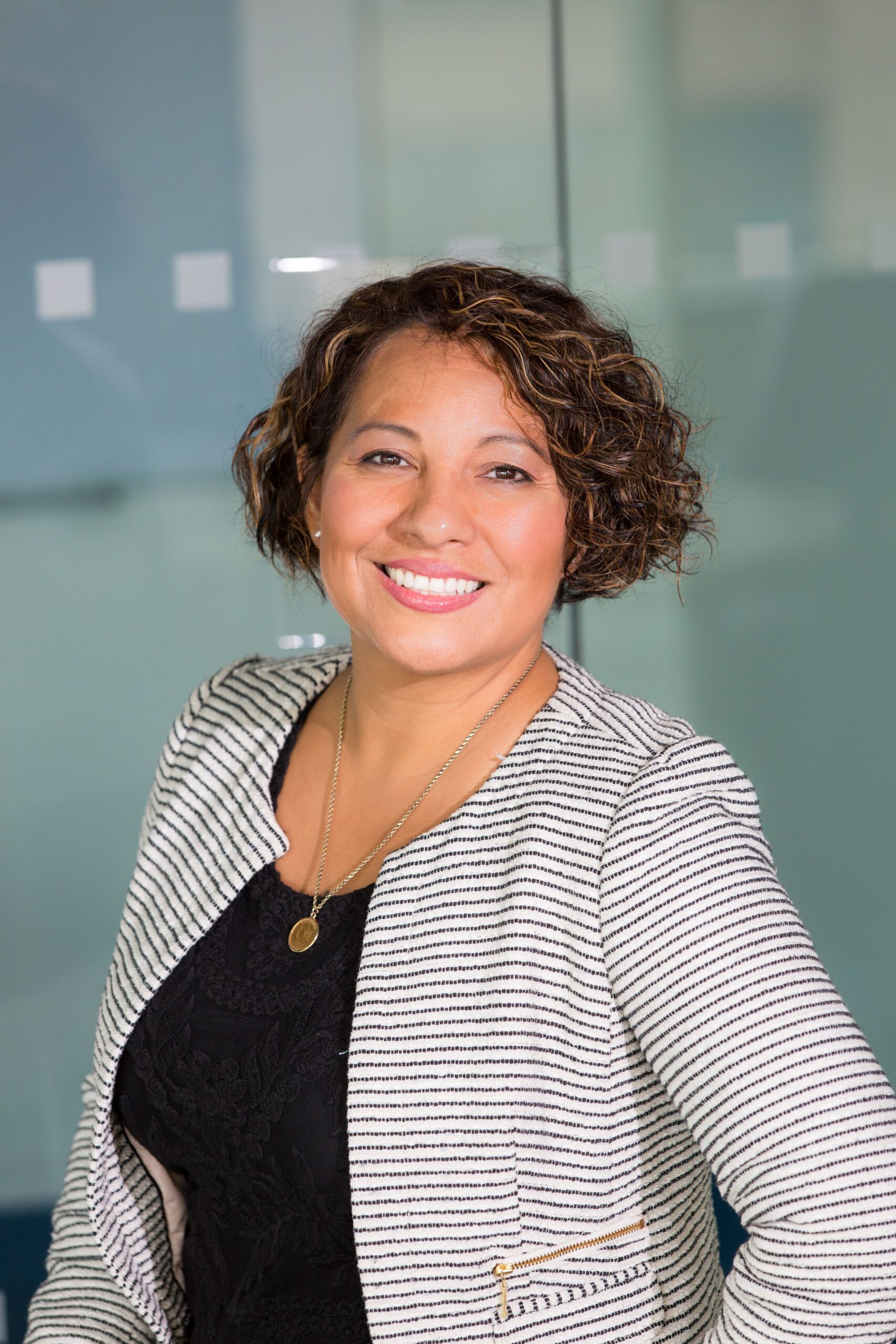 Mia Evelyn is a soundbar specialist and she love to test and review different soundbar brands. She shares her neutral and in-depth reviews through the Soundbar Mag.