Music lovers want home theatres everywhere they sit, but unfortunately, it is impossible. Besides having a hefty price tag, a huge, complex, and space-consuming setup is hard to pull together, especially in a bedroom (small room).
Therefore, we could think of a reasonable yet space-saving music system and ended up with the best soundbar for bedroom (small room). You can connect the portable soundbar, which hosts multiple speakers inside the attractive body and deliver high-resolution audio whenever you want to enjoy watching movies on your bedroom smart TV.
Based on the market recommendations, top-selling labels, and past experiences, we have gathered these top 7 soundbars for bedrooms that can entertain you with the potential to work for mixed usage. Also, easy setups, wireless connections, and Dolby decoding are some of the universal features you will be getting against the valuable investment.
Let's explore each best bedroom soundbar individually and help you decide which unit can be your next purchase.
List of the Best Soundbar for Bedroom (Small Room) in 2022
1. YAMAHA YAS-109 Soundbar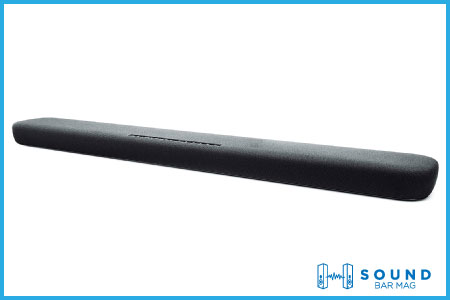 Yamaha never stops evolving in the soundbar production category and surprises us with every new release. All the soundbars are designed to draw the user into the premium audio quality, whether while streaming movies or listening to soft music.
Yamaha YAS-109 is no exception, with front and right full-range drivers, built-in woofers, and a tweeter to produce the sound that wraps around the user. This compact and subtle soundbar can shock you with a power output of 120W from the drivers and 60W from the woofer.
The space-saving perfect soundbar for bedroom (small room) can take the music to the next level with immersive 3D sound production. It features DTS: X that engages the audience in rich audio quality that hits the ground from a different direction. Besides, the Dolby Digital decoding eliminates the sound delays that encourage the soundstage to expand wider.
In addition, the Bluetooth pairing and easy setup with one cord design catch the attention of many. You can rely on the device for seamless entertainment, detailed music performance, and deep bass to add life to boring gaming or music listening sessions.
On the upside, the premium smart soundbar offers support for voice control, mainly Alexa, which works as the best alternative to annoying remote controls. Besides, the 3D passthrough, ARC, and CEC support can make the device versatile and never limit its use for music listening.
Different surround sound modes for audio customization and access to the online streaming platforms via WiFi are some of the highlighting features that can make a difference and impact your purchasing decision. Hence, Yamaha YAS-109 is a small but powerful soundbar that can get wild when needed and deserves to secure place in your bedroom, especially after offering a reasonable price tag.
Pros
• Attractive design
• Sound modes
• Rich connectivity
• Built-in woofer for rich bass

2. Bose Solo 5 Soundbar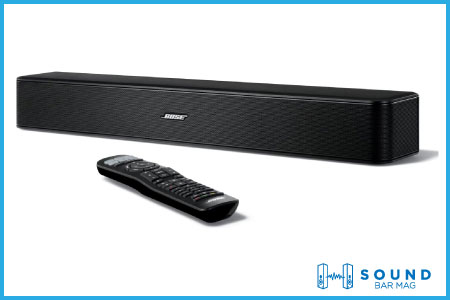 Bose Solo 5 is a mediocre soundbar with a 2.0 channel configuration and limited features. Its neutral sound profile may grab your attention, and the compact design with a metallic grill at the front may impact your purchase preferences.
It sounds well compared to the TV built-in speakers, but not good enough compared to the rivals at this price. On the upside, there are no compressions at the max volume, and the dialogue enhancement feature makes the vocal clarity an amazing bonus point.
Although it doesn't have a center channel, the phantom quality uses the left and right drivers to make the dialogue understandable. Besides, the integrated woofer can keep up with the necessary bass to complement the audio quality. The mid-range performance is worth appreciating, and the fairly low bass satisfies the music lovers.
Pulling together a soundbar is seamless as it sounds with a power cord and optical digital output. It may have limited connectivity with optical and AUX cables, but the Bluetooth pays attention to the wireless pairing for unlimited music streaming.
All in all, Bose Solo 5 is not a dreamy product if you are seeking a home theatre setup alternative, but with entry-level specs, basic channel setup, and affordable price tag, it can be a reasonable upgrade to your existing traditional speakers.
Pros
• Easy setup
• No sound delays
• Dialogue enhancement feature
• Bass extension
• Bluetooth compatible

Cons
• It doesn't get very loud

3. YAMAHA YAS-108 Soundbar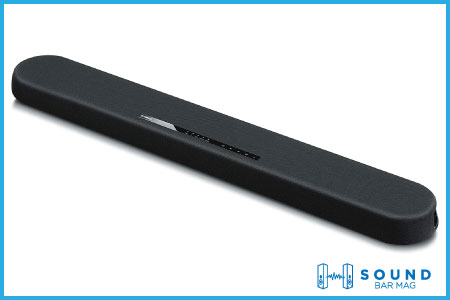 Undoubtedly, Yamaha has come a long way with its soundbar innovation, and every unit has something unique to offer. Among the huge product line, Yamaha YAS-108 is no exception for delivering enveloping sound with catchy specs.
The design is a noticeable update from the previous models with round edges and black mesh. It may not offer much in the aesthetic department, but the built-in woofer and tweeter power output will catch your attention. The soundbar produces enough bass to enhance the dialogue resonance and boom the excitement while listening to rock. However, if you want more, add an external best subwoofer for a soundbar and get that extra bass push.
The wide sound field will wrap you, and the high-fidelity sound will move you with the content. Despite having a dedicated center channel, it delivers reasonable dialogue performance that helps you understand everything precisely. Also, it can get loud without sound delays and compressions so you can expect a smooth-moving sound performance from YAS-108.
The struggle to become the best soundbar for the bedroom is real with Bluetooth support, 4K passthrough via HDMI, and several sound modes for sound customization. The included remote control with the necessary buttons will keep you at the front for navigation.
Pros
• Compact design
• Sound modes
• 4k passthrough
• Loud and clear sound
• Balanced bass and tweeter profile

4. JBL Bar 3.1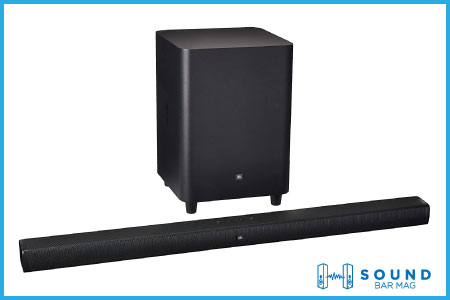 Bar 3.1 is one of the best small room soundbar that comes with a wireless subwoofer. The name speaks for the channel configuration, which means the 5.1 pounds and 40-inches soundbar makes enough space to reside six drivers and three tweeters that produce the power output of 450W.
Full points for aesthetics with a metallic grill at the front and top that conceals the speakers and the matte finishing at the rear end. Some buttons offer manual navigation, but the included remote can take care of the seamless control. In addition, it is compatible with Bluetooth, so you can wirelessly pair the smartphones or TV to stream content. Other connectivity inputs include HDMI, USB, and AUX and are available at the rear end.
On the other hand, the wireless subwoofer weighs around 26.7 pounds but houses a 10-inch driver to satisfy you with the low frequencies. The bass production is amazing, with some serious rumble to give a home theater experience.
It is a family soundbar that literally produces a balanced sound for different usage. Different sound modes, bass adjustment, and audio syncing options play a vital part in enhancing the listening experience. The dedicated center channel isolates the vocals and clarifies each spoken word for top-notch understanding.
Pros
• Bass boosting with adjustable controls
• Powerful audio quality
• Sound modes
• Night mode
• Excellent clarity

Cons
• The mid-range performance could be better.

5. Polk Audio S1 Soundbar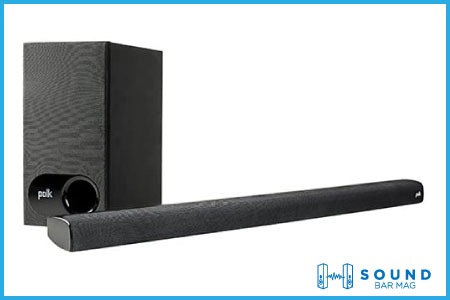 Polk Audio S1 is now a market leader for its impressive audio reproduction and rich bass performance with a wireless subwoofer. It delivers a room-filling sound that is ideal for mixed usage. Also, it offers Dolby Digital 5.1 decoding and voice adjust technology that delivers performance-tuned sound. The technology promises to produce clear and crisp dialogue, so you never miss a spoken word while streaming.
It can get loud enough to provide immersive surround sound with lifelike and spacious sound. The frequency response range of 45 Hz to 20,000 Hz speaks for itself. According to the content, different sound modes keep up with the automatic audio customization, and the Bluetooth compatibility screams for convenience.
Besides Bluetooth, the soundbar contains Analog and optical digital to offer a stable connection with gaming consoles or TV. However, ensure the TV built-in speakers are off while utilizing these input ports for seamless pairing.
Get the thundering impact of bass with an external subwoofer that struggles to deliver low frequencies. Its performance is adjustable via remote control. Speaking of adjustment, the soundbar offers dialogue enhancement features that give you the whispering sound to keep you immersed in the content. So, when you get such precise details within a tight budget from the recommended soundbar for bedroom, why wouldn't you invest in that?
Pros
• Attractive and elegant design
• Wireless sub for bass thump
• Frequency response of 45Hz to 20,000 Hz
• Voice adjusts technology
• Dialogue enhancement

6. Wohome S9920 Soundbar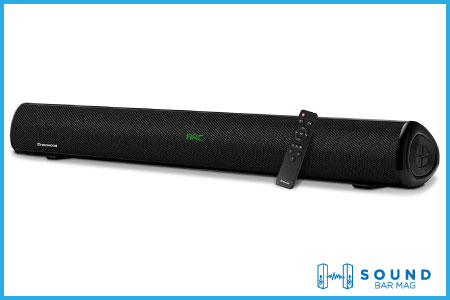 Unpopular opinion: You don't need a fancy soundbar that looks good sitting in your bedroom, but one with powerful drivers that can deliver great acoustics for your everyday digital watching.
If you are convinced of the opinion, we have this 38-inches Wohome S9920 soundbar that produces 100W audio output and offers unbelievably attractive features to make its place in your routine life. The built-in speakers produce spacious and fuller sound, and the long yet wide design makes it more detailed.
Moreover, the portable soundbar offers four different sound modes with fine-tuning and precise detailing to enhance the watching experience. All the modes are easy to switch or enable via remote control. In addition, the DTS: X technology expands the sound, and the longer bass-reflex makes the sound production more thundering.
Like other entry-level soundbars, Wohome S9920 has multiple input ports, including HDMI, USB, & AUX, to connect smartphones, TVs, projectors, and gaming consoles. Wireless connection is also available for quick and stable pairing with compatible devices.
The soundbar does not compromise the clarity of the content, not at the max volume. Also, there will rarely be any compressions, so a better dynamic stereo is awaiting you. Hence, investing in this best soundbar for the bedroom wouldn't be a mistake if you want something sleek and powerful to listen to regular music or watch some TV.
Pros
• Built-in DSP
• Sound modes
• Ground-shaking bass
• Loud and clear sound

7. Samsung HW-A450/ZA Soundbar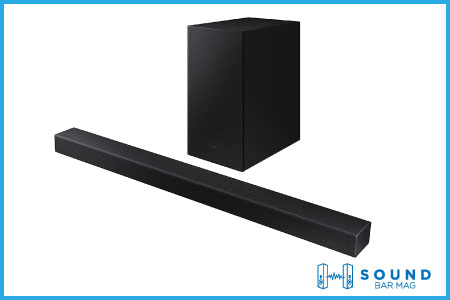 Samsung is a huge name with an extensive product line of soundbars. It has everything for everyone, and HW-A450/ZA is a great add-on of equipment for surround sound systems.
Connecting with USB and Bluetooth offers a quick and user-friendly setup to the users, saving valuable time to bring the party on. The 2.1 channel soundbar packs multiple drivers inside the edgy body, and the wireless subwoofer lets you discover richer bass.
Like the premium Samsung soundbars, this entry-level unit has a built-in adaptive technology that maintains the volume control and makes the audio more realistic to enjoy in real-time. The lifelike sound reproduction gives you live concert vibes and perfectly synced capability, making you more immersed while watching TV.
The clarity is never compromised, irrespective of the content type and volume. The game mode gives the extra boost with directional audio that moves you with the action scenes.
Thanks to the wireless connectivity and remote control, using the soundbar has never been easy. The specs and features and the space-saving compact structure make it the best soundbar for the bedroom, which fills the small room with loud and crisp audio and complements the vibes.
Pros
• Game mode
• Bass boosting
• Clear dialogues
• Adaptive sound tech

Cons
• No audio formats compatibility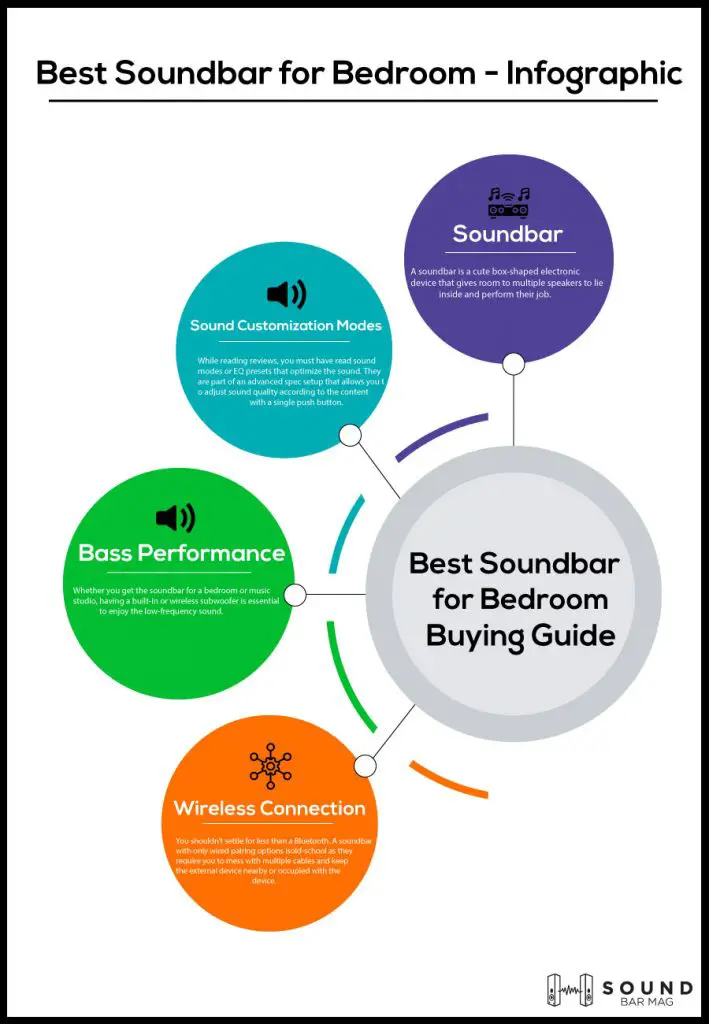 Best Bedroom Soundbar 2022 Buying Guide
There is nothing worse than catching up to your favorite show on a weekend, but your TV speakers doesn't participate. The annoying muddled sound, unclear dialogues, and dark scenes can only make you more annoying instead of making you feel relaxed.
Therefore, it is time to switch to the best soundbar that contains many speakers inside that not only focus on delivering loud sound but can produce clear dialogues, ground-shaking bass, and directional audio to keep you immersed in the content.
But, where to find such a soundbar? Especially without spending grands?
Well, you can consider one of the best soundbars mentioned above. They all have different features, but the audio quality is exceptional for everyday playing. However, if you are considering switching to a soundbar for the first time, we have made a small buying guide. It will introduce some hidden specs and underlying factors of buying a device that usually goes unnoticed.
What is a Soundbar, and Why You Should Get it?
Let's begin with the most common query of all time, what is a soundbar?
A soundbar is a cute box-shaped electronic device that gives room to multiple speakers to lie inside and perform their job. According to the channel setup, all the speakers or drivers reside there and produce quality sound. Every driver has a specific job. Full-range drivers at the front produce high-resolution audio, the center channel enhances the dialogue, and the woofer or tweeters take care of the bass and sound delays. The stereo speakers at the side expand the soundstage, and the height channels make the hitting sound with audio format support.
So, instead of getting multiple speakers individually and creating a mess in your bedroom, get the best soundbar that best matches your needs. It is worth having if you are a fan of gaming, listen to podcasts or ebooks, and even watch regular TV.
Sound Customization Modes
While reading reviews, you must have read sound modes or EQ presets that optimize the sound. They are part of an advanced spec setup that allows you to adjust sound quality according to the content with a single push button.
The number of modes may vary with the models, but the music, news, and dialogue mode are necessary. Moreover, many soundbars offer a game mode that brings the directional sound quality that moves you with actions. Also, these modes are easy to enable or switch via remote control.
Bass Performance
Whether you get the soundbar for a bedroom or music studio, having a built-in or wireless subwoofer is essential to enjoy the low-frequency sound. The ground-shaking bass adds points to the music listening experience as it shakes you with every tune and beat.
We have added some units with built-in woofers that prove to be space-saving for small bedrooms. But if you are an enthusiast and have enough space to place them, get a wireless subwoofer for expansive entertainment.
Wireless Connection
You shouldn't settle for less than a Bluetooth. A soundbar with only wired pairing options isold-school as they require you to mess with multiple cables and keep the external device nearby or occupied with the device.
Bluetooth or WiFi lets you enjoy the music without compromising your routine or phone usage. You can connect TV, gaming console, Bluray players, Tabs, and smartphones via Bluetooth with a single push or voice command.
You can check our detailed review on the Large Room Soundbars and Apartment Soundbar.
Frequently Asked Questions (FAQs)
What is the Best Soundbar for Bedroom TV?
Wohome S9920 is the best soundbar for bedroom TV with a power output of 100W and multiple wired connectivity inputs. Different sound modes enrich the sound, and the built-in technology clarifies the dialogue while minimizing sound delays. It is the best, most affordable, and minimalist soundbar for small spaces.
What size soundbar do I need for my room?
It depends on your bedroom size. Also, measure the soundbar by width and TV diagonally to fit both devices perfectly. For example, if you have a 50-inch TV, get a 45-inches or less-width soundbar for convenience.
Do you need a soundbar for a small room?
We have reviewed the portable but powerful soundbar for the bedroom (small room) that you can consider and enjoy. Get the soundbar for your room if you love watching TV shows, movies, documentaries, or listening to podcast and music in the best possible quality. A small room doesn't mean you have to compromise on your entertainment cravings.
Bottom Line
Whether you plan to throw a Christmas party or Thanksgiving dinner, you should know the trick of turning your place into a home theater by introducing the best affordable soundbar.
A simple upgrade to your sound system can turn your boring room into an evening star. So, grab the top soundbar for bedroom and enjoy the space-filling loud sound in the whole house. With easy setup, wireless connection, and feature-rich technology support, you will feel every sound beat with excitement.