Sound is everywhere.
Whether you listen to music, watch a TV show or movie, or scroll your Facebook media, you will find audio everywhere. But an awful sound system can ruin the whole mood of listening. Therefore, you need to upgrade your music system, especially for the living room of an apartment, and get a reliable soundbar that can cater to your versatile needs.
Get the best soundbar for apartment and turn your living rooms or bedrooms into a home theater. We have tested and reviewed the top-selling products that integrate multiple powerful speakers that put you amid an action, giving you an immersive experience.
We have explored the collection of different brands, including Yamaha, Samsung, Bose, etc., and extracted the bars that can deliver the sound quality your apartment demands. Allow me to appreciate the qualities of each soundbar that we now call the best apartment soundbar.
List of the Best Soundbar for Apartment in 2022
1. YAMAHA YAS-109 Soundbar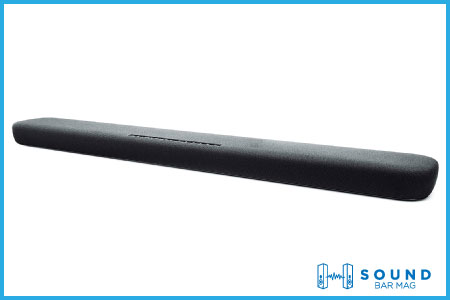 Yamaha soundbars never disappoint us, whether in terms of quality or sound reproduction. It has a huge collection of decent soundbars, and the YAS-109 is no exception, with a minimalistic design and 120W of power output.
It is the best soundbar for mixed usage as it houses dual full-range drivers at either side of the device, a built-in woofer, and a tweeter that produces a balanced sound profile with a little crisp bass. Alexa voice control makes navigation easier with built-in specs, and the dialogue enhancement feature works for vocal clarity.
Unlike the rival products at this price, Yamaha YAS-109 comes with an installation kit, including mounting brackets that let you place this 3.4kg device wherever you want. Also, it has an attractive yet slim profile that complements the décor when placed nearby, and the wireless connecting via WiFi and Bluetooth never force you to fix it on a dedicated sweet spot.
Moreover, the sound performance is unbelievable. It's hard to measure the sound unfolding capability of this small packet because it can get loud, especially with the DTS: X technology that enriches the audio. The bass extension with the Dolby Digital sets the heavy soundstage, and the Auto lip-syncing technology takes care of the perfect sound optimization.
It is undoubtedly the best soundbar for small apartment due to the different surround sound modes that can be a game-changer for many. The mode automatically adjusts the sound according to the content and ensures to deliver a great acoustic experience. Thus, we recommend Yamaha YAS-109 to everyone seeking a smart soundbar with a decent sound profile within a reasonable budget.
Pros
• 3D surround sound
• Different sound modes
• WiFi and Bluetooth
• HDMI ARC with 3D passthrough
• Alexa compatibility

Cons
• Lack of Music Cast and Apple AirPlay 2 support.

2. Bose Solo 5 Soundbar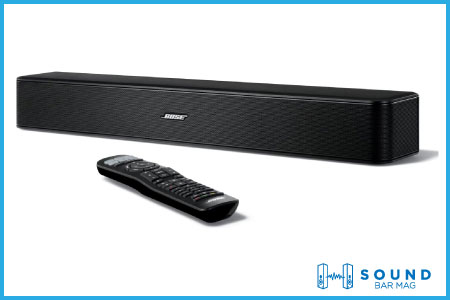 Whether you want to add an extra speaker to an existing sound system or invest in a brand-new speaker for your small apartment, get the Bose Solo 5, a perfect value for money. It is a tiny, portable, and sophisticated soundbar with a 2.0 channel setup that can keep up with your regular TV watching or music listening requirements.
Bose Solo 5 produces a balanced sound profile that may never get extra loud than YAS-109, but no soundbar can match its dialogue clarity and excellent mid-range performance.
It is a one-unit bar, so there will be no satellite speakers or heavy subwoofer coming along, making you think twice about where to place the system. It has a space-saving structure that can easily adjust under the TV. Also, the metallic grill at the front throws some luxurious vibes into the apartment, so it is worth getting it.
Although the design got us, the sound reproduction is not bad at all. Being an entry-level soundbar, it performs beyond expectations. Despite the volume level, it can produce clean and pure audio with no sound delays and distortions. In addition, the phantom center may not sound immersive as the 3.0 channel setup or any soundbar with a dedicated center channel. Still, it has satisfactory vocal performance for podcast or ebook listening.
Setting up and pairing the device wouldn't disturb you, but the limited wired connection with only one optical digital output and AUX is a shame. But Bluetooth with a decent range somehow convinces you to consider the product. On the upside, its affordable price tag, dialogue enhancement, and bass adjustment features can make you excited to upgrade for routine use.
Pros
• Compact design
• Decent stereo dynamics
• Bluetooth streaming
• No distortions and sound delays

Cons
• No audio format support

3. Wohome S9920 Soundbar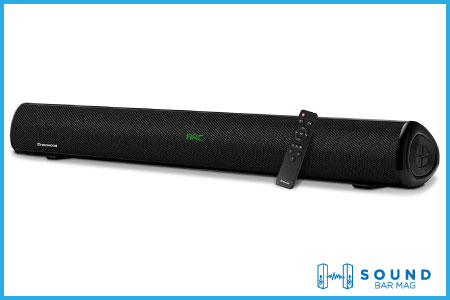 The very infamous but worth-investing soundbar we have is Wohome S9920, a 38-inch soundbar with multiple speakers' integration to transform your music listening experience.
All six speakers produce high-resolution quality audio that suits well for mixed usage. The sleek and modern body comes with a display at the front to keep you updated with the mode and volume. The connectivity includes optical digital and HDMI that stays consistent with the external device. Besides, the Bluetooth 5.0 support ensures excellent sound quality with stability to the compatible sources.
The integrated technology includes DSP and four different sound modes, including TV, Music, Movie, and 3D, optimizing the content and elevating the sound for better listening. All the functions are easy to enable and control via remote control, and the device is ready to mount using the available kit.
You can count on the Wohome S9920 for rich connection, expansive soundstage, and booming bass at an affordable price. With a balanced sound profile, it can keep up with daily podcasts, ebooks, and TV watching. However, the Atmos or DTS support could be a plus point with the other feature set.
Pros
• Metallic grills enhance the aesthetics
• Comfortable remote control
• DSP and sound modes
• No compressions noticed
• Deep and rumbling bass

4. Polk Audio S1 Soundbar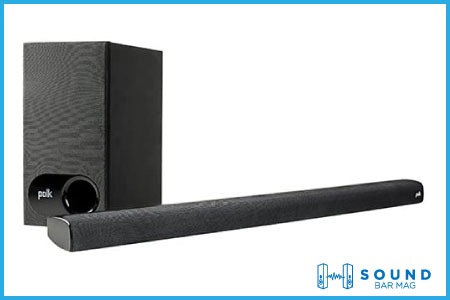 Polk Audio S1 is a soundbar with an external subwoofer that is a perfect home theater system for your everyday music listening. This compact soundbar is ready to mount on the wall, and the box-shaped sub can be placed anywhere on the floor to experience low-frequency thundering bass.
Its low-profile design can surprise you as soon you hit the play button. Its dual mid-range drivers deliver stunning sound performance with fantastic clarity. The Dolby Digital 5.1 decoding is another hitting point of the soundbar to produce spacious sound.
The wireless subwoofer delivers low frequencies that create deep bass. The bass hits the ground and shakes the floor despite the volume control. Besides, three different sound modes make audio quality adjustments automatically, and Bluetooth will always keep you connected with compatible devices. Moreover, the Night mode never compromises the watching excitement in odd hours by adjusting the volume and dialogue performance.
Speaking of setup and connections, Polk Audio S1 includes optical and Analog outputs that give you enough convenience to connect the TV and start listening in minutes. It is undoubtedly the best apartment soundbar for all the qualities it is willing to offer.
Pros
• Wireless music streaming
• Night mode
• Voice adjust technology
• Dolby Digital 5.1 decoding
• Sound modes

5. Samsung HW-A450/ZA Soundbar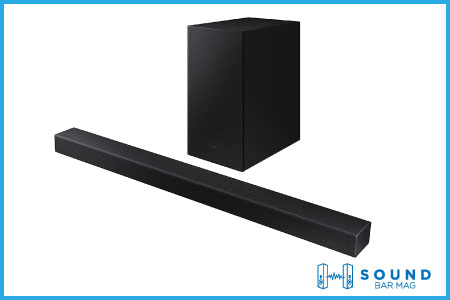 Samsung HW-A450/ZA is a decent addition to the list of the best soundbar for bedroom, mainly small bedrooms, considering its subtle structure and 33.9-inches body. It does not block the IR while sitting under the TV, and its edgy design throws some sophisticated vibes in the room.
Comparing other units in the review list, Samsung has nothing much to offer in terms of specs and features. You wouldn't get any advanced audio format support like DTS or Atmos. However, on the upside, an adaptive sound lite support enhances audio tracking and combines perfectly syncing capability, boosting the TV watching experience. It can produce every word, and tune with detailing that equalizes background music while not giving you the feel of many adjustments.
Moreover, the 2.1 setup produces high-definition audio that can promise realistic audio while watching documentaries. Surprisingly, the game mode boosts the overall experience with the directional sound that keeps you hooked with the action games.
Therefore, if we consider all the qualities, loud and thundering performance, the soundbar can be relied on to get a loud, clear, and crisp sound performance with the breeze setup and easy fixing. Nevertheless, the wireless subwoofer will surprise you with a deep bass that produces precise low-frequency sound to match your needs.
Pros
• Elegant design
• Durable built material
• Game mode
• Bass boost

6. JBL Bar 3.1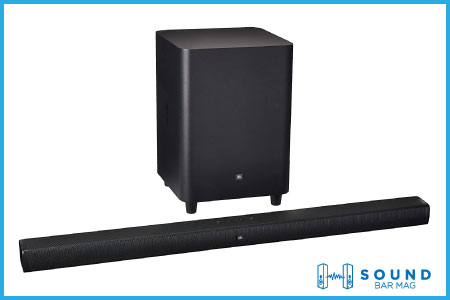 Winding up the reviews for soundbar for apartment with JBL Bar 3.1, a very famous and worth trying soundbar from the extensive product line. It gives the next-level audio quality with high crisps and low bass notes that deliver powerful sound performance for every content.
The setup is a breeze with remote control and wireless connection. Wired inputs are also included in the rear panel that offers stable pairing options. It also includes a wireless subwoofer, unlike many other bars at this price, and it is powerful enough to deliver ground-shaking bass and serious rumble.
However, the soundbar is subtle and includes six drivers and three tweeters inside the 31-inches body. The metallic grill at the front catches the attention, and the LED display shines within the grille.
The soundbar has an amazing set of features that are easy to navigate via a large remote control. It offers sound sources, adjustable audio sync to set the sound where you understand clearly, bass boosting button. Some sound customization modes save the energy of adjusting audio and other audio levels according to the content.
Moreover, the virtual surround effect brings the cinematic sound, and the night mode promotes soft sound that maintains your excitement level while not disturbing others. It is a complete entertainment package with all the entry-level features and space-saving design.
Pros
• Serious rumble
• Sound modes
• Virtual surround sound effect
• Remote control navigation
• Affordable
• Wireless subwoofer

7. YAMAHA YAS-108 Soundbar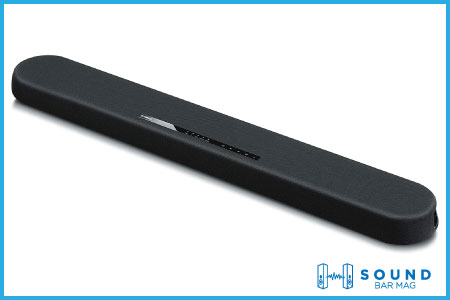 Yamaha YAS-108 is another great soundbar for mixed usage with portable design, durable build quality, and a pack of essential features. The soundbar will surprise you with spacious and lifelike sound with the entry-level specs profile. The drivers are compatible with DTS:X and Dolby Digital, which maximize sound clarity, enrich the soundstage and bring realism while watching shows or movies.
Connecting via Bluetooth and controlling with remote control makes the setup and navigation super convenient. The HDMI input with 4k passthrough is a respectable upgrade to the previous models that immerse you while watching 4k content on TV.
Moreover, the sleek and space-saving design houses woofers and tweeters that deliver deep bass with an extra thump. But, if you want to experience a cinematic experience, it has a subwoofer output to connect external sub.
It is a great overall soundbar with several sound modes, enhanced dialogue performance, and Alexa compatibility via Bluetooth. It allows connecting home devices to the bar to control via voice commands.
If your TV is HDMI-CEC compatible, you can use the TV remote to navigate the soundbar. Though the included remote has a comfortable grip, you can use it to switch modes or adjust the volume. Considering the interesting and valuable features, it can be a great addition to your sound system.
Pros
• 4k connectivity
• Dual woofer and tweeter
• DTS: X for lifelike sound
• Loud and clear performance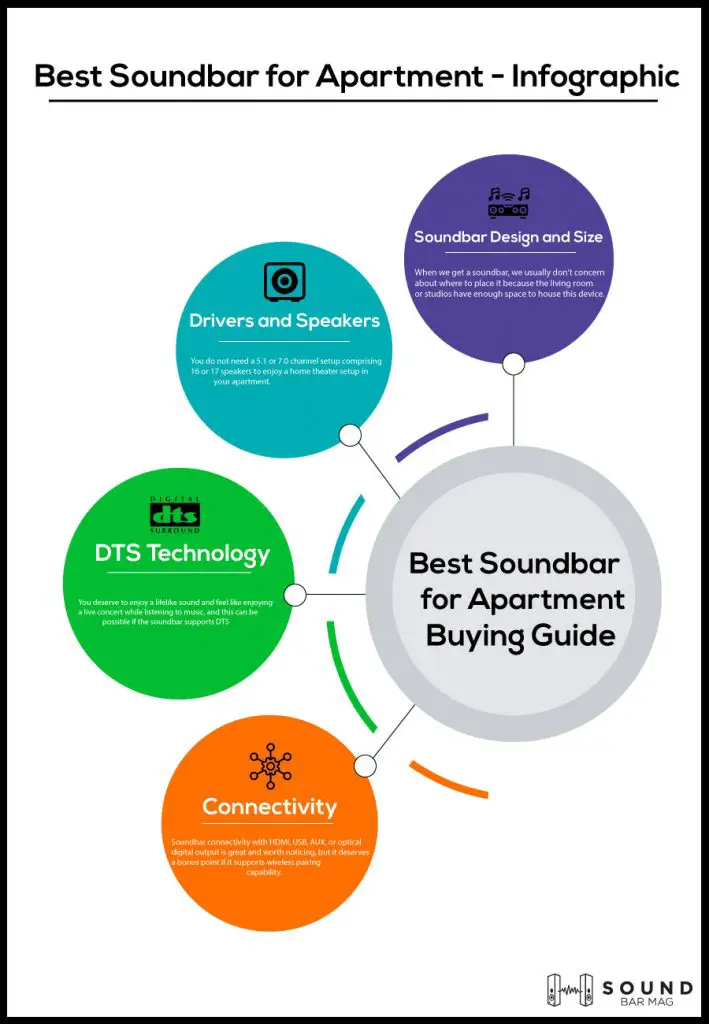 Best Soundbar for Apartment – (2022 Buying Guide)
We all want to enjoy good music from a good sound system, but the awful TV speakers and our inexpensive Bluetooth speakers ruin the whole vibe.
Catching up to the playlist or watching a classic movie by the end of the day could be a great escape or therapy, but you need the best soundbar to satisfy your requirements. However, finding the soundbar that best matches your needs is pretty unlikely, especially in this competitive world. All the famous brands have incredible products with a rich feature set, and different categories leave people in confusion.
Therefore, we will briefly highlight some of the essential elements to give you a fair idea about the device. It will help you determine what could be the best small apartment soundbar under your certain budget.
Soundbar Design and Size
When we get a soundbar, we usually don't concern about where to place it because the living room or studios have enough space to house this device. However, getting a soundbar for an apartment could be a little different and reserving because it depends on the apartment size, your lifestyle, listening habits, and other relative factors.
Thus, getting a soundbar with a small size could be a great idea. It will produce enough power output to fill the small apartments and not make you disturb other people in the surroundings. Moreover, the design and overall aesthetic should be eye-catching like other devices in your home. We have mentioned the sound bar for apartments that is portable and attractive to place in bedrooms, kitchens, or anywhere you want.
Drivers and Speakers
You do not need a 5.1 or 7.0 channel setup comprising 16 or 17 speakers to enjoy a home theater setup in your apartment. An entry-level soundbar with a maximum of six speakers should be enough to fill up your space with high-definition audio.
Though your main concern should be vocal clarity, booming bass, and thundering sound while watching or listening to different content, a 2.1 or 3.0ch soundbar can do that for you.
DTS Technology
You deserve to enjoy a lifelike sound and feel like enjoying a live concert while listening to music, and this can be possible if the soundbar supports DTS: X format. It enriches the sound, expands the soundstage, and ensures no comprising of the dialogue performance.
We have mentioned some compelling soundbars of different brands that support this incredible technology that moves you with the sound. It is also great for experiencing directional audio, mainly for gaming.
Connectivity
Soundbar connectivity with HDMI, USB, AUX, or optical digital output is great and worth noticing, but it deserves a bonus point if it supports wireless pairing capability.
We have added the soundbar with Bluetooth support, offering a decent connectivity range to eliminate relying on messy cables. The wireless connection is stable, smooth, and flexible for different smart devices.
You can check our detailed review on the Large Room Soundbars and bedroom soundbar.
Frequently Asked Questions (FAQs)
What is the Best Soundbar for Apartment?
Yamaha YAS-109 is the best soundbar with entry-level specs, 120W power output, built-in woofers, and a minimalistic design. It is portable enough to keep in your small apartment and powerful enough to fill the space with moving and realistic sound.
Can you have a subwoofer in an apartment?
Yes, if you are a fan of serious rumble or thundering bass, you can have a subwoofer with a soundbar in your apartment. However, ensure to keep the volume balanced so as to not disturb anyone around you because the subwoofer can get wild while playing songs.
Can my neighbors hear my soundbar?
They can if you put the volume at max level. But many soundbars come with bass and volume adjustments that let you set the soundbars according to your environment. Besides, night mode also makes a difference in softening the background sound.
Bottom Line
Finally, the journey of finding the best apartment soundbar may end here with these amazing products. We surely understand that there is nothing worse than watching your favorite TV shows or movies with pathetic sound quality; thus, getting a good sound system packed with great features is your right to invest.