The slim, stylish, and tech-savvy smart TVs focus on delivering excellent display performance with the help of different advanced technologies, display panels, rich color production, but lacks to satisfy customers with the sound quality.
Since the thin, sleek, and modern TVs struggle to add compelling speakers inside the TV body, they divert our attention to investing in the best soundbar. A soundbar is a modern name of multiple speakers that produce loud, clear, and crisp audio to satisfy the music listening cravings.
Yes, soundbars can be a part of your outdoor parties, indoor movie nights, and casual music streaming. Luckily, soundbars are easy to connect with smart devices via wired and wireless sources, and unlike TV, you can move the device freely. However, many latest soundbars are getting expensive, which reaches out the range of many. Hence, we discuss the top and premium soundbars with a specific budget range.
You can find the best soundbar under 500 in this article, along with their detailed review, so you can save your time, do the research homework, and make the purchase right away.
So, without further ado, let's jump to the reviews of the best soundbars under $500.
List of the Best Soundbar Under 500 Dollars in 2022
1. Bose Smart Soundbar 300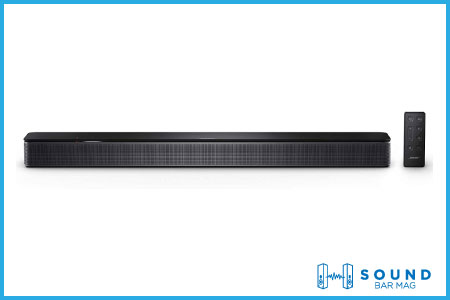 The Bose Smart Soundbar comes with many features that make it an ideal choice for those looking for quality audio in a small space. First and foremost, the soundbar comes with Bluetooth connectivity and Alexa Voice Control. Such features allow you to control your entertainment experience using voice commands easily. Additionally, the soundbar is made from durable materials that provide years of use.
Moreover, the sound quality of the Bose Smart Soundbar is excellent, making it an excellent option for those looking for a high-quality soundbar that is perfect for smaller spaces. It also has acoustic performance with 5 full drivers producing an immersive sound experience.
This soundbar is a perfect combination of design and sound quality. It is easy to set up and use, and its sound quality is unmatchable in this price range. It also gives good exposure to voice controls which are highly becoming in the multimedia world.
The drawback of the soundbar is that its lack of bass may not be a deal-breaker for some, but it is worth noticing. Overall, the Bose Smart Soundbar 300 is a product that can really match the intent of many kinds of music and gaming enthesitis.
Check: Best Soundbar Under $1000
Pros
• Bluetooth Connectivity
• Alexa Voice Control
• Good Sound Quality
• Small, Durable, and Compact
• Acoustic Performance with 5 Full In Drivers

2. JBL Bar 5.1 Soundbar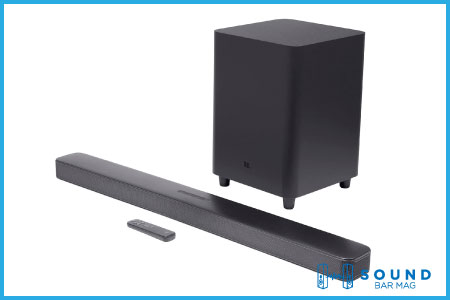 To get the best, we need to dig for the better. After much market research, we came up with the top-notch product, which stands as one of the best soundbars under 500 due to its sound capabilities. The JBL 5.1 soundbar is equipped with virtual surround sound technology to experience natural sound reproduction from all directions. It also has a 10″ wireless subwoofer for deep bass enhancement and enhanced stereo imaging.
Equipped with Dolby Atmos and DTS:X technology, the soundbar can create an immersive surround sound experience for movies, games, and music. It also has a built-in amplifier and passive radiators to improve audio quality. The 550w of power is more than enough to power up even the most giant TVs. The soundbar also comes with a 3-year warranty, giving you peace of mind that it will last for years to come.
The Alexa multi-room audio feature is also included allowing you to control the soundbar and other Alexa-enabled devices in your home from one voice command. 4K passthrough with HDMI 2.0b allows the soundbar to send uncompressed 4K content from your TV to the soundbar for outstanding audio quality.
The JBL Bar 5.1 stands as top-rated soundbars under 500, offering impressive sound quality and an immersive experience. The only drawback is that it does not support Bluetooth but comes with an HDMI port for easy connectivity. So if you are looking for an excellent soundbar that won't break the bank, the JBL Bar 5.1 is definitely worth considering!
Pros
• virtual surround sound technology
• 10″ wireless subwoofer for deep bass
• Dolby Atmos and DTS:X
• Alexa multi-room Audio
• 4K passthrough with HDMI 2.0b
• built-in amplifier and passive radiators

3. JBL JBL2GBAR51 Soundbar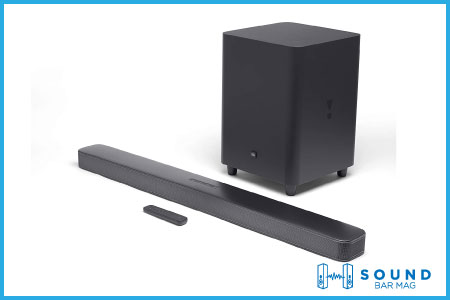 Another top selection in our soundbars list comes under the brand tag of JBL. JBL JBL2GBAR51IMBLKAM Bar 5.1 Soundbar is an excellent option if you are looking for a soundbar with a virtual surround and plenty of power to fill a room with sound. It comes with an 8-inch wireless subwoofer perfect for larger rooms.
The Virtual Surround feature offers listeners 5.1 channel Dolby Digital surround sound. At the same time, the built-in 10-inch wireless subwoofer produces powerful bass tones that will shake your floorboards. You only need a smart TV and a compatible HDMI cable to start, making this soundbar perfect for any space.
The JBL JBL2GBAR51IMBLKAM Bar 5.1 Soundbar also has a built-in amplifier that provides up to 100 watts of power, making it perfect for larger TV sets and movies. The sound quality is excellent, with rich vocals and powerful sounds that will fill your room. The JBL JBL2GBAR51IMBLKAM Bar 5. 1 Soundbar is definitely worth checking out with so many great features and good sound quality.
Apart from all the great things about the soundbar, the lack of wireless connection makes you limit your device to place nearby compatible devices for stable pairing.
Pros
• 550w of superpower
• Virtual surround sound
• 8-inch wireless subwoofer

Cons
• Not wireless needs an HDMI cable to connect to the TV.

4. ECOXGEAR SoundExtreme SE26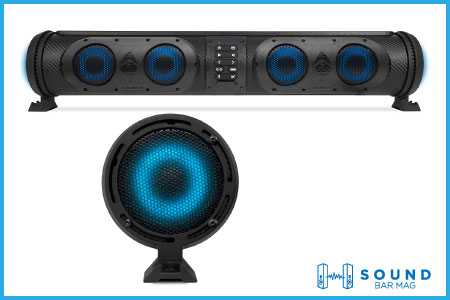 Here Comes the beast of the affordable soundbar under $500 list. ECOXGEAR SoundExtreme SE26 soundbar is a beast in terms of sound quality. The amplifier can produce 500 watts of peak power so that you can expect clear and powerful sound from this device. ECOXGEAR also includes a built-in digital amplifier that ensures maximum sound quality. The SoundExtreme SE26 also has a waterproof design, so you can take it with you wherever you go.
Furthermore, the bar comes with sand and water resistance, so you can enjoy your music in any weather condition. The SoundExtreme SE26 features LED lighting that adds an extra level of visual appeal to your music experience. Its integrated audio and light control provide you with complete control over the lighting effects.
The SoundExtreme SE26 is designed with an eye for quality. It has a sleek and modern look, complementing any home theatre setup. The soundbar is made from durable material, so you can enjoy your music without worrying about it breaking. The SoundExtreme SE26 is one of the best soundings soundbars on the market. It has a powerful amplifier that produces clear and powerful sound. The soundbar lets you fully enjoy your music and have value for your money.
The only drawback of the SoundExtreme SE26 is that it does not have an HDMI cable in the kit, so you'll need to get one separately to connect the bar to your TV. Overall, the SoundExtreme SE26 is an excellent soundbar that delivers impressive sound quality.
Pros
• Unmatched Sound quality
• 500w peak power Durable
• Modern design
• Water and dustproof

Cons
• Does not come with an HDMI cable.

5. LG SP8YA 3.1.2CH Sound Bar
The LG SP8YA 3.1.2CH Sound Bar and Subwoofer with Dolby Atmos is an excellent soundbar that provides excellent sound quality and features. This soundbar has a built-in Dolby Atmos sound module that provides impressive sound quality at max volume. The LG SP8YA also has a subwoofer that gives you deep bass sounds without distortion and compression at loud volume, creating a wide soundstage. This soundbar is an ideal choice for those who want great-sounding audio without spending a lot of money.
The LG SP8YA has an excellent built-in sound module that provides incredible audio. This soundbar also has an excellent built-in speaker system that provides clear, rich sound. This system features 5 full-range speakers that deliver high-quality sound. The LG SP8YA also includes an amplifier that allows you to enjoy high-resolution sound even when the volume is low. Besides, the dedicated center channel ensures splendid vocal delivery with the next-level clarity for better understanding.
It also includes 4K Passthrough (HDCP 2.3), which means that you can watch your favorite movies and shows in stunning 4K quality without having to worry about any compatibility issues. The LG SP8YA also includes HDMI eARC, which allows you to connect your smartphone or another device to the soundbar and enjoy high-quality audio without using a separate audio cable.
The LG SP8YA 3.1.2CH Sound Bar is powered by Meridian Audio Technology which provides high-quality sound. This soundbar uses digital audio processing to deliver clear, rich sound that you'll love. The lack of Bluetooth connection is a shame, so you'll have to use an external Bluetooth speaker if you want to enjoy music from your smartphone or another device.
Pros
• Includes an excellent built-in sound module
• Powered by Meridian Audio Technology
• Dolby Atmos And DTS:X
• Includes 4K Passthrough (HDCP 2.3)
• Includes HDMI eARC

Cons
• Doesn't include a Bluetooth connection

6. Klipsch Cinema 600 Sound Bar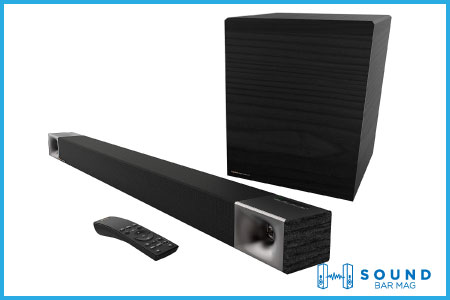 A classic product for a classic price is what Klipsch has to offer with the Cinema 600 soundbar. This model features a sleek design, HDMI ARC connection, and Dolby Atmos capabilities for an immersive listening experience. The soundbar is quick to set and easy to use, making it an ideal soundbar under 500.
We were impressed with the Cinema 600 sound bar's sleek design. The black finish is simple but elegant, while the front-mounted controls are easy to use and navigate. The sound quality was also excellent, with rich bass and clear vocals that made watching movies or TV shows an immersive experience.
The Klipsch 10-inch wireless subwoofer is perfect for adding extra bass to your movie or TV experience. This compact unit features a built-in amplifier and frequency response of 38Hz -200Hz for deep, resonant lows. The Klipsch Cinema 600 soundbar also features Dolby Atmos for an immersive sound experience. This technology uses overhead speakers to create a more realistic acoustic experience, providing greater depth and width to your music and movies.
The drawbacks of the Klipsch Cinema 600 soundbar are that it is a bit on the heavy side and may not be appropriate for smaller spaces. Additionally, it does not include an HDMI cord which could be a problem if you have other devices that need to be linked to the soundbar. Overall, we highly recommend the Klipsch Cinema 600 soundbar if it has a premium product within the figure of 500.
Pros
• Advanced sound quality
• Dolby Atmos
• Sleek design
• Virtual Surround Sound
• Compact and easy to use

Cons
• Quite heavy
• It May is not suitable for smaller spaces

7. Sony 3.1 Channel Soundbar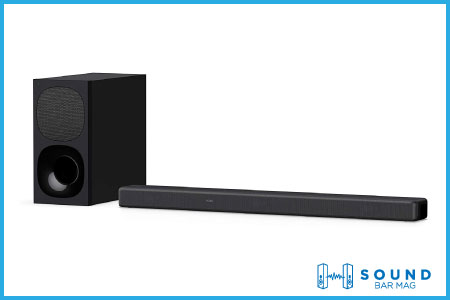 The Sony 3.1-Channel Soundbar with Wireless Subwoofer is an excellent soundbar for those looking for a premium and quality soundbar. This soundbar has excellent sound quality and provides a great surround sound experience. The soundbar also has a built-in subwoofer that provides excellent bass and enhances the overall sound quality.
The soundbar is very easy to set up and can be connected to various devices. It can also be used with any TV that has an HDMI port. The Sony 3.1ch soundbar also comes with a remote control that is easy to use and provides excellent control over the sound output. The soundbar also comes with various sound modes that can be adjusted to provide an excellent overall sound experience. The sound modes include Standard, Cinema, Music, Sport, and Theater.
The Sony 3.1-Channel Soundbar with Wireless Subwoofer also comes with Dolby Atmos and DTS:X features, which provide an excellent sound experience. With Dolby Atmos, the soundbar can create a realistic surround sound experience that is perfect for movie watching. DTS:X allows the soundbar to reproduce high-frequency sounds with greater accuracy, providing a better sound experience for listening to music.
Also, it does have a power cord that can plug the soundbar into an outlet, making it a plug-and-play device. It is safe to say that a soundbar is a great option that provides excellent sound quality and a surround sound experience.
Pros
• Great sound quality
• Easy to use
• Rich and flexible connectivity
• Comes with a handy remote control
• Adjustable sound modes
• Dolby Atmos and DTS:X features provide an excellent sound experience.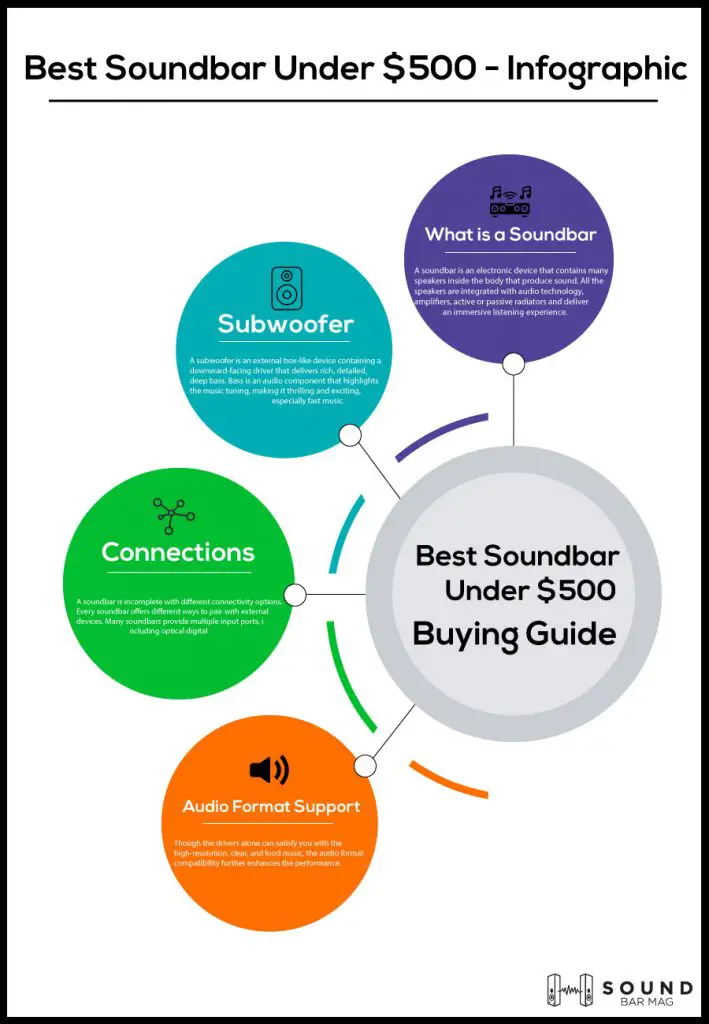 Best Soundbar Under $500 – 2022 Buying Guide
Buying a soundbar under a certain budget may limit you to options, but your motive to enjoy the best sound experience should remain intact. Besides, you should also have a deep understanding of a soundbar, its properties, and what makes them best even while staying within budget.
Therefore, after the detailed discussion of the best budget-friendly soundbar, we will highlight some factors that may need your attention. These aspects will give you enough idea about the machine and help you in the entire shopping process. So, let's dig into it.
What is a Soundbar?
Well, you must know now what a soundbar is and what's its main purpose, right?
A soundbar is an electronic device that contains many speakers inside the body that produce sound. All the speakers are integrated with audio technology, amplifiers, active or passive radiators and deliver an immersive listening experience.
The soundbar is being judged by channel configuration, which refers to the number of drivers it contains. However, every soundbar comes with full-range drivers that produce loud, clear, and thrilling sound and a woofer to cover the bass requirements. So, the more driver it contains, the better the sound performance you enjoy.
Subwoofer
A subwoofer is an external box-like device containing a downward-facing driver that delivers rich, detailed, deep bass. Bass is an audio component that highlights the music tuning, making it thrilling and exciting, especially fast music.
A subwoofer is an incredible add-on that ultimately enriches the music listening experience. A soundbar usually comes with an external subwoofer that connects wirelessly to the soundbar and starts functioning over a single push button. On the other hand, many entry-level or space-saving soundbars have a built-in woofer that delivers the same performance.
Connections
A soundbar is incomplete with different connectivity options. Every soundbar offers different ways to pair with external devices. Many soundbars provide multiple input ports, including optical digital, AUX, RCA, HDMI, USB, and Analog, whereas many also offer Bluetooth or WiFi options to pair via wireless.
The WiFi support allows online music streaming from different platforms, but you should match the connectivity requirements with your existing devices for a safe purchase.
Audio Format Support
Though the drivers alone can satisfy you with the high-resolution, clear, and loud music, the audio format compatibility further enhances the performance. If your soundbar features compatibility with Dolby Atmos or DTS:X, you can expect a 360 virtual surround sound experience from the device that will turn your space into the entertainment hub.
Undoubtedly, the technology enhances the sound projection and give it a direction to deliver, making it rich, pure, and realistic for a true music listening experience. Fortunately, you can find the soundbars with such format support under the budget range of 500.
Frequently Asked Questions (FAQs)
What is the best soundbar Under 500?
Sony 3.1ch is the best soundbar under 500, which is easy to use, produce expansive sound, and supports Dolby Atmos and DTS:X technology. You will also find multiple sound modes that optimize the content and produce relatable syncing sound to provide an acoustic experience.
Is Bose soundbar better than Sony?
Sony is definitely better than the Bose Soundbar, considering its premium build, impressive features, and thrilling sound performance. The Sony soundbar also supports Dolby Atmos and deliver better surround sound performance.
Is Dolby Atmos worth the price?
A soundbar with Dolby Atmos is worth every penny if you want a home theatre setup. The Atmos enriches the sound, expands it, and makes it richer and more detailed while ensuring it never compromises clarity.
Bottom Line
Since the parties, movie nights, or even casual TV streaming would be no fun if the sound performance is not top-notch. So, investing in a reliable soundbar is worth it. Find the best sound bar under 500 USD in this detailed article and treat your house with powerful, energetic, and stunning sound performance.