We all want a home theater for rich audio projection, clear sound, and thrilling bass. But every luxury comes with a huge price tag.
A soundbar is a device that can give the same entertainment by producing powerful sound using multiple speakers simultaneously, but they are also getting expensive, considering the rising demand.
However, we want all audiophile freaks to enjoy quality music for the best acoustic experience by connecting all the smart devices at home.
Therefore, we have found and tested the best soundbar under 100 that can do the job without breaking the bank. The soundbars may not have premium features, but they are enough to upgrade your TV speakers.
So, let's see the detailed reviews of the top 7 soundbars under 100 and treat the houses with some loud and exciting music.
List of the Best Soundbar Under 100 Dollars in 2023
1. Sony S100F Soundbar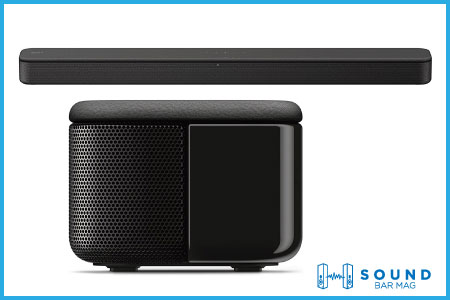 Sony S100F 2.0ch Soundbar is a great soundbar for the home office or bedroom. We tested it in a bunk room, and it was enough to fill the space with great sound.
The sound quality is excellent, and it is easy to set up. The bass reflex speaker makes the sound louder and more transparent. Also, the integrated tweeter ensures that high-quality sound is delivered through the soundbar.
Its Bluetooth connection makes it a wireless device that easily connects to any smart device you have. So, you can move the soundbar around the house and use it at your convenience. We also liked its range and signal intensity for long use.
The soundbar has a slim design with high-power sound, which makes it a perfect soundbar that can be used in a home office or as a TV soundbar in the living room for various purposes.
This soundbar also offers a voice enhancement feature to clarify peaceful dialogues and make virtual meetings clearer and easier to hear. It wasn't ideal as the high-end bars we tested, but better than the TV speakers.
Moreover, it comes with a wall mount, so you can mount it anywhere in the room without taking up a lot of space. It's easy to use because the soundbar comes with remote control.
The best of all features is its S force pro Front Surround sound, which makes the voice crisp and clear no matter what direction they are coming from.
Overall, the Sony S100F 2.0ch Soundbar is an excellent soundbar for people looking for an excellent soundbar that can provide a perfect home theater experience at an affordable price.
However, the soundbar does not have an HDMI cable, which is a shame. Still, it is a minor downside and does not affect the overall performance of the soundbar.
Check: Best Soundbar Under $150
Pros
• Perfect sound quality
• Bluetooth Connectivity
• Slim and high-power design
• Wall mount
• Voice enhancement feature

2. BESTISAN S6520 Soundbar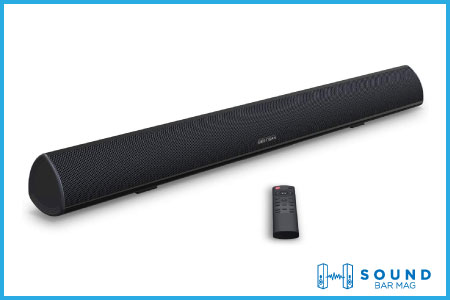 Bestisan, one of the best soundbars under 100, claims to fill the room with energetic sound and heavy bass and does what it says. It has excellent sound quality and comes with many features that make it perfect for home theater use.
The bass was fine, and the overall design is neat and modern to use at home or the office. It also features a built-in Bluetooth connection and can be easily wall-mounted. This soundbar is an excellent choice for a high-quality sound solution at an affordable price.
Moreover, the soundbar has multiple features in such a price range, making it a perfect fit for many homes and offices. It also has a powerful sound speaker, filling the whole room with quality sound with no noticeable compressions at max volume.
In addition, the built-in voice enhancement feature allows you to hear sounds easily. The vocal clarity was improved with this feature, especially when we examined it with news and TV shows.
Three different sound modes and equalizers make it easy to find the perfect sound tone, and the bass is excellent. This soundbar also has a USB port for easy connection and powering your devices.
You can easily mount the bar on the wall or set it on the table without any problem; the mounting brackets are included in the kit. Above all, multiple wired and wireless connections offer effortless connectivity with all your devices.
The drawback of the soundbar might be that it doesn't have a subwoofer. But for the price and all its features, it is still one of the best budget soundbars on the market.
Pros
• Great sound quality
• Multiple features at an affordable price
• Voice enhancement feature
• Soundbar has multiple sound options
• Surround sound

3. SAMSUNG HW-T400 Soundbar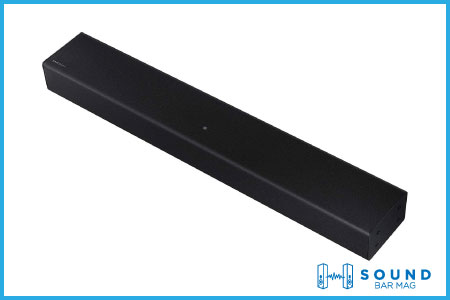 Samsung HW-T400 2.0 Channel Soundbar with Built-in Woofer is an excellent soundbar under 100 that provides rich and clear sound with plenty of basses. It also has an easy-to-use remote that allows you to control the soundbar with just a few buttons.
We were impressed by its handy profile and how it is easy to set up and has an easy-to-read display. Soundbar also provides a built-in woofer that ensures you get deep and powerful bass and rumble sound to boost the music listening experience.
Samsung 2.0ch is an excellent soundbar for those looking for an affordable brand-tag product to upgrade their home theater experience. It also features Dolby Atmos and DTS 2.0 Channel sound, which provides an immersive and exciting sound experience. With these features, this product becomes the top-notch pick in the list of best soundbars under 100.
Additionally, the soundbar offers Bluetooth connectivity and an optical digital audio output to easy pair with traditional devices, including TV or DVD players. We could utilize the port for a gaming console or even a Blu-ray.
For storage, the soundbar comes with a 1TB hard drive, which allows you to store your music, videos, and photos without hassle. It also has USB ports to connect your devices, such as laptops and external speakers.
Control your speaker with a remote; the soundbar has an easy-to-use remote that allows you to control the soundbar with just a few buttons. The remote also features a backlight that makes it easy to use in low-light conditions.
It's not surprising, considering the price tag, but it does not have a subwoofer, and many people wish it could have. However, the soundbar is an excellent buy for a price tag of less than 100. And with such features at a low price, I will have one if I need the best from the rest.
Pros
• Dolby Atmos And DTS
• Built-In woofer
• Bluetooth and Optical Digital Audio Output
• 1TB hard drive for storage
• Remote Control

4. Polk Audio Signa Solo Sound Bar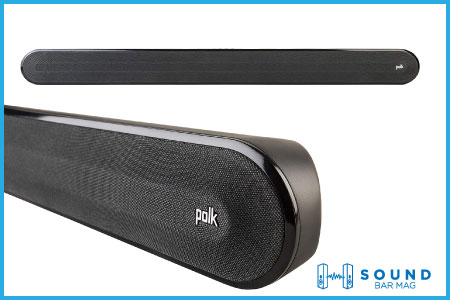 Polk audio signal solo soundbar might be the product you are searching for because this is the best budget soundbar with all the necessary features. It has 10X more bass than most soundbars and Dolby Digital Surround decoding, allowing you to enjoy the best surround sound possible.
The voice adjustment technology will allow you to make the soundbar as loud or quiet as you like, according to your room's acoustic requirements. Besides, the soundbar is also easy to set up and comes with a 2-year limited warranty.
Not only this, but the soundbar also has the Polk audio signature design, which will give it a sleek and modern look. Its patented voice enhancement feature will give you clear and powerful sound from all your audio content. You can also stream music from your apps, phone, tablet, or laptop with built-in Bluetooth that features an excellent range.
The connectivity features also include an HDMI input for linking the soundbar to your TV and a 3.5 mm audio output that you can use to connect other speakers or headphones. We were hoping for HDMI 2.1, but its fine, considering the price.
Polk has significantly impacted as a brand with all these features and a competitive advantage over other market products. It has provided the best possible soundbar for the best possible price.
The only downside might be that it is not wireless, but it is a great soundbar for the price. Overall, this soundbar can give you an immersive and powerful audio experience, making it a perfect choice comparing others.
It also comes with all the necessary features and is easy to set up, making it perfect for anyone. Plus, its sleek design will make it stand out in any room.
Pros
• 10X more bass
• Dolby digital surround sound
• Polk audio signature design
• Easy to set up
• Connects to other devices via HDMI and 3.5 mm output
• 2-year limited warranty

5. BESTISAN SE01-D Soundbar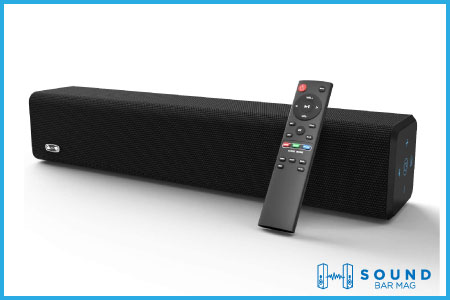 Bestisan Soundbar is another good choice for your budget if you need possible the best soundbar under 100. It has three audio modes, touch control, and a sub-out port.
It also has an adjustable bass feature to give you desired sound and bass quality, which was reasonable to hear. The other notable features are that it is mountable and has a 2022 smart version.
The Bestisan soundbar comes with 50 watts of power and gives you clear TV sound. The bar was incredibly loud without compromising the quality. It is also Bluetooth-enabled, so you don't have to worry about any wires getting in the way.
Furthermore, its subtle and sleek design makes it a perfect addition to any home theater in the design log. It has two bass reflex ports and 3-inch speakers, providing a perfect sound combo with beat and bass. The soundbar voice or music choice can be controlled by a remote or the touch buttons on the side.
It is a one-unit device that does not come with an external subwoofer. It might be the only sacrifice it would ask to make with the lower price, but if you want a subwoofer for weighty bass and more crispiness to your music listening, you can always get one separately.
Pros
• Easily adjustable bass level
• Good sound quality
• Very affordable
• 3 different sound modes
• Bluetooth connectivity

6. Bestisan SE02 Soundbar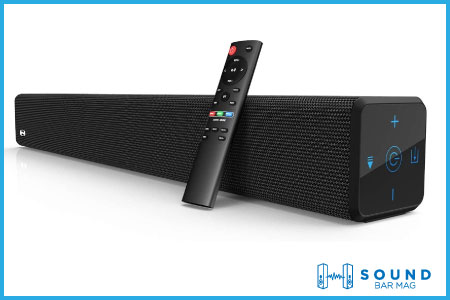 The next best soundbar on our list is another product from Bestisan. The Bestisan soundbar offers many good features and turns the tables for music listening while staying on a tight budget.
The built-in subwoofer makes this soundbar stand out, which gives the soundbar a lot of bass power and is excellent for watching movies or listening to music. The sound quality is excellent, with the perfection of any mode of entertainment.
This soundbar also has a 5.1 surround sound system, making it great for watching movies or listening to music. The soundbar also has a touch remote control, making navigation super easy for lazy people like us.
The Bestisan soundbar is one of the best soundbars under 100 with all these features. If you're looking for a great soundbar that will give you excellent sound quality, the Bestisan soundbar is worth considering.
The 3d surround sound feature is also great for gaming, filling the room with compelling sound without compromising vocal clarity. In designing factor, the soundbar has a sleek design that nicely blends with any décor.
The lack of HDMI cable in the soundbar is surprising. The cable helps connect many devices, including TVs, gaming consoles, Monitors, etc. hence, the cover-up with optical digital, USB, and Bluetooth was a power move.
Pros
• Built-In Subwoofer
• 5.1 surround sound system
• Touch remote control
• Excellent sound quality
• Sleek design

Cons
• No HDMI cable included.

7. TCL Alto 6+ Sound Bar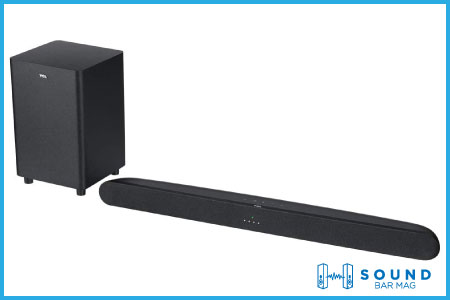 In our 7th top pick recommendation, TCL alto 6+ stands well compared to other products available in the market. It has good sound quality with a deep bass feeling that made a reasonably well environment for us.
The soundbar comes with a Wi-Fi subwoofer, which improves the system's sound quality by providing deeper bass and enhancing your movie-watching experience. This product is easy to set up and use. With a sleek design, this soundbar can easily match any décor in your room.
The soundbar features Dolby digital decoding for crystal clear sound with less distortion. It also includes a built-in wireless subwoofer that enhances the bass output of your system and gives you a more profound and more powerful experience.
The Dolby Atmos technology in the TCL alto 6+ soundbar allows for immersive, 360 degrees sound that puts you right in the middle of the action. With the support of up to 8 channels of sound, the TCL alto 6+ is perfect for movie watching, gaming, and music listening.
We liked how the TCL alto 6+ is backed by a 2-year warranty, giving you peace of mind that you can get it fixed or replaced if there are any problems with the product.
The only downside of the soundbar is that it doesn't have an HDMI input, limiting the number of devices you can connect to it.
Overall, the TCL alto 6+ is an excellent soundbar that delivers exceptional sound quality at an affordable price. This is the product for you if you are looking for a superb soundbar for under 100 dollars.
Pros
• Good sound quality with deep bass
• Sleek Design
• Includes a wireless subwoofer
• Backed by a 2-year warranty

Cons
• Does not have an HDMI input

8. ZOVX AV100 Soundbar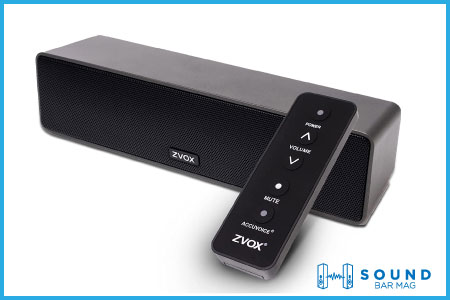 The ZVOX AV100 soundbar is a compact and powerful speaker system that enhances the audio experience of your TV or home theater. We loved the overall design in black, and the compact size got us.
One of the standout features of this soundbar is its built-in subwoofer, which delivers deep and powerful bass without needing an additional speaker. The AV100 also has a built-in amplifier and a 3D surround sound feature, creating a more immersive listening experience.
Another great feature of the AV100 is its easy setup. You can immediately link the soundbar to your TV with just a single cable and enjoy enhanced audio.
The soundbar also comes with a remote control, allowing you to adjust the volume, dialogue performance, sound boost, and other settings easily.
The soundbar also comes with advanced technology that clarifies the dialogue and makes it more understandable despite the high volume. It also eliminates the annoying noise of background or ads or makes the content engaging for the end user.
Moreover, the AccuVoice technology has 6 different modes that let you adjust the clarity according to your understanding level. This excellent function makes the device perfect for hearing-impaired people.
Overall, the ZVOX AV100 soundbar is a great option for those looking to enhance their TV or home theater audio experience.
With its built-in subwoofer, 3D surround sound, easy setup, and quick wired connections, this soundbar offers a lot of great features at an affordable price.
Pros
• High output level
• Super compact
• Clear sound with 6 modes
• Passive radiator for rich audio
• Premium installation with one cable
• Bass is shocking

Cons
Not deliver surround sound

9. Wohome S9920 Pro Soundbar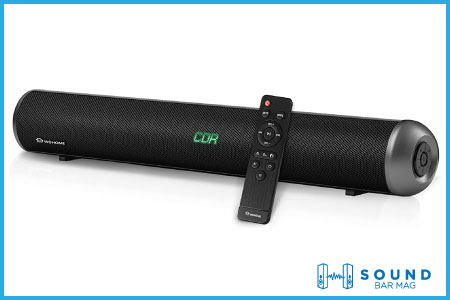 Finding the best soundbar under 100 can be haunting, but Wohome has made our searching super easy with its entry-level but powerful soundbar, featuring a 2.1 speaker system.
It is a 38-inch soundbar with an unusual but attractive profile, allowing you to enhance your décor with its placement under the TV. The manual navigation is easy as it features the controlling knob at the sides.
The soundbar comes under premium manufacturing as it features Bluetooth 5.0 for easy and quick setup, allowing you to connect the mobile phones quickly and bring on the party.
We have also tried some wired connections, including HDMI ARC, USB, Aux, and optical digital. All of them worked beyond our expectations with different devices, including DVD player and TV.
Additionally, the soundbar is loud enough to fill the room and engage the audience with its rich, fulfilling, and bold sound quality. The longer bass reflex tube ensures an expansive soundstage.
Moreover, we have also seen some preset modes that personalize the audio quality according to the content playing. We have checked the performance over default and music modes and were surprised how it enables the subwoofer and all speakers to deliver crisp sound.
That being said, other modes, including TV and movie, also work exemplary, delivering accurate, vibrant, and loud sound that perfectly fits the content.
Also, there is no need to pair an external subwoofer if you are not looking for something high-end to set a thundering soundstage, because the soundbar features dual subwoofer that covers the need for thundering and shaking bass.
Overall, the soundbar is a premium choice for this budget, providing you with everything you would get from a high-end soundbar. Navigation with a remote, pairing with Bluetooth, and loud sound with bass is like a dream come true.
However, we would be surprised if Wohome updates the bar with Dolby Atmos or other audio formats to make the sound quality more enriching. But it provides value for money with the existing qualities.
Pros
• Bass reflex tube
• Dual subwoofer
• Navigation via remote
• Wired and wireless connection
• Easy setup
• Multiple modes

Cons
No advanced audio formats

Best Soundbars Under $100 – 2023 Buying Guide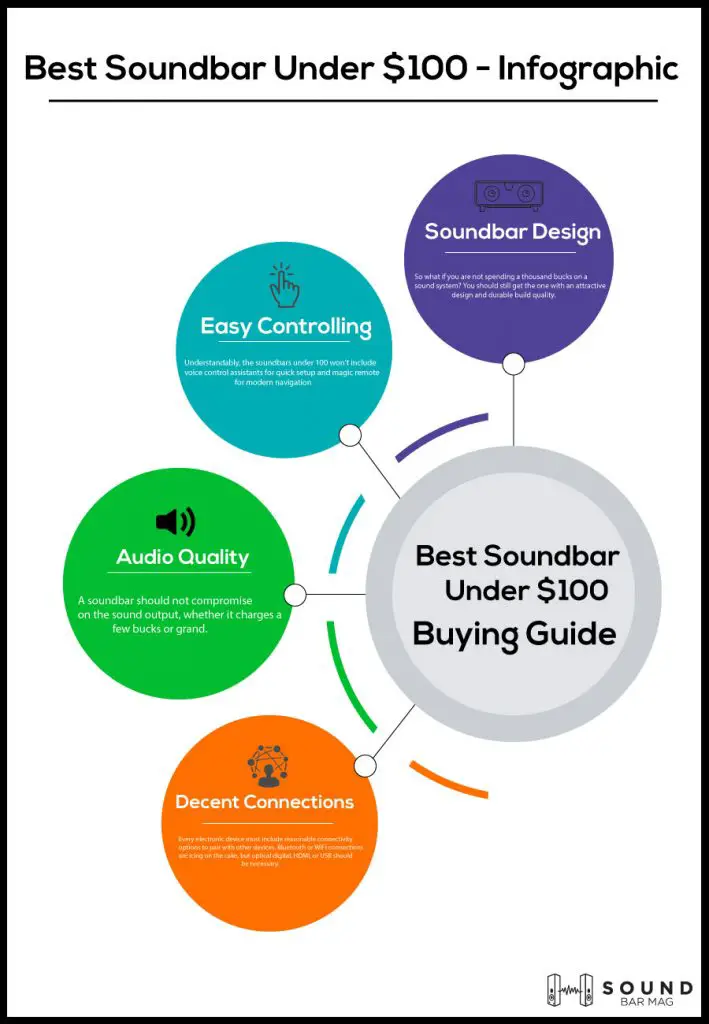 You must not have high expectations from a soundbar with such a tight budget; still, you should consider some factors before buying one. It is certainly an investment whether you spend $50, $100, or $1000.
Therefore, we highlight some elements that you should not compromise even at the low price of $100.
Soundbar Design
So what if you are not spending a thousand bucks on a sound system? You should still get the one with an attractive design and durable build quality.
A soundbar is a device that will be exposed to your home, mostly in a living room. So, it should blend with your environment and throw stunning vibes while playing. Fortunately, you can find many stylish, modern-looking, and sleek design soundbars in this range. So, better to consider them instead of going flat with matte.
Easy Controlling
Understandably, the soundbars under 100 won't include voice control assistants for quick setup and magic remote for modern navigation; still, it should be easy to control for a seamless experience.
Everything should be at your fingertips while operating the soundbar. Most soundbars come with a handy remote with few buttons and demand direct interaction with the soundbar for advanced settings. So, get the one that offers easy control, whether volume management, EQ preset modes setup or enabling connections.
Audio Quality
A soundbar should not compromise on the sound output, whether it charges a few bucks or grand. Delivering quality audio is the sound bar's sole job, which should not vary with the models, brands, or even price tags.
Therefore, get a soundbar that can produce rich, detailed, and powerful sound with all the integrated speakers. Most budget-friendly soundbars come with a built-in woofer and voice enhancement features that make a killing combo for streaming movies, podcasts, documentaries, and shows. The bass that moves around with the actions while playing games also sets the exciting soundstage.
Decent Connections
Every electronic device must include reasonable connectivity options to pair with other devices. Bluetooth or WiFi connections are icing on the cake, but optical digital, HDMI, or USB should be necessary.
The fewer connection options mean you will have limited options to pair as many devices as possible. So, beware of that.
Frequently Asked Questions (FAQs)
What is the best soundbar under 100?
BESTISAN Soundbar is the competing product in our list with the wireless connectivity and built-in woofer. The soundbar produces a powerful sound that can optimize via three different modes for better performance.
Is soundbar better than speakers?
In most cases, yes. Soundbars can produce a more rich and clear sound than the speakers, but if your focus is only getting the thrilling sound for gaming and parties, go for the speakers.
Is a 2.1 soundbar worth it?
Yes, the 2.1 soundbar contains full-range drivers that are a reasonable upgrade to the awful speakers. They produce a loud, clear, and heavy sound that your TV speakers can't imagine. However, if you want a theater-like experience, you need to upgrade the channel system.
Conclusion
Find the best soundbar under 100 and treat your ears with high-resolution audio and the next-level clarity your soul craves. The soundbars are built with care, thoughts, and satisfactory technology to create a decent soundstage for watching movies and listening to podcasts and pop/classical songs.
Moreover, the mini buying guide will help you make the right decision because the low price can be a big manipulation in the soundbar market.
Mia Evelyn is a soundbar specialist and she love to test and review different soundbar brands. She shares her neutral and in-depth reviews through the Soundbar Mag.