A soundbar is a modern production where people can't spend a day without listening to podcasts, audiobooks, and even music. Though soundbars can deliver a cinematic experience with wide channel configuration and advanced features, using the device for everyday yet, basic usage wouldn't require such a huge investment.
Therefore, we have found fantastic, fruitful, and powerful soundbars that are durable enough to last long and perform incredibly well to satisfy your basic craving.
So, without further objection, let me introduce the best soundbar under 150.
List of the Best Soundbar Under 150 Dollars in 2023
1. Polk Audio Signa S2 Soundbar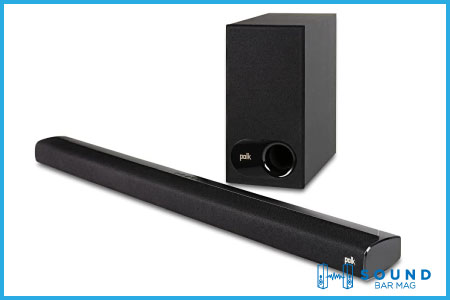 Polk Audio Signa S2 is only a 2.1-channel soundbar with Bluetooth support to stream unlimited music effortlessly. It produced crisp, loud, and pure sound performance with a wireless subwoofer while we were examining it with music and games.
We call it an entry-level soundbar because the setup and controlling of the device is as easy as it sounds. It features AUX, HDMI, and optical digital cables to seamlessly connect with external devices, including gaming consoles, TVs, projectors, and media players.
Besides, Bluetooth helps wirelessly connect with smartphones for an expansive and rich music streaming experience. And it saves the device to save the hassle next time you stream.
Despite Atmos or DTS technology support, the soundbar delivers excellent sound quality that catches your attention with next-level detailing. The lack of a center channel may result in mediocre dialogue performance, but it would be clear enough to understand for regular streaming.
Above all, the soundbar features multiple EQ presets for quick sound customization. The included remote control lets you enable the mode according to the content playing and make it more immersive.
There are also voice enhancement features, making it the best soundbar under 150 because it is a premium feature that only expensive soundbars offer.
Thus, considering the loud and clear music and deep bass performance, this best budget-friendly soundbar is an ideal choice for TV watching and podcast or audiobook listening. Also, you won't resist playing pop music and enjoy every beat through it.
Check: Best Soundbar Under $200
Pros
• Solid sound quality
• Different audio levels
• Bluetooth music streaming
• Voice enhancement features

2. YAMAHA SR-C20A Compact Sound Bar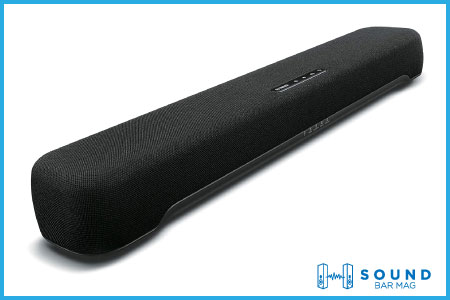 Yamaha SR-C20A is a premium one-unit soundbar that comes with a built-in subwoofer and appealing audio performance to bring life to your entertainment life.
Whether you plan to invest in a soundbar for gaming, TV streaming, or podcast listening, it can be a great yet affordable alternative to consider. We also liked it for sports and news streaming for its natural and warm sound projection.
Besides, the Virtual surround sound creates an immersive environment in your living rooms or studios for seamless music streaming. Its portable design easily fits under the TV without blocking the IR.
Also, the soundbar features four different sound modes to customize the audio according to the content. It helps adjust the dialogue, treble, bass, and other tuning performance without wasting time.
The sound quality is detailed, loud, and clear enough to understand crowded parties. It syncs the content perfectly while connecting to a TV, even without HDMI ARC.
In addition, the wireless subwoofer produces punchy bass that makes a difference and fills the void of DTS decoding. Moreover, Bluetooth support allows pairing two smart devices in a blink, which would start performing in no time.
Like other entry-level budget soundbars, Yamaha SR-C20A is easy to manage via a handy remote control. Though the low-profile design has nothing much to offer except a few buttons for volume control, Bluetooth enabled, and power, the remote will take care of advanced settings and adjustments.
Pros
• Low profile design for easy adjusting
• Decent connectivity
• Gets loud without compressions
• Built-in woofer

3. Vizio M21D-H8R Soundbar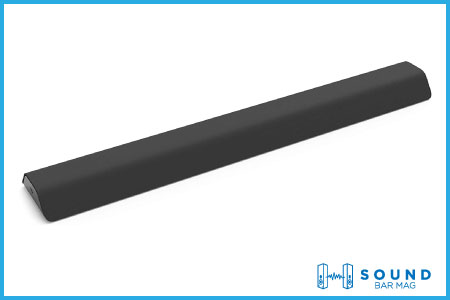 We may discuss this model under the best budget soundbars, but this premium soundbar can turn the game of music listening with its powerful drivers and built-in subwoofers.
The Vizio M21D-H8R is the 2.1 ch soundbar, the device packs six precisely designed speakers in a two-way speaker design. The woofers and tweeters' separate frequencies set the better and broader soundstage and improve audio clarity.
The built-in dual subwoofers in the soundbar create deep and weight bass that eliminates the need for an external subwoofer and participate in delivering a terrific music listening experience.
Moreover, the Dolby Digital coding further enhances 4K HDR content's sound projection, making it high-resolution by connecting through HDMI. We also didn't notice sound delays while playing a variety of content, so it is worth mentioning.
This all-in-one portable soundbar easily fits in small spaces and ensures the highest-fidelity sound. The DTS: X compatibility delivers room-filling loud and crisp sound that travels between floor-to-ceiling and elevated virtualized 3D sound, irrespective of the playing content type.
Furthermore, the soundbar is flexible enough to set in seconds via Bluetooth and voice-activated protocols. Besides, HDMI and optical digital input ports are also available to pair external devices effortlessly.
It also comes with a remote control that has a comfortable grip and includes all the necessary buttons at the front for easy navigation. It is a great plug-and-play device that would transform your acoustic experience well and make the purchase worth making.
Pros
• Portable design
• Wireless streaming
• Easy navigation
• DTS:X and
Dolby Digital
decoding
• 2-way speaker design
4. PHEANOO D5 Soundbar
Enjoy rich and detailed sound without breaking the bank with PHEANOO 2.1 channel soundbar. It houses compelling dual-firing drivers that set a decent soundstage and produce clear and rumbling sound for watching TV, movies, and podcast streaming.
It may be an entry-level soundbar with basic features, but it offers a smooth setup and control via remote control. It would start functioning in no time by pairing to any external device containing AUX, USB, and HDMI.
In addition, Bluetooth 5.0 allows you to connect your smartphone hands-free and enjoy your playlist after a hectic working day. We were impressed by its quick recognition ability and rapid pairing option.
Moreover, it is a Roku-Ready soundbar that performs exceptionally by perfectly syncing the content on Roku TV. The device can be controlled via Roku remote, allowing sound customization and other adjustments without hassle.
In addition, it offers multiple EQ presets and dialogue enhancement features to customize the sound. This function is worth using if different people with different music tastes use the device at home.
The soundbar is not coming alone, but the wired subwoofer houses a downward-facing driver to deliver deep and powerful bass. It enhances your overall listening experience and proves to be the best upgrade to other standalone soundbars to date.
Pros
• 3D audio experience
• Bluetooth 5.0
• Clear and precise dialogue
• EQ presets

5. VMAI 2.1 Soundbar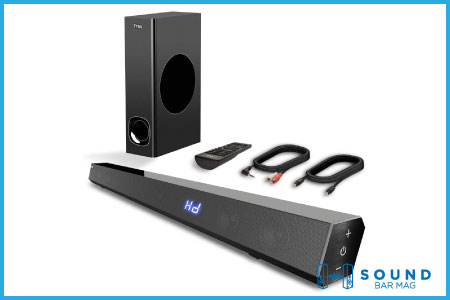 VMAI 2.1 soundbar is designed to upgrade your TV speakers and enjoy smooth audio delivery via compelling built-in speakers. The subtle and low-profile soundbar with a subwoofer can transform your sound hearing experience by delivering noticeably better sound with a maximum power output of 120W.
The subwoofer produces clever, weight bass that TV speakers can't imagine delivering. The dual racetrack drivers produce a clear and detailed sound performance that should be perfect for mixed usage.
The sound level pressure of up to 110dB is enough to fill medium-sized crowded rooms, and the surround sound stage ensures a thrilling 3D experience without compressions.
Moreover, the dialogue delivery is satisfactory even without a dedicated channel, making the soundbar reasonable for podcasts and audiobook listening.
The detailed midrange and crisp treble ensure stunning audio detailing. Furthermore, it has four different sound modes to adjust the sound projection. All the built-in settings can be easily managed via remote control.
The premium soundbar may not have advanced audio format compatibility, but an immersive sound performance with deep bass is enough to provide great times while watching movies, documentaries, or podcasts.
Pros
• Heavy-bass performance
• High-frequency ranges
• Clear dialogues
• Touch panel
• Bluetooth 5.0

6. Vizio SB2021n-J6 Soundbar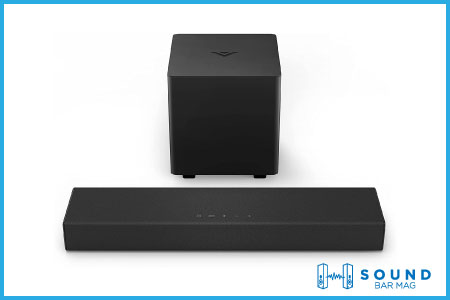 Vizio 2.1 is a home-theatre speaker with a wireless subwoofer and Bluetooth streaming under $150. It is the most budget-friendly yet powerful soundbar we have come across that can provide a complex theatre setup in a low-profile compact solution.
The soundbar houses dual firing speakers, tweeter, and woofer to help you experience room-filling, thrilling, and true stereo sound that is ideal for music, gaming, and movie streaming.
The Vizio soundbar has an unusual box-shaped design that easily adjusts in a different environment, and the wireless subwoofer wouldn't consume much space in the room. We liked the different profile for a change at home.
The sound system ensures clear and loud audio quality with amazing vocal clarity and no compressions at max volume to be a part of your everyday music streaming sessions.
The setup and connectivity are also smooth with Bluetooth and Aux, making the device always ready to perform. Bluetooth support enables online streaming via different platforms and lets you directly connect your phones for quick operation.
Moreover, Dolby Audio compatibility enhances the vocal delivery while maximizing the sound power output, creating a 3D surround sound environment. Therefore, it is a modern, yet best soundbar under 150 for its sound performance and basic features support.
Pros
• Sustainable built quality
• Excellent and multi-dimensional sound projection
• Affordable
• Big bass
• Wireless music streaming

7. PHEANOO D6 Soundbar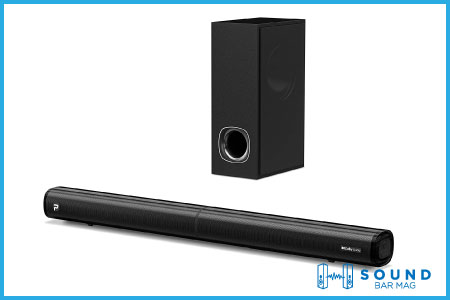 At last, we have this stylish yet premium soundbar under 150 that houses dual firing speakers compatible with Dolby and a wired subwoofer that takes care of all the bass production.
Its slim profile easily tucks under the TV and does not consume much space. Besides, the detachable soundbar design makes it portable for travelling purposes, so if you plan a party outside, you can easily take your soundbar with you.
Dolby Digital decoding is a valuable addition that ensures a fantastic cinematic surround sound experience no matter what you play. It polishes the clarity, fine-tunes the backgrounds, and adds crisp treble and bass where necessary. We also noticed no sound delays with Dolby Digital.
Pheanoo D6 is a sibling to D5 but performs better in audio projection and dialogue. It's relatively easy to set up and connect via optical, HDMI ARC, and AUX. The Bluetooth 5.0 compatibility also makes the device flexible to use on different occasions without relying on any TV or player device.
Undoubtedly, it also offers a speech mode that improves the dialogue and clarifies it to understand and enjoy. The HDMI ARC connecting to the TV elevates the audio quality and delivers the amusing experience you must never experience.
Best Soundbar Under $150 – 2023 Buying Guide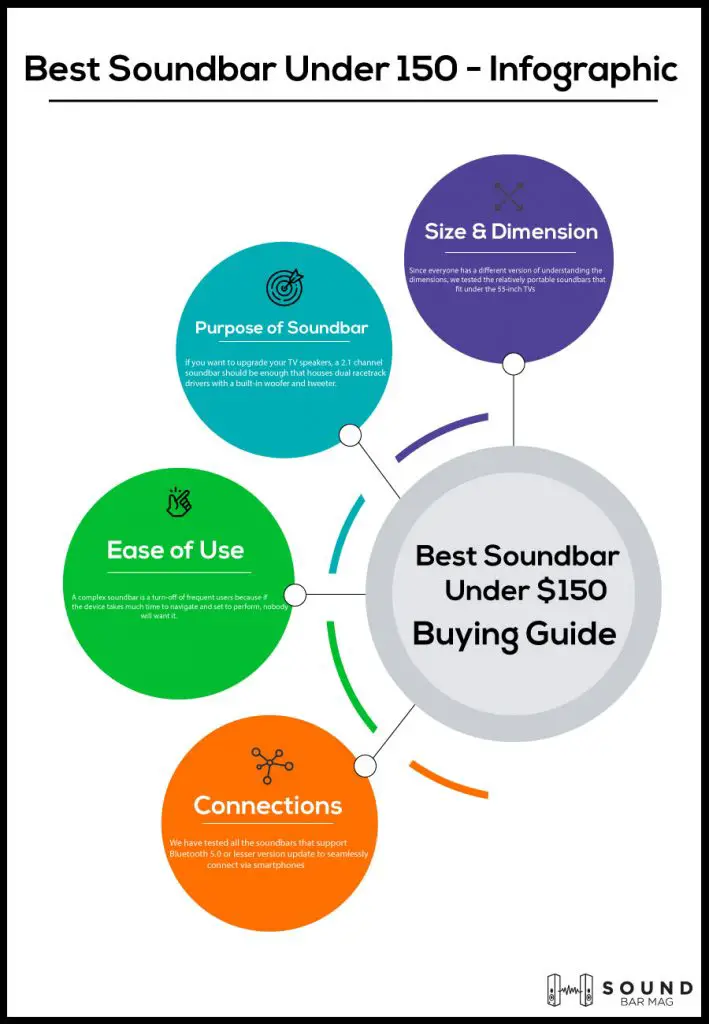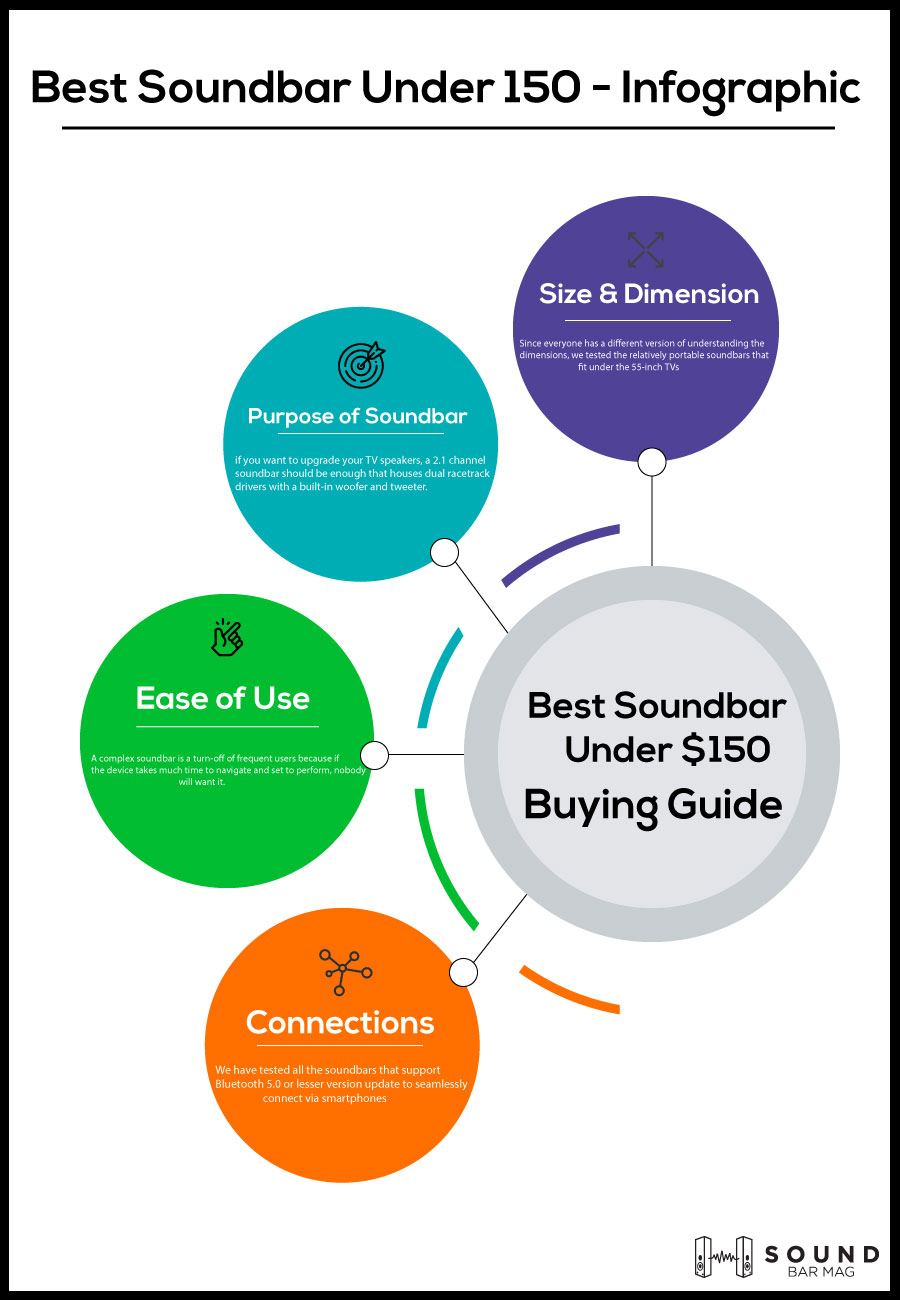 Soundbars are tremendous portable devices that can transform your sound listening experience by providing next-level entertainment with clarity, detailing, and advanced technology.
According to the channel system, the soundbar houses multiple drivers that produce powerful and room-filling sound, which must be better than any traditional speaker.
The price tags are the biggest manipulative indicator that will force you to spend more on an average device. However, the rapidly growing industry may confuse you with the purchase.
Thus, we tested and reviewed the top 7 soundbars under 150 that can significantly upgrade your existing speakers and TV speakers. We also narrowed our research based on several factors that must come along at this price. So, let's discover what to expect in the best soundbar under 150.
Soundbar Size and Dimensions Detailing
Since everyone has a different version of understanding the dimensions, we tested the relatively portable soundbars that fit under the 55-inch TVs (with few exceptions). A soundbar is a device that integrates multiple drivers to produce sound, so the size, especially width, can vary. So, if you plan to put it under the TV, ensure you estimate the leg distance beforehand and make the purchase accordingly.
Purpose of a Soundbar
Before getting a soundbar, you should be clear about its purpose and requirements. Though soundbar is designed to deliver a room-filling, clear, and crisp sound that elevates your display content, sync, and perform accordingly. Your soundbar purchase can also vary with your requirements.
For example, if you want to upgrade your TV speakers, a 2.1 channel soundbar should be enough that houses dual racetrack drivers with a built-in woofer and tweeter. A soundbar would perform incredibly well with TV, smartphones, and gaming consoles and produce rich and detailed sound performance. However, if you want to upgrade more and be conscious about the dialogue performance, better to get a device with a dedicated vocal driver.
Ease of Use
A complex soundbar is a turn-off of frequent users because if the device takes much time to navigate and set to perform, nobody will want it. Therefore, we have added soundbars that are easy to use and come with voice-activated technology or a handy remote control.
Connections
Optical, HDMI, RCA, or AUX cables may be great to pair traditional devices. Still, since the technology is advancing and many electronic devices are adding Bluetooth support, it's best to consider one in a soundbar.
We have tested all the soundbars that support Bluetooth 5.0 or lesser version update to seamlessly connect via smartphones, Laptops, smart TVs, gaming consoles, etc. and perform instantly.
Frequently Asked Questions (FAQs)
What is the best soundbar under 150?
VMAI 2.1 is the best soundbar under 150 features modern design and Bluetooth for wireless music streaming. The soundbar is easy to operate via a touch panel and handy remote control. Also, its high-resolution audio is ideal for streaming movies and shows, and the heavy bass is perfect for music listening.
Which is a good soundbar value for money?
VIZIO 2.1 channel soundbar is built with premium material, yet it is affordable for tremendous sound performance. Its multichannel sound projection is worthy for gaming, TV, and casual music. Also, the big and deep bass gives value to your money with its highly detailed performance.
Conclusion
If not necessary, investing in an entry-level soundbar makes sense. It can satisfy your music listening, TV watching, and gaming cravings with excellent high-resolution audio quality with clarity and reasonable bass.
You may not need any advanced features that come with a hefty price tag. So, read the detailed reviews of the best soundbar under 150 and treat your old TV to a new sound system for immersive listening.
Mia Evelyn is a soundbar specialist and she love to test and review different soundbar brands. She shares her neutral and in-depth reviews through the Soundbar Mag.