After smart TVs, projectors are the perfect source of entertainment that is designed to enhance the overall digital streaming experience. However, projector speakers are not strong enough to do justice to the content and possibly ruin the whole vibe for fans.
Therefore, investing in the best Soundbar for projector with amazing built-in audio enhancement technology and reasonable connectivity options wouldn't harm anyone. A soundbar will be a game-changer while streaming movies or shows on the big projector screen.
In addition, to make the research easier for you, we have tested and gathered some top-notch soundbars for the projector based on our previous experience, so you can choose one and enjoy the pleasure of digital streaming with crisp audio.
Here are the top 5 soundbars for a projector.
List of the Best Soundbar for Projector in 2022
1. Sonos Arc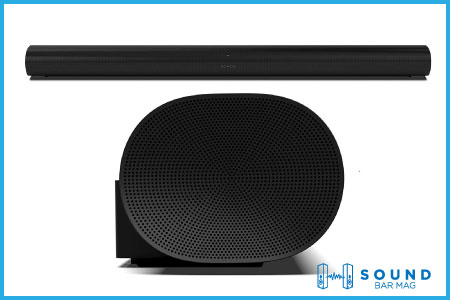 Sonos ARC is a premium soundbar designed to work with large screen sizes. Thus, we assume it is the perfect soundbar for projector. The built-in speakers are compatible with Dolby Atmos and produce realistic and lifelike sound to give life to the entertainment.
It lets you experience rich and detailed 3D sound to stream shows, movies, and other digital content on the big projector screens. Besides, setting up the device is a piece of cake with different sources, including Sonos App, remote control, voice assistant, and Apple AirPlay2.
Moreover, it offers enhanced TruePlay tuning that polises and fine-tunes the sound to match with the content and room surrounding, making it more immersive for the listeners. The speech enhancement technology produces clear and highly noticeable sound by isolating the spoken content from the background beats, making it an ideal choice for projectors.
Also, connecting the Soundbar with a projector is easy with HDMI or wireless connection support. Speaking of setup, the slim-profile design wouldn't consume much time mounting on the wall, and the elegant structure with front-firing speakers fills the room with sophisticated vibes and spacious sound.
Sonos Arc is the favorite of academy award-winning sound engineer Chris Jenkins, who listens to his favorite playlist on ARC if you still have doubts.
Pros
• Elegant Soundbar profile
• Rich and heavy sound
• Clear dialogues
• Fine-tuning
• Easy setup

2. Bose Smart Soundbar 900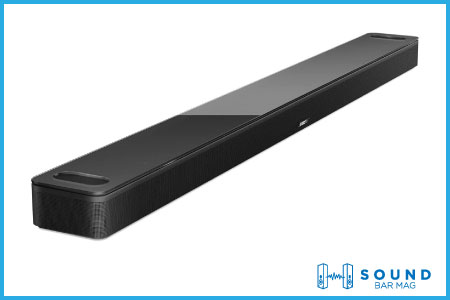 To connect with a projector, a soundbar should be powerful enough to cater to a huge audience, and hence Bose smart soundbar 900 has the potential to satisfy your audio needs.
It is a smart soundbar with fascinating material finishing and sleek design, ready to pair with a projector via Bluetooth or WiFi. It is controlled by a built-in voice control system exclusive to Bose Voice4Video technology, designed to expand voice capabilities for different products.
Moreover, bose is obsessed with detailing and thus contains custom-engineered up firing speakers to produce room-filling sound; it feels like it is coming from every direction. The overhead sound keeps you hooked with the content and provides cinematic vibes with a huge projector screen and rich sound performance.
The Dolby Digital decoding enhances sound clarity while minimizing the delays. The smart Dolby Atmos soundbar brings a realistic sound feel irrespective of the watching content. It also allows you to make video calls and have a one-on-one conversation via a built-in microphone, making the device flexible for smartphones and smart TV.
Pros
• Setup via remote and app
• Voice control system
• Wireless connectivity
• ADAPTiQ technology

3. Klipsch Cinema 600 Soundbar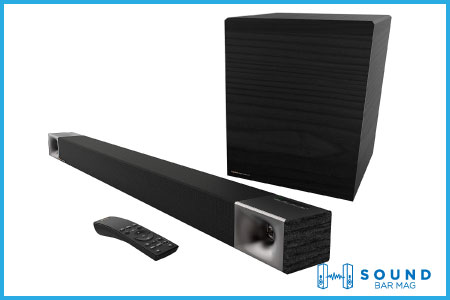 Klipsch Cinema 600 is a decent soundbar with a 3.1ch setup, wireless subwoofer, and simple processing. This 45-inch Soundbar has a durable material body, and the 10-inch subwoofer is portable enough to place anywhere in the room.
Many audiophiles call it the cinema series Soundbar for its high-definition powerful audio that fills the room with thunder and vibrating sound. Despite the volume and serious rumble, the content clarity will never be comprised due to the center channel. Hence, this simple-looking Soundbar enhances the digital streaming experience and provides a home-theatre experience without any expensive instruments.
Whether you connect it with a TV or projector, this plug-and-play device will be ready to function with HDMI or optical digital output. Try the HDMI ARC input available at the rear panel to achieve full control.
The mid-range frequency level enhances the sound reproduction, and the wireless subwoofer takes responsibility for the low frequencies and powerful bass. It is, therefore, the recommended soundbar for projector because it produces a balanced sound with a wireless connection and easy setup.
Pros
• Cinematic soundstage
• Clear and clean sound
• Heavy bass performance
• Dolby Digital 5.1

4. Bose Smart Soundbar 300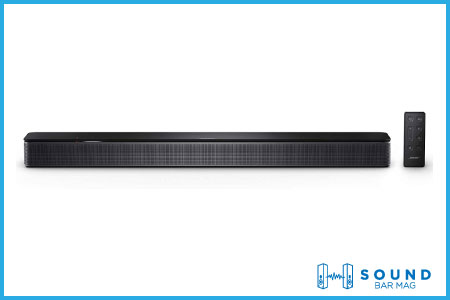 Bose smart soundbar is another competitive device of the brand famous for its stunning yet elegant design and relatively compact profile. It is easy to set up via included remote control and one power cable because the pairing can be made via Bluetooth and WiFi.
Its multiroom function adjusts the sound and tuning according to the room and content, so it blends quickly with the environment irrespective of the connected device. The clear and spacious audio performance is shocking yet exciting from the device comprising 5 full-range drivers and a center tweeter. Besides, the built-in woofer reproduces decent low frequencies for the deep and thumby bass for the extra punch in the audio.
Enjoy the hands-free setup and connections with WiFi, Bluetooth, Alexa, and Google Assistant. Although it comes with remote control, the Bose mobile app gives you detailed instructions to get it started.
Voice-rejecting mic system while connecting to the compatible Bose products gives a premium experience, listens, and works flawlessly. The input ports, including optical and HDMI with the Bose sync technology, provide top-notch TV or projector streaming experience.
Pros
• Metallic grille for the attractive aesthetics
• WiFi and Bluetooth
• Bose4Voice video technology
• Built-in Alexa and Google Assistant
• Spotify connects
• Surround speakers

5. Samsung Q700A Soundbar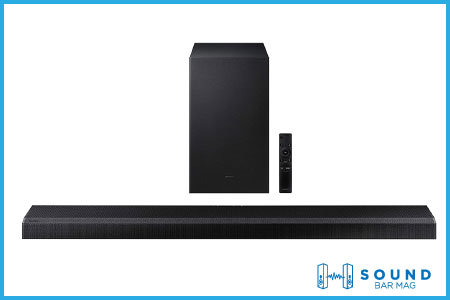 Samsung Q700A is a powerful soundbar from the huge product line, containing 3.1.2 channels, which means lots of speakers to improve your audio listening experience. It is like an adventure at home because it makes everything better by reproducing the loud, crisp, and clean sound.
We call it a complete entertainment package because it comes with 3 channels, dual up-firing channels, and one built-in subwoofer. Dolby Atmos and DTS: X channels fire powerful audio from the above, front, and sides, creating a wide soundstage.
To perfectly synchronize the content, Samsung integrates Q-Symphony technology that works perfectly well with compatible TVs and makes a noticeable difference while streaming on a projector. Speaking of integrated technology, Space fit sound technology calibrates the sound automatically while enhancing the content clarity.
Among other fascinating functions, Samsung Q700A promotes simple connectivity via Bluetooth, having a reasonable range to effortlessly connect smartphones, laptops, consoles, Blu-ray players, and other devices with a projector. And it encourages flexible usage of voice commands by pairing with Alexa-enabled devices.
Pros
• Dolby Atmos and DTS
• Firing sound performance
• Enveloping and clear audio
• Bluetooth support
• Compatible with Alexa-enabled devices

Best Soundbar for Projector – 2022 Buying Guide
A soundbar is a reasonable investment for TVs and a projector to get the most out of it.
Though you have to invest in powerful speakers to connect with the projector, a soundbar makes more sense because it houses multiple speakers, tweeters, and woofers to give a complete entertainment package.
But, switching from a traditional speaker to a soundbar can be a hectic task, mainly for beginners. Therefore, we decided to highlight some of the soundbar specs and features to discuss their importance. We have also narrowed down our research and only added those units that make a significant difference and add life to your entertainment sessions on a projector.
Easy Setup
Soundbars need to offer a seamless setup because it is a mostly used device at home, whether with TV, smartphones, or projectors. Also, the device's processing, navigation, and setting up shouldn't consume more than a few minutes if you are getting a soundbar to connect with a projector used in institutions, gyms, studios, offices, showrooms, and other events.
Therefore, we have added soundbars with a breeze setup, multiple sources to navigate, and quick to install by different people. You don't need to have particular technical competencies or be a tech-savvy individual to operate these soundbars.
Connecting Sources
Another crucial aspect to consider before getting a soundbar is the number of connectivity options. Wired and wireless options are necessary to keep up with the device and maximize the enjoyment level.
All the best soundbars for the projector we have discussed offer Bluetooth, WiFi, optical digital, AUX, and HDMI inputs. The wired inputs may vary with the models, but the WiFi, Chromecast, and Apple AirPlay2 are thoughtful additions to expand the usage.
Performance/Audio Quality
The Soundbar contains multiple speakers inside the slim and sleek body and produces heavy sound. The channel configuration further tells you about the number of drivers or speakers inside the Soundbar, and the power output screams of their potential.
The mid-range drivers throw sound at the front, whereas the height channels give a 3D experience and create a surround sound mood. We have discussed soundbars that produce loud, crisp, deep, and clear sound to enhance your audio listening and provide an immersive watching experience on the big projector screen.
Frequently Asked Questions (FAQs)
What is the Best Soundbar for Projector?
Samsung Q700A is the Best Soundbar for projector with 3.1.2ch compatible with Dolby Atmos and DTS: X. The built-in speakers reproduce quality audio, and Bluetooth compatibility ensures effortless pairing with external devices.
Can you use a soundbar with a projector?
A soundbar can pair with the projector to enhance the sound quality while watching content. Projectors are easy to connect using HDMI, AUX, or Bluetooth.
What sound system should I buy for my projector?
Consider getting a powerful soundbar with multiple speakers to produce high-resolution audio instead of investing in a heavy sound system with a hefty price tag. A soundbar is easy to pair, seamless to set, and thoughtful to bring home for the expansive sound performance.
How do I connect my Bluetooth soundbar to my projector?
Turn on the projector and Bluetooth enabled device
Using a remote or compatible app, go to the settings, and navigate Bluetooth
Search for the available devices
Hit the connect button
Enjoy transferring digital data on the big projector screen
Bottom Line
There is no complex rule to finding a certain projector soundbar but ensuring the connectivity compatibility and excellent sound reproduction should be sufficient. We have discussed the best-selling projectors that can be easily connected to the projectors of any model or brand and satisfy your music/audio listening cravings.