Most soundbars come with an extra speaker called a subwoofer, intended to deliver extra bass to ensure an immersive listening experience. Subwoofers can be built-in to the soundbar or come as an outside box – but they are essential for a cozy home movie night.
However, a true soundbar should preferably offer the whole package on its own, bringing crystal clear, complete, and raw audio without the need to pair it with different devices such as speakers or subwoofers.
Therefore, we have compiled a list of the best soundbars without a subwoofer that can cover any external device's need and provide thrilling and detailed sound performance.
Let's explore a list of Soundbars without subwoofers that save space and provide fantastic acoustic listening:
Samsung HW-MS550 Soundbar
Sonos Playbar
VIZIO SB2920-C6 Sound Bar
Bose TV Speaker
Polk Audio React Soundbar
SAMSUNG HW-T400 Soundbar
Pyle Wave Base Soundbar
List of the Best Soundbar without Subwoofer in 2023
1. Samsung HW-MS550 Soundbar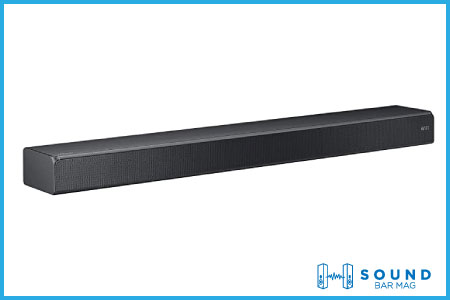 Samsung even name counts, and for sure, whenever a person needs a premium quality electronic product, Samsung is one of the brands that comes to the top of the list.
In our top picks of the best soundbar without a subwoofer, Samsung HW-MS550 3.0 soundbar from its premium collection stands at the top. This soundbar has a wide-range tweeter for crystal clear sound and a 4K pass-through for high-resolution sound performance.
The Samsung HW-MS550 3.0 Sound+ Premium soundbar also has Bluetooth compatibility, making it easy to connect to other devices like TVs, smartphones, and other audio components. WiFi, USB, and HDMI inputs also proves to be a valuable add-on.
Besides, the soundbar does have a built-in subwoofer that produces deep bass tones for added impactful sound. Nonetheless, it does not have an external subwoofer; neither does it make you feel like it's absent.
It features a home theater experience with 9 speakers with dedicated amps. It measures 16.5 x8.5×9 inches and weighs just 10 pounds. So, consider it a space-saving device for true surround sound.
What makes this soundbar stand out from the rest is its multi-room compatibility, which means you can use it with other Samsung products in your home to create a complete home theater experience.
The only downside to this Samsung 3.0 Sound+ Premium Soundbar is that it doesn't have Alexa built-in, and you will need to purchase an Alexa device separately.
Pros
• Multiple Connectivity
• 4K Pass-Through
• Premium sound without an external subwoofer
• lightweight and compact design
• Alexa Voice Control

Cons
• Alexa Device Sold Separately

2. Sonos Playbar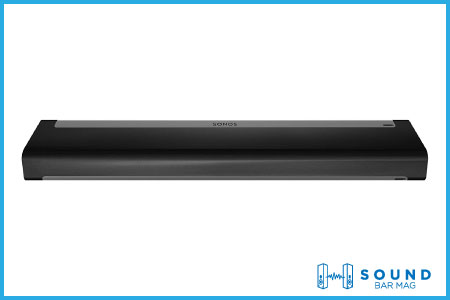 Sonos is a huge name, and it is another great soundbar that comes without a subwoofer and has a perfect sound quality for music listening or watching online media.
The Sonos Playbar has a sleek design with a black finish and an attached remote control. This soundbar can easily be mounted on the wall or placed on a TV stand for an immersive sound experience.
The Sonos Playbar also supports Dolby Atmos, and DTS:X surround sound formats for an extra immersive listening experience. The formats make the sound fulfilling and ensure multi direction sound.
The built-in amplifier offers plenty of power to support high-quality audio playback. Even without a Subwoofer, this soundbar has impressive bass and sound quality, making it stand apart from market products.
In addition, it will be perfect for anyone looking for a detailed sound experience without the need for a subwoofer. The soundbar features Oscar-winning sound quality and also comes with WiFi connectivity options.
So, you can always listen to music or movies without going through a cable connection. The compact design and premium sound quality make this one of the best sound soundbars on the market today.
The only drawback might be the price tag, but it's definitely worth the investment considering the features and sound quality. It may be expensive for its features and performance, but it can be a valuable long-term addition for your home theater setups.
Pros
• Excellent sound quality without a subwoofer
• Attached remote control
• It can easily be mounted
• Supports Dolby Atmos and DTS:X

3. VIZIO SB2920-C6 Sound Bar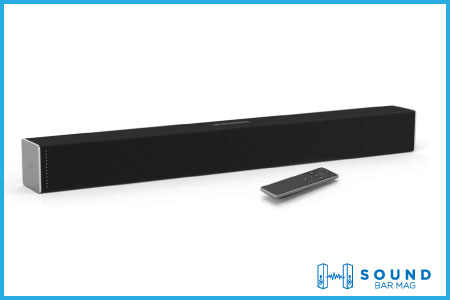 When it comes to having an affordable soundbar without a subwoofer, the VIZIO SB2920-C6 is one of the best options you may consider.
This soundbar provides clear, crisp audio with no distortion at any volume level. The built-in Bluetooth lets you connect your soundbar to your TV for easy streaming wirelessly. Additionally, the compact size makes it easy to store and move around.
The best part is that it has 2.0 premium audio quality with surround sound. So whether you're watching your favorite movie or playing your favorite game, the VIZIO will give you the best experience. It also features DTS studio sound to enjoy proper 3D surround sound.
You can easily control audio inputs and volume with convenient ergonomic remote control. With a wall mountable and table stand option, you can easily fit it anywhere you want.
Some potential drawbacks of this soundbar include the lack of dedicated bass ports, making it less effective at providing deep bass sounds.
Additionally, the soundbar doesn't come with an optical audio output, so you will need to use a cable to connect it to your TV. Overall, the VIZIO SB2920-C6 is an excellent soundbar for its price and would be a great addition to any home theater or regular TV streaming.
Pros
• Perfect audio with no distortion
• 2.0 premium audio quality with surround sound
• Ergonomic remote control
• Wall mountable and table stand option

Cons
• Lack of dedicated bass ports

4. Bose TV Speaker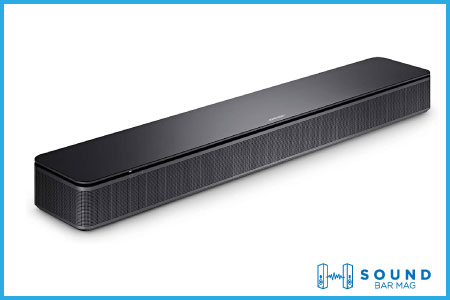 The Bose TV Speaker Soundbar is a terrific surround sound soundbar with multiple built-in speakers backed by dedicated tweeters but without a separate subwoofer.
It has excellent sound quality, and it is straightforward to use. Users also like that it has Bluetooth and HDMI-ARC connectivity, making it flexible for pairing with smart devices. The remote control is also convenient, which makes navigation a breeze.
The soundbar is built small for the simplification of sound speech. It is explicitly designed to focus on dialogue sound, enhancing the quality of TV shows' sound and movies.
It also features a sleek design that blends seamlessly with any TV and home environment. It is super compact, making it easily portable, and it can be set without taking up too much space in your room.
Overall, the Bose TV Speaker Soundbar is a great product that offers excellent sound quality and rich connectivity, making it easy to connect to your TV. The Only drawback some people find the soundbar a little too small, and others say it is difficult to set up.
Pros
• Bluetooth and HDMI-Arc connectivity
• Compact design
• Easy to use
• Remote Control
• Built-in amplifier

Cons
• Little too small but preferable to adjust on tables

5. Polk Audio React Soundbar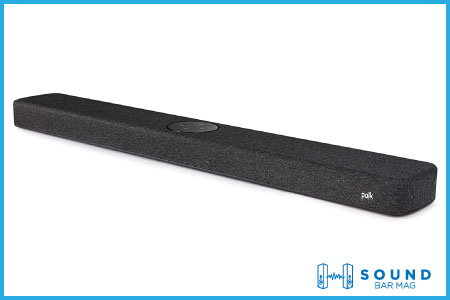 The Polk React is a jaw-dropping soundbar without a subwoofer that has the ability to turn the tables of digital streaming at home by providing accurate, high-definition, and loud sound.
The modest profile houses 6-drivers, including mid-range drivers, tweeters, and passive radiators. The voice adjust technology ensures crystal clear dialogue, and various modes provide personalized sound.
The Dolby and DTS Virtual Surround Sound technology provide excellent audio quality at any volume level. At the same time, the Next Generation Alexa Voice Engine with Calling & Messaging Built-in makes it easy to control your music and voice commands.
The soundbar can be extended to 5.1 with a matching React Subwoofer and SR2 Surround Speakers, making it perfect for a home cinema setup. It also features 3D virtual surround sound for a fulfilling sound experience. Thankfully, the soundbar is versatile and compatible with most devices.
The only drawback we could find is the basic and not responsive remote control, which functions from a sweet spot that is quite annoying at home. Otherwise, Apple Airplay support, along with other features, make it a thoughtful addition to the home.
Pros
• Dolby Atmos and DTS Sound
• Next-gen Alexa voice engine
• Versatile and compatibility
• Expandable sound
• A Sound system

Cons
• Some people found it hard to set up

6. SAMSUNG HW-T400 Soundbar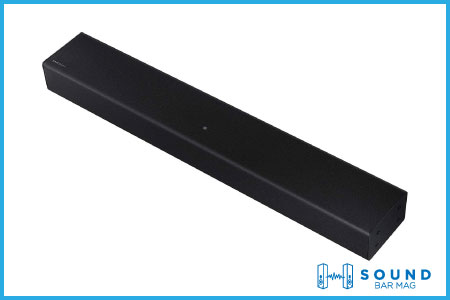 You can't go wrong when you choose any of the Samsung products, right? Hence, we had to test the HW-T400 soundbar, a compelling, elegant, and noticeable soundbar from its extensive, affordable collection.
It has excellent, detailed, high-definition sound quality with a wireless pairing option and seamless navigation. You will love the precise bass that comes from this soundbar, even without an external subwoofer.
With Dolby Audio 2.0, the soundbar will give you a great immersive experience when watching movies or listening to music. It can fill the room in no time and cater to a huge audience.
Additionally, it let you adjust the sound settings to your liking and have plenty of options for making the soundbar more suited to your needs. The personalized sound and bass performance will keep you hooked for a longer time.
Another great thing about this soundbar is that it has a built-in woofer that ensures low, deep, and hitting bass sounds when watching TV or listening to pop or rock music.
With a sleek design, this soundbar is perfect for any room in your home. You can even use it as a standalone speaker if you don't have a tv or monitor nearby.
So, whether you're looking for an affordable soundbar that doesn't come with a subwoofer or want one with great bass sounds, the Samsung 2.0 Channel Soundbar with Built-in Woofer – HW-T400 is an excellent option to consider.
Pros
• 2.0 Channel Soundbar with durable built
• It has excellent sound quality
• It comes with Dolby Audio 2.0
• It comes with a built-in woofer
• Affordable

7. Pyle Wave Base Soundbar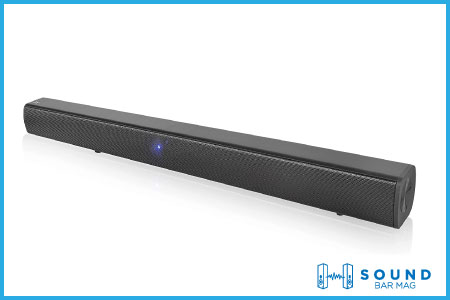 Lastly, the Pyle wave base soundbar stands well in the top soundbar without a subwoofer list because it has good sound quality and weighty bass production.
It has an attractive profile with a grill at the front covering the built-in drivers. The black color complements the appearance, and lots of pairing inputs make it versatile.
The Bluetooth feature makes it possible to easily connect the soundbar to your home's TV and other audio devices. Furthermore, the built-in optical input connects the soundbar to an external device such as a DVD player or gaming system.
The USB port allows you to quickly transfer music and other files from your computer to the soundbar. In addition, the soundbar comes with remote control, so you can easily change the volume and navigate other settings without the comfort of a chair.
In addition, the soundbar is easy to set up and comes with a user manual. The sound performance is insanely detailed and accurate, with no noticeable distortions at high volume. However, the bass may not be hard-hitting at a certain volume, yet enough for regular streaming.
A few drawbacks of this soundbar are that it doesn't have a subwoofer output, so you may need to purchase one separately. Another downside is that the soundbar is not wireless and needs to be connected to an external power source.
The Pyle wave base soundbar comes with a 3-year warranty, showing that the company has faith in the product and gives you a free hand to explore the specs and use it at its full potential.
Overall, If you're looking for a good quality soundbar without a separate subwoofer to enjoy regular TV streaming and music listening, that's easy to set up and quick to hook. In that case, the Pyle wave soundbar is a great option.
Pros
• Perfect sound quality
• 5.1 surround sound with Dolby Atmos technology
• Bluetooth connection for easy wireless streaming
• Optical input to connect the soundbar to an external device
• Built-in USB port

Best Soundbar without Subwoofer – 2023 Buying Guide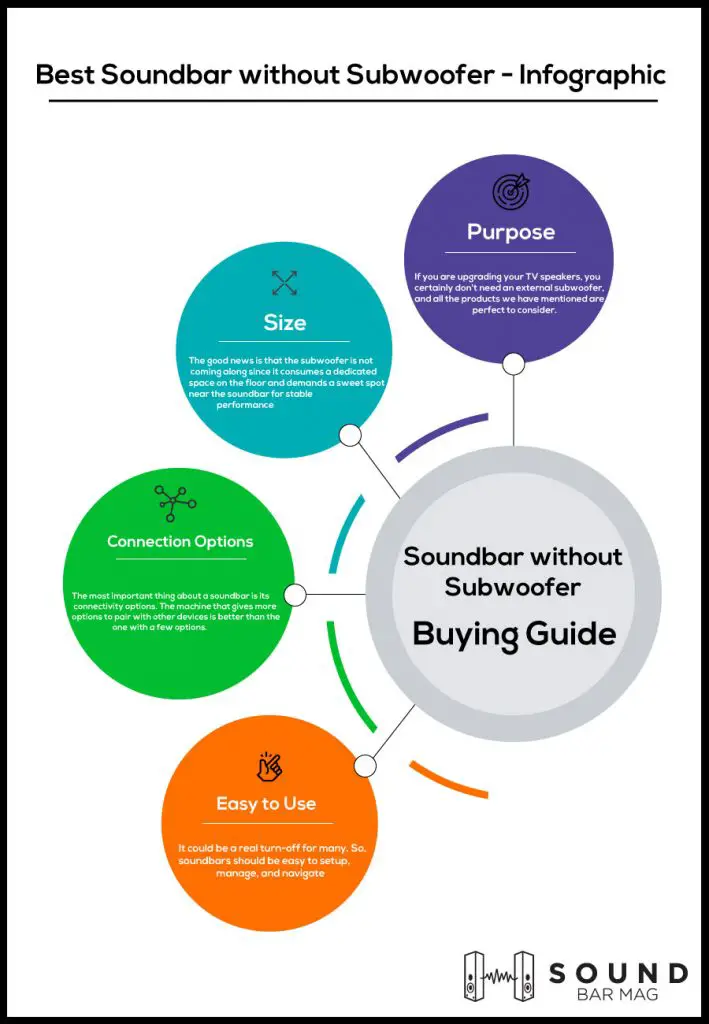 A soundbar is a long, thin, and single product that includes multiple speakers that can precisely produce upper, mid, and low notes to create an interesting soundstage.
Soundbars can produce rich, room-filling sound and deliver heavy and detailed bass to expand the music listening experience.
However, an external subwoofer is a specialized speaker setup with a downward-facing woofer that only focuses on reproducing low-end notes for bass while lowering the burden of other speakers.
Still, you are getting a bass that your music needs both ways. But, it is a decision you must make beforehand, like whether you need an external or built-in woofer.
Therefore, we always recommend considering basic factors before getting any electronic product, and this time, we are here to help you choose the best soundbar without Subwoofer.
What is the Purpose of Getting a Soundbar?
You cannot make a decent decision when you don't know why you are getting a soundbar.
If you are upgrading your TV speakers, you certainly don't need an external subwoofer, and all the products we have mentioned are perfect to consider.
Besides, suppose you want a decent soundbar for gaming, casual music listening, podcast streaming, and other audio-sensitive content. In that case, you can get a 3-channel series with a built-in woofer and center channel, and it will satisfy your need for bass, music clarity, and loud audio volume.
However, if you plan a home theater setup and want a premium soundbar, you may have to find the best budget soundbar with a subwoofer.
What Size Should I get?
Are you confused about the soundbar size and unsure where to place it?
The good news is that the subwoofer is not coming along since it consumes a dedicated space on the floor and demands a sweet spot near the soundbar for stable performance. You can set the soundbar anywhere in the place, whether put it on the shelf or mount it on the wall.
The soundbar size will vary with the models, channel system, design, and a few other options, so if you are conscious about the size and placement, you can figure it out beforehand and decide accordingly.
Connection Options
The most important thing about a soundbar is its connectivity options. The machine that gives more options to pair with other devices is better than the one with a few options.
Also, if you are trying to upgrade TV speakers, ensure the soundbar includes HDMI ARC that keeps the flow of two side communication between TV and soundbar. It will carry 4K content and optimize every action to deliver stunning sound performance. Moreover, wifi or Bluetooth would allow unlimited online music streaming via different platforms and let you enjoy the crispiness of different playlists.
Easy to Use
What's the point of getting a sound system when it is complex to use, and only one tech-savvy user in the house can make it functional?
It could be a real turn-off for many. So, soundbars should be easy to setup, manage, and navigate. The included remote control must have dedicated buttons at the front to guide the whole feature enabling, volume management, and other functions.
Frequently Asked Questions (FAQs)
What is the best soundbar without subwoofer?
Bose soundbar steals the show among many as the best soundbar without subwoofer, features wireless connection, compact yet durable design, and many other exciting options. The sound projection of the model is terrific and brings detail, depth, and clarity to become the game-changer in your parties.
Are soundbars without subwoofers good?
Yes, the soundbars with a high channel system are good for music streaming, TV watching, and enjoying podcasts with the next-level clarity. Many soundbars come with built-in woofers and tweeters that satisfy the need for rich and deep bass that your music content needs.
Conclusion
If you are space-conscious or a little tight with budget, you can still experience the benefit of hi-fi soundbars that come with a multiple-channel system and wireless external subwoofer.
We have tested the best soundbars without a subwoofer to enable unlimited fun with max sound volume, fewer compressions, and heavy bass.
All the soundbars are worth considering for home, work studios, gyms, and other areas and give you energetic sound to turn the space into an entertainment hub.
Mia Evelyn is a soundbar specialist and she love to test and review different soundbar brands. She shares her neutral and in-depth reviews through the Soundbar Mag.