If you're looking for a high-quality soundbar that will give your home theater setup a boost, the Sony S100F is a great option. This soundbar features four speakers and a subwoofer, all arranged in a slim, unobtrusive design.
The result is a soundbar that delivers powerful, cinematic sound without taking up too much space. So, if you want to upgrade your TV speakers or listen to your favorite tracks in great audio quality, check out the detailed review of the bar.
Sony S100F 2.0ch Soundbar with Bass Reflex Speaker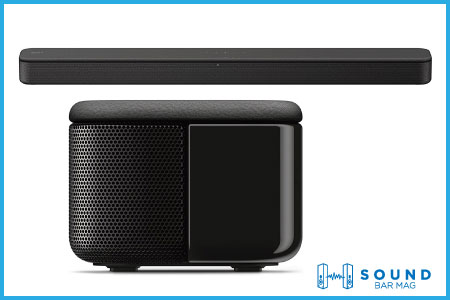 | | |
| --- | --- |
| Brand | Sony |
| Model Name | S100F |
| Speaker Type | Soundbar, Surround Sound |
| Connectivity Options | Bluetooth, USB, Optical, HDMI |
| Dimentions | 37.8 x 14.7 x 9.2 inches |
| Weight | 6 Pounds (lbs) |
| Color | Black |
Unboxing the Sony S100F Soundbar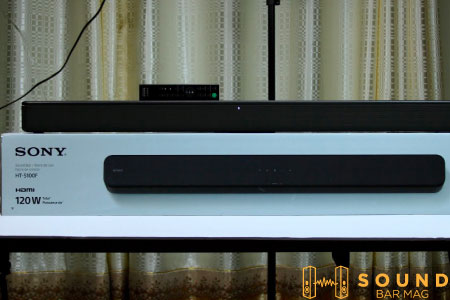 Unboxing the Sony S100F Soundbar was an exciting experience. The soundbar comes packaged in a stylish, minimalist box that reveals its sleek design once opened.
Inside the box, we found the soundbar itself, a remote control, an HDMI cable, and an optical cable for easy setup. The soundbar's accessories and documentation are neatly arranged in the box, making it easy to find everything you need to get started.
Unboxing the Sony S100F Soundbar is a great way to get a sense of the attention to detail and quality that has gone into the product's design and packaging.
Size and Design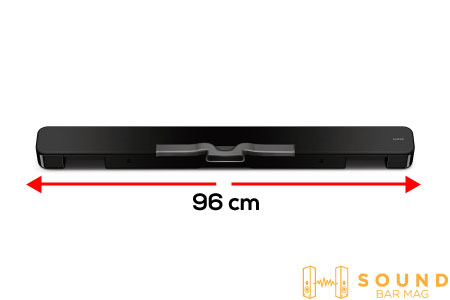 The Sony S100F soundbar measures 96 cm long, making it a great fit for most medium to large-sized TV setups.
The slim and sleek design of the soundbar makes it a great addition to any living room setup. It has a minimalist look, with a black matte finish and a metal grille that covers the drivers. The S100F has a low profile, meaning that it will fit under most TVs.
Channel System
The Sony S100F Soundbar has a 2.1 channel system, meaning it has two front-facing speakers and a subwoofer that provides powerful bass. The soundbar can deliver clear and detailed sound across a wide frequency range, ensuring you enjoy a full, immersive audio experience.
Additionally, apart from the detailed and crisp sound output, the bass performance was also reasonable. The dialogues were a little questionable due to the lack of a center channel.
Connectivity Sources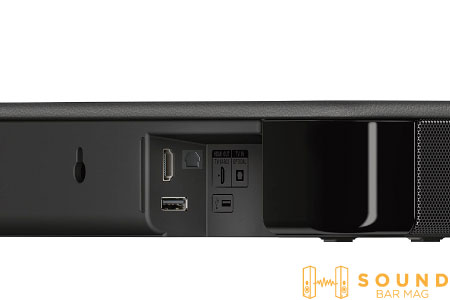 The Sony S100F Soundbar has various connectivity options that make connecting to a wide range of devices easy. It has an HDMI ARC input, allowing easy integration with your TV.
Additionally, it has an optical, USB, and aux input, providing even more options for connecting your external devices and making the most out of it.
The S100F also includes support for Bluetooth and NFC, so you can easily stream music from your mobile device. And with built-in Google Cast, you can easily send audio from apps like Spotify and Pandora to your soundbar.
Performance
The Sony S100F Soundbar has a total output of 120W and uses S-Force PRO Front Surround technology to create an immersive sound experience.
This technology simulates a multi-channel surround sound setup to enjoy your favorite tracks and TV shows with powerful, detailed sound.
The soundbar also has support for both Dolby Digital and DTS audio formats so that you can enjoy a variety of different audio sources with high-quality sound over all the connectivity inputs.
We didn't notice any sound delays over extreme listening levels, and even without the center channel, the dialogue clarity was much better than the TV speakers with the voice enhancement feature.
Controlling and Navigation
The Sony S100F Soundbar is easy to control and navigate. The soundbar has a remote control that makes it easy to adjust the volume, change the input, and even control the bass levels.
The soundbar also has an intuitive on-screen display that makes it easy to see what input you're using, the volume level, and more.
Benefits
• Deep and crisp sound
• HDMI ARC support
• Voice enhancement feature
• Slim and elegant design
• Affordable upgrade

Drawbacks
• No center channel
• Reasonable bass

Frequently Asked Questions (FAQs)
Does Sony HT-S100F have Dolby Atmos?
Yes the Sony HT-S100F have Dolby Atmos.
How many watts is Sony HT-S100F?
The Sony HT-S100F soundbar has a power output of 120 watts, which means it can produce a strong and immersive sound experience.
Can I connect a subwoofer to a Sony HT-S100F?
No, the Sony HT-S100F soundbar does not have subwoofer output to connect an external subwoofer.
How many speakers does the Sony HT S100F have?
The Sony HT-S100F soundbar have two built-in speakers.
Bottom Line
In conclusion, the Sony S100F Soundbar is a great choice for those looking to enhance their TV audio experience. Its slim and sleek design, various connectivity options, powerful sound quality, and easy-to-use interface make it a great investment for any home entertainment setup.
Whether you're watching movies, streaming music, or just enjoying your favorite TV shows, the Sony S100F Soundbar is sure to deliver an immersive audio experience.
Mia Evelyn is a soundbar specialist and she love to test and review different soundbar brands. She shares her neutral and in-depth reviews through the Soundbar Mag.