Elevate the music-listening experience with the budget-friendly production of LG soundbars.
Soundbars have become an essential gadget for enhancing the sound experience of modern-day televisions, and the LG SN5Y soundbar is no exception, with impressive features that have caught our attention.
This soundbar promises remarkable, detailed, and loud audio quality, and we were excited to see how it performs compared to the TV speakers.
In this review, we will discuss the LG SN5Y soundbar in detail, from unboxing to sound performance. So stay tuned and learn more about the LG product line of soundbars.
LG SN5Y 2.1 Channel Soundbar with Subwoofer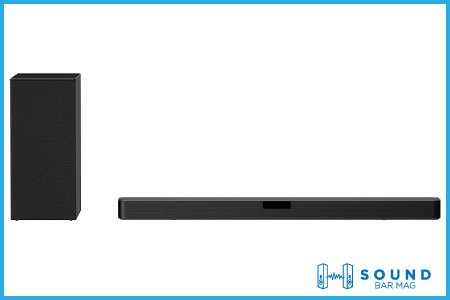 Unboxing the LG SN5Y Soundbar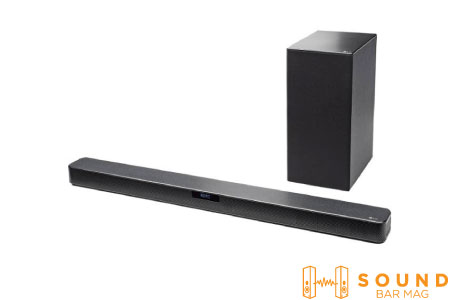 LG SN5Y came with an announcement of its other sibling, SN6Y, with some noticeable upgrades, but it has to set some packaging and shipment standards. Which it successfully did.
From ordering online to receiving the package, it was smooth as it sounds. No hidden costs, timely and secure delivery, and outstanding packaging were speaking loudly about LG's marketing strategies.
The soundbar and subwoofer were smartly packed, and the accessories, including a remote with batteries, power and optical cables, mounting brackets, cable management, and some documentation, including warranty and user manual, were included.
Size and Design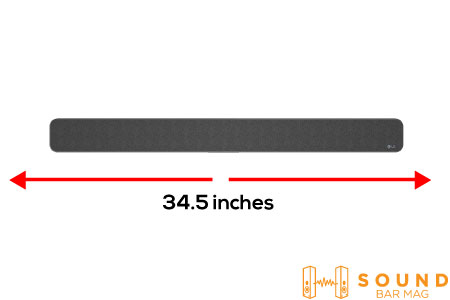 The LG SN5Y Soundbar is a stylish and compact device that measures 34.5 inches long, making it an ideal fit for bedrooms, living rooms, and most television sets.
The bar features a slim profile that does not take up much space, and its sleek design with cable management blends well with any décor and won't cause a mess.
On the other hand, the wireless subwoofer in black is also relatively small, making it easy to place it anywhere in the room. Despite the durable and high-quality material construction, both devices promote convenience and comfort at home.
Channel System
The LG SN5Y soundbar has a 2.1 configuration system that delivers a powerful 400W output to fill the room with exceptional sound performance.
The channel system suggests the bar has dual full-range drivers with one built-in woofer to balance the upper, mid, and low frequencies for well-balanced and detailed sound.
However, it doesn't have a center channel so the dialogue clarity can be questionable. But the LG utilized phantom channels, meaning the left and right combine to try polishing dialogues and sound far better.
The two full-range speakers with DTS also provide a clear and immersive audio experience. The wireless subwoofer adds depth to the sound with low-frequency notes, making it feel like you are at a theater.
Connectivity Options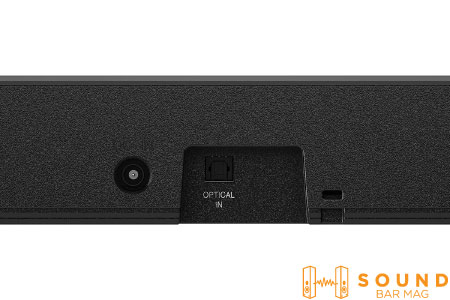 The LG SN5Y, even being entry-level, has several connectivity options, including Bluetooth, HDMI, and USB. It lets you easily connect your smartphone, tablet, or laptop to the soundbar via Bluetooth and enjoy your favorite music.
The HDMI port lets you connect your TV or other video-sensitive devices to the soundbar, providing an immersive audio and video experience. You can also connect your USB device to the soundbar to play your music directly.
Control and Navigation
We didn't expect much from the SN5Y soundbar as the low-profile and affordable price tag didn't raise our expectations for advanced navigation options, but it still comes with a comfortable grip remote.
The remote is easy to use and navigate and has all the necessary buttons, including power, volume, and input, allowing you to control the soundbar without getting up from your couch.
But the best thing about the LG soundbar is AI Sound Pro, which automatically adjusts the sound settings based on what you are watching or listening to, providing a hassle-free experience.
Sound Performance
The LG SN5Y blew our minds as soon as we turned it on and connected it to the receiver. Surprisingly, it performed incredibly well with clear, crisp, and loud sound output.
The subwoofer added depth to the sound, making everything sound realistic and in your surroundings. It also features wireless surround sound ready, allowing you to add extra speakers to the setup for a more immersive experience.
The DTS Virtual: X technology support creates a three-dimensional sound experience, adding to the overall entertainment value. It sounds like heaven to the gamers as the bar makes you feel like the sound is coming from different directions.
However, the lack of Dolby Digital that may maximize the clarity and Atmos is a shame. But considering the existing features and entry-level profile, the deal is not bad.
Pros
· Lightweight and compact
· High-resolution sound
· Bluetooth ready
· Multi directional sound
· Bass depth with wireless sub

Cons
· Limited channel
· Sound clarity compromised at max volume

Bottom Line
We find the SN5Y soundbar an impressive product that delivers exceptional sound quality and upscales the overall entertainment.
Its squeezed size and sleek design make it an ideal fit for any room, and its power output ensures an immersive audio experience. So, if you are looking for a high-quality soundbar that delivers outstanding performance, the LG SN5Y Soundbar is an excellent choice.
Mia Evelyn is a soundbar specialist and she love to test and review different soundbar brands. She shares her neutral and in-depth reviews through the Soundbar Mag.