Are you ready to experience music like never before? With detailed notes and exceptional clarity?
Sounds like a dream, right?
Well, LG SP8YA 3.1.2 channel soundbar can deliver customized, rich, and high-resolution sound exactly how you like it.
This soundbar is sure to take your audio experience to an extreme level. We will reveal some other characteristics of the soundbar in this detailed review, so buckle up and get ready to be blown away.
LG SP8YA 3.1.2ch Sound Bar with Subwoofer
Unboxing the LG SSP8YA Soundbar
The unboxing experience of the LG SP8YA was nothing short of impressive. The packaging was sleek but sturdy. LG has put attention to detail in branding and shipping their products, which we can see with this package.
Upon unboxing, we found a soundbar, subwoofer, remote with batteries, power cord, some connectivity cables, and a warranty card. Everything was carefully packed and came in excellent condition.
Size and Design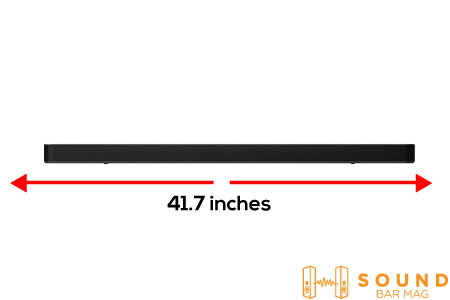 The LG SP8YA soundbar is a smooth and stylish addition to any home entertainment system. It measures 41.7 inches and has a slim profile, making it a great fit for any TV setup.
The soundbar itself is finished in dark gray and features a metallic grille that adds a touch of sophistication. The wireless subwoofer accompanying the soundbar is also well-designed, with a modern aesthetic that complements the soundbar's look.
The built quality of both devices seems solid and built to last. The soundbar can be heavy but manageable to mount on the wall or shelf placement.
Channel System
LG SP8YA is a noticeable upgrade to SN5Y and SJ2 with a 3.1.2 channel system. The 3 number indicates the bar has left, right, and center drivers.
1 in 3.1.2 refers to the built-in subwoofer, and 2 refers to the two overhead or upward-firing channels that produce the height or overhead effects in surround sound, known as Atmos or DTS.
Moreover, the center channel comes with a sole purpose: polishing the lyrics or dialogues and making them sound understandable. Hence, it is a complete package with all the drivers to get high-quality, clear, crisp, and loud notes.
Connectivity Options
The soundbar offers a variety of connectivity options to suit any setup. It features USB playback for convenient access to your digital music library and HDMI eARC and HDMI 2.1 (HDCP 2.3) input for high-quality audio transmission from compatible devices.
The soundbar also includes Wi-Fi and Bluetooth connectivity, allowing seamless wireless streaming from your smartphone, tablet, or other smart devices.
For those who prefer a wired connection, the optical input provides an additional option for connecting to compatible devices. Apart from all the wired and wired connections, we prefer using HDMI eARC, which passes audio and video signals for an ideal sync system.
It also lets you manage the device with a single remote, saving you the trouble of managing multiple devices, and the audio quality is terrific.
Control and Navigation
Controlling and navigating the LG SP8YA soundbar is a breeze thanks to its user-friendly interface.
The soundbar kit includes an intuitive remote control that allows for easy adjustments to volume, playback, and sound modes. It also has a dedicated button to enable the Game button for quick access and customized sound.
Additionally, the soundbar can be controlled through the LG Wi-Fi Speaker app, which offers even more advanced settings and customization options. The app also allows convenient access to streaming services such as Spotify and Pandora.
Finally, the soundbar features built-in voice assistants such as Google Assistant and Amazon Alexa, enabling hands-free device control with simple voice commands.
It saves time and hassle managing the device and provides you with wireless connections and managing sources to elevate your entertainment experience.
Sound Performance
The LG SP8YA soundbar delivers exceptional sound performance thanks to its advanced technologies and features.
With support for advanced Dolby Atmos and DTS:X, the soundbar produces immersive and lifelike audio that envelops you in action. The soundbar also supports DTS Digital Surround, enhancing the sound quality of your favorite movies and TV shows.
The soundbar also includes various sound modes, such as AI Sound Pro, which optimizes the audio based on the content being played, and Bass Blast, which emphasizes the bass for a more dynamic sound.
It also features EQ presets with different audio modes to help you enjoy customized audio according to the playing content.
With all these advanced technologies and sound modes, the LG SP8YA soundbar delivers a powerful and rich audio experience that immerses you in your favorite movies, TV shows, and music.
Pros
· Feature-rich
· 400W power
· Advanced sound formats
· Wireless connections
· Heavy bass
· Hands-free navigation

Cons
· Lack of 3.5mm jack
· Bit expensive

Bottom Line
In conclusion, the LG SP8YA is a versatile audio device with terrific sound performance and advanced features.
With its sleek design, multiple connectivity options, and easy-to-use interface, the soundbar is a great addition to any home entertainment system. So, whether you're a cinephile, audiophile, or just looking to upgrade your home audio, the LG SP8YA soundbar is a top-of-the-line option that is sure to impress.
Mia Evelyn is a soundbar specialist and she love to test and review different soundbar brands. She shares her neutral and in-depth reviews through the Soundbar Mag.