I am a big fan of Samsung TVs and have been looking for a decent and powerful soundbar to upgrade my existing Samsung QLED TV soundbar.
I believe the best soundbar for Samsung TV could be the one with high power output and a built-in woofer. Sound clarity with multiple format support is also welcome.
Keeping this in mind, my team and I have narrowed down some top-notch soundbars that are perfectly compatible with Samsung TVs. They can produce rich sound and pack impressive features to give you a surround sound experience.
List of the Best Soundbar for Samsung TV in 2023
1. SAMSUNG HW-Q950A Soundbar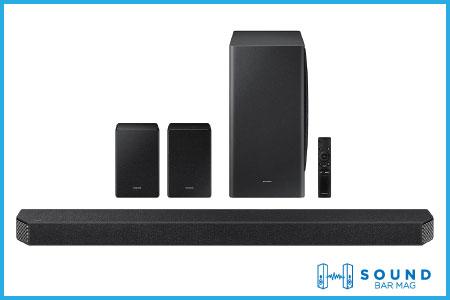 Samsung HW Q950A is a high-end 11.1.4 ch soundbar that aims to offer high-definition surround sound with Dolby Atmos and DTS: X support. The soundbar has an attractive exterior that makes a valuable addition to home theater setups.
It is a complete entertainment package with a subwoofer and rear speakers that work together to deliver higher highs, lower lows, and perfect Mids. It would look amazing as the Samsung Curved TV Soundbar sits under the legs or mounted on the wall.
The vocal clarity is also incredible, and Q-Symphony makes the audio output perfectly synchronized with the TV. Besides, multiple voice assistants help navigate, control, and manage the device.
Moving on, connectivity is stable with wired and wireless connections, including HDMI ARC and Bluetooth. Apple Airplay 2 support makes it compatible with iOS devices, and we loved the device with rich connections to explore much entertainment online.
While testing, the captivating sound performance made us feel every notice coming out of the device with excellent clarity. We could feel the sound coming from every direction with four up-firing speakers and one woofer.
This Wireless Samsung TV Soundbar sets the bar high for soundbars, but it is quite expensive to use in routine for movies, shows, and podcasts. But it is worth getting if you're setting up a home theater setup.
Pros
• Sleek Design
• Elevated Sound
• Dolby Atmos
• Alexa Voice Command Supported

Cons
• Expensive
• Not Portable

2. Sony HT-G700 Soundbar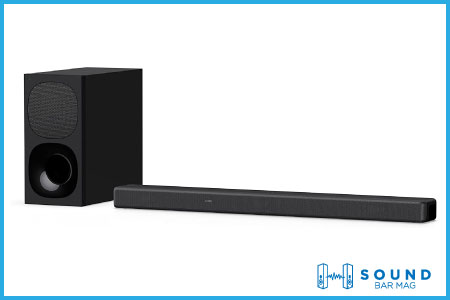 Sony is a respected brand in the electronics industry, and its products are pretty reliable. Our next best pick is Sony HT-G700, a 3.1 channel soundbar with a slim profile and outstanding sound performance.
It hosts speakers on each side, and the center channel focuses on polishing the dialogue clarity. We loved how it ensures the latest cinematic thrill with Atmos and DTS: X format support.
Additionally, Bluetooth connectivity makes it versatile to use with smart devices to have an excellent and refined audio experience. Besides, we appreciate plenty of other connections, including HDMI and USB that can meet all the basic demands of our TV-watching or gaming sound needs.
Also, it comes with a wireless microphone feature which allows us to utilize it for callings when connecting to a TV and smartphones. Besides, it is very handy as you can listen to your favorite song or movie anywhere at any time without hassles.
Surprisingly, the device has automatic settings for reducing noise interference, giving you crystal-clear sound quality. It also lets us make custom adjustments according to our comfort level by turning on or off bass boost, acoustic surface enhancer, room mode, and other features.
We also noticed it has a multi-room setup facility that lets you use the device simultaneously in two different rooms using one remote control. Yes, you can enjoy the detailed, high-definition 400W power output all around the house.
Not to mention, the maximum volume limit is 65db, ensuring high volume while driving or listening to loud songs, while the center channel ensures vocal clarity. So, we recommend using it with high-end TVs, like our fellow dedicated Soundbar for Samsung 82-inch TV.
The powerful woofer delivers rich low-frequency notes that satisfy our desire for bass-heavy music. It also provides built-in aux input for other devices like smartphones, portable speakers, laptops, etc. This Sony Bluetooth speaker is genuinely worth our money.
Pros
• Multiple Connectivity
• 3.1 Inch DTS Dolby Atmos
• Wireless SubWoofer
• 4K HDR Pass-Through

Cons
• Bit Expensive
• Voice mode Volume Is lower

3. SAMSUNG Q800A Soundbar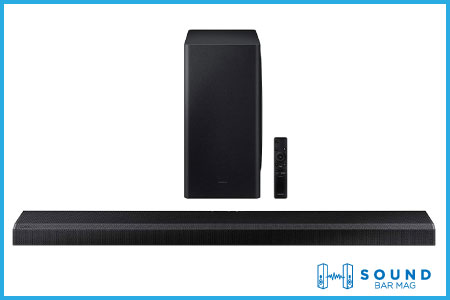 Samsung soundbars have been our top choice due to their elegant profile, versatile setup, and impressive features. Samsung Q800A is no exception when it comes to enjoying immersive surround sound. 
This Budget Samsung TV Soundbar is a 3.1-channel soundbar which allows you to enjoy realistic virtual surround sound with front-firing speakers and a super immersive cinematic experience at home.
The high dynamic range audio with DTS: X improves the depth of your TV's audio while making it room-filling; it most likely feels like the notes are coming from all directions. We recommend it to use for the Soundbar 50-Inch TV Soundbar for its high power output and wide frequency.
Additionally, the built-in Alexa support gives you full access to your device with your voice commands. Using this function, we played music, browsed libraries, asked for suggestions, and got weather updates.
We never had enough of the voice control feature that allows you to connect your smartphone or tablet via Bluetooth and use your device as a remote for easy control & channel management.
Using a compatible smartphone, you can make hands-free calls. The Wi-Fi connection enables you to stream music wirelessly. And the Q-Symphony function elevates the soundbar sound to the TV smartly for immersive audio output.
Moreover, the vocal clarity is excellent, so there is no need to rewind the show and understand. The center channel solely focuses on polishing the dialogues, and we loved every bit while watching the movie.
Pros
• Theater Quality Sound
• Multiple Connectivity
• Built-in Voice Assistant
• Alexa supported

4. Samsung HW-Q950T Soundbar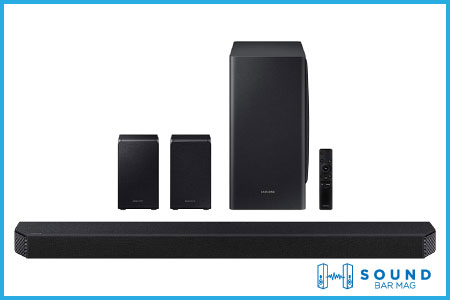 Samsung HW-Q950T is a high-tech 9.1.4 setup from the old lineup of Samsung, but it works perfectly fine with the updates and incredible sound performance. The unit is perfect as the Samsung 75-inch TV Soundbar considering a wide soundstage.
Undoubtedly, Samsung soundbars are versatile to work with any home theater setup, TV, and other devices (based on connection compatibility), and this product is no exception. We tested it with TV, smartphones, and other smart devices and didn't regret it.
Samsung HW-950T is a top-of-the-line soundbar for Samsung TVs as it has impressive features that align with the TV sound and give a noticeable upgrade to the TV's built-in speakers. Q-Symphony is the best example.
Additionally, the best Dolby Atmos surround sound experience helps to get different dynamics in any video & audio that plays through your Samsung TV. It also offers crystal clear dialogues compared to its rival products in this segment.
Besides these two core competencies, Samsung HW-Q950T also possesses additional outstanding attributes such as lightweight, size & clarity, and good placement of various elements on the speaker unit.
It features Wi-Fi, which makes connectivity a straightforward process while making it the go-to Samsung Smart TV Soundbar. We tested it with the latest range of Samsung TVs, and it didn't take time to recognize and make a connection.
Connecting your TV to the internet via Wi-Fi for watching web videos or streaming music is no longer a dream with this best soundbar for Samsung TV. It can connect other devices, like PCs, Tablets or mobile phones, utilizing wired connections.
The best thing about this device is the ability to deliver punchy and tight bass and the EQ plus for tweaking the sound. It gets pretty loud without compromising the sound quality but lacks the room correction feature.
Pros
• 3D True Sound
• Alexa Built-In
• Voice Assistant
• Adaptive Sound Quality

Cons
• Subwoofer And Bass issue

5. Yamaha SR-C20A Soundbar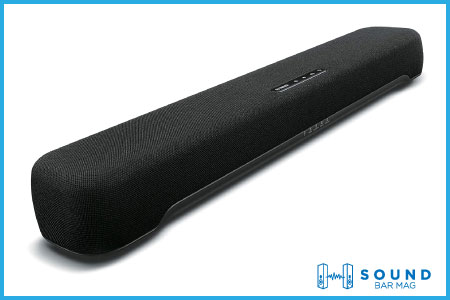 Next on the best Soundbar for Samsung TV list is the Yamaha SR-C20A, which is relatively compact. It has a decent profile and round edges in black, uplifting its appearance.
There are a lot of new features on this soundbar, which can be very exciting for those who like to do their movies and videos on the big screen in the comfort of their own home.
We had a big relief after knowing the soundbar has a built-in subwoofer that will allow you to get a reasonable bass punch while listening to your favorite music. The low-frequency bass notes precisely hit the 100W power output.
This Yamaha Soundbar has built-in wireless connectivity, so you don't have to deal with messy cords lying around your home. After finding out about the wireless pairing option, we recommend to use it as the hidden Samsung 55-Inch TV Soundbar.
The pair of HDMI, Aux, and optical digital can also help with direct connections with applications. We also admire the easy reach to the input ports while setting the device anywhere.
Surprisingly, the compact soundbar delivers a heavy punch of sound when gaming or listening to music. The dialogue clarity helps with watching movies and shows. And we loved the overall profile, so we recommend using it as the Samsung Frame TV Soundbar.
However, compared to rivals, like Samsung Q800A, it lacks voice assistant support and Wi-Fi. But for the price, it delivers heavy power output with reasonable specs for regular streaming.
Pros
• Surprising Bass and Subwoofer
• Multiple Connectivity
• Wall mountable
• Bluetooth Supported
• Reasonable price

6. Sonos Beam Soundbar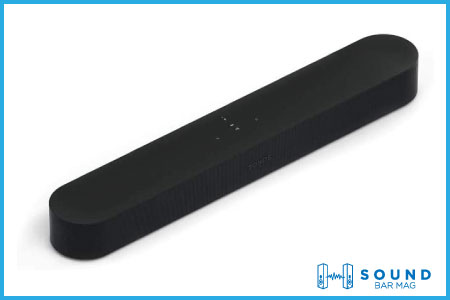 Sonos Beam is an excellent soundbar that seamlessly supports Samsung TVs and performs out-of-the-box sound when watching different kinds of content.
It is another low-key bar we tested, but it turned out to be a perfect candidate for the Samsung 40-Inch TV Soundbar. It is packed with powerful built-in features.
The exterior is also attractive in black and a grille, and the Wi-Fi makes it flexible for placement and usage. Besides, you can manage the device features using the Sonos App.
We appreciate the wireless navigation with voice control and App support. The voice assistant support eliminates the need for an annoying remote, helping you customize the sound, switch connections, and manage volume.
Also, Sonos beam supports 360 audio technology; this feature helps localize the sound to any direction you want to listen to. The crystal clear dialogues double the fun of watching shows and movies.
Also, this soundbar supports USB & USB 2.0 ports so that you can easily connect external speakers if you plan to set up a home theater. Sonos beam has a fantastic look that will attract every audiophile and enhance the overall experience of using this device.
Sonos Beam is a fantastic soundbar with many built-in features and an excellent design. The best thing about this particular soundbar is that it is easy to use and very comfortable to handle.
The remote controller has a few controls like a microphone mute, sleep timer, quick start guide, touch panel display, and sleep timer button. You can easily adjust volume levels too.
Pros
• Simple To Use
• Easy Controls
• High Definition Sound
• Premium quality

7. Sony HT-X8500 Soundbar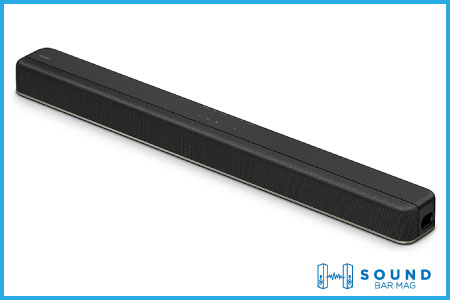 Sony HT-X8500 is a 2.1ch soundbar that stands out for its slim design, multiple format support, and ability to upscale the sound to a 7.1.2ch setup. It is undoubtedly the best soundbar for Samsung TV, if you want to stay low-key but need a real punch of sound.
The high-quality two-speaker set provides music clarity and sharpness of dialogue in movies. It features format support of Dolby Atmos and DTS: X audio signal and a built-in Subwoofer to produce clear and impactful bass for home theater entertainment.
It has all connectivity source options, like Bluetooth, optical input, coaxial input, USB port, 2 x HDMI ports, auxiliary port, and antenna port. So, you can enjoy easy hookups with external devices and use it as an ideal device for the Samsung QLED TV.
Despite being the 2.1ch system which hosts a pair of firing speakers, it can upscale the sound to 7.1.2ch, so you can expect clear dialogues, booming bass, and excellent room-filling immersive sound with heavy devices.
Moreover, this soundbar has pre-molds to accommodate different speaker's configurations, making the installation easy. In terms of price, it is decent but doesn't expect the best of its class performance from it.
But if you are looking for an affordable yet powerful soundbar, then it can be your go-to choice. This product also features a USB connection that enables wireless device pairing via NFC or Bluetooth Low Energy (BTLE) when docked in a TV or portable media player (PMP).  
For easier management of connected devices, we appreciate the user interface allows direct access to networked content and system status through the system menu on the receiver or by connecting a mobile device or tablet via Wi-Fi.
Pros
• Dual built-in Subwoofer
• Multiple Sound Modes
• High-quality Sound
• Slim and Sleek design
• Affordable

Considerations Before Buying Samsung TV Soundbar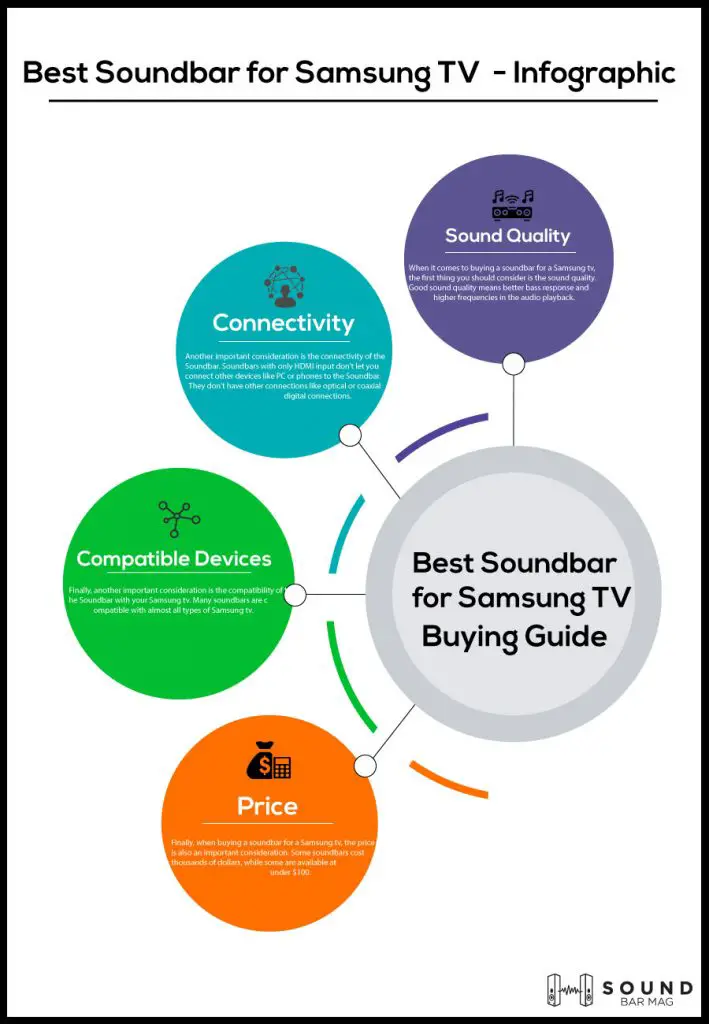 Here are four primary considerations when buying a soundbar for your Samsung tv.
Sound Quality
When it comes to buying a soundbar for a Samsung tv, the first thing you should consider is the sound quality. Good sound quality means better bass response and higher frequencies in the audio playback.
Poor sound quality can be detected when comparing a good soundbar with Samsung tv speakers. If you want to buy a soundbar for a Samsung tv, then make sure that it has better sound quality than Samsung tv speakers. A good soundbar will produce a loud, rich, and natural sound. 
Connectivity
Another important consideration is the connectivity of the Soundbar. Soundbars with only HDMI input don't let you connect other devices like PC or phones to the Soundbar. They don't have other connections like optical or coaxial digital connections.
Most soundbars nowadays come with RCA or optical connections, which allow you to connect external devices like DVD players, cable boxes, computers, and gaming consoles. This feature makes it easy to use multiple devices at the same time. 
Compatible Devices
Finally, another important consideration is the compatibility of the Soundbar with your Samsung tv. Many soundbars are compatible with almost all types of Samsung tv. Some models have Bluetooth connectivity, which lets you stream music from a smartphone or tablet to the Soundbar. So make sure that your Soundbar is compatible with your Samsung tv before buying it. 
Price
Finally, when buying a soundbar for a Samsung tv, the price is also an important consideration. Some soundbars cost thousands of dollars, while some are available at under $100. If you buy a soundbar for a large TV, it might be worth spending more money as the Soundbar will work efficiently and give better sound quality.
You can find affordable soundbars with excellent sound quality, but they may not have Bluetooth connectivity or many HDMI inputs. Make sure that you choose a soundbar that fits your budget and works efficiently with your Samsung tv.
Frequently Asked Questions (FAQs)
What Soundbar Works best with a Samsung TV?
Well, it depends on your requirements and what level you want to use a soundbar. But still, using a DTS series Soundbar can prove itself worthy. So using a Samsung soundbar with a Samsung tv will work best.
Do you need a soundbar with a Samsung TV?
Yes, you need a soundbar with a Samsung TV to entertain yourself with extra bass, Subwoofer, and high volume because the built-in sound system is not powerful enough. 
Are Samsung Soundbar worth it?
No doubt, Samsung is the best company in the electronics industry and provides top-notch products in relevant fields. So having massive respect in the field is undoubtedly worth it because they know how to provide value a customer will love. 
Read also: Samsung Soundbar Equalizer Settings
Conclusion
In most cases, Samsung's TV sound system is not powerful enough to entertain us while watching movies, listening to music, or even gaming.
Thus, buying a reliable soundbar is a wise decision to enjoy a certain entertainment level. We reviewed the best soundbars for Samsung TVs that are compatible, durable, and provide a sharp and surrounding sound. 
Read also: Best Settings for Samsung Sound bar