Samsung smart TVs are a great addition to home entertainment, with a great display, rich connections, and voice control support. The built-in speakers also perform pretty well, but they can't offer a cinematic listening experience with additional and exciting sound effects for the mesmerizing experience.
And if you want to upgrade your speakers and seek a room-filling, loud, and heavy sound that doesn't compromise the dialogue clarity and provides a home theatre listening experience, get the best soundbar for Samsung TV.
These soundbars are not only specially designed for Samsung TVs but choosing the smart ones for compatibility might be hard for you. Therefore, we are here with the 7 best soundbars for Samsung smart TV, offering a great set of specs, clear sound, and smart features for a great user experience.
List of the Best Soundbar for Samsung Smart TV in 2023
1. YAMAHA YAS-209 Soundbar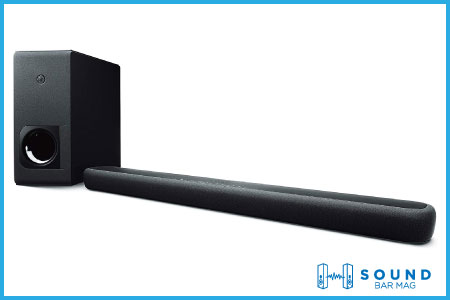 The cinematic experience at home depends on the display quality, but it can be made more entertaining and appealing with a perfect sound system. Yamaha YAS-209 is one of the QLED TV soundbar that top the list for many reasons, including its physical appearance and powerful sound quality.
The YAS-209 comes with a premium, sleek designed soundbar with a wireless subwoofer that makes its appearance appreciable and justified with the smart TVs without affecting the sound quality. It is a thin body soundbar placed anywhere without blocking the display. The control bar is at the top panel, with multiple LED lights for navigation and other functional enable options.
The connectivity options are also decent. It contains 2 HDMI links, for input and output each, and a USB port along with the optical illustration. It supports Bluetooth for wireless connectivity, Dolby digital for the 360-listening experience with no voice delays and maximized clarity or the DTS support for powerful and dimensional audio output.
With the installation of the Yamaha app on smartphones, the YAS-209 provides control outcomes for the Soundbar via WiFi. The promising feature that can amaze you is its Amazon and Alexa support. The Alexa made you enjoy the sound with simple voice control, making it the best soundbar for Samsung smart TV.
A different sound option that the YAS-209 provides includes the stereo, cinema, movie, game, or a combination of any 2. With the help of smartphones, we can choose the sound quality accordingly. The different sound modes and its sleek design make it a perfect match for pairing with the Samsung smart TV and make the experience more cinematic.
Benifits
• Different sound quality options
• Control over the
surround sound
• Alexa support
• Wireless connections
Drawbacks
• Slow Yamaha app.
• Generation of odd sounds

2. Sonos Beam (Generation 2) Soundbar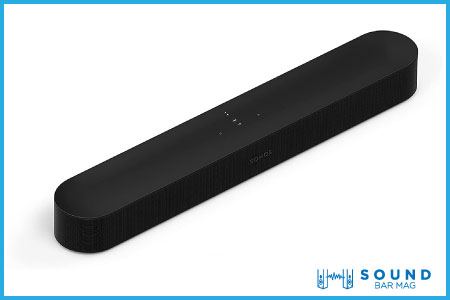 With the upgrade of appliances, Samsung has also uplifted its smart TV to make the experience more appealing for the viewers, except the sound output is relatively flat. Thus connecting a powerful soundbar like Sonos Beam (Gen 2) makes sense.
Samsung supports almost 99% of soundbars with different options, and the SONOS beam is one of the top choices. It's a soundbar that works best for medium-sized rooms, and the price tag is super affordable, giving value for money for its thrilling and well-balanced sound delivery.
SONOS Beam is an advanced version of another SONOS soundbar that comes in 2 different colors. It provides a multi-room sound system by connecting with some other SONOS, SONOS SUB, and a wireless woofer.
It supports Bluetooth and WiFi connectivity and can be controlled by your mobile via the SONOS app and a built-in Alexa voice control. However, a kit has no remote control, which is justified.
The bar contains full-range heavy performer drivers that throw well-balanced tuning with great clarity and deep bass. The drivers have the support of dedicated tweeters to make the sound performance more enriching. Moreover, Dolby Digital 5.1 support takes care of the dialogue clarity, and AirPlay lets you enjoy unlimited entertainment. Thus, it is a great entertainment package for your Samsung smart TV.
Benifits
• Sound customization
• Alexa
• Sound adjustment and Modification (for iOS)
• Google assistance
• Can connect with more speakers

Drawbacks
• Mounting accessory to purchase separately.
• Not suitable for large-sized room

3. Bang & Olufsen Beosound Stage Soundbar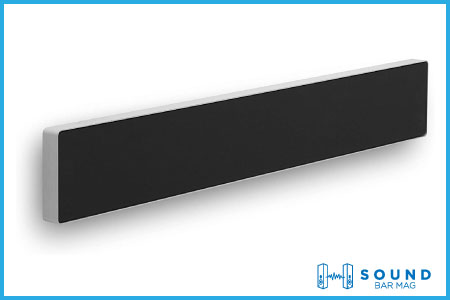 The Beosound Stage by the Bang and Olufsen is a perfect match for the Samsung smart TV as it's an advanced-shaped soundbar that can easily be mounted beneath the TV, and its audio can be enjoyed with the exploding experience. The beosound is designed carefully for the home aesthetics to complement t your décor.
The subwoofer produces a 3-channel, fully active, DSP-based loudspeaker solution that gives a deep, rich bass performance. It enhances the source of pleasure with a mixture of updated audio technology. It works best with any TV supporting HDMI ARC, with four woofers in the eleven-driver setup that may come without any subwoofer.
The body of the soundbar might be made of wood material, but that doesn't create any hindrance to the touch-delicate controls for manual feeding and Bluetooth. It has HDMI 2.0 input supporting the DMI 4K HDR and Dolby Vision for high-quality smart TV streaming.
The beosound also provides an Apple airplay 2 streaming option and a built-in chrome cast for endless entertainment sessions. No Remote control is included in the packing, though.
Surprisingly, the 11 drivers work together like a tweaked ensemble with four bass drivers, in a sound system setup, in addition to two 38mm mid-guard and a focal 19mm vault tweeter that collectively enhance the sound quality. Also, no noticeable distortions are heard while playing heavy music or gaming sessions.
Benifits
• Multi-Room Support
• Unique with films and music
• No distortions
• Max power output
• Wireless internet connectivity

4. SAMSUNG HW-Q990B Soundbar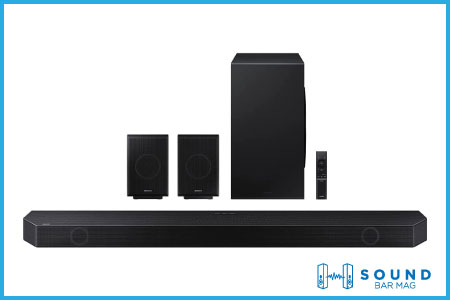 The Samsung HW-Q990B is an incredible soundbar that comes with a finished body that utilizes various drivers, remote back speakers, and an expanded subwoofer to convey an extraordinary surround sound experience.
It included a subwoofer and rear speakers to deliver Dolby Atmos and DTS:X playback through remarkable voicemails of sound. Q990B is good at delivering well-balanced audio for a different type of content, let alone it gets wild while gaming on the big TV screen.
The sound system supports wireless content playback via Bluetooth and WiFi, including Apple AirPlay 2. It's also combined with a Samsung Smart TV speaker system via Q Symphony technology for a better sound stage and perfect synchronization.
The design of the Samsung HW-Q990B is simple; not much has to offer. It has some new design compared to the previous one, a small LED appearing on the Q990B's front edge showing you the input you selected, such as volume levels, selected sound mode, and so on.
In addition, it supports the HDMI connection input and output, which can pass every version of HDR, including Dolby Vision and HDR10+. HDMI output is with eARC support for endless next-level entertainment from online media streaming services.
The sound quality was incredible; the main reason is the improved balance and cohesion of all the Q990B's many channels. There's smart functionality courtesy of built-in Alexa. It supports audio file formats, including AAC, WAV, MP3, FLAC, RIFF, OGG, and ALAN.
Benifits
• The sound stage was amazingly perfect
• The surrounding metallic design.
• An unparalleled number of real channels.

Drawbacks
• Stereo music playback in general.
• Expensive

5. BOSE Soundbar 300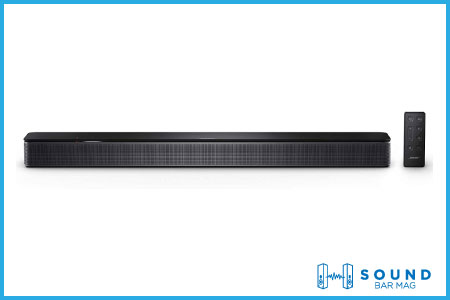 Despite the size, Bose Sound 300 has a sleek and smart build that fits best with the advanced Samsung TV. The single bar direction has a space-saving advantage over many multi-speakers. In that appreciation, the Soundbar 300 does the best process of advantage around a room independent of any support.
The soundbar is 2.25 x 27.5″ in size, which won't obstruct the bottom of your screen and depending on the design, you might place it under the screen. The overall look is simple, with clean lines and a button-free outside body covered with a metal grille.
A little multi-color LED light strip in the upper left corner gives you a visual option for the speaker's state. Two white bars show pause, a blue bar signals Bluetooth, and a little red point means mute. At the back, connection ports like HDMI ARC, optical input, Ethernet port, portrayed extension port, and subwoofer output are present; thus, the front is clear.
Soundbar has a configuration with Alexa and Google assistant for easy managing and enabling functions over your voice commands. Bluetooth and WiFi are coming in the Bose Sound Touch 300 soundbar package. Flaunting very good quality style; this thin soundbar looks perfect and sounds better than expected. At 97.9cm wide, it's best cooperated with bigger screen sizes (50-inch+), and this width has the advantage of making a persuading stereo spread. The overall performance is good and can be a worth buying product to go for. 
Benifits
• The noisy, broad sound
• Huge streaming elements
• Maximum power output
• Wireless connections
• Voice control support
• Perfect synchronization

6. SAMSUNG HW-Q80R Soundbar
Samsung Harman Kardon HW-Q80R With Wireless Subwoofer has a very good sound profile. Starting from its style, it's heavy with a metallic grille on the front, side, and top of the soundbar, concealing the built-in drivers with great pressure.
There is one opening port for the power cable. The wireless subwoofer is made of wood quality, and the huge driver located at the rear side throws punchy and heavy bass.
The subwoofer looks like a depressant speaker system overall, has been planned related to the sound specialists at Harman Kardon and is fit to drive out a guaranteed 372W of complete sound power. Soundbar conveyed utilizing 13 drivers working in a 5.1.2-channel setup.
The other two calculated drivers on the speaker's top edge fire sound forward and up to skip the level impacts held inside the object-based style off your roof. Its Surround performance is the best, and stereo dynamics steal the show with loud, distortion-free, and heavy sound pressure.
The Optical Audio can pass through and encompasses sound in Dolby Digital or DTS designs found on streaming stages like Netflix or Blu-beam plates. It supports almost for more remarkable performance, especially when watching movies. It has eARC support, which is helpful in the amazing audio format while watching TV.
Besides, Bluetooth and WiFi connections, along with Alexa voice control support, make the device smart to use in the house. You can connect it to other Google Supported devices and enjoy hands-free managing of your devices via listening to your favorite playlists.
Benifits
• Incredible sound proliferation.
• Various association choices.
• Great audio execution at a high volume.
• Upholds Atmos and level channels for a good experience

Drawbacks
• Shady display
• Extremely wide bar.

7. SONOS ARC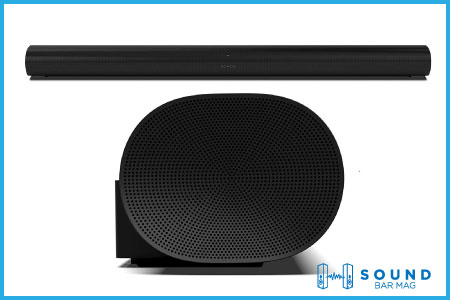 In the advanced form of the SONOS beam, the SONOS Arc soundbar packs a decent audio punch, notwithstanding its small size. The SONOS arc size is enough to connect itself to many smart TVs without compromising its performance.
It has a simple look with solid plastic and three touch-sensitive buttons. The Soundbar Stereo frequency response is excellent that delivers room-filling sound at max volume. The sound level is simply great; its bar firing audio system work collectively with its middle channel speaker to produce a sound stage that looks like a home theatre speaker tower.
SONOS ARC has a 3.0 setup with the best centre channel overall performance. It helps surround sound through the HDMI ARC port. However, only compatibility with Dolby Digital and DTS content is a little disappointing because Atmos is much in demand for its bouncing sound.
The playback of Dolby Digital and DTS surround sound is common in streaming media that helps in minimizing sound delays while enhancing the clarity of pronunciation for more immersive listening.
It instantly connects with an external device via Bluetooth, and WiFi also comes along for online music or podcast streaming. There is an Apple AirPlay support to enjoy your favorite playlists without connecting any devices. Alexa or Google Assistant will switch connections, pause or play the content, and browse stuff for you over the voice commands.
The setup of the beam is two-fold. In the soundbar, there are four full-range drivers, a center tweeter, and three passive radiators, which are there to add to the bass. If your TV has HDMI ARC, then it's a cinch. HDMI ARC permits the Arc to sync up audio and image and feature the entirety running thru your TV's remote in a count of minutes.
Benifits
• A balanced sound profile.
• Value for money
• Excellent sound customization capability
• Clear dialogues
• Google Assistant and Alexa ready

Frequently Asked Questions (FAQs)
What is the best soundbar for Samsung smart TV?
Sonos ARC is everyone's favorite because it is an entry-level setup for smart TVs, having a 3.0 channel, smart features, and superior audio performance. It smoothly connects with a Samsung smart TV and surprises you with a blasting performance.
Do we need a smart soundbar for Samsung smart TV?
A smart soundbar can double the fun of using a soundbar due to the wireless connections, smart features, and voice control support. However, any compatible soundbar can perform well with Samsung TVs, whether smart or not.
Bottom Line
These best soundbars for Samsung smart TV are ready to turn boring TV streaming or gaming sessions into exciting ones with a balanced sound profile, clear or understandable dialogues, and advanced sound effects.
However, before choosing the ideal product for your Samsung TV, you should thoroughly examine the specs or features, especially the connectivity support.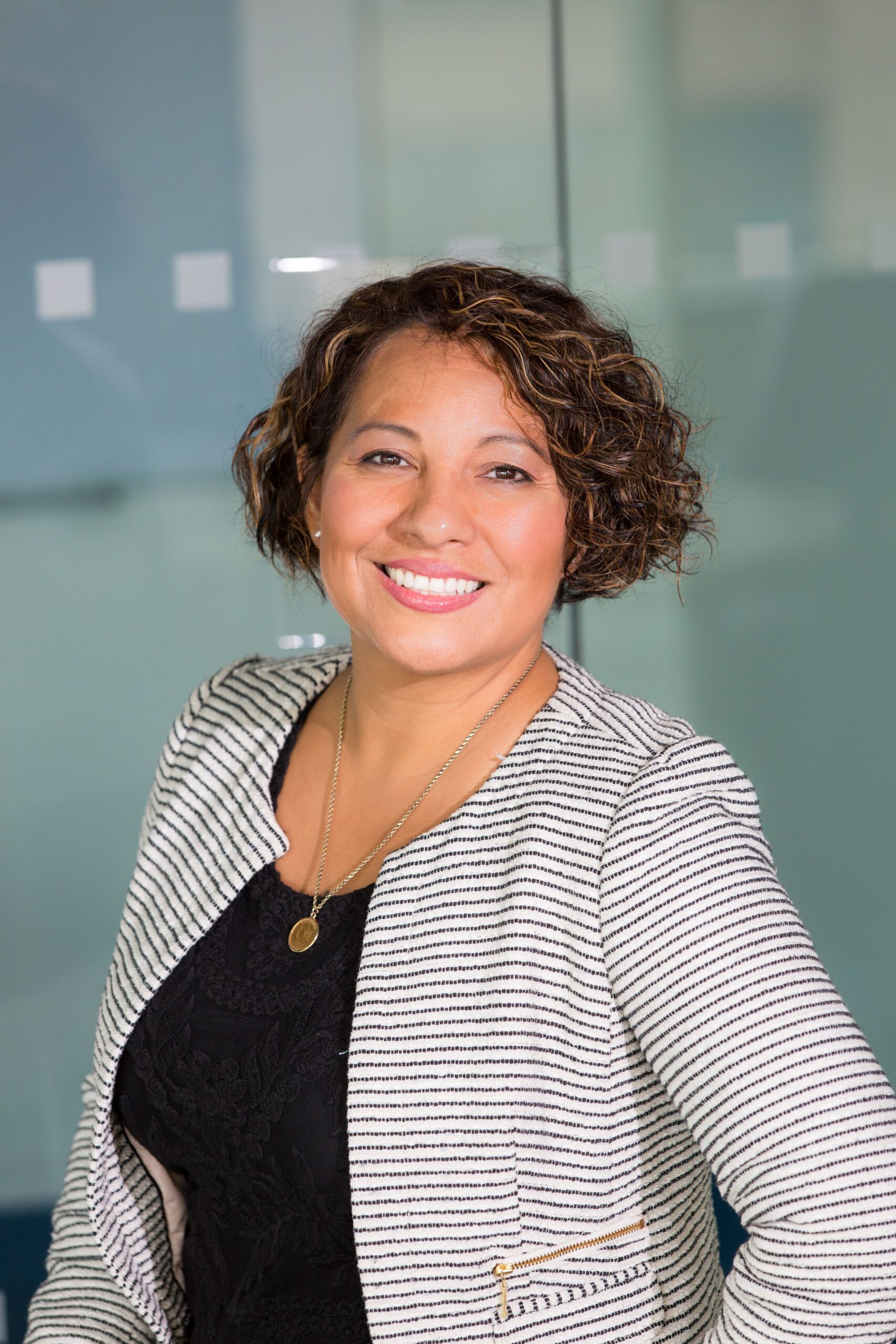 Mia Evelyn is a soundbar specialist and she love to test and review different soundbar brands. She shares her neutral and in-depth reviews through the Soundbar Mag.