Are you still hunting for the best Soundbar for Samsung TV to upgrade your listening experience? Well, look no more!
Despite the screen size, the latest Samsung QLED TV delivers outstanding display performance with balanced contrast and rich audio. It can turn into a mini-home cinema by connecting to a powerful and feature-rich soundbar specially designed for Samsung QLED TVs.
However, finding a suitable Soundbar for the QLED TV is no less than a hassle in a market flooded with innovative and high-quality soundbars. Therefore, we have included the list of the 5 best soundbars for Samsung QLED TVs that are perfectly compatible and deliver high-definition and crystal-clear audio without breaking the bank.
So, let's check them out.
List of the Best Soundbar for Samsung QLED TV in 2022
1. PANASONIC SC-HTB900EBK Soundbar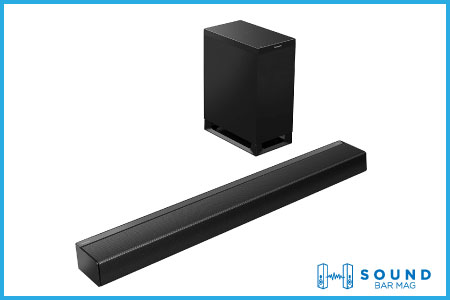 If you want heavy bass with deep, influential experience but don't have the space, Panasonic's SC-HTB900 is the best wireless Soundbar for Samsung frame TV.
If the desire takes you, you may turn this 3.1 system into a full-fledged surround sound system by adding the optional output of the additional rear speakers and turn your place into a real entertainment hub. It has a strong bass performance as well.
The good news is that it also looks beautiful, thanks to a creative curved grille and touch controls for power, volume, and input selection. Panasonic isn't renowned for skipping out on style regarding its products, but that's not the situation here.
A front-facing left/right stereo multichannel driver arrangement with two woofers and a cone tweeter, as well as matching twin woofers for the center channel, is used in the SC-HTB900.The wireless subwoofer has a molded plastic base that can be utilized on carpet or hardwood floors.
On the other hand, the width of Panasonic's soundstage and the melody of its delivery astonished us. It's unusual for a Dolby Atmos bar to lack built-in up-firing speakers. On the other side, a 3D Surround effect gives the impression of height.
The overall power output is 505W, distributed between three 85W front speakers and a 250W subwoofer. Two HDMI connectors are available, as well as optical digital audio. In addition, WiFi and Bluetooth can enable you to link to your Samsung TV and enjoy unlimited wireless entertainment.
Benifits
• Deep bass
• Great built quality
• Wireless connection
• Atmos-enabled
• Well Balance Sound

Drawbacks
• Clarity compromised at max volume

2. Bose TV Speaker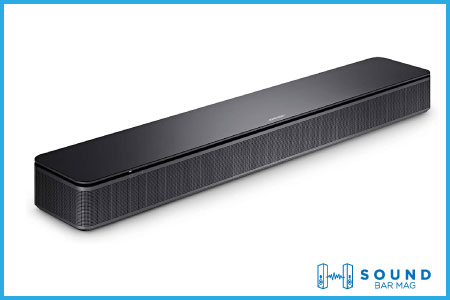 The Bose TV Speaker is a relatively small soundbar but has a pleasing and attractive profile. It boosts sound quality and is a quick fix for better TV audio. Two angled full-range speakers are included in the Best Soundbar with HDMI for a more genuine audio experience and improved TV quality.
This top-of-the-line HDMI arc soundbar was created to enhance speech clarity and pronunciation. While viewing movies, it isn't a soundbar that will take your breath away. That is why it is not advertised as a speaker. A speaker improves the bass and purity of music at this price point.
Any device can be connected to this Bluetooth Soundbar. Music and audio can also be streamed over the air. You'll be fully operational in seconds with only a single connection from this tiny Soundbar to the TV through an optical audio cable or an HDMI cable (both offered separately).
This interesting Soundbar stands a little over 2 inches tall and maybe wall-mounted or placed next to your television. The controller for the TV speaker allows you to change to a conversation mode to increase speech clarity or add a bass boost for added depth.
Benifits
• It is easy to install
• The sound quality is excellent
• Great audio experience
• Value for money

Drawbacks
• It does not have a WiFi connection

3. Polk Audio Signa S2 Soundbar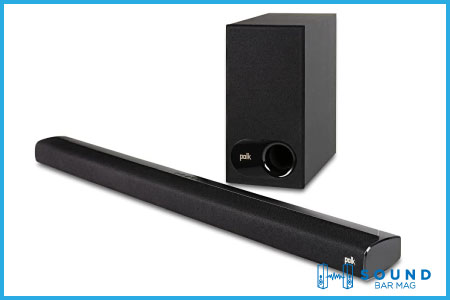 Polk Audio's SIGNA S2 soundbar is a 2.1 soundbar with a wireless subwoofer that could be the Best and most affordable Soundbar for your QLED TV. It's also well-made and Bluetooth-enabled for wireless connectivity. Furthermore, it has become showy but may not produce the best results due to distortion when pushed beyond its volume limits.
Although today's glossy flat TVs are beautiful, they all have one flaw: poor audio quality. Because there aren't many places for designers to use an audio assembly capable of handling amazing music in these small designs, they have to settle for mediocre audio.
Polk is a reputable audio system manufacturer that provides the most advanced features without breaking the bank. Polk's S2 Soundbar is a well-known example of the company's inventive products. The basic components of the system are a Soundbar and a subwoofer. The main unit is light and portable, making it simple to fix even in a small space.
Although previous models lacked, HDMI is the most widely utilized port in modern home theatre systems. As a result, this is a big improvement. Then there's a standard 3.5mm slot. It also has Bluetooth wireless connectivity so that you can listen to music on it from any Bluetooth-enabled smartphone or laptop. The device pairing is straightforward and quick, and the joining and connections are reliable.
The Soundbar offers a Night Mode that helps lessen the bass by blending in better with the dialogue and removing the need to alter the main volume many times.
It will enable you to watch late-night movies and television shows without disturbing anyone asleep in the next room.
Benifits
• Amazing build quality.
• High-definition audio outcome.
• Loud enough for movies.

Drawbacks
• Limited Sound settings.

4. SONOS ARC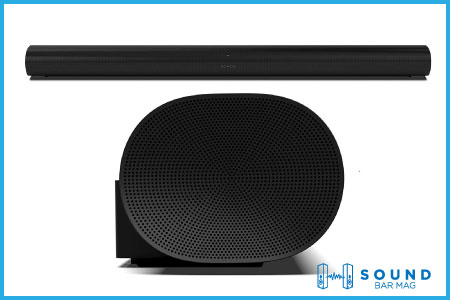 Dolby Atmos puts sound in place for a 3D experience, allowing you to hear planes flying overhead, footsteps moving across the room, and feel the score all around you.
With eleven carefully constructed internal speakers, including two dedicated height channels, Arc disperses sound in all directions, presenting every whisper, explosion, and beat with dramatic clarity, detail, and depth.
SONOS Arc uses simple language, which has been perfectly alright by Oscar-winning sound professionals, to ensure that you never lose track of the plot. When characters whisper, or the action picks up, turn on Speech Enhancement in the Sonos app for even more clarity.
Because Sonos doesn't have a portable subwoofer, the bass won't be as intense, but those floor-standing speakers will get your heart pounding if you crank up the volume loud enough. You can also use the Sonos app's True Play tuning feature and try all the exciting functions it offers.
If your television supports Dolby Atmos, we can't emphasize how great it is. The sound puts you into the middle of a movie as the action swirls around you, boosted by the upfiring speakers that provide great depth to the sound. It's also a significant plus that Alexa and Google Assistant are included.
Benifits
• Perfect For Background Music Play
• All In One speaker
• Voice control support
• Dolby Atmos, TrueHD, and Dolby Digital Plus

Drawbacks
• Little Expensive
• Not rich enough bass

5. Samsung HW-Q80R Soundbar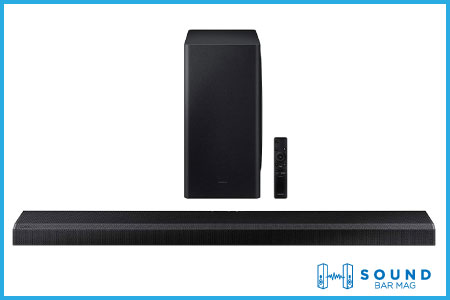 To go along with their QLED TVs, Samsung has been a forerunner in soundbar development. Samsung has released the award-winning and best Soundbar for Samsung 82-inch television soundbars with new features in recent years.
The HW-Q70R has a similar design to last year's N650; it's slim, elegant, and has a tiny form factor that enables it to fit under any Television set. It includes metal grills and a lovely mesh that complements any television. It has an LED display that displays important information and also provides amazing audio for movies and games, picking up even the tiniest footsteps.
The music is evenly distributed across the screen, and the visuals are carefully placed. Upward-facing speakers, known as Atmos, give the sense that sound is coming from above. The subwoofer packs a punch, thanks to its strong bass enhancement.
The sound only covers the first part of the room due to the lack of rear speakers; nevertheless, additional wireless speakers can be ordered.
Due to the big and bold soundstage, numerous sound options exist for movies and games, allowing users to have an immersive experience. Moreover, three forward speakers, two upward-facing speakers, and one subwoofer utilize a total of 330W. More speakers can be added to the Soundbar for a true surround audio quality.
At last, the Soundbar comes with DSP technology that allows instant sound customization according to your watching content. Three different EQ presets bring quality audio over a one-button push and enhance your listening experience.
Benifits
• The wireless subwoofer packs a punch
• Outstanding surround sound
• DSP technology
• Perfect for movies and games

Frequently Asked Questions (FAQs)
What is the best Soundbar for Samsung QLED TV?
Panasonic's SC-HTB900 is the best choice for Samsung QLED TVs, with a 3.1-channel system and maximum power output. The elegant profile complements the TV, and crystal-clear sound delivery with balanced tuning delivers great acoustics for immersive listening.
Do soundbars are easy to use?
Soundbars are an upgraded version of typical speakers lying around in our homes, but it contains multiple speakers inside a single unit that has dedicated jobs to deliver a luxurious acoustic experience. They are extremely easy to use and compatible with any media device.
Bottom Line
Even though Samsung QLED TV is like a dream come true with a slim profile, bright colors, and excellent clarity, the lack of powerful audio delivery ruins the whole watching experience.
But, you don't have to experience less immersive content and connect the best Soundbar for Samsung QLED TV that delivers superior audio performance to upgrade your overall listening experience. We have added the top-notch products in the article for you to enjoy the most.