A TV without a good audio output can ruin the whole watching mood.
No matter how much the modern collection of smart TVs offers, their inadequate audio quality cannot fill the gap. Since flat-panel TVs can't adjust space for high-powered speakers, it makes the users think of the safest, most affordable, and worthy alternatives.
Similarly, Toshiba Fire TV delivers excellent visuals on the big TV screen with terrific viewing angles, but the audio quality cannot satisfy entertainment needs.
So, we are here with the best soundbar for Toshiba Fire TV that improves the audio quality, makes it louder and more thrilling, and adds a reasonable charm of bass for the cinematic performance. So, let's check the smart soundbars for the smart Toshiba Fire TV we tested for you.
List of the Best Soundbar for Toshiba TV in 2023
1. Polk Audio Signa S2 Soundbar for TV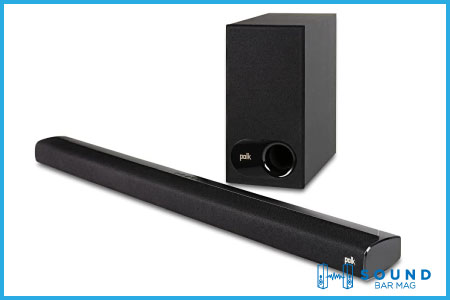 Polk Audio Signa S2 is a low-key piece of quality soundbars compatible with 4K or HDR TV. It has a decent appearance in black, and the build material quality is amazing.
The soundbar got us from its aesthetic design. The ultra-slim profile with a grilled texture at the front complements the home interior, and the powerful audio output complements the TV content.
After testing it for two straight days, we realized the Polk audio soundbar works great for mixed usage with a high-frequency range between 45hz to 20kHz and wireless subwoofer support.
It delivers clear, dynamic, and loud sound performance to elevate the TV-watching experience and give you cinematic vibes at home. The stereo dynamics were also great, and seamless connectivity with multiple options, including Bluetooth and HDMI ARC.
HDMI ARC gives you a premium watching experience of 4K content. The synchronization efforts were priceless with DVD players or gaming consoles. Additionally, the driver sitting in a subwoofer keeps up with a deep bass performance that goes a long way for parties, occasions, gaming, or casual music listening.
However, the lack of height channels or Dolby Atmos support is a shame for this great innovation. But Polk's voice adjusts technology, and Dolby Digital decoding help with dialogue clarity, boosts sound pressure level and minimizes voice delays.
Pros
• Polk Voice adjusts technology
• Multiple connections
• Decent stereo
• Excellent sound clarity

2. Sony HT-S350 Soundbar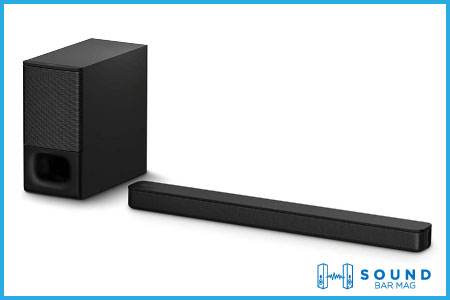 Sony is a pioneer in making terrific sound systems, and HT-S350 is no exception. It is a great entry-level soundbar with a 2.1 system setup for a reasonable upgrade to TV speakers. It sounds great for mixed content, like news, movies, shows, sports, or even podcasts.
It not only sounds great but has an aesthetically pleasing appearance. Measuring 32 by 32 by 25 inches and weighing around 27 pounds soundbar, throws stylish vibes with a metallic grille at the front and faux-leather coating at the top panel.
Besides, the soundbar has a few buttons at the top to give you walk-in control measures. The navigation was quite easy with the buttons that were easy to reach, and the handy profile didn't give us a hard time handling the bar and setting it in odd places.
The wireless subwoofer also stands confident while producing great bass. It is deep enough to shake the room, and the downward-facing driver ensures quality low-frequencies. We also appreciate the subwoofer didn't demand to sit in a sweet spot to perform at its best.
In addition, the soundbar with a power output of 320W fills the room instantly with clear, loud, and balanced upper notes performance. We played a diversity of content, and the performance was worth noticing.
It may not support any advanced audio formats, but the crystal-clear sound without connecting a receiver is enough to grab our attention. Connectivity with HDMI ARC helps perfect syncing with 4K content on TV, and Bluetooth technology allows wireless music streaming with smart devices.
The soundbar also offers seven different sound modes, easily managed through remote control, and helps you with quick sound customization. The Voice enhancement function is another top-selling feature of TV-oriented soundbars, and this best Toshiba TV soundbar is willing to come along.
Pros
• Attractive appearance
• 6.16-gallon subwoofer volume
• Voice enhancement function
• Wireless technology
• HDMI ARC
• DSP technology

Cons
• Lack of latest audio format decoding

3. Toshiba 2.0ch Soundbar
Toshiba 2.0 is a stylish addition to our list of the best soundbar for Toshiba TV, and it offers decent features. It has a refined traditional design in black with solid feet that help the soundbar to sit without making clutter, plus the wall mounting kit also comes along.
It sounds so much better than the TV's tiny speakers or any standalone sound system with a 2.0 system. Despite the limited addition of speakers inside a body, we enjoyed heavy, powerful, and pounding sound output at max volume.
Connectivity with AUX, USB, optical digital, and Bluetooth makes things easier and help you pair the TVs or smart device without hassle. Bluetooth encourages wireless connectivity with Toshiba Fire TV to enjoy unlimited entertainment with built-in apps or streaming services.
However, we miss the HDMI ARC support, but its compatibility with Toshiba TV wouldn't disturb you over any connection.
Installation and setup are effortless, making it a plug-and-play device for continuous use. Besides, the audio reproduction quality is decent, helping you elevate the TV audio performance with more clarity, deep bass, and loud volume.
There are no noticeable distortions we could notice at the high volume, but many audiophiles believe that it can get super loud if the front-facing full-range drivers throw more power. Anyways, the speech enhancement feature is a valuable addition.
Hence, it is an excellent and affordable soundbar for the Toshiba 4k TV that instantly enhances the TV audio quality and makes the overall watching experience a bit worthwhile. Considering the TV soundbar profile, it has its pitfalls, but it is worth a shot.
Pros
• Range of connections
• Great audio quality
• Budget-friendly
• Amplified sound
• Speech enhancement function

4. Samsung Q800A Q-Series Soundbar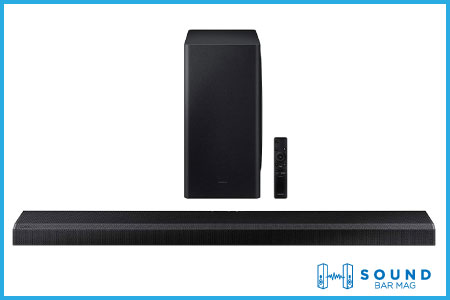 You find Samsung soundbars a little expensive, but we find them worth investing in for their exceptional sound quality, impressive features, and multiple sound effects support.
We found the Samsung Q800A Q-Series soundbar, which is a complete entertainment package with a 3.1 system soundbar and a wireless subwoofer controlled via a handy remote.
The widebody has a grilled coating at the front and top panel, covering three channels, including one subwoofer and two up-firing channels. A center channel isolates the sound from the left and right drivers, polishing the dialogues and delivering them with great clarity.
The drivers support Dolby Atmos and DTS:X effects that boost their performance and enrich the volume. The sound was pretty loud with no compromise on tuning, dialogue, and mid-notes.
The Samsung soundbar automatically calibrates the sound and enhances clarity to match content and space. Q-Symphony synchronization strengthens the compatibility with QLED TVs, and HDMI ARC ensures perfect sync with TV 4K content to make the audio listening experience more immersive.
Besides rich and captivating sound delivery, the soundbar is a star of the room with smart features, including wireless technology and Alexa support. Alexa will be ready to hear your command and ease the process of managing the soundbar.
Pros
• Solid construction
• Room calibration
• Impeccable sound clarity
• Alexa ready
• Dolby Atmos and DTS

Cons
• Sound distorts a little in high volume

5. BESTISAN 28 Inch Soundbar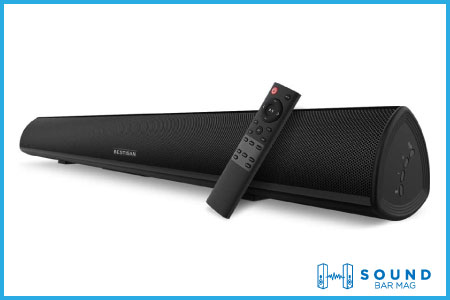 BESTISAN is gaining insane popularity for its deadly combination of space-saving design, affordability, and powerful audio delivery. It can be your go-to soundbar for TV watching, podcast or music listening, and gaming.
While testing at our facility, we noticed the built-in full-range speaker's sound incredibly well with a power output of 20W each. The DSP technology offers different audio modes for automatic sound customization according to the content playing.
 And the built-in bass-reflex speakers produce punchy, deep, and thrilling bass to turn the place upside-down. The sound bounces back to the speakers and produces a catchy, pleasing sound.
It can be your best choice of home entertainment with a booming sound, less than 1% of harmonic distortion at max volume, and adjustable bass technology.
The compact design with a grille at the front and a few buttons at the side edge helps with basic controlling. We had the best and smooth navigation experience with that. But, the remote control with dedicated buttons at the front allows convenient device management.
Furthermore, Bestisan includes multiple input ports for convenient connection with smart devices, including Toshiba Fire TV. Bluetooth eliminates the wired clutter, and optical digital is a safe alternative.
However, we miss the HDMI ARC or Wi-Fi support to get the most out of the Toshiba smart 4K TV, but despite the lacking, it is still the best Toshiba fire TV soundbar for its high-resolution and clear audio output.
Pros
• High-definition audio
• No harmonic distortion
• EQ modes
• Convenient connectivity
• Bass reflex ports

Frequently Asked Questions (FAQs)
What is the Best Soundbar for Toshiba Fire TV?
Samsung Q800A is the best among the others we mentioned, with a 3.1 channel system, wireless subwoofer, and max power output. Its built-in DSP helps with sound customization, and loud music output lets you have the time of your life.
What is the Best Soundbar for Toshiba TV?
BESTISAN can be the best soundbar for Toshiba TV for its affordability, space-saving profile, and decent sound reproduction capability. It also has different EQ modes, and the stereo dynamics are also decent, making it loud with no harmonic distortion.
How do I connect my soundbar to my Toshiba Fire TV?
Toshiba Fire TV has multiple connectivity inputs, including HDMI or optical digital. Connect one end of the optical or HDMI cable to the TV or another end to the soundbar for stable pairing. Ensure putting the suitable cable into the correct input to avoid any trouble. You can also use a Bluetooth connection for wireless connectivity between both devices.
Does Toshiba make soundbars?
Toshiba has a range of soundbars with wide compatibility. Improve the audio quality of your TV by connecting Toshiba or any compatible soundbars and enjoy immersive listening.
Bottom Line
Soundbars definitely offer a few valuable advantages over a home theatre setup, like they consume less space, are easy to install, set, or manage, and are affordable. That's why we recommend you invest in the best soundbar for Toshiba TV that can turn the tables for TV watching or music streaming.
We have added different products featuring distinct qualities so you can get the one that best matches your needs. Soundbars produce quality audio with clarity and sound effects without breaking your bank.
Mia Evelyn is a soundbar specialist and she love to test and review different soundbar brands. She shares her neutral and in-depth reviews through the Soundbar Mag.