It's not wrong to say that TVs nowadays look very different from the TVs of the 90s. The vivid visuals on the big, curved screens look amazing, and it's difficult to distract you. As one of the leading TV-selling brands, Samsung has also introduced amazing designs and features in its modern collection.
As the number one electronics leading brand, Samsung has introduced its new curved TVs. Still, despite their numerous benefits and wide viewing angles, the audio output is not up to the mark. Therefore, we had to come up with the best soundbar for Samsung curved TV. These soundbars will take your imagination to the next level, and you will hear the sound while feeling the emotions.
Life is all about making the right choice when you get a chance. Here we are with some three best soundbars for Samsung curved tv options, so you can make the best choice and make your life more soulful.
List of the Best Soundbar for Samsung Curved TV in 2022
1. Samsung Harman Kardon HW-Q60R Soundbar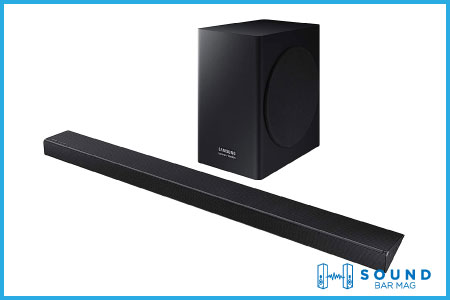 Are you searching for a bar with a decent sound profile? Here you go, Samsung Harman Kardon HW-Q60R is one of the fairly good soundings soundbar. It performs best on max volume, and you rarely feel any harmonic distortions.
Its design is very well built, giving a good look to your room. The bar is sleek and has attractive aesthetics to complement the décor while upgrading your music listening standards. However, HW-Q60R comes only in black with 1100mm in width. It emanates with brackets, screws, and a paper template so you can wall-mount it in a sweet spot.
Talking about the features, The Samsung sound bar HW-Q60R operates a 5.1-channel speaker configuration, with a state frequency response of 42Hz to 20kHz and a max power output of 360W, enough to fill a wide room full of audiences. Moreover, it also offers sound customization modes that automatically adjust the audio, dialogue clarity, and background tuning according to the content.
Samsung's decision of not including Wi-Fi is actually not acceptable in this price range. You can only connect via Bluetooth, optical digital, or other wired options. As there is no Wi-Fi, this means no high-resolution audio.
Pros
• It consists of a decent stereo sound profile
• Its design is well built
• Decent performance at high volume

Cons
• It lacks Sub-bass
• It doesn't support height channels and Atmos

2. Yamaha YAS-207BL Soundbar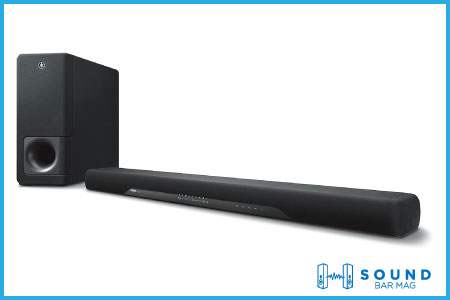 With the advancement in technology every second, YAMAHA has created the best soundbar so people can enjoy all the height and surround sound effects in their homes.
The Yamaha YAS-207 is one of the first soundbars to put it to the test, and it's not wrong to say, it proves a good addition to the stream of audio technology. It features a decent built quality and is equipped with multiple input ports for stable connectivity with external devices. It includes optical and 3.5mm audio input, and the choice is to go through one of its HDMI sockets that helps in 4K and HDR pass-through.

Remember that the Yamaha soundbar is not a miracle worker at this stage. It does not create soundtracks that appear as if they're being blown down from your house ceiling. But from a single enclosure, YAS-207 is highly effective in creating a wide soundstage with crisp, loud, and clear sound quality.
Connectivity with Bluetooth makes things easier and allows this DTS-enabled soundbar to perform at its full potential. It also comes with a wireless subwoofer that delivers crisp and deep bass, enough to add charm to the 3D surround sound listening. However, music lovers miss the Atmos effect, which is powerful to enrich the music with more realistic frequencies.
Pros
• Crisp, insightful, and dynamic sound
• A spacious and immersive performance
• Practical and slim profile
• Wireless subwoofer
• DTS for 3D sound

Cons
• Could do with more midrange solidity

3. Samsung A550 Soundbar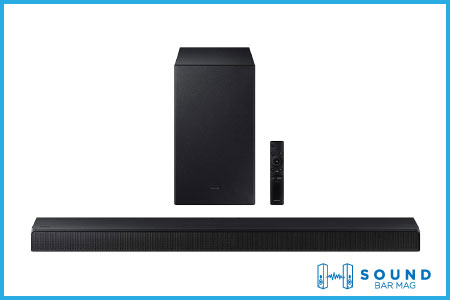 About a year ago, Samsung added a fantastic soundbar in its A-series, which is Samsung A550, which comes with Dolby Atmos and DTS sound effects to transform your listening experience and upgrade your Samsung curved TVs.
As it is one of the best mid-range options in the series situated between the 450 and 650, it measures about 33.9″ x 2.2 "x 3.3″ (860.0 x 55.0 x 85.0 mm). If we talk about its weight, it is just 4.63 lbs (2.1 Kg), making it compact enough to fit under TVs of 43 inches and above and making it a more valuable choice in the aspect of size for size a wider market in general.
By looks, it's not an ordinary one. In fact, Samsung has given it a premium look, allowing it to blend in aesthetically with most living conditions.
The front look of the Samsung A550 soundbar is a black non-removable magnetic grille in a diamond pattern that is actually slightly wrapped around the bottom and stops just at the sides of the unit. Similarly, the audio output is also incredibly insane with advanced audio formats, making the sound virtually rich while maintaining quality. The dialogues are clear and understandable despite the heavy background noise, and there are rarely any voice delays.
The wireless subwoofer enhances the entertainment over a one-push button, boosting the bass quality and making it more thrilling to enjoy every beat.
Pros
• Optimized sound for gaming
• 160 Watt for powerful sound
• Multiple connection options
• Full control with one remote

Cons
• Lack of eARC
• Doesn't include HDMI
• Surround sound effects are sometimes not convincing

Frequently Asked Questions (FAQs)
What is the best soundbar for Samsung Curved TV?
Samsung Harman Kardon HW-Q60R 5.1ch is our best finding for the Samsung curved TV with max power output and incredible frequency response. The sound delivery is clear and realistic and comes with multiple connectivity options, including wireless.
How can I connect the soundbar to Samsung curved TV?
Spot an HDMI or optical digital input at the back panel of the TV. Grab a respective cable and insert one end to the TV and the other to the soundbar. Make sure to insert the right cable into the right input port. Then, open the TV and adjust the audio output from the settings. Besides you can also pair both devices via Bluetooth and Wi-Fi if both devices support the connection.
Do other soundbars work with Samsung TVs?
If a soundbar and a Samsung TV have similar connectivity options, any brand soundbar should work with the Samsung TV.
Bottom Line
After upgrading the TV display with Samsung curved TV, there should be no harm in doubling up your listening standards by connecting an external soundbar with it. A soundbar is a great innovation that gives a new perspective to the audio and makes the sound more deliberate, dynamic, and practical while maintaining the charm of streaming digital content.
We have included the best soundbar for Samsung TV that is easy to set, connect, and operate for different purposes. We made sure to choose the best of the bests so your regular TV watching, podcast listening, or music streaming becomes more enjoyable.