Samsung is the no 1 brand that produces top-notch electronic items, including TVs of different sizes, but still, it has some downsides. The TVs deliver excellent color and picture quality, but the flat audio quality does not match those visual standards.
Therefore, many people turn to get a soundbar that includes multiple speakers and easily connects to the TVs, becoming a valuable upgrade to digital peripherals.
Hence, many compatible soundbars go well for different designs and sizes, but we narrowed down our research and found some best soundbars for Samsung 40-inch TVs.
So, if you are looking for one to experience high-definition audio output, let's learn more about the powerful soundbars we now know as the best soundbar for Samsung TVs.
List of the Best Soundbar for Samsung 40 Inch TV in 2022
1. Samsung HW-Q950A Soundbar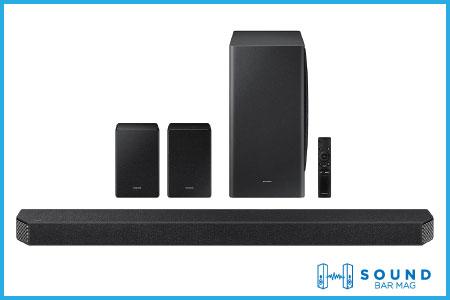 SamsungHW-Q950A is a decent-styled, black color soundbar having some new features, including an auto EQ room correction point and Apple AirPlay 2 connectivity.
We found it a complete entertainment setup with an 11.1.4 system configuration, indicating the soundbar has many built-in speakers with dedicated woofers and tweeters to complement the audio performance.
The auto EQ feature offers a neutral, balanced sound profile suitable for many different audio content types. We turned the feature for TV, news, and podcasts, and it did wonders with the sound quality.
It also supports Dolby Atmos content, and its devoted compass speakers provide an immersive listening experience, making the sound virtually rich while not compromising the dialogue clarity.
It has two HDMI inputs and an HDMI output, which supports 4K/60p, High Dynamic Range (HDR10, HDR10+, and Dolby Vision), HDCP 2.2, and Anynet+ (HDMI-CEC). HDMI output includes eARC and optical digital input.
It also supports Bluetooth, WiFi, and AirPlay 2, allowing you to stream music from the home network wirelessly. We realized there would be no cable clutter with this device.
All the connections were smooth to enable. Bluetooth pairing can be done with a remote, AirPlay via your Apple device, and WiFi using the SmartThings app.
While connecting to the Samsung TV, many functions like Q-Symphony and auto-calibration will improve the listening experience. Game Pro mode brings out the soundbar's wildest side with room-filling sound, deep and thrilling bass, and perfect synchronization.
Pros
• Present focus channel.
• Room-filling sound.
• Built-in Alexa support
• Wireless connections

Cons
• Partially incorporated subwoofer

2. Samsung HW-Q800A Soundbar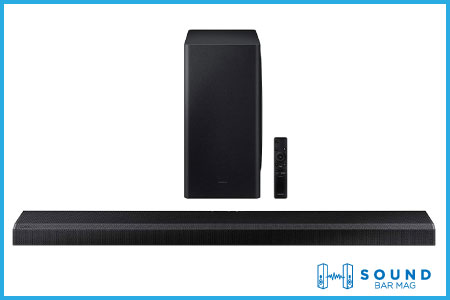 The Samsung HW-Q800A, an entry-level Dolby Atmos soundbar, works excellently with any TV, but we tested it with Samsung and Sony's new model.
Its design included a soundbar with a wireless subwoofer, two HDM inputs with eARC support, and Up-and side-projecting drivers in the backs. Setting up the device was smooth, and it didn't take us much time to understand the specs.
This baris Amazon Alexa ready, complete with a far-field mouthpiece, which implies it works as a veritable Alexa smart speaker by its own doing. We were mostly navigating the device using the feature, as we were too lazy to hold a remote.
You can likewise stream music (or whatever else) to it effectively over Bluetooth or WiFi, including support for Apple AirPlay 2. It has one HDMI input, an HDMI yield, a piece of optical computerized sound information, and a 5V USB port.
The HDMI helps eARC for lossless Dolby Atmos or DTS:X sound from eARC-able TVs, while the HDMI passthrough can convey the HDR10+ and Dolby Vision dynamic HDR designs, as well as the standard HDR10 framework.
This best soundbar for 40-inch TV has an aesthetically pleasing design with a metal grille covering the top and front panel and also protects the built-in drivers. The 3.1 channel system contains left and right speakers, height channels, and the center channel dedicated to improved spoken word. The vocal clarity was amazing, and the bar takes care of dialogues at extreme listening levels.
Behind the grille, there is also a Samsung Acoustic Beam that exhibits innovation, which is precisely a line of 56 little openings used to project level sound.
This soundbar throws much power, detail, and dynamic reach. However, some harmonic distortions at the max volume can distract the listener, and the bass projection is not as top-notch as expected.
Still, considering the entry-level profile, affordable price tag, and powerful sound projection, it provides value for the money.
Pros
• 2 HDMI input with eARC support
• Amazon Alexa ready
• SupportBluetoothh, Wi-Fi, AirPlay
• Excellent dialogue performance
• EQ presets

Cons
• Single HDMI input
• Audio balancing issue (with up and down)

3. Samsung HW-Q950T Soundbar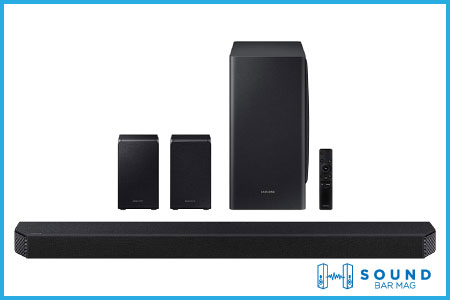 The Samsung HW-Q950T is, even more, a home cinema than a regular soundbar, with vast sound output, maximum power output, and tremendous dialogue pronunciation capability.
The soundbar also supports the Dolby Atmos effect for 3D sound delivery. When we turned on the music, it felt like the notes surrounded us. Besides, it also creates the effect of a 9.1.4 surround sound setup using the four rear speakers.
Good music streaming is upheld over WiFi and Bluetooth, incorporating Hi-Res Audio document organizations. It even allows you to interface with specific phones by simply tapping them against the soundbar's bodywork.
Additionally, the soundbar highlights drivers organized across the front. At each end, there's a driver giving width and another reforming, a 'corner' sound. This is intended to provide as much width to the sound as possible.
On top of the soundbar, there are a further two or three drivers compatible with Atmos to create a virtually rich sound for a cinematic experience.
On the other hand, at the top panel, there's a concise showcase and actual controls for 'volume up/down, 'mic on/off, and 'multifunction.'The buttons were easy to reach and smooth to push to save time and act effectively.
The back speakers are pretty helpful for all intents and purposes. At the back side of the soundbar, there are two or three HDMI inputs, an e ARC-empowered HDMI in/out to associate with the TV, and a piece of computerized optical information.
Pros
• Powerful sound.
• Remarkable channel support.
• Rich connection
• Dolby Atmos compatibility
• Elegant and thin profile.

Cons
• Require special room placement
• Incompletely characters by low zed frequencies.

Frequently Asked Questions (FAQs)
What is the best soundbar for a 40 inch TV?
Samsung HW-Q800A is a decent and reasonable 3.1 system soundbar for a Samsung 40-inch TV with all the necessary features to enhance your music listening experience. It is well designed to work for different content and reproduce incredible room-filling sound with clarity.
Do you need a soundbar with Samsung TV?
Samsung TVs are an excellent option for high-quality 4K HDR content streaming, but their audio output doesn't match the display standards. It produces okayish sound, so if you are fond of listening to high-resolution audio with perfect synchronization, give a shot to the best soundbar for Samsung 40-inch TV.
How do I choose a soundbar for Samsung TV?
Decide how many channel configurations you want, where to place the bar, whether you need an external subwoofer or not, and how you prefer to control it, and then start your finding based on your requirements/preferences.
Bottom Line
It was hard to extract the top-notch soundbars from the extensive soundbar market, but we decided to stick with the same brand collection for better compatibility, rich connectivity support, and excellent sound upgrade.
The best soundbar for Samsung TV can be a game-changer in your house for TV or music streaming, podcast listening, or using powerful speakers at events. Three different choices give you enough idea to get the product that best matches your requirements.