With the rapidly growing demand for streaming services and improved quality of display performances, it makes sense to update your audio and video system. After getting your hands on the 4K or 8K Samsung smart TVs, enjoy a theatre-like experience by connecting the best wireless soundbar.
We have added a few options for you to consider that are known to be a complete entertainment package with flexible setup, elegant design, high power output, and wireless connection technology.
The best wireless soundbar for Samsung TV can be an all-rounder that connects with a compatible/ Bluetooth-enabled device and starts throwing powerful audio. You can place the wireless soundbar indoors or outdoors, in offices, gyms, etc.
So, let's explore the 3 top-rated wireless soundbars for Samsung TV.
List of the Best Wireless Soundbar for Samsung TV in 2023
1. PANASONIC SC-HTB900EBK Soundbar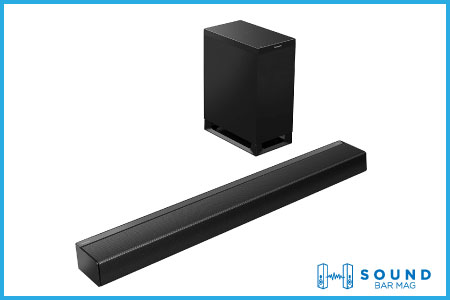 Panasonic's SC-HTB900 is the wireless soundbar for Samsung TV, an affordable choice if you want Dolby Atmos with deep, strong bass but don't have the room.
If the mood strikes you, this 3.1 system may be developed into a full-fledged surround sound system with the installation of optional additional rear speakers. It also delivers powerful, thrilling, and deep bass performance for absolute fun.
With a clever curving grille and touch controls for power, volume, and input selection, the good news is that it has a pleasing profile. The SC-HTB900 employs a front-facing left/right stereo channel driver array with a pair of woofers and a dome tweeter, as well as matching twin woofers for the center channel.
The wireless subwoofer is mounted on a molded plastic base so that it may be used on a carpet or a hardwood floor. However, there are no built-in up-firing speakers, which is unusual for a Dolby Atmos bar. A 3D Surround effect, on the other hand, creates the illusion of height. The width of Panasonic's soundstage and the melody of its presentation, on the other hand, wowed us.
Since it is the recommended soundbar for Samsung TVs, it features WiFi and Bluetooth connections for instant pairing with compatible devices. It also contains HDMI and optical digital cable for the stable pairing with the TV.
Benifits
• Deep bass
• Wireless connection
• Superb clarity
• Great stereo dynamics
• A balance between movies and music

Drawbacks
• Lack of up-firing channels

2. Sony HT-Z9F Soundbar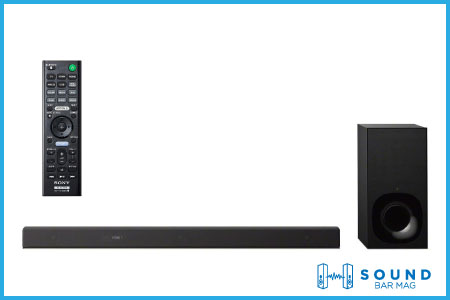 This ultra-slim bar and its companion wireless subwoofer feature Dolby Atmos and High-Resolution audio, making it an excellent choice for home cinema and Hi-Fi fans.
The HT-ZF9 is the Samsung tv soundbar with a meter wide and fits 55- to 65-inch displays. Three HDMI ports, a 3.5 mm minijack, and optical digital audio input are included. Apart from that, Bluetooth technology will compensate for the best and most stable pairing between two devices.
Google Chromecast is built-in, so it can link your Google phone or smart-home device by adding WiFi and Bluetooth, which helps you connect with Samsung and TVs.
Sony Soundbar is another Dolby Atmos bar that doesn't use up-firing speakers, instead of relying on Sony's Vertical Sound Engine to trick our ears into thinking sounds are coming from above. It works well, enveloping the listener in a variety of sound effects.
We were blown away by its cinematic performance when we auditioned it with Dolby Atmos soundtracks from Netflix and Amazon Prime Video. The height and width of Dolby Atmos movies are exaggerated, and the subwoofer provides a pleasant kick. Optional rear speakers from Sony are available if you want to go full surround.
So, it is a great overall soundbar that provides value for money while upgrading your listening experience at home and in offices.
Benifits
• Durable look and feel.
• Multiple Connection Option
• Vertical sound engine
• Great conversation-handling.

Drawbacks
• Speakers could be better.

3. MAJORITY K2 Soundbar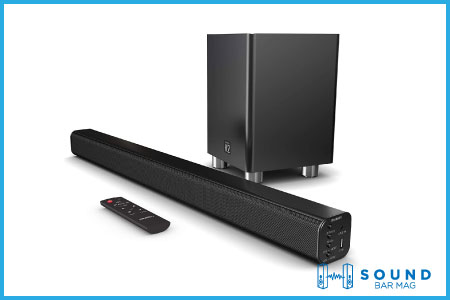 The Majority K2 Soundbar is a sleek-looking product with high sound production capability and an environmentally friendly message. It comes in the form of a thin speaker and wireless subwoofer, considerably increasing your TV's sound for a low price.
While the subwoofer's bass doesn't quite match that of other competitors, the ease of a basic wireless surround sound-like setup and the low price will compensate for many for this shortcoming. The soundbar also includes a plethora of useful features.
Majority's offering, which includes Bluetooth and USB media playback as well as increased bass, treble, and EQ choices, allows you to customize your audio to your liking, making it one of the finest wireless soundbars for Samsung televisions.
The explosions were appropriately massive, and the language was sharp and clear. While no soundbar can truly replicate true surround sound, the K2 does an excellent job of simulating it, giving you the impression that sound is coming from all directions rather than just in front of you.
If your setup is on the side, connect the soundbar to your television by HDMI ARC, Optical Audio, or RCA, and you'll hear the improved sound quality right away. If you don't have a TV stand, you can also place the speaker on the wall, it looks excellent either way.
Benifits
• Good sound quality
• Excellent value
• EQ modes
• Bluetooth connectivity

Frequently Asked Questions (FAQs)
What is the best wireless soundbar for Samsung TV?
Sony HT-ZF9 is a 3.1 system soundbar that can play back the Dolby Atmos and DTS audio formats to deliver an enveloping sound, irrespective of what you are watching. The soundbar also incorporates full-range and center channels for the high-definition audio with the next-level clarity.
What is meant by wireless soundbars?
Wireless soundbars incorporate connectivity technology that does not require cables to pair two devices. You will get WiFi, Bluetooth, Chromecast, or Apple AirPlay 2 services to enjoy your favorite content without messing with the cables.
Bottom Line
Enjoy the more enveloping sound than built-in TV speakers with the best wireless soundbar for Samsung TVs. Our listening panel chose the best possible products that definitely suit your listening standards, so have fun and get a new perspective of the sound standards.