Samsung TVs are feature-rich, and choosing the best soundbar for Samsung 82-inch TVs was a real hectic task. Even though the Samsung audio engineering system is not much disappointing, connecting an external sound system can elevate the entertainment experience.
Since the TV's built-in speakers can't deliver low-end thump or a lack of subwoofer can compromise the music listening, the best soundbar can take care of such cravings.
Therefore, we couldn't help but introduce top-quality soundbars that perfectly fit with Samsung QLED, LED, and OLED TVs. They are easy to set, catch the qualities to utilize, and connect smoothly with media devices, including smart TVs.
So, let's learn more about this exciting innovation and transform your audio-listening experience in no time.
List of the Best Soundbar for Samsung 82 inch TV in 2023
1. JBL Bar 5.1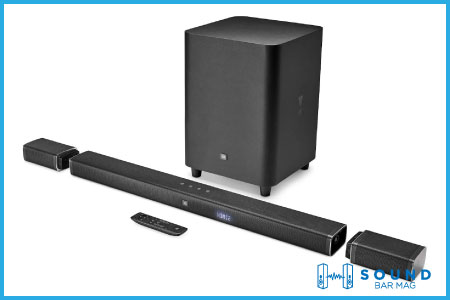 With so many market options, choosing a soundbar has become challenging for large-size TVs. However, the JBL Bar 5.1 soundbar stands out with its fascinating appearance, stunning sound reproduction capability, and two detachable wireless surround speakers, making it the best soundbar for Samsung TVs.
The design is stunning, with the speaker's primary body covered in mesh. It has a solid feel, although the soundbar buttons on the panel aren't as smooth as those on other manufacturers.
Moreover, it is slim enough to fit beneath any TV, but it looks nicer when mounted on the wall, which is why brackets are included. It was a handy device for us, so we adored it much.
With its solid trebles and bass capabilities, the JBL Bar 5.1 offers crystal clear speech and room-rattling sound. However, the mids are weak, and there are apparent gaps between the mids and the bass.
On the upside, the stereo dynamics are great, and synchronization capability also steals the show. We could notice hardly any distortions or compressions at the max volume, especially while gaming or listening to heavy music.
Even though it gets loud and clarity won't compromise at any volume level, the bass delivery is not up to expectations. Therefore, we recommend choosing that for regular TV streaming, gaming, or music listening as it won't cater to a large audience and won't be pulled out for parties or occasions.
At last, the connectivity is decent with multiple sources. The JBL Bar 5.1 can be connected to a device via Bluetooth, and a few input ports are available on the rear panel, including optical digital. A remote is also included for switching between wired and Bluetooth connections.
Benifits
• Easy and fast setup
• Good clarity at room-shaking volume
• Detachable rear speakers
• No distortions
• Bluetooth connectivity

2. Samsung HW-Q80R/ZA Soundbar
Samsung has been a leader in soundbar innovation to go along with their QLED, LED, or smart TVs. In recent years, Samsung has been releasing the award-winning and best soundbar for the Samsung 82-inch TV with new and exciting features and audio formats.
The HW-Q70R features a design comparable to the N650 from last year; it is slim, attractive, and has a small form factor that allows it to fit under any TV unit.
We liked the profile that features a metal grill and a beautiful mesh that looks great next to any TV. An LED display also shows essential information while operating the device, making navigation smooth for people like us.
A total of 330W is consumed by three forward speakers, two upward-facing speakers, and one subwoofer, and it was a loud power output we could notice. To have an authentic surround sound experience, you can add more speakers to the soundbar.
The Samsung HW-Q70R delivers incredible audio for movies and games, picking up even the tiniest footfall-rolling audio and delivering it with such precision.
The music is smartly distributed around the screen, and the effects are carefully positioned. The Atmos, or upward-facing speakers, give the impression that sound emanates from above. Not to mention, with a significant bass boost, the subwoofer packs a punch.
Because there are no rear speakers, the sound only reaches the first section of the room; however, optional wireless speakers can be purchased and attached as the port is available.
Speaking of ports, optical digital, USB, and HDMI are coming along, but you would prefer to connect the soundbar with Bluetooth for smooth usage. We loved the range and ability to quickly recognize the devices.
In addition, there are many sound modes for movies and games' audio customization, allowing users a fully immersive experience with a wide soundstage. The modes were easy to switch via remote.
The four sound settings are Standard, Game Pro, and Adaptive Sound. It can switch between different modes depending on what's connected and what you're playing.
Benifits
• The wireless subwoofer packs a punch
• Excellent surround sound
• Perfect for movies and games
• Decent Design

3. Polk Audio Signa S2 Soundbar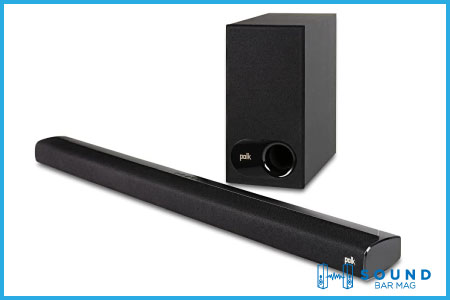 Polk Audio is known for producing high-quality home audio or entertainment devices at a low cost. Its stunning design and exceptional quality provide excellent value for money.
That is precisely what the Signa S2 does. It's one of the top best soundbars we could find for a Samsung 82-inch TV, featuring everything one would expect from a sound system.
It's a small, light soundbar that can fit into small areas. Due to its low price tag, the design does not scream and is not as elegant as other manufacturers in this industry.But we still love the engaging profile.
It's made entirely of plastic, with a dark grill on the front and buttons on the top. However, we think it is designed to last if used with care. The low profile prevents the infrared spot on the TV from being obstructed, and it features five LED lights that light up funky vibes.
The Polk Audio Signa S2 packs a lot of punch for such a little soundbar, and it accurately reproduces sound effects, and the bass is pretty deep. On the other hand, the soundbar lacks any surround sound features or technology to imitate that sound.
Its sound exceeds expectations at a specific price range; the soundbar comes to life in action flicks with ominous explosions and near-perfect treble. The rhythms were produced with exceptional clarity, and the vocals had sharp tones with high resolutions.
It produced a terrific performance with top and mid-ranges, lovely highs, and more than satisfying lows with each song. A single HDMI input, a 3.5mm Aux micro jack, and a digital optical input are all included on the soundbar and were easy to reach while setting up.
There is also a USB connector, which is just used for service because the soundbar lacks any USB streaming features.It does, however, allow Bluetooth wireless connectivity but not Wi-Fi.
Benifits
• Good price
• Quick Setup
• Strong bass

Drawbacks
• Limited audio adjustments
• Lack of WiFi

Frequently Asked Questions (FAQs)
What is the best soundbar for Samsung 82 inch TV?
Samsung HW-Q70R is the best addition to the latest soundbar collection, with a max power output of 330W and multiple sound customization properties. It also comes with a wireless subwoofer that delivers deep and thrilling bass, and Atmos support provides a rich and virtual music listening experience.
Is it necessary to connect Samsung soundbar with Samsung TV?
No. there is no hard-and-fast rule to connectingthe same brand soundbar with the TV. Any soundbar that matches your requirements or performs well in terms of sound reproduction and falls under your budgetshould be great to get.
What factors need to consider before getting a soundbar for large-size TVs?
Many elements demand attention. First, the budget, and then you should check for advanced audio formats like Atmos or DTS, connectivity resources, design, and channel configuration.
Bottom Line
Are you ready for theatre-like sound listening with these best soundbars for Samsung TVs?
These three soundbars are kind in their own nature and deliver the most powerful sound you could ever imagine. Irrespective of the content nature, the soundbars perform well while utilizing all the built-in speakers.
So, enjoy the crystal clear, loud, and crisp sound without upgrading your TV.
Mia Evelyn is a soundbar specialist and she love to test and review different soundbar brands. She shares her neutral and in-depth reviews through the Soundbar Mag.