How about getting a specialized speaker that offers a true home theater experience that makes you feeling like you're in the middle of the action?
Whether you're watching your favorite show, you'll feel like you're right there with the characters. And when the action gets intense, you'll feel like you're in the thick!
Only the 7.1 soundbars can make that happen. A 7.1 soundbar is perfect for setting up a home theater with plenty of powerful speakers, built-in subwoofers, a center channel, and a side-firing channel to set a wide soundstage.
The best 7.1 soundbars have been trending, and brands are polishing the features while enhancing the overall design.
So, allow me to walk you through the details of 5 top 7.1 soundbars in the market.
List of the Best 7.1 Soundbar in 2023
1. Sony HT-A7000 Soundbar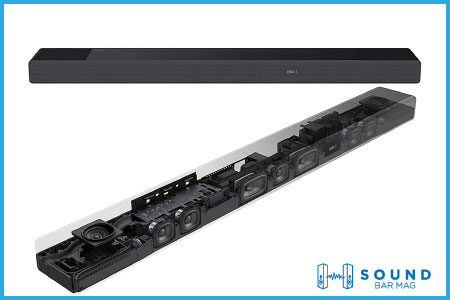 Sony HT-A7000 is the latest Sony premium soundbar product line with a 7.1.2 channel setup and terrific features. It has a neutral sound profile with vibrant and pure sound performance, delivering an immersive listening experience irrespective of the content playing.
Besides a balanced sound profile, the best 7.1 channel soundbar from Sony offers multiple EQ presets that further optimize the sound according to the content and set the relative soundstage for better audio performance.
However, it does not come with an external subwoofer, so you can add subwoofer and satellite speakers separately if you want a more precise bass punch. Yet the built-in subwoofer is enough for regular streaming.
The soundbar is a one-unit device with a metal grille covering all the drivers inside. The grille is transparent, so you can easily see the driver's placement and can make the sweet spot for the soundbar for rich and thrilling audio quality.
Since it is a 7.1.2 channel setup, it features full-range drivers, tweeters, center channel, and built-in woofers placed on both sides. All the built-in drivers know their job pretty well and work together to produce powerful audio output.
The stereo frequency response of the soundbar is also decent. Besides, the other premium features include room correction that adjusts the audio performance according to the room acoustics.
And a room calibration that asks you to put the room dimensions to produce sound accordingly manually. With the decent stereo performance, the soundbar does not get very loud but produces enough sound to fill crowded parties.
The center channel performance is worth noticing as it delivers detailed and accurate vocals for listening to podcasts or watching movies.
Above all, the soundbar contains optical digital, dual HDMI input and output, HDMI ARC, USB, and 3.5mm AUX to pair with external devices. Also, it offers WiFi, Bluetooth, Apple AirPlay, and Chromecast for online music streaming.
So, considering all the features and powerful sound output, it is safe to assume the soundbar is made for high-end home theater setups and can entertain you with some exciting notes.
Pros
•
Dolby Atmos
and DTS support
• Wide soundstage
• Excellent vocal clarity
• HDR 10 passthrough
• Room correction and calibration
• Multiple EQ presets
• Wireless connection
Cons
• Awful Atmos performance

2. Sony HT- ST5000 Soundbar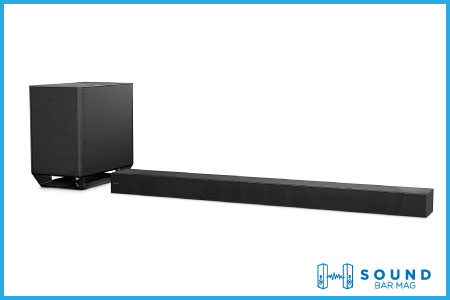 Sony HT-ST5000 is another premium 7.1.2 channel setup with advanced audio formats and solid build quality. It is an ideal soundbar for mixed usage, but it lacks the side-firing speakers that can make a difference in the overall sound performance.
Installing and settings are seamless, with wireless connectivity options. The stylish design of the device also complements the home interior, featuring a metal grille at the front showing all the drivers inside.
Unlike HT-A7000, it comes with a modern-looking wireless subwoofer. However, the soundbar is quite wide, so you have to figure out a dedicated space for it since it won't fit between the smart TVs' legs.
The back panel contains all the connectivity inputs, including HDMI ARC, HDMI output, optical digital, three HDMI input ports, USB, and Ethernet.
Luckily, the soundbar supports all audio standard surround formats over an HDMI ARC input. Moreover, WiFi, Bluetooth, and Built-in Chromecast support also help in wireless pairing with smart devices.
Moreover, the soundbar produces detailed, rich, smooth, and stunning sound with the next level of clarity. The Dolby Atmos and DTS format support ensures the sound bounces off the ceiling and makes it feel like coming from all directions.
The DTS ensures thrilling and clean music, whereas the center channel isolates the vocal from the background and makes it more transparent for understanding.
Nevertheless, it lacks room correction and other additional smart features and offers a few EQ presets, but the subwoofer's punchy bass boosts music streaming enthusiasm.
Pros
• Modern design
• 7.1.2 Channel setup
• Plenty of connections
• Detailed and clean vocal performance
• Deep and rumbling bass

Cons
• Compressions at high volume

3. SAMSUNG HW-Q900A Soundbar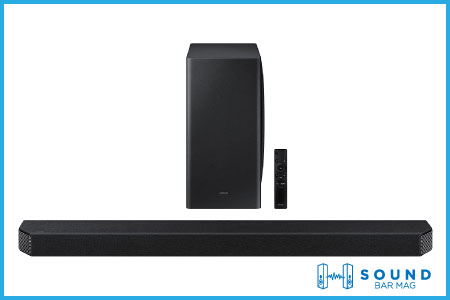 Samsung HW-Q900A is a 7.1.2 soundbar with terrific metal build quality and a transparent grille at the front.
It also has a vent opening at each side to surround speakers. Though it doesn't come with satellite speakers, the subwoofer accompanies you with rich and heavy bass.
However, it is pretty heavy and wide, so it may consume a significant space in your room; it is better to figure out where to place it.
The sound performance is suitable for every type of content, and it adjusts the tunes and audio quality accordingly to deliver fine acoustics.
Besides, the fairly neutral sound profile goes well with the default settings, but you can adjust treble, bass, surround, height level, and other characteristics according to your preferences for a personalized music listening experience.
The 7.1 soundbar has a vast collection of sound enhancement features. One of the exciting ones is Auto EQ room correction, which uses a built-in microphone to communicate with the subwoofer and adjust the bass production according to the soundbar performance.
Other preset modes, including standard, game, surround, and adaptive sound, are also available to enjoy the more optimized sound performance.
Moreover, the soundbar has many connectivity options, including optical digital, HDMI ARC, HDMI out, two HDMI inputs, Bluetooth, WiFi, and Apple AirPlay to pair with other devices via wired or wireless options.
Also, it can keep you engaged during TV watching by elevating every sound nicely with HDR10 pass-through. It will also be thrilling when gaming on the big screen and experiencing high power output from the soundbar.
Above all, you can use the remote control or Samsung SmartThings app to navigate the soundbar from the comfort of your phone. Though changing EQ, managing volume, and regular settings can be done via remote control, the app can upgrade features or make advanced adjustments.
Pros
• Gets loud
• Seamless installation
• Wireless pairing
• Clear dialogue delivery
• Multiple EQ presets
• Audio format support

Cons
• Limited connections
• Heavy and wide

4. LG SP11RA 7.1.4 ch Soundbar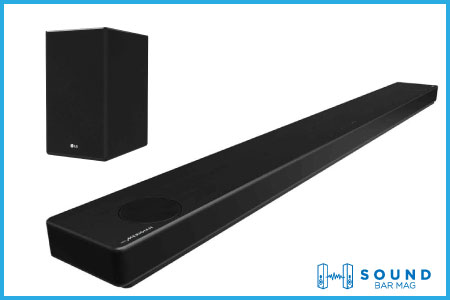 LG is a premium brand, launching luxurious products that are not aesthetically pleasing but produce smooth and high-resolution audio that pleases everyone in the room.
Since LG believes that perfection is overrated, it still proposes a simple matte design that complements the TV and entire room décor when mounting on the wall. Though the build quality is solid and durable, it still comes with a warranty to face unexpected damages.
LG SP11RA 7.1.4 channel soundbar is perfect for mixed usage. It knows how to deliver the best audio quality according to the content. So, if you are watching a movie, it will smooth down the audio while highlighting the dialogue delivery to hear the whispers.
However, streaming pop music at max volume will invite bass rumbling and create a thrilling soundstage to boost enthusiasm.
The soundbar also supports advanced audio format technology like Dolby Atmos and DTS, producing well-defined and detailed sound performance in max volume.
The firing speakers with DTS ensure a room-filling sound performance to feel the music coming from different directions, delivering an immersive experience.
Moreover, decent stereo performance and exceptional center channel performance make it the perfect 7.1 soundbar, but it still offers much.
The wireless connectivity options allow you to pair it with any smart device, and the Apple AirPlay support proposes online music streaming with a click.
Well, the setup is a walk in the park with Google Assistant support and Amazon Alexa, as the entire soundbar functions will operate with your voice commands.
Unlike Sony and Samsung's best 7.1 channel soundbars, the height channel performance of the LG soundbar steals the show. You can expect more dynamic, vibrant, and clear audio output with less power consumption and stable connectivity with LG SP11RA.
Pros
• The modern yet matte design
• Easy setup
• Gets loud with no distortion
• LG magic remote
• LG AI make everything you hear clear and pure
• Excellent subwoofer performance

5. Samsung HW-Q900T 7.1.2ch Soundbar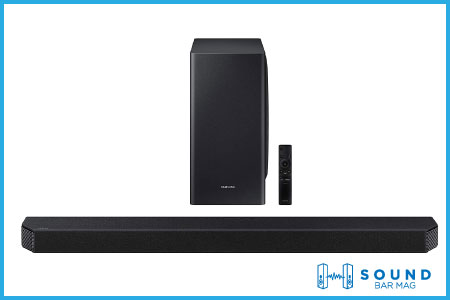 Samsung HW-Q900T is a 7.1.2ch jaw-dropping soundbar that lets you feel the depth of sounds by closely analyzing every beat and tune out of the tracks.
It produces a high-resolution clear sound so that anyone can hear the whispers of the content while going into the depth of the music.
Moreover, it never wastes time showing its colors and can be ready to perform in seconds by connecting with any device, including smart TV, phones, and gaming consoles through WiFi, HDMI, or optical digital.
The soundbar contains 7 channels, one subwoofer, 16 powerful speakers, and dual up-firing channels for the 360-sound experience. All the speakers produce a rich and compelling sound that no other soundbar can produce.
The clarity is intact even at the max volume, and no compressions have been felt in the testing. The bass with no distortions and muddy noise is worth appreciating.
The soundbar gets loud at its full potential and shakes the room with punchy bass and rumbles. Also, the wide range of speakers placed at both ends of the bar delivers an expansive sound performance to engage everyone in the room for next-level fun.
Moreover, Dolby Atmos and DTS compatibility further polish the sound quality and make it the ideal home theater speaker. The built-in Alexa will take care of the setting and management concerns and give you complete relaxation while operating the device
Audiophiles and Netflix streaming lovers will appreciate its performance because the center channel delivers exceptional vocal clarity and offers multiple further enhancement options.
Pros
• Cinematic sound performance
• Alexa ready
• 16 powerful built-in speakers
• Fine sound detailing at max volume
• WiFi music streaming
• Excellent sound flow with DTS and Atmos

Best 7.1 Channels Soundbar – 2023 Buying Guide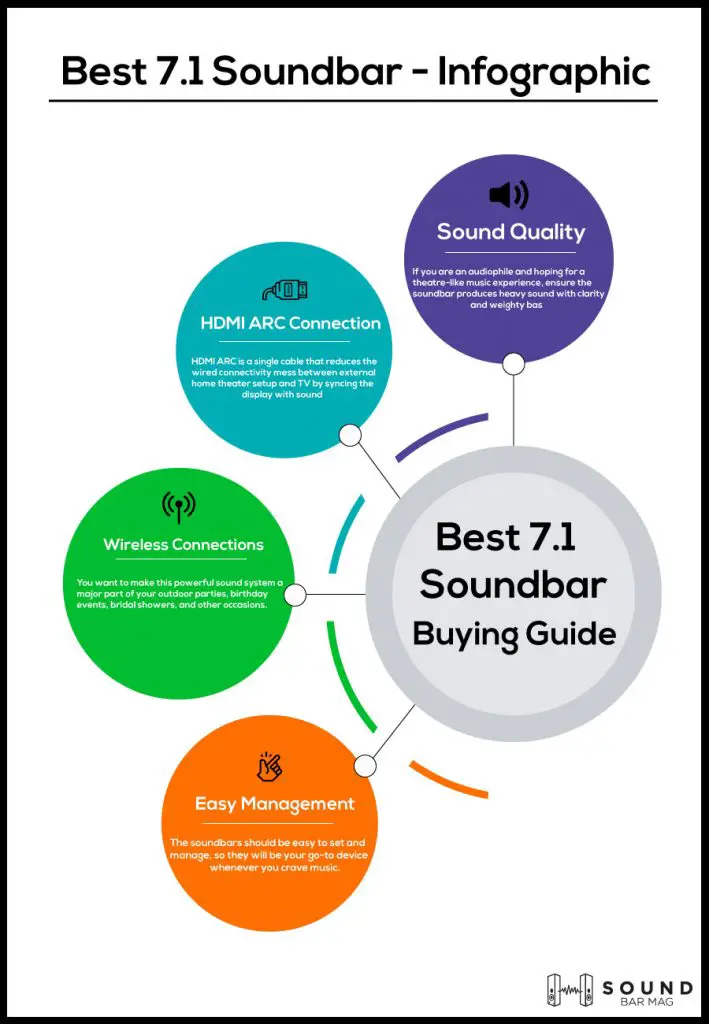 7.1 channel soundbar usually uses eight channels that feed eight speakers to produce rich and precise sound, better than any channel system.
But your research should not narrow down merely to the channel configuration because there is much more to consider when treating your house with a 7.1 channel system.
Why is a 7.1ch Soundbar Valuable?
You should not take it as a regular soundbar because it is more powerful, heavy, and mostly a home theater setup. So, if you are only upgrading your TV speakers or want something for casual music listening, it is not a device for you.
The 7.1 soundbars are perfect for parties, movie nights with many audiences, and shows because they produce high-resolution audio with an incredibly high-frequency range.
It has a built-in woofer, so if you are not adding an external subwoofer, you will still experience rich and deep bass performance.
However, before spending on such a device, you should consider the following things because it will be a one-time purchase that should have a long lifespan.
Sound Quality
If you are an audiophile and hoping for a theatre-like music experience, ensure the soundbar produces heavy sound with clarity and weighty bass. There shouldn't be noticeable compressions and distortions at max volume because otherwise, it can be annoying.
Eight channels powered with Dolby Atmos and DTS would be like icing on the cake. They polish the audio quality while making it more detailed and richer in the room.
The audio formats enhance the clarity and ensure the sounds reach everyone in the room. Moreover, the over-heard firing speakers create a sound that bounces off the ceiling and returns with more energy to boost enthusiasm.
HDMI ARC Connection
HDMI ARC is a single cable that reduces the wired connectivity mess between external home theater setup and TV by syncing the display with sound.
HDMI ARC input is a GodSend feature in any soundbar, making it a premium choice for TV streaming with high-quality music.
The audio signals from the soundbar travel both ways, from and to the speakers, while carrying 4K content via HDMI ARC cable.
So, if you want to expand your TV streaming experience while connecting it to your 7.1 soundbars, don't forget to get one with HDI ARC support.
Wireless Connections
If you are getting a 7.1 soundbar, you must not limit it to your home. You want to make this powerful sound system a major part of your outdoor parties, birthday events, bridal showers, and other occasions. But, for that, the soundbar must offer wireless connectivity options.
Undoubtedly, optical digital, USB, Ethernet, and HDMI connections are great and valuable for connecting with gaming consoles, Blu-ray players, TVs, or even laptops.
But WiFi or Bluetooth can offer more flexibility. Wireless pairing can offer you access to online music streaming platforms to find a wide collection of playlists and play song-matching occasions.
Easy Management
The soundbars should be easy to set ], navigate, and manage, so they will be your go-to device whenever you crave music or catch up to your favorite show on TV.
Soundbars offer different sources to navigate and adjust the settings, like voice control assistants, remote control, and push buttons on the device.
Size and Weight
When getting a soundbar, many people neglect this factor, which will eventually become a headache post-shopping.
A 7.1 soundbar houses 18 speakers inside, so you can imagine how wide and heavy it can be. It is not a soundbar that easily fits between the 55-inches TV's legs, but it will demand a dedicated sitting space.
However, such a big soundbar should mount on the wall for convenience, space-saving, and experience quality sound. But, you should figure it out beforehand to save yourself the trouble.
Frequently Asked Questions (FAQs)
What is the best 7.1 soundbar?
LG SP11RA 7.1.4CH soundbar is the best soundbar we have tested so far. It produces powerful audio with precision and stereo sound that fills the room with unusual energy. It integrates LG smart AI technology that makes every word clearer than before, and the magic remote makes controlling the entire device super easy.
What is a 7.1 channel soundbar?
7.1 channel soundbar is the most common speaker system for home theater setups and contains an eight-channel surround audio configuration for rich, cinematic, and thrilling sound performance.
Is 7.1 better than Atmos?
Dolby Atmos is the audio format that adds overhead sound for deeper and more detailed sound performance. However, 7.1 is the channel configuration of the system. Hence, if you get a 7.1 soundbar with Dolby Atmos support, it will be a game-changer for your music listening experience.
Is 7.1 better for gaming?
Yes of course, a 7.1 channel soundbar is better for gaming, considering the sound depth and detailing it creates. The side speakers create a wide soundstage, and the center channel produces clearer vocals for understanding. What could be better than that for gaming?
Does 7.1 surround sound make a difference?
Yes, 7.1 surround sound adds life by producing thrilling and room-filling sound without compromising the quality. They perform exceptionally outstanding with different built-in features, wireless connections, and many speakers powered by the soundbar.
Conclusion
7.1 channel soundbar cannot be your regular music streaming speakers, but they are commonly used for the home theater setup. It is a huge investment to make, so only make it a part of your life when you are ready.
The soundbar with a 7.1 channel configuration is heavy in weight and sound production. We have added the top products and carefully examined them broadly. So, look at the detailed reviews of the best 7.1 sound bars in the market and share your decision with us.
Mia Evelyn is a soundbar specialist and she love to test and review different soundbar brands. She shares her neutral and in-depth reviews through the Soundbar Mag.