As a movie and TV show lover, I have always been on the lookout for the best audio experience to complement my viewing sessions. Therefore, I was excited to get my hands on the Sony ST5000 Soundbar, a 7.1.2 channel system with 800W power and a wireless subwoofer.
It is a complete entertainment package with advanced audio technologies, heavy sound output, and impressive features. So, after using it for a while, reviewing the premium soundbar was a must.
Read on to learn more about our experience with the Sony ST5000, one of the best soundbars available to date to pair with TVs and home theater setups.
Sony ST5000 7.1.2ch 800W Dolby Atmos Soundbar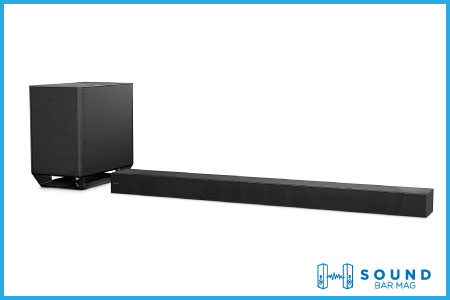 Unboxing the Sony ST5000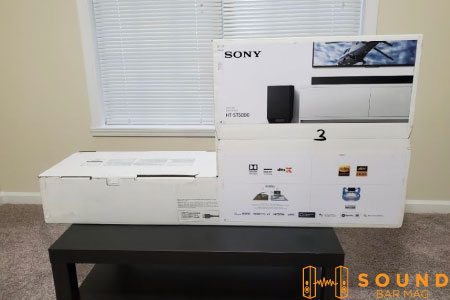 Unboxing the soundbars is always fun, especially from Sony. All the products come in elegant and straightforward packaging that doesn't waste our precious time.
The ST5000 also came well-packed with foam padding and other materials to protect the product. As we opened the box, we found a soundbar patiently sitting.
There was also a remote control with batteries, a wall mounting kit, a registration card, a warranty card, a user manual, and some cables for power and connections.
Everything was nicely packed, so after checking everything for safe arrival, we took it for further examination.
Size and Design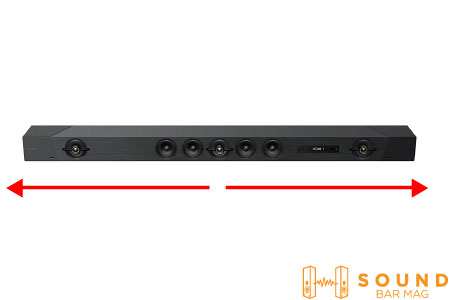 The Sony ST5000 soundbar has an attractive profile with a matte finish at the top and a grilled texture at the front. The slim body looks appealing under the smart TVs, and the black color complements the overall profile.
Moreover, it is built with high-quality construction materials, so durability is not a concern with Sony. The minimal design also blends with different environments, giving you choice for flexible placements.
Channel System
The 7.1.2 channel system on the Sony ST5000 sound bar gives a hint of the powerful home theater setup as it includes all the speakers one would need to set a heavy and wide soundstage.
This channel configuration means the soundbar contains full-range speakers, height channels, a center channel, side drivers, a built-in woofer, and separate tweeters for each driver for perfect synchronization and tuning.
The 7 main channels deliver clear and balanced audio, while the subwoofer provides powerful bass that enhances the overall audio experience.
The two height channels with Dolby Atmos and DTS deliver 3D surround sound that raises the bar of music streaming and movie watching with multidirectional and heavy sound output.
Connectivity Options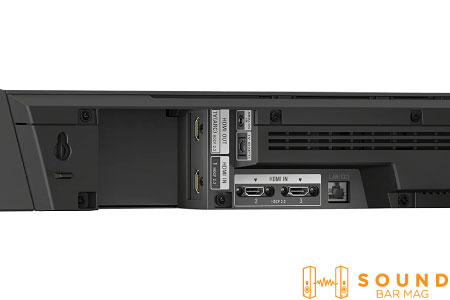 Like any other soundbar from the product line of Sony, the ST5000 never disappoints with its diverse range of connectivity options.
It features HDMI ARC for a seamless and quick pairing with smart TVs and compatible devices. It also allows you to control the device with a TV remote, making it more flexible and easy to use in different settings.
The 3 HDCP 2.2- compatible HDMI inputs, with one ARC, optical SPDIF, Analog Aux, and USB port, allow you to pair multiple devices simultaneously and never miss with the cables and cable switching options.
Moreover, it supports Bluetooth for wireless music streaming with smart devices, including smartphones, iPad, tablets, and laptops. And the WiFi support makes it easy to control the soundbar using the Sony Music Center app.
Also, using the wireless internet connection, you can enjoy music from your online subscriptions without using your smartphone.
Controlling and Navigation
The Sony ST5000 soundbar has an easy-to-use navigation system with a handy remote with some dedicated buttons at the front, making it simple to adjust the settings to your preferences.
The Sony Music Center app also makes it easy to control the soundbar from your smartphone or tablet. It has an intuitive and straightforward interface that would never confuse the user and helps set and manage the device.
Sound Performance
The sound performance of the Sony ST5000 soundbar is simply outstanding for its design, attractive profile, heavy sound output, and features.
With its 7.1.2 channel system and 800W power, the soundbar delivers an immersive audio experience that makes you feel like you're living the playing scene. It also works great with intense and multi-player gaming.
The wireless subwoofer provides powerful bass that enhances the overall audio experience, while the height channels create a 3D audio experience that makes you feel surrounded by rich and bold sound.
It also features 2 levels of vocal enhancement function that clarifies the dialogues to the point everyone can understand them. It makes the soundbar best for the hearing impaired, making it the ideal choice for a home.
Pros
· Hi-resolution audio
· Optimal design
· Built-in Chromecast
· Rich connections
· Multi-room listening
· DTS compatible
· Rich and dynamic bass

Bottom Line
All in all, the Sony ST5000 soundbar is a fantastic sound solution that is all set to break the records of previous models with advanced audio technologies.
It is an ideal piece of home theater with wireless connections, a wide soundstage with Atmos, and 800W of power output, enough to bang the windows with balanced sound and bass.
The sleek and stylish design, easy-to-use navigation system, and range of connectivity options make the Sony ST5000 sound bar a must-have for movie and TV show lovers.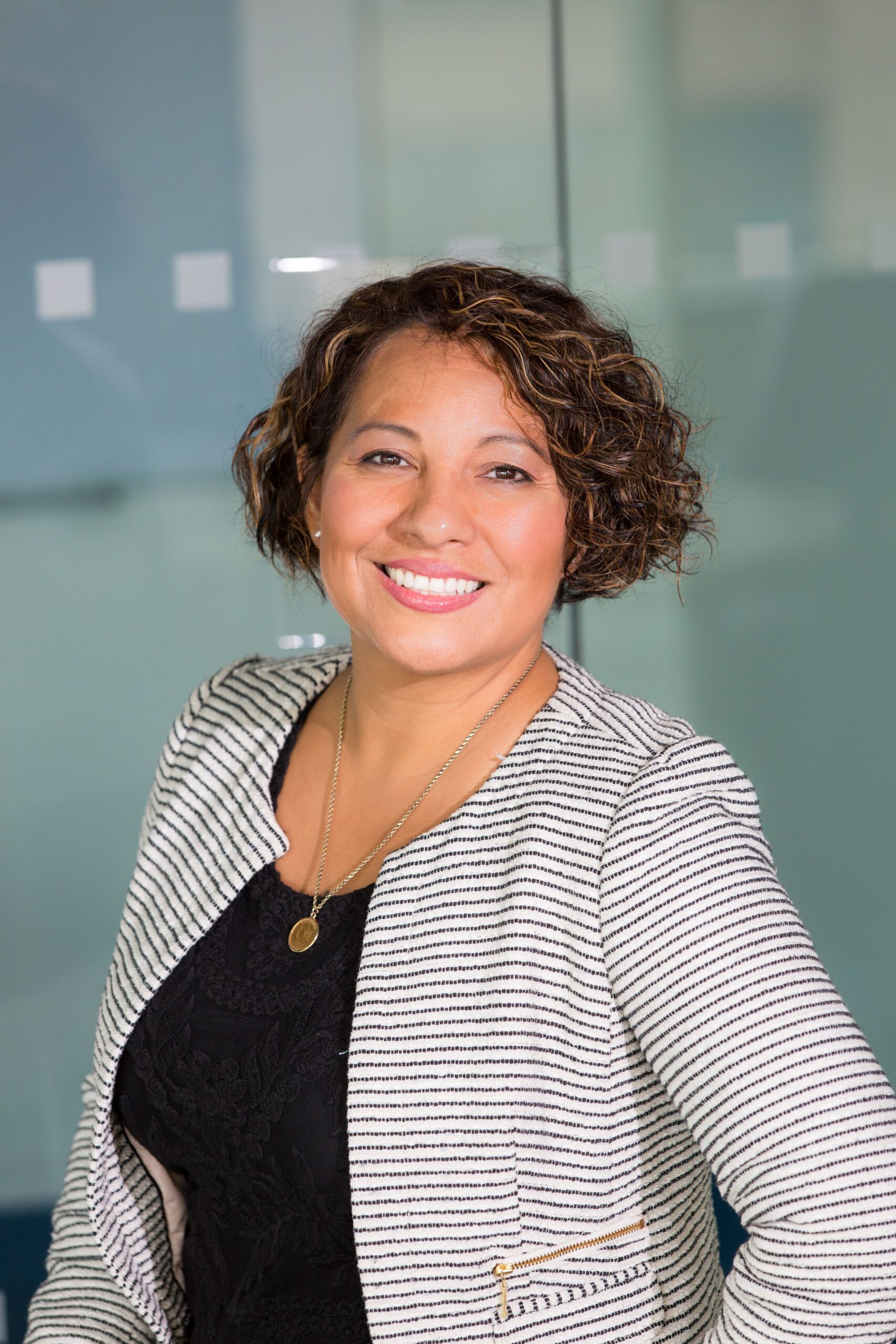 Mia Evelyn is a soundbar specialist and she love to test and review different soundbar brands. She shares her neutral and in-depth reviews through the Soundbar Mag.