We all dream about buying a home theater system to get a cinematic home theater experience, you want to feel like you're in a concert when you're listening to your favorite songs. To enjoy such experiences, you need soundbars with channel type.
The 5.1 Channel Soundbar and the 7.1 Channel Soundbar offer a variety of audio qualities. Choosing between one of them can be quite confusing.
To ease your troubles and save your time, we have compiled this detailed comparison so you can decide which one suits you the best.
5.1 Channel Soundbar Vs 7.1 Channel Soundbar Differences
Let's differentiate both of the sound bars in detail.
Design
The 5.1 soundbar system comes with a front center, front right, front left surround left, and surround right speakers along with a subwoofer.
The 7.1 soundbar system is entirely the same as the 5.1 soundbars, however, it has 2 additional speakers for the rear sound.
Setup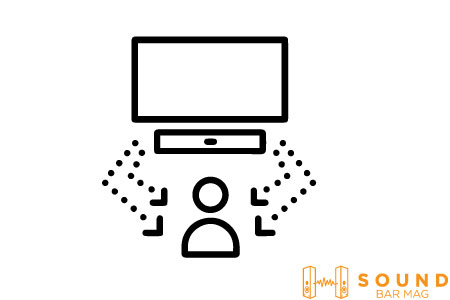 You can set the 5.1 soundbar system in a way that you arrange the 3 speakers in the center of the room, while 2 rear speakers can be allocated at either side of the listening area.
While the way to set up the 7.1 soundbar system is that you can place the additional 2 surround sound speakers behind the listening area.
Size of the surroundings
If you have a small room, the 5.1 soundbar system can be sufficient for the room since it does not require a large place for setting it up. The surround sound of the 5.1 soundbar system may not be enough for the large room as well.
The 7.1 soundbar system would be perfect if you have a large room so you can enjoy its surround sound features. The surround sound can be felt deeply in a large room and the media design would be executed perfectly.
Formats
The surround sound of the 5.1 soundbar system is executed due to the usage of Dolby Digital or DTS. The Dolby Digital uses more compression than the DTS, but the DTS is less common than the Dolby Digital.
The surround sound of the 7.1 soundbar system is executed by using the Dolby TrueHD or the DTS-HD Master Audio. 
Supported Devices
Most DVDs and blu-ray disks use the 5.1 soundbar system as an industry standard, while the system is also used by video games and HDTV. Most commercial theaters have acquired a 5.1 soundbar system.
The 7.1 sound is supported by most of the blu-ray disks and PS3. The 7.1 soundbar system isn't supported by most blu-ray disks or games but the number is increasing as we talk about it.
Price
A decent 5.1 soundbar system can cost you around $300, while the price tag does look heavy, the system promises a high-definition, theater-quality sound with a receiver included. A fancy 5.1 soundbar system can cost you a fortune, starting from $6000.
A good enough 7.1 soundbar system would cost you at least $500, but paying such a price still doesn't assure you a quality experience. If you want a system that guarantees an extraordinary experience, you would need to spend over $1000 and up to $15,000 or even more.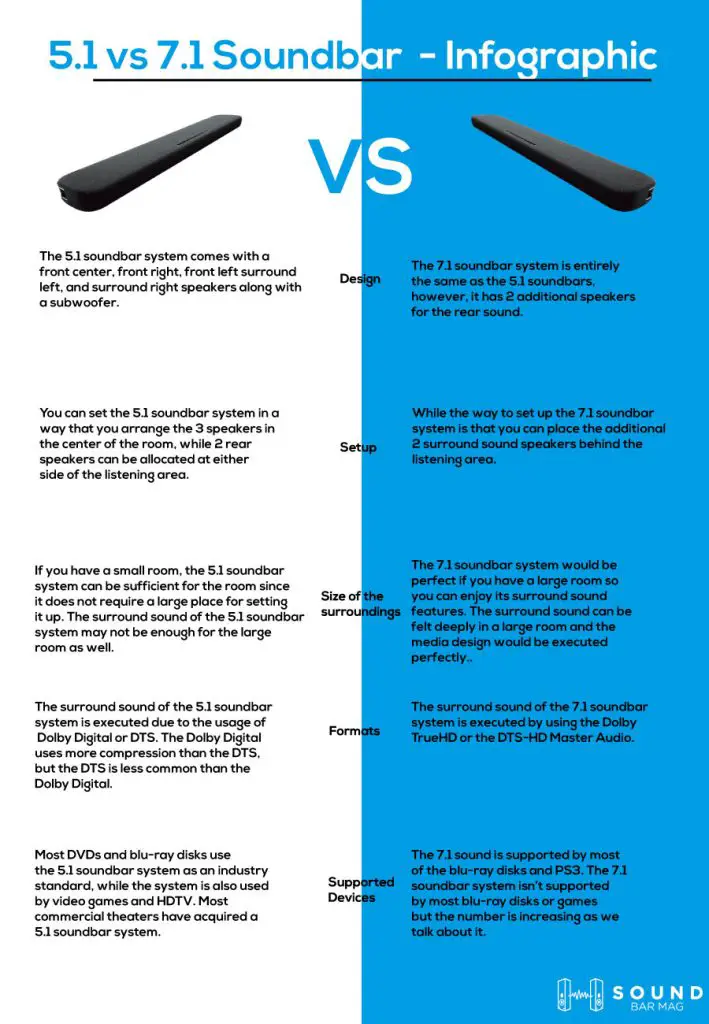 Frequently Asked Questions (FAQs)
Why Does the Audio Calibration Of My 5.1 Soundbar System Keep failing?
To make sure that you have a smooth audio calibration of your 5.1 soundbar system, please make sure that the room is quiet, minimize all of the disturbance within the room. You can also verify that the sides of your soundbar system are clean during the audio calibration.
What's so Special About a 7.1 Soundbar System?
What is the Perfect Size for a Soundbar System?
The soundbar systems come in all kinds of sizes and shapes which means you have quite a few options when it comes to this. The big soundbars are associated with more channels delivering a bigger sound.
You can also visits our guides on our 5.1 sound bars:
Conclusion
You should be honest about what you really need. A 7.1 soundbar system can be appealing and attractive but if it's not placed in the right surrounding, the quality of the sound would be compromised more often than not.
 A 5.1 soundbar system is suitable more often since it's compatible even if you have limited space, whereas a 7.1 soundbar system requires more sufficient space which isn't available all the time. 
Keeping the price range and these factors in mind, the 5.1 soundbar system feels like a safe and suitable option.
Also read: Best Settings for VIZIO 5-1 Soundbar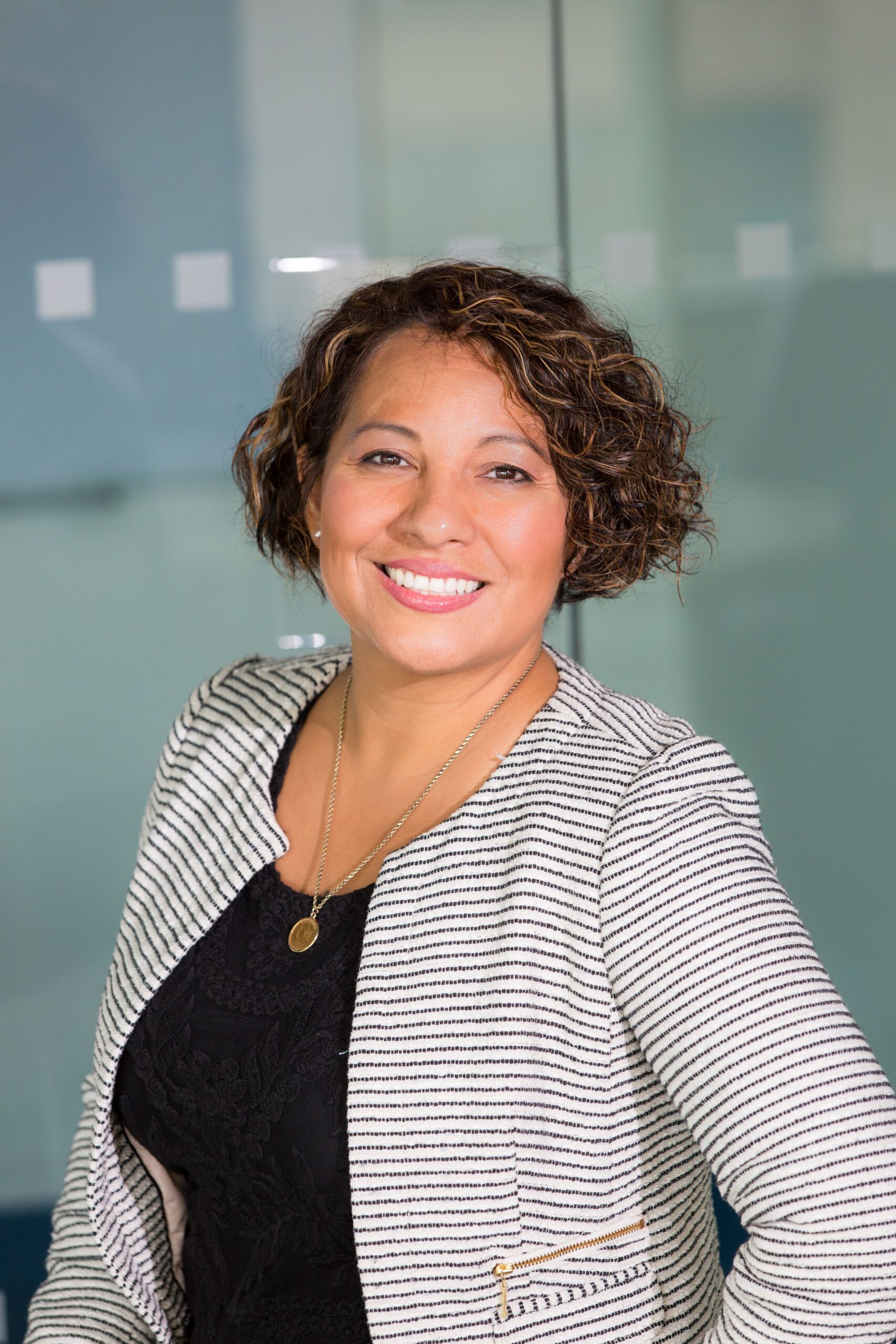 Mia Evelyn is a soundbar specialist and she love to test and review different soundbar brands. She shares her neutral and in-depth reviews through the Soundbar Mag.