Several of you use your family rooms for entertainment purposes. As a Blu-ray and Netflix enthusiast and a Call of Duty participant, playing Spotify as I clean and watching Blu-ray movies, my sound system gets a lot of use. Soundbars were among the first pieces of equipment I purchased when building my home theater system. I came across HDMI and Optical versions of Soundbars while researching which one to buy. This caused me to wonder which is better.
Is an HDMI soundbar better than an optical soundbar? Optical and HDMI Soundbars provide quality audio as part of a home theater system or as standalone speakers. HDMI Soundbars are a much better option when used along with your television, Blu-ray player, game consoles, and others. Furthermore, optical cables provide almost as good sound quality as HDMI ARC but can be used with older televisions.
Soundbar Optical VS HDMI Soundbar
Optical and HDMI soundbars both produce high-quality sound. However, there are subtle differences between both types, which can affect which type best suits your individual needs. Let's examine how they differ.
What is a Soundbar?
A soundbar offers more than what the television's speakers can offer. Soundbars are compact, all-in-one speakers that are located centrally. They are known for their excellent sound output.
A soundbar can be used as a standalone speaker or as a part of a complete surround system. 
These speakers provide great sound without taking up as much space as a complete surround system. Installing these systems has been easy and has become necessary in many homes across the country.
Differences Between HDMI (ARC) and Optical 
As I discuss HDMI vs. Optical Soundbars, I am referring to the cables that transmit audio from your source device to your Soundbar. Both types of Soundbar cables have subtle differences, but it's worth considering them.
HDMI Soundbar
One of the most popular cables available today is High-Definition Multimedia Interface (HDMI). These cables have become almost universally used on modern devices.
These components are essential to many home theater systems and provide excellent audio and video quality. Both audio and video signals are transmitted via HDMI cables. They are, therefore, very convenient to use. The result is less clutter on your desk and fewer cables connecting your devices.
A soundbar receives audio from the TV using HDMI ARC (Audio Return Channel). To connect your TV and Soundbar, you must use HDMI ARC. It would be best to use the TV's HDMI ARC input when connecting an HDMI cable to a soundbar.
HDMI ARCs can be used as audio outputs as well as HDMI inputs.
Optical Soundbar
The Digital Optical cable, also known as an Optical cable, produces a consistent and reliable sound. Some claim that Digital Optical cables reproduce sound slightly better than HDMI cables. An audio signal is sent from a source to a receiving device through a pulsing light wave.
Many people choose optical cables to provide quality sound for their home theater systems. However, optical cables only transmit audio. You will need an extra cable to transmit video and images between your devices.
Comparing the Specs
Considering which Soundbar is best for you, there are several factors and preferences. In most cases, this involves your input options and where you want your Soundbar to be placed.
Soundbar Placement
Consider where you plan to place the Soundbar; for instance, putting it behind the TV is a bad idea for many reasons.
Soundbars are commonly used to reduce the footprint of your home theater system. Soundbars provide a sleek, minimalistic approach to sound.
This minimalistic approach can be improved by using an HMDI cable since only one cable will be required for both sound and video.
If you plan on relaying images to a television, you may need more wires if you choose a Digital Optical model. However, if you want to stream sound from your entertainment system, you can use a Digital Optical cable instead.
As a result, HDMI Soundbars keep space and cable requirements to a minimum. It is easier to hide a single wire than the many that you would have to deal with if you select an optical model.
Input Options
Knowing what types of inputs and ports your devices have is essential. That includes your soundbar and source media device. Some devices may not have HDMI ports. On some devices, It may not be possible to connect via HDMI.
If your device doesn't support HDMI, you should ensure the proper HDMI cables to transmit images between your TV and other devices. Though it may seem obvious, it is surprising how many people purchase a device expecting to use a specific cable type, only to discover that their device does not support it.
The bottom line is that most Blu-ray players and game consoles support HDMI. You can still enjoy great audio with digital optical cables if your device doesn't support HDMI. Digital optical cables are also capable of transmitting sound between two devices.
Construction
Although they are both cables, they are made from different materials. You can read this if you're wondering what this HDMI ARC cable is made of.
Depending on the Blu-ray player, it will be a mini HDMI or micro HDMI. Both are made of copper, the most common metal for electronic wires. The use of copper dates back thousands of years. Copper is prone to electromagnetic interference.
TOSLINK cables are made from fiber optic strands, in contrast to HDMI cables. Instead of transmitting electrical signals, they send light signals. Consequently, it is less vulnerable to interference, making it a clear winner in this round.
Sound Quality
Relaying audio from one device to another is possible via digital optical cable or HDMI ARC. They are both inexpensive and facilitate audio return channel transmission. HDMI is, however, the better choice.
What are the benefits of HDMI ARC? With this connection, a higher-quality audio format can be relayed, such as those on Blu-ray (Dolby Digital Sound – Dolby TrueHD and DTS HD Master Audio).
For audiophiles looking for great sound, HDMI holds one advantage over optical. With HDMIs, you won't experience poor digital audio. Optical cables (also known as TOSLINK) do not support these formats, so your audio quality is reduced. It is still an excellent choice if you're looking to improve your TV's quality.
Some differences between surround formats exist, but they aren't that significant. The difference in sound might not be discernible when your Soundbar has a low-performance, entry-level Soundbar. With a soundbar set that includes subwoofers and rear speakers, HDMIs will deliver high-quality audio.
If you expect a significant difference in sound quality from your Blu-ray player or game console, an HDMI cable is best.
Video
The advantage of HDMI ARC over optical cable is the transmission of video signals. As a result, no additional wires are needed, like with an optical receiver. If you used optical, you would have to run more wires.
The HDMI cable is different from other cables, according to our experts. You can play video at 60 frames per second with HDMI 2.0 cables. However, the 2.1 version can play 4k at 120 frames per second. In 8k, VR systems can achieve 60 frames per second.
Bandwidth Rates
Bandwidth refers to the maximum amount of information easily transmitted over a given period. Bandwidth is how fast a device can send data. In other words, there will be no lag or delay.
The bandwidth rate of HDMI cables is generally higher. Depending on the type of HDMI cable you use, there will be a variation in bandwidth rates, but HDMI 2.0 supports 32 channels and 192 kHz.
Toslink cables can transmit only up to 96kHz. The data transfer does not allow them to support 7.1 channels. It would be best if you kept the length of your HDMI cable as short as possible to reduce signal loss. Data travels farther when cables are longer. Therefore, the quality of data transmitted to your device is reduced.
Recommended HDMI and Optical Soundbars
Today, a wide range of Soundbars are available. They will work great as standalone soundbars or in conjunction with a complete home theater setup. Below are some incredible HDMI and Optical Soundbar models that I highly recommend.
Yamaha YAS-207BL Soundbar (HDMI Model)
Yamaha's YAS-207BL Soundbar System is packed with a lot of great features. With 100W of power, this model is sleek and powerful. The wireless connection to the included subwoofer ensures crystal clear and true sound no matter the tone.
Several sources have reviewed this product, making it one of the most highly regarded HDMI Soundbars on the market today. Audio inputs available on the YAS-207BL include HDMI, optical, and analog. It is, therefore, compatible with almost all home theater devices. This wall-mounted Soundbar measures 2-3/8″ tall, 36-5/8″ long, and 3.25″ in depth.
2.1-Channel Digital Optical Soundbar System from Sony
Sony's 2.1-Channel Soundbar System, Model HT-CT290, is an excellent choice if you want a budget-friendly optical soundbar system. Ultra-slim, this system has 300W of power. Furthermore, it is wirelessly connected to the subwoofer; this ensures that those deep tones are vibrant and well developed. Mountable on the wall, this Soundbar consistently receives excellent reviews from users of all types.
There is an optical cable and a USB port on the HT-CT290. A variety of audio formats, including Dolby signals, are supported. The dimensions of the Soundbar are 35.5 inches long, 2.1 inches tall, and 3.4 inches deep.
JBL Bar 5.1
With the JBL Bar5.1, surround sound speakers, excellent passthrough, and Bluetooth connectivity for streaming music. It is an HDMI-compatible Soundbar with a unique design. The Soundbar also has a subwoofer that can be used for bass and speakers that can be attached to the Soundbar for use with rear modules.
Bose Solo 5
The Bose Solo 5 is a standalone TOSLINK soundbar that delivers a balanced sound without needing a subwoofer. With the ability to provide clear dialogue and excellent overall performance, you can use this compact speaker to upgrade your TV speakers.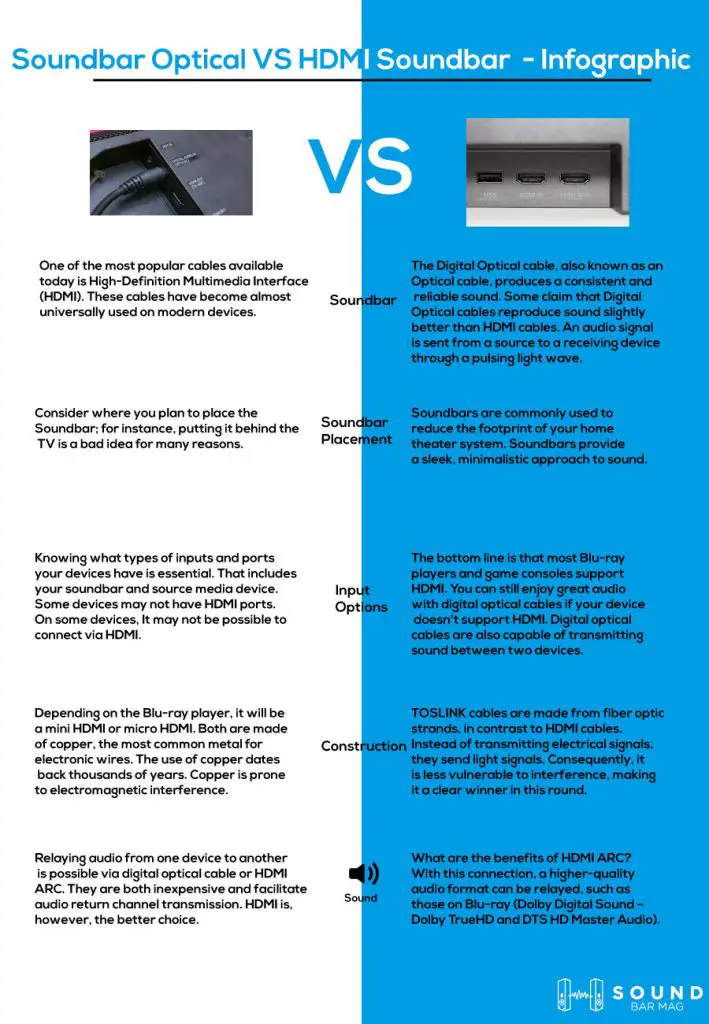 Frequently Asked Questions (FAQs)
Does HDMI or optical work better to connect a Soundbar?
HDMI cables can pass high-resolution audio, including formats found on Blu-ray discs such as DTS HD Master Audio and Dolby TrueHD. High-resolution sound formats can't be transmitted over fiber optic cables.
Is optical as good as HDMI for sound?
Optical and HDMI cables can transmit multi-channel, high-quality audio, providing a significant advantage over more traditional analog audio connectors. A new generation of audio standards, such as Dolby TrueHD, and DTS HD Master Audio, is supported by HDMI. This is not the case with optical cables.
Does optical cable affect sound quality?
If you're receiving a Dolby Digital signal that isn't cutting out, then your optical cable is OK. According to audiophiles, different optical cables can cause various jitter levels when transmitting PCM. Your gear's digital-to-analog converter has much more influence on the sound than you might think.
Related Posts:
Mia Evelyn is a soundbar specialist and she love to test and review different soundbar brands. She shares her neutral and in-depth reviews through the Soundbar Mag.