Televisions are becoming thinner and more affordable, but the screens are not getting worse; it's the sound. Speakers inside displays are too small to produce high-quality sound for dialogue or explosions.
Soundbars are easy to improve your audio performance without taking up too much space or requiring an elaborate setup for entertainment. Some of the newer soundbars even offer smart features to make them more functional throughout the day.
In terms of smart soundbars, both Sonos Beam and Bose Smart Soundbar 300 rank among the top compact options. In recent years, soundbars have evolved dramatically.
Soundbars are becoming more and more popular over other types of sound systems, such as home theaters. There are many good reasons for this.
The first is that soundbars take up less space. Besides saving space, they also look great under a TV. Lastly, soundbars can also put out a pretty incredible output, taking your entertainment experience to the next level.
Though both soundbars offer good value, a few minor differences make one a more suitable choice depending on your needs.
Sonos Beam VS Bose Soundbar 300 Comparison Chart
| | | |
| --- | --- | --- |
| Features | Bose Soundbar 300 | Sonos Beam |
| Design | Bar | Bar |
| Dimensions | 26.6 x 2.2 x 4″  | 25.6" x 2.6" x 4.0" |
| Weight | 6.2 lbs | 7 lbs |
| Wireless Surrounds | Optional | Optional |
| Separate Subwoofer | Optional | Optional |
| Dolby Digital | Yes | Yes |
| Dolby Atmos | No | Yes |
| HDMI ARC Input | Yes | Yes |
| Enclosure | Bass Reflex | Passive Radiator |
| Woofer | None | Passive Radiators (3) |
| Auto Volume | No | No |
| HDMI eARC Input | No | Yes |
| Dialogue Enhancement | Yes | Yes |
| Night Mode | No | Yes |
| Optical Digital Inputs | 1 | None |
| Virtual Surround | No | Sorround Mode |
| Subwoofer Driver | None | None |
| Tweeter | Dome (1) | Dome tweeter (1) |
| HDMI Outputs | 1 | 1 |
| HDMI Inputs | None | None |
| Remote Control | Yes | Yes |
| App Control | Apple iOS, Android | Apple iOS, Android |
| Voice Control | Alexa and Google Assistant built-in | Alexa and Google Assistant built-in |
| Bluetooth Connectivity | Built-in | No |
| Apple Airplay | Airplay 2 | Airplay 2 |
| Amazon Music | Yes | Amazon Music HD |
| Spotify  | Yes | Yes |
| Wall-mountable | Yes | Yes |
| Built-in Wi-Fi Version | 802.11 b/g/n/ac | 802.11 b/g/n/ac |
| Warranty | 1 Year | 1 Year |
Descriptive Comparison of Bose Soundbar and Sonos Beam
Design is essential as these devices are going to be on display. Both devices come in a stylish design and look cool. 
Bose Soundbar 300 Design
Bose Smart Soundbar 300 Bluetooth Connectivity with Alexa Voice Control Built-In, Black
Like no other: This elegant sound bar for TV, movies, music, and games delivers spacious sound, exceptional clarity, and rich bass, while finished in matte-Black with seamless metal grille.
Acoustic performance: 5 full-range drivers deliver wide, clear sound, which makes it the perfect soundbar for TV, movies, games, and more.
Built-in Alexa: Amazon Alexa and Google Assistant are built into this smart soundbar for hands-free voice control. And a noise-rejecting mic system listens in every direction for your voice.
TV voice control: Exclusive Bose Voice for Video technology expands your Alexa capabilities, allowing you to control this smart soundbar, your TV, and your cable,satellite box with 1 voice command.
Connectivity: Pair your device to this wireless soundbar to stream your favorite music and more via a Bluetooth connection, your home Wi-Fi network, Apple AirPlay 2, or Spotify Connect.
A black plastic top covers the small Bose Soundbar 300. To help protect its speakers, the front and sides are covered by a metal grille. There is no subwoofer with the Bose Smart 300 soundbar in this setup. A smaller subwoofer wirelessly connected to the bar is available separately from the Bose Bass Module 500.
In both models, microphones are available, and they can be set up to work with Alexa or Google Assistant for voice commands and digital assistant functions. They both have AirPlay 2 and Wi-Fi.
Each speaker can also use Spotify Connect for direct control via the Spotify app. Each does not come with a subwoofer or surround sound satellite speakers, though they can be added at any time.
Bose 300 supports Bluetooth, while Sonos does not. The Smart Soundbar 300 only comes in black color.
The Bose 300 features a remote and can be controlled via the Bose Music app.
Sonos Beam Design
Sale
Sonos Beam - Smart TV Sound Bar with Amazon Alexa Built-in - Black
Beam - The smart, compact soundbar for TV, music, and more.
High definition sound - Experience rich, detailed sound for your TV that fills the entire room.
TV, music and more - Play music, TV, movies, podcasts, radio, audiobooks and video games.
Easy control - Control Beam with your voice, remote, the Sonos app, and more.
Class 10 for Full HD video recording and playback (Full HD (1920x1080) video support may vary based upon host device, file attributes, and other factors)
The Sonos Beam's soundbar features a relatively simple appearance, mostly solid plastic. It is covered in a mesh-like fabric that can become dirty or torn over time. Three touch-sensitive buttons are located on top of the bar. Subwoofers are not included with the Sonos Beam. You can upgrade your setup by purchasing a separate subwoofer.
Unlike the Bose 300, the Sonos Beam has an Ethernet port for a wired internet connection. The soundbars can both connect to a TV using HDMI ARC or optical. When comparing them, the Beam is a bit taller than the 300, but not quite as long.
This is not a significant height difference – both should accommodate the same spaces – but a few centimeters might matter if the soundbar is placed under a TV rather than right in front of it.
There are white and black color options for the Beam. Soundbar 300 is medium to dark grey, while Beam is darker black.
Their designs align with their respective brands' styles, and their colors are neutral enough to blend seamlessly into most decors without being distracting.
The Beam comes without a remote in the box and instead works with the app or a compatible TV remote.
Sound and Performance
Due to the thinness of modern TVs, they do not have the best sound quality. A soundbar is designed to provide better sound, and these soundbars will blow away any TV speakers that you might have.
Bose Soundbar 300 Sound and Performance
The Bose Soundbar 300 is a 3.1 soundbar and is currently one of the best options on the market for pure power for the price. The sound quality was more than satisfactory when I sat right in front of it. Bose describes the sound quality of its products as cinematic, and it does not disappoint. Considering its diminutive size, the stereo sound is superb, and you'll be surprised by how much impact this little speaker packs. 
It doesn't have a subwoofer, but it still delivers impressive bass, and I was far more impressed than I could have imagined.
Watching a movie like The Hitman's Wife's Bodyguard, for example, where there is a lot of action and gunfire, you may feel like you are in the firing line and like Samuel L. Jackson is calling you an MFer from across the room!
Playing with movies, music, video games, and sporting events was just as pleasant as playing with movies.
Vocal clarity is also good, and Bose doesn't disappoint in what this offers. It also has a Bluetooth feature to stream music through Spotify or something like this from your phone.
Sonos Beam Sound and Performance
In terms of the sound quality of Sonos, I have never been disappointed. Of course, this device can't compete with its big brother, the Sonos Arc. On the other hand, the Sonos Beam is one of the best soundbars available today. It consists of a single-center speaker, two side speakers, and a subwoofer.
The Sonos team takes great pride when it comes to vocal clarity. In my experience, even when the volume was high enough, the vocal clarity came through clearly, and the ambient sounds were precise. Although I messed around with the settings on the app (more about that later), I would say even if you left everything just as it is, you would be impressed with the quality of the vocals.
Music is one area where the Sonos Beam falls short! I don't mean the sound quality is poor; far from it. Bluetooth connectivity is not available! You might hear great music if you hear it on something like MTV (does MTV even play music anymore?), but you cannot stream music from your phone via this method.
Remote Control
While it might seem odd to include this in our Bose Soundbar 300 vs. Sonos Beam comparison article, I think it is incredibly important! After all, controlling your soundbar is pretty darn important, so let's see how they do it!
Bose Soundbar 300 Remote Control
Since it is much less expensive, the Bose Smart Soundbar 300 has a somewhat more basic remote control. Its size and design are similar to an Amazon Fire TV Stick.
This soundbar offers basic controls, but you'll need to download the Bose app to take advantage of all its features fully. In addition to basic controls, Alexa and Google Assistant are supported, which is pretty cool. A major feature is dialogue enhancement, and you cannot get that (from what I have seen) with the remote control.
Sonos Beam Remote Control
Watching a Sonos Beam like this one will reveal one thing. You won't find a remote control with Sonos. No remote, even with their more expensive soundbars.
The Sonos Beam can be programmed to work with your TV remote to control volume, but this won't give you access to all the features.
Like Bose, Sonos also has an app that allows you to access its features. Although I understand that this is supposed to be more convenient for people, I prefer a remote control.
Bose Soundbar 300 Connectivity
There are a couple of physical inputs on the Bose Soundbar 300. Unlike the Bowers & Wilkins Formation Bar, this one has an HDMI ARC port to connect to your TV.
A micro-USB port is available, but it's only for servicing the bar. The bar also has an IR port for connecting IR emitters and a BASS port for connecting a Bose Bass module.
The HDMI ARC port on the Bose Smart Soundbar 300 provides mediocre support for audio formats. The player can play some standard formats, such as Dolby Digital, but it must downmix the content into the stereo to play it. Unfortunately, it does not support eARC or Dolby Atmos.
The latency performance on the Bose Soundbar 300 is excellent. Its ARC and Optical ports have excellent latency, so you won't notice any delay between your audio and the video you see. The Optical In the port of this soundbar supports only Dolby Digital.
Bose Soundbar 300 provides excellent wireless playback support. From your smartphone or tablet, wireless audio can be streamed directly to the speaker. Consequently, it's perfect for watching videos and movies over these connections.
Sonos Beam Connectivity
There are a limited number of physical inputs on this soundbar. It has one Ethernet port and one HDMI ARC port. Consider the Bose Smart Soundbar 300 if you want a 3.0 setup with more physical inputs.
Through its HDMI ARC port, the Sonos Beam supports surround sound. It only supports DTS and Dolby Digital, common on Blu-rays and streaming platforms. Dolby Atmos or DTS:X are not supported by this bar.
The latency performance of the Sonos Beam is outstanding. Video and movie watching is a breeze with its ARC and Optical ports because of the low latency. 
The Sonos Beam lacks a Full HDMI input, so it does not support 4K passthrough, unlike the Vizio M-Series M21d-H8R.
Despite the lack of Bluetooth connectivity, the Sonos Beam can still be connected to external devices via Wi-Fi. Many apps, such as Spotify, offer built-in cast support, which lets you stream your favorite songs directly from your mobile device. Apple AirPlay is available for iOS devices. Using the Sonos app, you can play audio from various music sources.
Price
The retail price for each soundbar is $400. Because both models are priced similarly, buyers can't choose between them.
On the other hand, if one speaker is on sale, the price difference should be enough to convince you to purchase it. It is especially important if it is your first wireless speaker or if you are new to both systems.
What is in the Box?
We will now look at what these soundbars include in their boxes. The one thing that they both have in common is some hard-as-rock foam that protects your sandbar but eats up nearly all the space in your trashcan!
Bose Soundbar 300 Unboxing
The box contains the soundbar and remote control, and a power cable. You also get an optical cable from Bose.
Sadly, they do not provide you with an HDMI cable which is not cool. 
Sonos Beam Unboxing
A power cable and a Sonos Beam soundbar are included in the box of the Sonos Beam. The package consists of an HDMI cable (take note, Bose) and an HDMI to optical cable so that no matter how you set it up, you're ready to go.
You are also provided with a CD that includes the drivers for this. The box contains everything you need.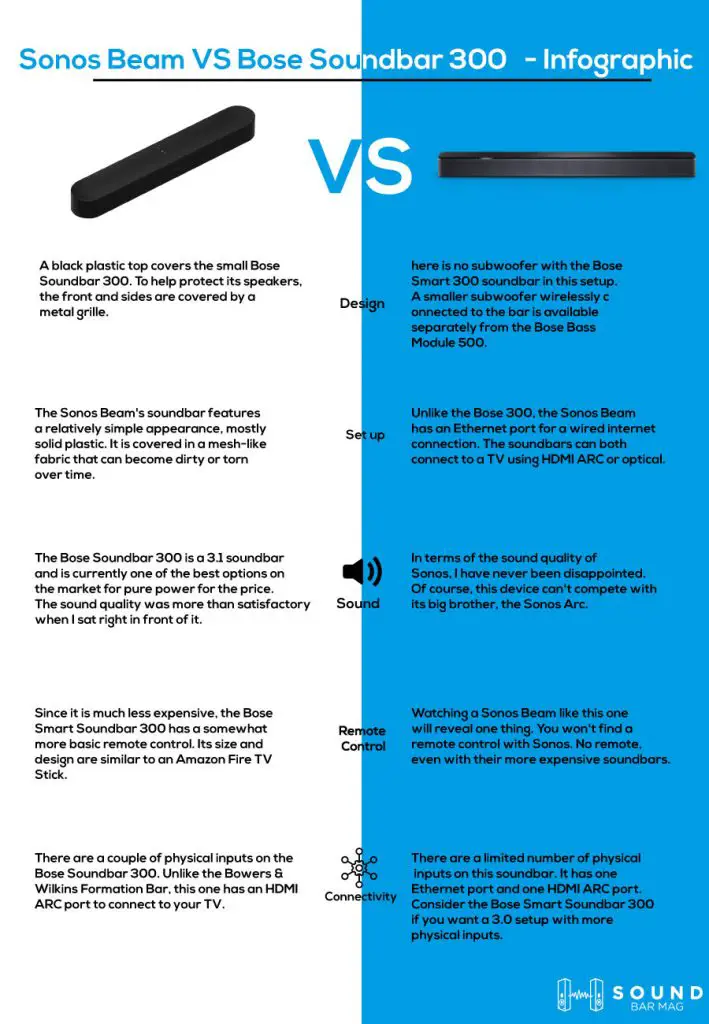 Frequently Asked Questions (FAQs)
Is Bose 300 better than Sonos Beam?
Compared to the Bose Smart Soundbar 300, the Sonos Beam is a better soundbar. The Bose, however, offers a smaller size, broader support for more audio formats via its HDMI ARC port, and a greater selection of wireless playback options. Besides having a more balanced sound profile, the Sonos also has an auto-volume feature and a feature for room correction.
Is Sonos' sound quality good?
Sonos speakers are of excellent quality, and they provide a consistent, pleasing sound. However, although the hardware of Sonos is expensive, the sound quality is excellent. The sound quality of Sonos speakers is excellent overall, though not all of the speakers sound the same.
Conclusion
It surprised me how close this comparison was. The two soundbars differ in a few minor ways, but neither has a serious flaw.
They are both very similar smart soundbars that you can use to watch TV or listen to wireless music.
It depends on whether you need one over the other. Still, if you don't already own speakers from either brand, I recommend the Sonos Beam for music listeners and the Bose Smart Soundbar 300 for users who want better dialogue clarity from TVs.
However, you should not feel disappointed if you choose one over the other. Each is an impressive smart soundbar.
Mia Evelyn is a soundbar specialist and she love to test and review different soundbar brands. She shares her neutral and in-depth reviews through the Soundbar Mag.