Viewers who want to enjoy quality sound while watching HDR content on TV should invest in a good soundbar.
A soundbar is not much expensive sound system but can deliver dimensional and powerful audio that, unfortunately, TVs fail to produce. In addition, they can be relied upon for mixed usages, like music listening, TV watching, gaming, and podcast listening, despite your TV model or size specs.
We have made a list of the three best soundbars for a 32-inch TV capable of producing rich and loud sound with excellent clarity. So, let's dig deep into the qualities and profiles of the top soundbars in the market.
List of the Best Soundbar for 32 Inch TV in 2023
1. JBL Bar 3.1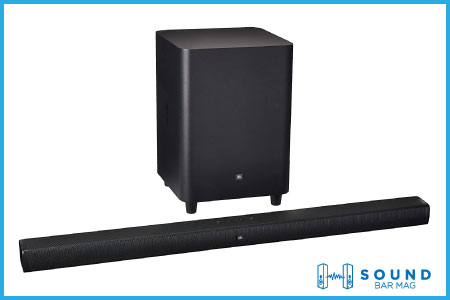 JBL Bar 3.1 is a great entry-level soundbar with an ultra-thin profile and flexible body to place under your 32-inch TV. It has mounting brackets to mount on the wall as the slim and sleek body looks astonishing in the room.
We loved the metallic grille at the front, the LED display that attracts listeners, and the sound customization with two modes gives enough room to enjoy what you like. We weren't surprised by the customized sound, but it gave us high-end soundbar vibes.
The wireless subwoofer is heavy enough to sit on the floor while throwing punchy bass at the max volume. Connectivity with Bluetooth and HDMI provides a sense of relief while pairing the smart TV or phone, and we appreciate the long range.
In addition, the soundbar produced a sound that gives life to the content. The high-resolution audio with a frequency response of 35 Hz to 20 kHz gives an ecstatic listening experience while watching sports or TV shows.
The bar includes six built-in drivers, including three tweeters, which produce fine upper and mid notes. The low-frequency extension is decent with the wireless subwoofer and creates an amazing soundstage for mixed usage.
The bass boosting button on the remote lets you double the fun, and the audio sync adjusting function allows you to set the tuning and clarity based on your preferences. We liked the easy access to the functions with a handy remote.
It is undoubtedly the perfect soundbar for a 32-inch TV, considering the sleek profile, quick installation, and easy setup via remote control.
Pros
• Two sound modes
• Loud and clear sound
• Max power output of 450W
• Bluetooth streaming

2. Yamaha YAS-108 Soundbar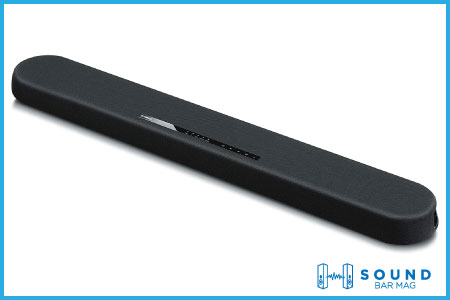 Presenting you a soundbar that goes well with small and large size TVs as the slim and sleek design fits comfortably anywhere. The Yamaha soundbar came on time with attractive shipment protocols, and the handy body didn't give us a hard time unboxing or setting it up.
The build quality is rigid, and the portable design wrapped with black grilled-style coating looks stunning, so we recommend it mounting on the wall.
We noticed the installation and setup are a piece of cake with a power cord and Bluetooth connection. It is a plug-and-play soundbar that starts running once you pair an external device via HDMI, AUX, or wireless option.
The voice control support with Alexa and compatibility with other smart devices at home enriches the user experience. The dialogue enhancement mode is a great upgrade to the previous model and a very interesting feature for TV streaming, letting you enjoy whispers and every precise detail of the content.
It delivers lifelike and spacious sound with all the built-in speakers and subwoofer. The space-saving design gets loud without any noticeable harmonic distortions. We also noticed the wide soundstage, which can get more spacious if paired with external rear speakers.
Besides, HDMI with 4K pass through kept us immersed in watching the 4K content on online streaming platforms like Netflix or Amazon because the perfect digital audio transcoding doubles the entertainment.
The driver's compatibility with DTS: X and Dolby Digital polish the audio quality while ensuring the sound comes from different conditions, providing a cinematic watching experience.
Pros
• DTS: X support
• Bluetooth streaming
• Sound modes
• Voice control
• Loud and precise audio performance

Cons
No advanced format support

3. RIOWOIS R-6405SaiYin Soundbars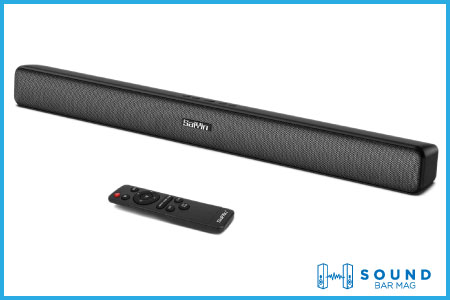 Hands down, this is the best soundbar for TV, rolling in the market with the model number RIOWOIS R-6405SaiYin, and known to be the ideal space-saving soundbar with a decent profile full-range integrated speaker.
The soundbar is only 29inches long and 2.7inches tall, indicating it will place easily under the 32-inch TV and won't compromise its functionality. It can also save space by mounting on the wall, as it comes with the installation kit with all the necessary accessories.
The front-facing full-range speakers deliver heavy and clear sound for TV watching, podcast listening, and enjoying music or games. The portable soundbar has integrated speakers and a woofer that delivers high-quality sound with superior definition and punchy bass.
The soundbar offers different EQ modes, including News, Music, and Movie, that customize the audio quality and deliver a wide stereo effect throughout the TV watching. We tested a couple of them and were surprised by the performance.
Connecting with the TV was a breeze with optical digital, Bluetooth, AUX, and RCA cables. All the input ports are placed at the rear panel, minimizing the cable clutter and maintaining the bar's attractive look. Also, the input ports were easy to reach.
Relying on this powerful soundbar for 3D surround sound that instantly fills the room with quality audio won't be a disappointment. The included remote control will guide you with the use, and Bluetooth with up to 5m connectivity range will occupy the bar with constant use.
Pros
• Portable soundbar
• Cinematic sound performance
• Bluetooth with 5M range
• DSP technology

Frequently Asked Questions (FAQs)
What is the best soundbar for a 32 inch TV?
JBL Bar 3.1 is the best soundbar for a 32-inch TV having an attractive profile, DSP technology, and power output of 450W. It produces dramatic audio with excellent clarity and crispness that you crave during TV watching.
What size soundbar for the 32 inch TV will be ideal?
A soundbar size ranging from 23 to 30-inches would be ideal for connecting with a 32-inches TV. However, you can go bigger up to 33 or 34-inches depending on your room size, placement preferences etc.
Do small soundbars have Bluetooth connections?
Yes, we have added soundbars with Bluetooth connectivity, offering you seamless pairing with the 32-inches TV. In case your TV doesn't support the feature, the soundbars have safe alternatives, including AUX, RCA, optical digital, and HDMI for pairing.
Conclusion
Having a soundbar connected to your TV is real fun because you get to enjoy the realistic sound no matter what you are watching. Also, a soundbar can work as a wireless speaker that goes a long way while entertaining you with a crisp and loud sound.
This article will help you choose the best soundbar for a 32-inch TV that instantly connects and starts performing. So, Happy TV streaming!
Related Posts:
Mia Evelyn is a soundbar specialist and she love to test and review different soundbar brands. She shares her neutral and in-depth reviews through the Soundbar Mag.