We have a wide collection of powerful soundbars for you if you are an audiophile who can't compromise on the audio quality while listening to music or gaming.
A soundbar is perfect for spicing up your music listening with a reasonable mixture of bass and rumble, and the excellent clarity will keep you hooked on the content.
As we know, satisfying audiophiles is pretty challenging because they look out for little details of audio tunings, so gathering the best soundbar for audiophiles was exciting and quite hectic for us.
So, let's check out all the top-notch soundbars for music lovers and their highlighting features. The article has a mixture of the best affordable soundbars and soundbars with built-in woofers, so you can get the one that best suits your needs.
List of the Best Soundbar for Audiophiles in 2023
1. Sonos ARC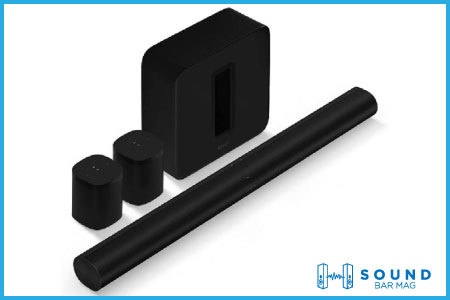 Sonos Arc is the famous and most preferred soundbar among audiophiles for its premium sound quality, excellent feature set, and decent appearance.
The soundbar is designed to attract the latest generation, and its sound reproduction capability is outstanding. Moreover, the wireless subwoofer gives a perfectly deep and heavy bass beat that turned our room into an entertainment hub.
It is a 5.0.2 channel soundbar, which houses five main channels, one subwoofer, and dual vertical channels to produce high-resolution sound. We noticed the speakers positioned at the front and sides to expand the soundstage.
The audio quality gives life to your music listening with Dolby Atmos decoding that enriches the sound and enhances the clarity. Speaking of clarity, the dedicated center channel polishes the spoken words and isolates them from the rich background audio tunings for better understanding.
Sonos Arc is not only an ideal choice for audiophiles, but it has known to be the best soundbar for the hearing impaired for its detailing and high-pitch performance.
In addition, the Trueplay tuning technology further optimizes the audio reproduction according to the room environment to deliver immersive listening.
The soft profile of Sonos ARC blends perfectly in homes, offices, and studios and can be easily manageable with the Sonos mobile-friendly app.
Additionally, the built-in Alexa is valuable; we navigate the soundbar with our voice commands and never head to the Sonos App.
Pros
• 3D sound with Dolby Atmos
• Trueplay tuning technology
• Built-in voice control
• Automatic firmware updates
• Apple AirPlay 2 compatibility

Cons
• It does not come with a remote

2. Vizio SB3651-F6 Soundbar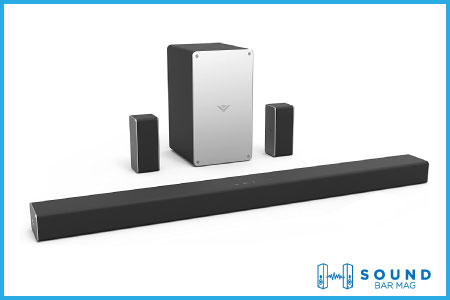 Enjoy the surround sound with a 5.1 channel Vizio soundbar designed to satisfy the detailed and clear music streaming cravings. It comes with a couple of satellite speakers and a wireless subwoofer for the complete entertainment package.
The bar has a decent yet subtle design that easily fits under 40-inches TV, and the seamless setup wouldn't give you a hard time operating it. After unboxing the entire package, we quickly plug in the bar and tested it with the TV.
The wireless subwoofer also sits perfectly at a sweet spot and fills the room with high-definition bass with some serious rumble delivery. This sleek subwoofer is perfect for parties because the low frequencies can go down to at least 50Hz, ideal for room-shaking bass.
The 5.1 system has a set of rear speakers that throws powerful audio, and the DTS Virtual: Xensures the audio beats hit you from every possible direction, creating a wide soundstage for all your pop or jazz music streaming.
The stereo dynamics are excellent, giving a soundbar a gentle push to get loud enough, with the maximum sound pressure level up to 101dB.
In addition, the dialogue clarity is excellent for podcast or TV watching, and the intelligent audio technologies integration ensures profound listening experiences.
The smart and best audiophile's soundbar has a built-in Chromecast and offers a Bluetooth feature to expand entertainment.
Hence, it is a soundbar that an audiophile must consider investing in for regular music streaming, podcast or ebook listening, and gaming.
Pros
• DTS Virtual: X compatibility
• Rich and deep bass with 50Hz frequency level
• Virtually expansive sound reproduction
• Chromecast support

Cons
• Lack of 4K HDR passthrough

3. JBL Bar 5.1 Soundbar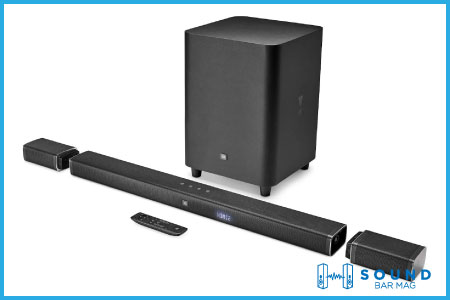 Another entertainment package for our audiophiles is JBL Bar, a famous well-built soundbar intending to deliver high-quality audio with perfect tuning.
It comes with a wireless subwoofer and surrounds speakers to widen the soundstage. Unboxing the package was fun, and plugging in and connecting was smooth.
Like its direct rivals in the list, it is a 5.1 system soundbar with powerful speakers on each side and at the front to throw some quality audio for every kind of content.
The maximum power output of 510W sets the heavy soundstage without compromising the clarity and bass quality. It filled our large room with an audience filled in no time, and the sound quality was thundering.
The 10-inch wireless subwoofer produces thrilling bass that shakes you with every beat. The detachable surround speakers reproduce cinematic sound performance for TV watching and have a battery life of up to 10 hours (varies with the usage).
Furthermore, wireless connectivity via Bluetooth and three HDMI inputs give you enough room to pair different devices and get the most out of the device.
However, the soundbar does not come with a dedicated remote control, so you might face a glitch while setting up the device or regular navigation.
But on the upside, the phenomenal sound performance with vocal clarity attracts audiophiles to parties or private music listening.
Pros
• Rich connection
• Decent vocal clarity
• Detachable speakers with a 10-hours battery
• High-resolution audio
• Rich bass performance

Cons
• No audio format compatibility
• Lack of remote

4. Samsung HW-Q90R Soundbar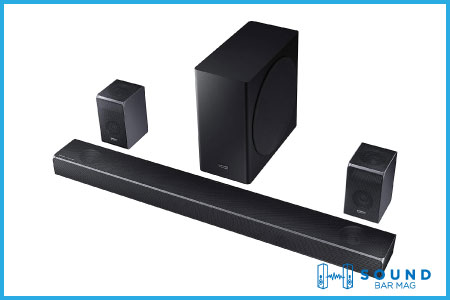 Samsung never disappoints with its products, but its latest 4k smart TV product line has struggling built-in speakers that never seem to satisfy audiophiles.
But we have this Samsung HW-Q90R soundbar with a wireless subwoofer and some satellite speakers that can enhance the TV-watching or music-listening experience in no time.
Whether you connect the soundbar to the TV via HDMI supporting 4k passthrough or wireless options, you get to enjoy stable and perfectly synced audio that captures your attention with every dialogue.
The soundbar is quite heavy and large, measuring 48.26inches which gave us a hard time unboxing and setting it under the smart TV.
But, on the upside, you can mount the device on the wall to expand the soundstage and enjoy the multi-room capability. The wall mount kit and remote control are included for easy setup.
This 7.1.4 channel system provides luxurious music streaming with 17 built-in speakers that deliver sound from the sides, a rear portion, front, and above and surround you in multidirectional dramatic audio for lifelike sound.
In addition, adaptive sound technology optimizes the sound according to the content and environment and adjusts the performance accordingly.
We tested it with gaming and music, and it worked well for the diversity of content. The sound was loud, and we didn't notice any harmonic distortions at different volume levels.
Also, the Atmos and DTS: X support further enriches the sound and make it moving to keep you engaged with the content and enhance your overall experience.
Also, if you have an Amazon Echo device, connect it to the Samsung soundbar and enjoy hands-free navigation with Alexa. What else do you need?
Pros
• Adaptive sound technology
• HDMI with 4k passthrough
• Dolby Atmos and DTS decoding
• Lifelike sound

5. Klipsch Cinema 600 Soundbar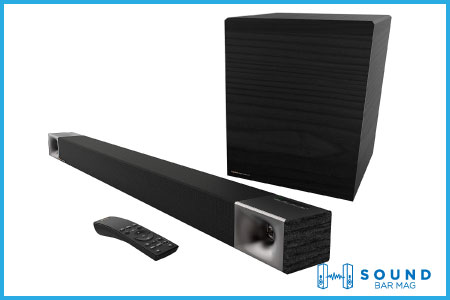 The 600 series of Klipsch have some amazing soundbars, and this product is no exception with a 3.1 system and 600W power output.
The entire sound setup is made of premium wood, lasting longer than you think, regardless of usage. Also, the subwoofer is relatively big compared to others at this price, which means it can produce thundering bass that bounces the floor for some additional shaking.
The sound system features an external subwoofer that delivers quality bass with reasonable rumble and low-frequency pitch to deliver a record-breaking performance.
Besides, high-definition audio with crisp and clear audio performance ensures cinematic vibes while playing TV content, podcasts, and even heavy-pitch music.
Unlike many soundbars in this list, the Klipsch cinema 600 has a handy remote control that ensures smooth setup and quick navigation. It has all the dedicated buttons at the front, so we didn't face much hassle using it.
Speaking of setup, connecting external devices with a sub is easy as it sounds with HDMI-ARC input that lets the sound move with the content.
Moreover, the center channel with multiple dialogue enhancement modes makes the audio clean and pure and allows you to enjoy high-fidelity sound from the comfort of your couch.
Hence, considering all the true entertainment it offers, we can safely call it the best soundbar for audiophiles and recommend it for regular music listening within a budget.
Pros
• Home theater soundbar
• Clear and pure dialogues
• Premium build material
• HDMI-ARC
• Big woofer for heavy bass

6. Yamaha YAS-209BL Soundbar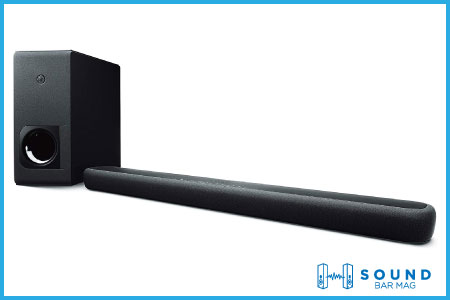 YAS-209 is a best-selling soundbar of Yamaha with a sleek design, wireless subwoofer, and rich feature set at an affordable price.
The soundbar can deliver high-definition audio, gets loud, and wouldn't compromise the audio quality no matter what you play. We tested it with different music genres, and it didn't disappoint us.
This premium and affordable soundbar for audiophiles produce well-balanced audio with easy setup and Bluetooth support. The dialogue delivery is exceptional, but the lack of height channels may be disappointing, limiting you with the tuning detailing.
On the upside, the stereo dynamics can turn the tables for good and make the volume high without distortions. Max volume with low frequencies for booming bass makes it a perfect soundbar for daily listening, whether you watch TV content or enjoy the latest playlists on Spotify.
Yamaha YAS-209BL supports DTS: X format for the virtual 3D sound to widen the soundstage. Built-in Alexa helps with navigation and setting, but the Yamaha app gives you access to the other built-in functions to make the most out of it.
A wireless subwoofer is also a noticeable accessory that completes the entertainment setup. Since I have mentioned the low-frequency level, the deep and ground-shaking bass should never go unnoticed.
Every frequency level throws the perfect bass detailing that every audiophile appreciates while listening to the music. So, we recommend it for someone who doesn't go hi-profile with the system but needs a reasonable upgrade to the TV or traditional speakers.
Pros
• DTS: X support
• Voice control
• Premium profile
• Dialogue enhancement function

7. BESTISAN 28 Inch Soundbar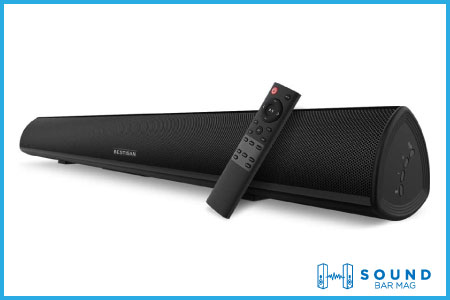 BESTISAN may not be famous like its rivals, but it can be your go-to affordable soundbar for music, podcast, and ebook streaming.
It is an entry-level soundbar with dual full-range speakers that produce smooth, flawless, and pure sound with a power output of 20W.
Despite the basic audio technology and low profile, the soundbar can be relied on for heavy gaming and music listening. It also has two additional built-in bass reflex ports that reproduce rich and deep bass that can be controlled remotely.
The soundbar also features DSP technology that introduces multiple sound modes according to the content playing. These modes automatically customize the sound and make it immersive to listen to.
Also, the soundbar can get loud with no noticeable harmonic distortions. The booming sound filled the entire room by entertaining everyone, so everyone tasted lifelike and moving sounds.
In addition, the deep bass has a powerful reflection to keep you hooked with the content, so you feel completely relaxed while listening to your favorite artists.
Connecting via Bluetooth 5.0 ensures lossless pairing with compatible devices. We loved the Bluetooth range and its capability to quickly switch between devices without ruining the vibe.
Also, it contains multiple input ports, including HDMI, AUX, USB, optical digital, and RCA outputs for the wired connection. We tried the HDMI and optical digital, and it was running great on that.
Hence, this space-saving soundbar could be ideal for regular music or podcast streaming with excellent audio, pure clarity, and enriching tuning.
Pros
• DSP technology
• Excellent connectivity
• Space-saving profile
• Top-notch dialogue clarity

8. Sonos Beam Soundbar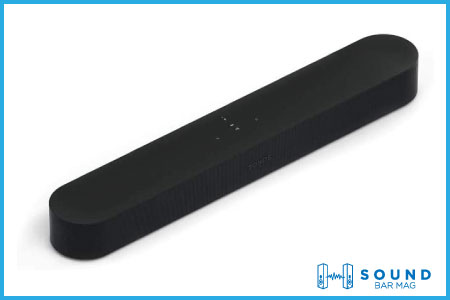 Who doesn't know about Sonos Beam?
It is the most preferred choice for gamers and music lovers who like to travel most often and keep their entertainment sources up to date with them.
Sonos Beam can easily travel with you considering its portable size, wireless connectivity, and attractive look. And after testing and evaluating its performance, it became our go-to device for streaming matches.
Sonos Beam is only 25.6inches in size, and the overall appearance is attractive if you are conscious of blending it with the studio.
Alexa support and wireless connectivity options allow you to pair devices and navigate them without hurdles. Alexa captures the commands smartly and quickly responds to them, almost making you forget that the remote exists.
Though it does not support a wireless subwoofer, the passive radiators and built-in full-range drivers produce high-fidelity sound with clarity and next-level detailing.
The reasonable treble and bass delivery sets the creative soundstage, and its capacity to get loud is something to trust for your movie and party nights.
This best audiophiles soundbar also has a dialogue enhancement feature that polishes the vocals until you hear them clearly. To test the feature, we played news, movies, and some podcasts, and we were amazed. No need to rewind and play the content- goodbye, old days.
It is a soundbar for small to average-sized rooms because its instant room-filling sound technology leaves you shaking with every beat it produces.
Also, the wireless connectivity technology and access to online music streaming platforms encourage you to enjoy private listening with your latest favorite playlist that can be ready to listen to with your voice commands.
Thus, it is a family soundbar that can cater to everybody's needs with its subtle and high-definition audio performance.
Pros
• Seamless setup
• Wireless connection
• Portable design
• Voice enhancement feature
• Voice control support

9. Bose Smart Soundbar 700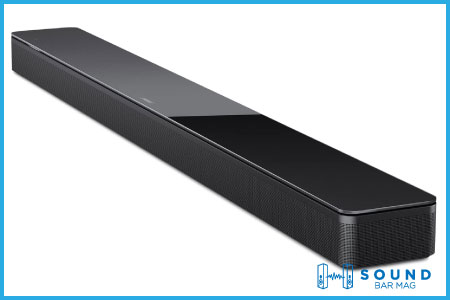 Bose is a huge name in the soundbar industry, and every music enthusiast can rely on its huge product line that comes with upgraded audio features, seamless setup, and other built-in specs.
Bose smart soundbar 700 is a premium product that reproduces highly immersive audio for podcast and ebook listening, TV watching, gaming, and music streaming.
It is a one-unit soundbar with a built-in woofer and some compelling front-facing speakers that are beautifully set inside the premium glass body with a metallic grille coating.
The soundbar also features Phase Guide technology that works with little transducers for multidirectional sound, which works great for heavy music and fast-action games.
The dialogue clarity also keeps the listener hooked, and the built-in voice control with Google Assistant and Alexa expands the usage for calling and navigation.
The noise-rejecting mic system fights with the background noises and listens to your voice. We tried the mic and Alexa combination for calling, and we were shocked to see the response. The sound was clear, and the device was quick.
So, with all the drivers and integrated technology, you can expect spacious sound performance, reasonable bass, and multi-room audio expansion with a flawless setup.
The bose app can walk you through the specs and help you navigate the device. Besides, HDMI-ARC, optical audio, WiFi, and Bluetooth connectivity allows hassle-free pair of external devices.
Pros
• Surround sound
• Universal remote
• Multiple connectivity sources
• TV voice control
• Immersive audio performance

10. NAKAMICHI ShockWafe Elite Soundbar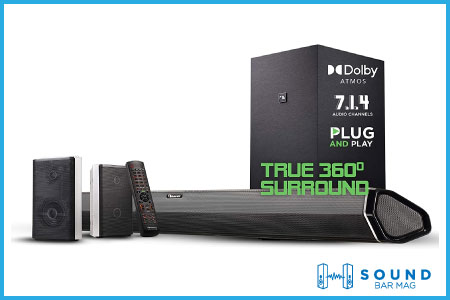 Ever heard about dual subwoofers?
Are you willing to set a home theatre setup with a tight budget?
Nakamichi ShockWafe Elite is an outstanding product, and we take it as the perfect soundbar for audiophiles for obvious reasons.
This 7.2.4 system soundbar has everything a music lover can crave. 17 built-in speakers can reproduce high-definition audio with exceptional clarity, balanced background tuning, and excellent treble.
It is a plug-and-play sound system that comprises a sleek bar, dual 10-inches subwoofers, and two rear surround speakers. The built-in drivers throw serious punches and powerful enough sound to bang the windows and shake everyone in the room.
Dolby Atmos and DTS: X format support ensures spacious sound. This entire collection can turn your living room into a cinema with powerful audio delivery that gives life to the content.
Moreover, it integrates 3 audio processing engines that work in harmony to improve the audio directionality, enrich the spaciousness, and introduce certain audio detailing for great acoustics.
A wireless subwoofer is 20.5 inches and 9.5inches wide and hosts an 8-inch speaker driver that delivers powerful, room-filling bass for the cinematic listening experience.
Hence, it is a soundbar that satisfies every soul who can understand music, tuning, and little detailing.
Pros
• Excellent sound optimization
• Compatible with OLEDs, QLEDs, and HDTVs
• Rich and powerful bass
• Dolby Atmos support
• High-frequency tweeter
• Dolby Vision and 4K passthrough

Best Soundbar for Audiophiles 2023 Buying Guide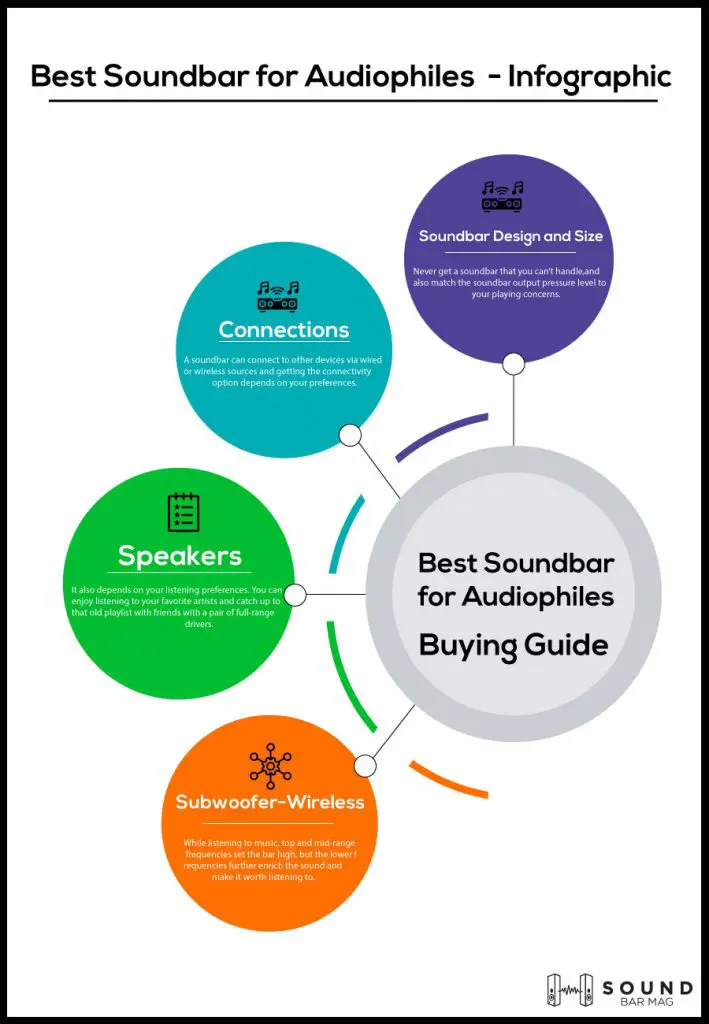 Music is a need of the stressful soul.
It relaxes the mind, gives hope to the distressed, and can be an exciting mediating therapy.
But a good sound system really matters to listen to a quality sound. That's why a soundbar came into existence that includes multiple speakers inside a compact body and intends to reproduce a high-definition vocal performance, especially to satisfy all the audiophiles out there.
Nevertheless, buying a soundbar can be intimidating because a market is full of excellent choices. So, it is better to do homework before stepping to get the best possible soundbar for your home and office. So, we will discuss some important points to discover based on the previous experiences and target market concerns. It might help you know more about the soundbar.
Soundbar Design and Size
Whether audiophile or not, soundbar design and size should be your utmost concern before making a final purchase.
Never get a soundbar that you can't handle, and also match the soundbar output pressure level to your playing concerns. For example, a compact soundbar with an entry-level channel configuration should be enough if you are getting one for private music, podcast listening, or regular TV watching.
However, to entertain a large audience like movie nights, homecoming or Christmas parties, you might need a heavy soundbar with a powerful wireless subwoofer like Klipsch Cinema 600 that produces highly detailed audio with rich bass reproduction.
Moreover, some people are more concerned about the soundbar design because they think it can play a role in home décor. So, if you plan to mount it on the wall, get a sleek one with a wireless subwoofer and a pair of satellite speakers like the Samsung HW-Q90R. It has an aesthetically pleasing sound and design that satisfies everyone sitting in the room.
Connections
A soundbar can connect to other devices via wired or wireless sources and getting the connectivity option depends on your preferences. Many people prefer wireless, so they don't have to create a wired mess in their rooms. Others prefer wired options like AUX, HDMI, or optical digital for lossless and stable audio quality.
We have mentioned soundbars that feature both wired and wireless sources. They all have Bluetooth, but the output ports may vary with the model or brand.
Remember, you need an optical digital output to get audio support from the external device. Whereas USB, RCA, and others are optional and safest alternatives.
How many Speakers?
It also depends on your listening preferences. You can enjoy listening to your favorite artists and catch up to that old playlist with friends with a pair of full-range drivers. Or you can set a home theatre with a 7.2.4 channel configuration setup that includes lots of speakers, a tweeter, a center channel, and a built-in woofer for the bass reflection.
We understand many speakers are not enough for the audiophiles, but we still have to settle on one, right? This article has a variety of soundbars with different channel configurations to help you choose that best suit your preference.
Subwoofer-Wireless or Built-in
While listening to music, top and mid-range frequencies set the bar high, but the lower frequencies further enrich the sound and make it worth listening to. Audiophiles love the combination and can't stop themselves from adjusting the bass level to that accurate beating that turns the tables for parties and gaming.
So, whether you choose to get a wireless subwoofer that can house a larger bass driver for heavy and ground-shaking bass or a soundbar with a built-in woofer, it is all based on your listening preferences.
Frequently Asked Questions (FAQs)
What is the best soundbar for audiophiles?
Nakamichi ShockWafe Elite is the best soundbar for audiophiles with a 7.2.4 system, wireless subwoofer, and two rear satellite speakers. It features Dolby Atmos and DTS: X for the dimensional sound, and the deep bass ensures a thundering listening experience.
Bottom Line
When shopping for a home theatre, many people often go for smart TVs thinking they get an all-rounder for better viewing and listening. But the latest TV production is quite disappointing as the slim profile TV can't make enough room for the built-in speakers.
So, we have this innovative technology called soundbar that can satisfy all your audio listening requirements. We have discussed the best audiophiles soundbar, featuring excellent sound performance, elegant design, and reasonable specs.
Mia Evelyn is a soundbar specialist and she love to test and review different soundbar brands. She shares her neutral and in-depth reviews through the Soundbar Mag.