Now is the best time to invest in a reliable Soundbar because the smart TVs disappoint us with poor audio output, forcing us to upgrade the sound system with Soundbar. The more screen sizes are getting thinner, the less space they have to integrate speakers. Thankfully, we have Soundbars to the rescue, which keeps the party going with high-resolution audio and deep bass.
The Soundbar is a slim-profile device that projects the Sound from TV and creates cinematic vibes with clear, loud, and realistic sound. We have tested and reviewed the best Soundbar for Sony TV that you can trust blindly and enjoy 3D surround sound.
Let's explore the top 5 Soundbars for Sony TV and get the one that best suits the requirements.
List of the Best Sony TV Soundbar in 2022
1. Sony Z9F Soundbar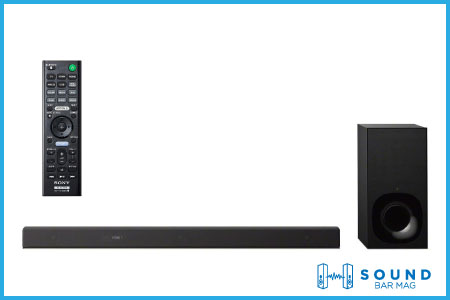 Upgrade your Sony TV speakers with a Sony Z9F soundbar and enjoy loud, clear, and distortion-free sound. Sony Z9F is a 3.1 channel soundbar that features dual upfront full-range drivers Dolby Atmos-certified, ensuring loud music comes from your head and fills the room. Apart from full-range drivers, SonyZ9F Also has a dedicated center channel that enhances voice clarity for better dialogue understanding.
Moreover, the best Sony TV Soundbar features seven Modes that optimize the sound quality according to the content. Music, cinema, News, Sports, and other modes deliver a dramatic experience while highlighting the dialogues and adding the extra bass where needed. In addition, the smart Soundbar also works with Alexa for easy navigation and setup. Just ask Alexa, and she will browse your favorite songs from the vast collection and play it for you. Besides, connecting the device is not hectic with WiFi and Bluetooth connections.
The high-resolution audio with excellent dialogue delivery delivers value to the money. The DTS:X format and 4K HDR passthrough are killing; especially audiophiles will enjoy the thrilling audio output from the Soundbar.
With only 400W power consumption, this vertical surround engine will shake your room with a powerful sound that goes loud without any distortion. The center channel continuously enhances the dialogue, making you hear the whispers to upscale detailing.
Pros
• High-resolution audio
• Gets loud
• No distortion in audio
• Wireless streaming
• Voice enhancement
• Voice control support
• 4K HDR passthrough

2. Sony HT-A7000 Soundbar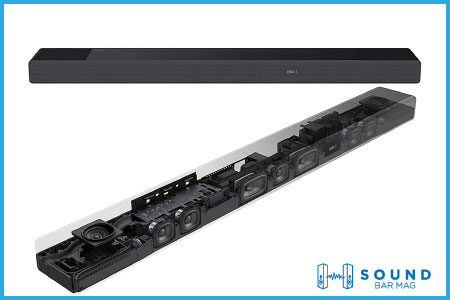 Another Sony's high-end Soundbar is perfect for building a surround sound stage at your home. It can turn the tables by connecting with the Sony smart TV and boost your audio listening experience with premium sound quality.
Sony HT-A7000 Soundbar is a one-piece unit that houses all the drivers in a smart, compelling body, protected with a subtle metallic grill. It is a 7.1.2 channel Soundbar, meaning it has 7 speakers working to produce rich sound. The Soundbar has 1 channel subwoofer, two up-firing speakers, side-firing, center, and speakers at the front and back.
All the speakers are Dolby Atmos and DTS Virtual:X certified so that the sound will be coming from every direction, including the top.
A simple display under the front grille can be dimmed when not used. The touch-sensitive buttons for the basic functions are also at the top for quick access. However, this Sony TV Soundbar is Alexa-ready to control and manage the device with your voice.
In addition, A-7000 offers a seamless connection to other devices via WiFi and Bluetooth. Also, the back panel of the Soundbar has all the connectivity inputs that you can imagine. This high-end Soundbar contains HDMI 2.1, Optical digital, USB, and analog cable ports.
The sound quality is pretty excellent and clear. There are no distortions and unnecessary bass rumbling, but the integrated technology balances the audio effects and delivers content and ambiance. The vocal enhancement feature enhances the dialogue, and the tweeters adjust the flutes and pitches accordingly.
Pros
• High-resolution audio
• 7.1.2ch Soundbar
• Wireless music streaming
• Voice control compatibility
• Clear dialogue

3. Sony HT-A5000 Soundbar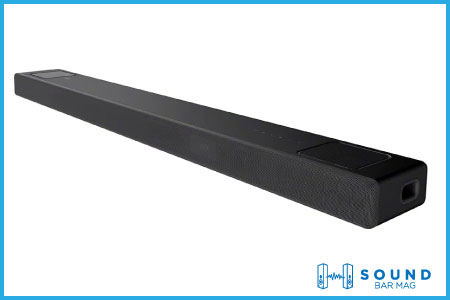 Sony A-5000 is a new addition to the brand's Soundbar family, and it is perfect from every angle. From subtle design to reliable build quality, it is designed to stay with you for quite a long time. Besides, 4K HDR passthrough, wireless streaming, a center channel for better dialogues, and 450W power consumption make it suitable for everyday use.
The Soundbar features Sound Field optimization technology that adjusts the sound delivery according to the environment. The sound can get wild and let you feel the depth from height and beyond. The vertical surround engine creates an optimal sound that blends in your space effortlessly.
The Dolby Atmos and DTS:X certified speakers give you a new sensation of sound with room-shaking and thrilling audio quality. This 5.1.2 channel Soundbar contains two up-firing speakers for overhead sound, two beam tweeters, and three front speakers for exceptional sound production. It also features a dual subwoofer for deep bass that immerse you in music so you can fully enjoy it.
The smart TV and Soundbar pair will enhance your watching and listening experience and operate by your voice. In addition, the smart Soundbar for Sony x90j is Alexa ready, so when you pair it up with the TV, it will detect instantly and start working. Besides, the 8K and 4K/120 passthrough is another highlight of the Soundbar, making it the top choice for audiophiles.
Pros
• Powerful and rich Sound quality
• Sound calibration according to the ambiance
• 5.1.2 Dolby Atmos-certified drivers
• 8K HDR and 4K passthrough
• Voice assistants
• User-friendly AI
• 360 dramatic sounds

4. Sony S100F Soundbar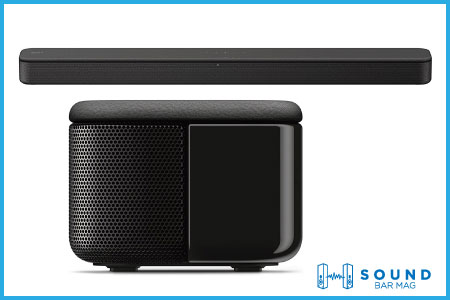 If you ever need a reliable Soundbar for Sony Bravia TV, Sony S100F can be a fantastic option. It is a 2.0ch Soundbar that offers easy setup and wireless streaming with all your smart devices while consuming only 120W power. Also, it is more compact than you think, so it can easily fit into the smaller spaces, including your office.
The 2.0 channel Soundbar contains dual up-firing speakers that deliver Surround Sound from a mini packet bar. The speakers are powerful enough to deliver punching bass and never compromise the clarity and detail. However, it does not have any dedicated center channel for dialogue, and the speakers are also not Dolby Atmos certified. Still, it can be a great entry-level yet affordable way to upgrade your Sony TVs speakers.
Thankfully, the Soundbar produces deep sound, and the built-in tweeter highlights the flutes and tunes of every track. The sound gets loud and deep with a mixture of bass, making the sound more thrilling and room-shaking.
Besides, the Soundbar also features a voice enhancement feature that enhances the dialogue delivery, making every whisper clear and precise to understand. Also, no matter the audio frequency level, there will be no disturbance in the audio quality.
Additionally, the Bluetooth and HDMI ARC connection make the connectivity more convenient, saving time to start a party. Also, this Sony TV Soundbar integrates S-pro technology that produces high-fidelity audio that instantly fills the room with vibrations, tunes, and noises and boosts your music streaming.
Pros
• Slim and elegant design
• Voice enhancement feature
• Bluetooth streaming
• Deep and powerful sound
• Only 120W power consumption
• Built-in tweeters

Cons
• No WiFi
• No HDMI input

5. Sony S200F Soundbar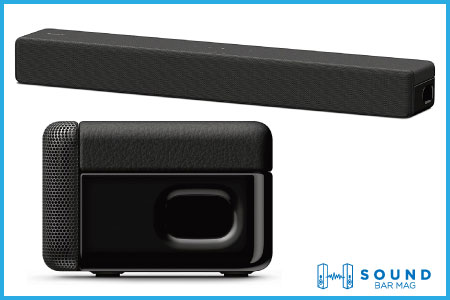 Sony S200F is a little upgrade to the S100F Soundbar but competes for the market with its durable build quality and crystal-clear audio output. It is compact, elegant, and handsome that is only 7.45lbs heavy with dimensions of 25.38 x 6.31 x 7 inches long. It is also an entry-level Soundbar that focuses on producing loud and clear sound, at least five times better than the TV's sound system.
Sony S200F is a 2.1ch Soundbar with 80W power consumption and a Bluetooth streaming option. It produces premium audio with superior clarity and detail. Though it does not feature any center channel to enhance the dialogue, the voice enhancement feature covers the drawback. You can activate the feature and get the most out of your streaming whenever you watch dialogue-sensitive content.
Furthermore, the built-in subwoofer optimizes bass delivery, enhancing the high-profile audio to deliver thrilling sound performance. It may be only an entry-level Soundbar, but it can get louder and more powerful with special audio effects to add life to your parties and movie nights.
Pros
• Bluetooth streaming
• Clear, loud, and high-resolution audio
• Compact and portable profile
• Built-in subwoofer
• Voice enhancement

Cons
• Not any audio format support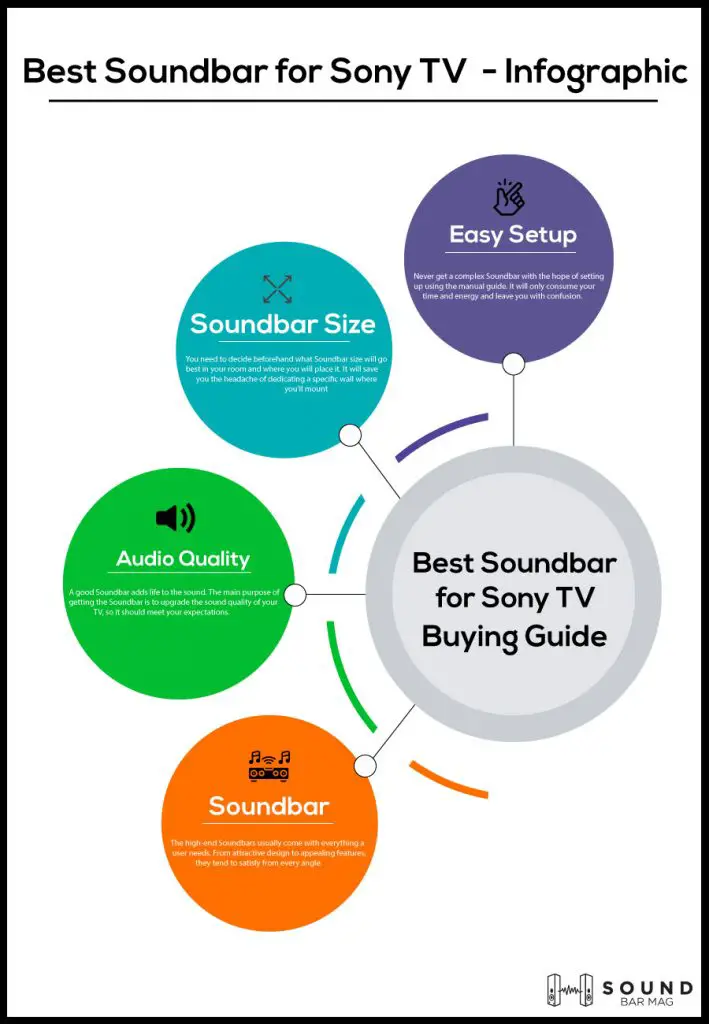 Best Soundbar for Sony TV – Buying Guide
The high-end Soundbars usually come with everything a user needs. From attractive design to appealing features, they tend to satisfy from every angle. But not every specs and feature are helpful, so better get the Soundbar that matches your needs, blends in with your house décor, and give value to the money.
Here are some considerations that need your attention before choosing the beat Soundbar for Sony TV.
Easy Setup
Never get a complex Soundbar with the hope of setting up using the manual guide. It will only consume your time and energy and leave you with confusion.
Always choose the Soundbar with an easy setup like all the best Soundbars for Sony TV mentioned above are plug-and-play devices. You only have to plug the power cord, connect the devices, and hit the play button.
Soundbar Size and placement
You need to decide beforehand what Soundbar size will go best in your room and where you will place it. It will save you the headache of dedicating a specific wall where you'll mount it or get the furniture to place it right after the expensive Soundbar shopping. These are interdependent factors that need your attention before making the final decision.
We recommend you mount the Soundbar right beneath the Sony TV. It will look pretty, covers the entire room with premium sound, and help you with connections.
Audio Quality
A good Soundbar adds life to the sound. The main purpose of getting the Soundbar is to upgrade the sound quality of your TV, so it should meet your expectations.
Soundbars with Dolby Atmos or DTS:X support should be your priority. The formats enhance the sound production, filter the distortion, add exciting effects, and make it vibrant for a thrilling experience. The dialogue delivery should also be clear and precise for movie or news streaming.
Frequently Asked Questions (FAQs)
Which Soundbar is good for Sony TV?
Sony HT-A5000 is a 5.1.2ch Dolby Atmos certified Soundbar that offers excellent sound quality from a high-profile bar. It can optimize the sound according to the ambiance, and voice control assistants help you set up, connect, and control the device. 4K HDR passthrough along with wireless streaming are other convincing factors.
Do Sony soundbars work better with Sony TV?
Yes, Sony Soundbars can go pretty well with Sony Soundbars as they pair up instantly, are easy to operate, and project the TV sound more friendly. The compatibility rate of the same brands' devices is higher and better than any others.
Do I need a soundbar with Sony TV?
It's time to upgrade your existing sound system and invest in the best Soundbar for Sony TV. It is a thoughtful device for your home and listening to the better, clear, and detailed audio.
Conclusion
Enhance your music streaming experience with the best Sound bar for Sony TV and immersive yourself in deep, rich, and soothing sound. The Soundbars can up-level your mood with vibrant sound with excellent clarity and detail.
This detailed review and buying guide will help you positively impact the home theatre system to the house. According to your requirements, you can choose the Soundbar or refer to the guide to clear up your mind.