A passive soundbar is no different than the regular one, except they need an amplifier to current the channels to perform. It will operate exactly as the other soundbars; only you need to connect it with the external amplifier or receiver to work at its full potential.
Among many other benefits of getting the best passive soundbar, it is the best option to get if you upgrade your TV and other devices frequently because you can get the speaker-compatible amplifier and enjoy powered sounds with the old soundbar.
So, it can be a one-time investment for years, and it has to be the best one. We have selected the 5 perfect passive soundbars for you that have an excellent frequency spectrum, decent connectivity sources, and subtle horizontal/vertical sound dispersion capacities.
Check out our top picks with a detailed review.
List of the Best Passive Soundbar in 2022
1. Polk Audio Signature Series S35 Soundbar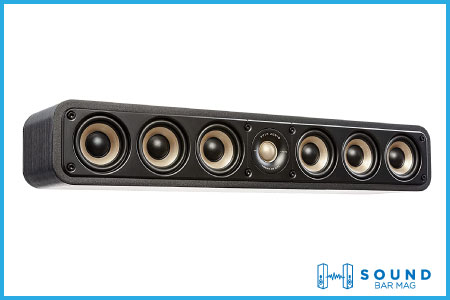 The Polk Audio S35 is a decent soundbar with a slim profile and extraordinary sound reproduction that can bring life to your entertainment sessions. It can produce distortion-free sound, so you can enjoy every moment of the content you play or watch.
Polk Audio soundbars are famous for crisp and clear sound, and Polk patented power port technology ensures you feel the cleaner and low-frequency bass for impactful listening. Thanks to the center channel, it can produce room-filling sound without compromising the vocal clarity.
It may have an unusual design like the typical soundbars, but it is unique yet powerful. The soundbar features a 4-way speaker with a Dynamic balance acoustic array to widen the sound stage and optimize the audio delivery for the well-balanced surround sound. In addition, Dolby Atmos and DTS:X compatibility further expand the listening experience.
This is our top pick for the stunning sound recreation, appealing design with glass finishing, and portability. The dual power port for the effortless bass and amplifier pairing gives you a seamless connection process. However, you may face a little trouble while controlling the device because it does not come with dedicated remote control.
Pros
• Thumping bass
• Dolby Atmos and DTS:X
• Bold appearance
• Portable profile
• Stunning clarity

2. KEF HTF7003 Soundbar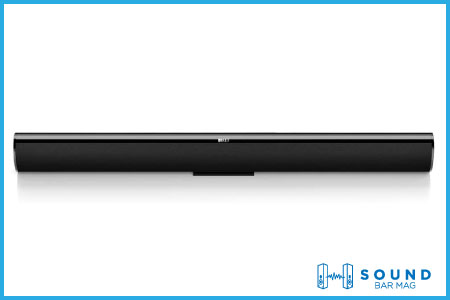 If you plan to set up a home theater setup and looking for a minimalistic but powerful speaker, KEF HTF7003 fits the requirement. It doesn't look different than the other passive soundbars on the market, but the glossy finish and oval shape from the sides give it a modern touch.
The driver distribution inside the spacious body is surprising. It contains 0.75 bass drivers for every two channels. The power handling capacity is up to 100W, which is excellent for the compact soundbar. Also, the frequency response of 120Hz to 22kHz with the max SPL of 106dB suggests getting loud enough to entertain a large audience.
The stereo dynamics are decent, and there are no harmonic distortions at the max volume so it can go well for movies and heavy music streaming. Also, the gold-plated terminals at the rear end ensure secure and stable connections with the speaker wires, and no noticeable mess is created.
KEF HTF7003 comes with a table stand and mounting brackets for a flexible setup, and its fine design compliments the home décor. Also, another pleasing built-in function of the device is automatic sound customization according to the content and room acoustics for a healthier listening experience. Hence, considering the full-range directional sound and portable design, this passive soundbar is ready to hit the room.
Pros
• Dual bass drivers
• Stable and secure power ports
• 100W of power output
• 106dB max SPL

3. Klipsch RP-440D-SB Soundbar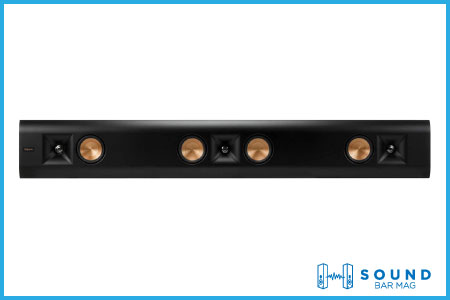 Klipsch RP-440D-SB is a decent 3-channel passive soundbar with a maximum power output of 200W per channel. The bar is only 5.44kgs in weight and only 6-inches high, making it a relatively versatile bar for your houses and workstations.
Klipsch can be relied on for high-frequency sounds while improving the dynamics and imaging. The 90X90 Tractrix Horn also enhances the frequency response and extension, making the sound more enriching and detailed for casual or heavy listening.
The slim profile of the bar perfectly matches today's flat-panel TVs and is a powerful and dramatic upgrade to its built-in speakers. At the same time, accompanied by the latest amplifier to provide channel support, it can turn the tables and turn your space into an entertainment hub.
Moreover, to make it feel like home, it comes with a mounting bracket set that allows horizontal and vertical placement, and the glass base gives a steady base for it to perform at its full potential.
The sound reproduction with deep bass gives you a sense of moving sound that feels like a live concert. The maximum frequency response of 65Hz to 25kHz at the sensitivity level of 92dB is sufficient to entertain a large audience, but it can be more exciting while playing fast-action games.
The sound clarity is extraordinary that delivers every vocal with subtle precision for higher understanding. The center channel works to purify the dialogues even with the bass reflex drivers working along. However, it is quite expensive for the bar, and the built-in functions are relatively limited. Still, it can be a reasonable addition to the home theater setup.
Pros
• Dome linear travel suspension tweeter
• Multiple placement options
• Connects with regular speaker wire
• Low bass response
• Great sound clarity

4. Dayton Audio BS41 Soundbar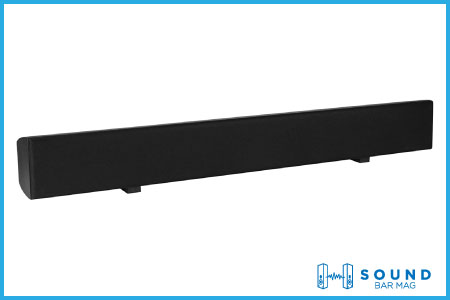 If you want a soundbar that works with 5.1 or 7.1 stereos, invest in the Dayton Audio BS41 soundbar with stunning looks and a sturdy body to fit in home and work studios.
The ultra-slim soundbar hosts three woofers and three tweeters that deliver a power output of max 100W each at a frequency range of 40-22,000 Hz. The soundbar can get pretty loud and deliver ground-shaking bass even without an external subwoofer. Also, the dialogue delivery is worth noticing, so you can use this bar as the ideal centerpiece for the home theater setup.
When used with a medium to high-powered AV receiver, it brings life to parties. However, if you want more power and excitement to make the most out of it, connect an external subwoofer and see the frequency level goes down a little more for the bass depth.
This passive sound bar is worth considering for music listening, TV watching, and even gaming with an easy setup and quick installation.
Pros
• Simple plugins
• High-frequency range
• Incredible power handling
• Loud and clear sound projection
• Pure, clean, and deep bass

5. Martin Logan Motion SLM X3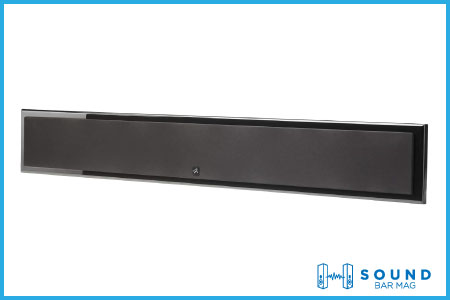 Martin logan motion is another passive soundbar with a three-channel system and power output of 140W. It also has a slim and elegant design with a black matte coating and power output ports to connect external receivers and subwoofers.
The attractive design easily blends in any environment and starts performing with full confidence. However, it is very important to connect the right receiver to give it a powerful push for exceptional performance.
Calling it the recommended passive soundbar would do justice to its built-in driver placement, including six mid-range drivers and three folded motion tweeters. Its crossover frequency range is about 3,000 Hz, and the typical frequency response ranges from 120 to 23,000Hz.
Though it delivers high-resolution sound with clarity and necessary crispiness, you can still widen the soundstage by connecting a wireless subwoofer. It can complement the TV sound alone and improve its projection while watching any content. The content clarity never seems to compromise despite the volume level and context of the content.
In addition, the connectivity ports are quite sophisticated, individually marked as the right, left, and center channels to eliminate any possible confusion. Also, the easy wall mount frame wouldn't cause any problem during the connection process, and the basic ergonomic with tilt would help you get the most out of the device.
Pros
• Easy wall mounting
• Long but slim design
• Balanced treble performance
• High-frequency responses

Cons
• A little complex to get along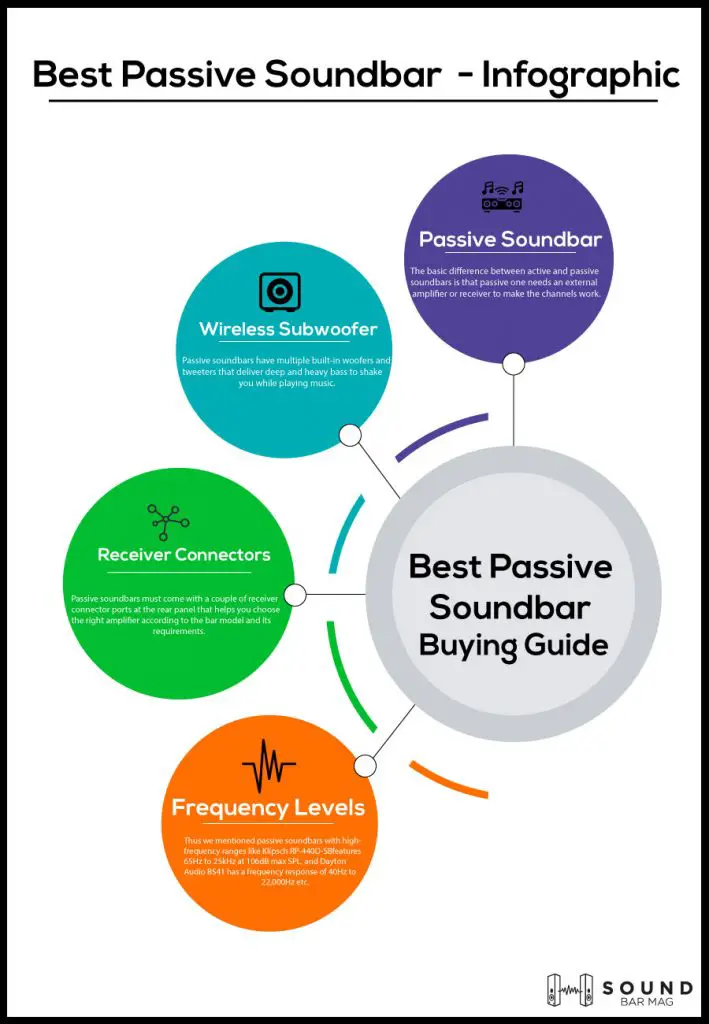 Best Passive Soundbar 2022 Buying Guide
Many people still don't know the difference between active and passive soundbars, so they end up getting the sound system they can't handle to operate.
The basic difference between active and passive soundbars is that passive one needs an external amplifier or receiver to make the channels work. However, active soundbars have a built-in amplifier that powers the channels without any external interference.
Both types of soundbars are equally potent and set a heavy soundstage for music, games, and regular TV watching. Nevertheless, passive soundbars produce more raw audio with noticeable tuning, perfect clarity, and ground shaking bass with built-in woofers.
In addition, passive soundbars are usually considered the center piece for the home theater systems because they improve the vocal reproduction of content and deliver the sound that moves you. So, investing in the passive soundbar is worth every penny you spend on it.
Do I Need a Wireless Subwoofer?
Passive soundbars have multiple built-in woofers and tweeters that deliver deep and heavy bass to shake you while playing music. The placement of woofers is also pretty discreet, so it throws low frequencies from every side and blends with the other equipment smoothly.
So, that may eliminate the need for any external subwoofer. Still, if you would like a heavy sound system setup and have something exciting in mind, check out the best subwoofer for soundbar and try exploring more avenues of music.
Receiver Connectors
Passive soundbars must come with a couple of receiver connector ports at the rear panel that helps you choose the right amplifier according to the bar model and its requirements. Many passive soundbars feature one connector, but we have seen and reviewed soundbars with individual ports for left, right, and center channels.
Frequency Levels
Frequency responses of the soundbars always set the bar high because the sound volume and its quality matter.
Thus we mentioned passive soundbars with high-frequency ranges like Klipsch RP-440D-SBfeatures 65Hz to 25kHz at 106dB max SPL, and Dayton Audio BS41 has a frequency response of 40Hz to 22,000Hz etc.
Frequently Asked Questions (FAQs)
What is the Best Passive Soundbar?
Martin Logan Motion is a 3-channel passive soundbar with a maximum power output of 140W, hence known as the best passive soundbar in the market. The frequency response of 120-23,000Hz with premium clarity and detailing is also surprising from the compact body.
Can I use a soundbar as a passive speaker?
Technically a passive soundbar can be used as a center speaker in heavy sound systems like a home theater. It gives the pleasure of raw sound quality with perfect tuning and excellent clarity.
What does a passive soundbar mean?
The passive soundbar needs an external amplifier to power the channels so they perform how they supposed to be. They have built-in woofers for the required bass, but you can always connect an external one with the powerful receiver to make it a home theater.
Are Vizio soundbars active or passive?
Vizio has a collection of active and passive soundbars, and you can get one according to your preferences. The passive soundbar has connections at the rear panel to pair a receiver because it needs one to power up the built-in channels.
Bottom Line
Active or passive soundbars have one thing in common-producing the best quality audio to provide an immersive listening experience.
The operating criteria are a little different with a built-in or external amplifier which depends on the usage and individual preferences. Though active soundbars are perfect for regular streaming or improving the typical speakers, passive soundbars can be a game-changer for home theater or heavy sound systems.
This article introduced you to the best passive soundbars with premium built and superior sound performance.