A soundbar is a modern device with many drivers to produce a powerful sound and transform your audio listening experience in no time. It is an updated version of traditional speakers and a mini version of a home-theater designed for home and office use to enjoy a loud, crisp, and clear sound performance.
However, the soundbar market is expanding rapidly, and brands are launching new models daily. Therefore, finding the best budget-friendly soundbar has become a hectic task.
Well, no worries anymore because we will discuss the powerful soundbars with terrific sound performance and impressive built-in features for your everyday music, podcasts, and audiobook listening.
We narrowed down our research with a certain budget and compiled a list of the best soundbars under 300. All these soundbars may be an entry-level profile, but the sound projection and clarity will leave you to wonder.
List of the Best Soundbar Under 300 USD in 2023
1. Sony HT-S350 Soundbar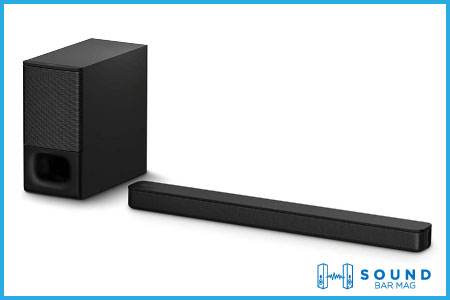 Sony HT-S350 is a 2.1ch wireless soundbar perfect for setting a wide soundstage for mixed usage. It is a stylish-looking soundbar with faux leather covering the panel and a metallic grille at the front to conceal all the drivers.
It also contains several touch-sensitive buttons for quick navigation and enabling Bluetooth. Besides, navigation via remote control is also available and included in the kit.
The soundbar is designed to enhance your TV streaming and music listening experience, offering multiple modes to optimize sound quality. We could easily enable or switch the modes via remote and enjoy the customized sound.
The soundbar contains front-firing drivers that produce powerful sound and an external subwoofer comprising a 6.3-inches driver to add a bass punch. In addition, auto-volume and night mode adjustment makes a difference while streaming audio in different circumstances.
Different sound modes elevate the performance and make the content more immersive. Moreover, besides the entry-level low-profile design, the soundbar can turn the tables on sound output quality. Even though it does not include a dedicated center channel for dialogue enhancement, the vocal clarity is still worth admiring.
Also, connecting the device via optical digital, HDMI, and Bluetooth makes the device flexible for multiple smart devices. Therefore, the virtual sound performance at a reasonable price is worth investing in if you want to.
Check: Best Soundbar Under $400
Pros
• Affordable soundbar under 300 with wireless pairing support
• EQ presets
• Bass level adjustments
•
Dolby Digital
• Stylish design
Cons
• Limited features
• No audio format support

2. YAMAHA YAS-109 Sound Bar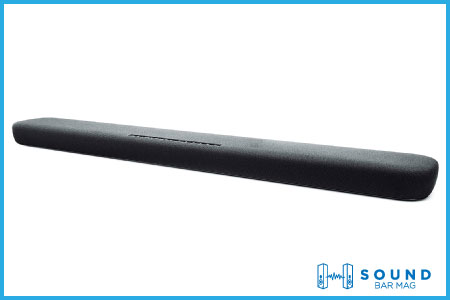 The Yamaha YAS-109 soundbar has a 2.0 channel setup with impressive features and delivers a thrilling acoustic experience at an affordable price. It is a smart entry-level soundbar that offers multiple EQ presets to adjust the sound according to the content for better understanding and wireless connection capabilities.
Setting up the one-unit device is seamless with Wi-Fi, Ethernet, optical digital, and HDMI. Also, managing the device is exciting via remote control and Alexa compatibility, and the Alexa addition at this price was shocking to us.
The voice-activated soundbar is flexible to use for multiple purposes, especially for events at home, because you don't need to stay near to manage volume or enable presets.
The stereo soundstage performance is okay, as the bloomy sound profile punches correctly. Though it lacks Dolby Atmos or DTS support, the front-firing drivers and built-in woofers still cover the pitfall and deliver room-shaking sound.
Moreover, Yamaha YAS-109 is relatively compact and portable to adjust in homes, offices, working studios, and the backyard for movie nights. The pure and crisp audio gets loud and shows no signs of compression artefacts, making it the best soundbar under $300.
Despite not having a dedicated channel for dialogue improvement, it uses right and left channels to simulate a center channel and produce clear vocals. Therefore, it is a valuable yet premium upgrade to TV speakers, gaming, and to satisfy everyday music streaming.
Pros
• Built in-in woofers
• Decent sound profile
• Dialogue enhancement feature
• Solid connections
• Gets loud with no compressions

Cons
• The built quality is not sustainable

3. JBL Bar 2.1 Soundbar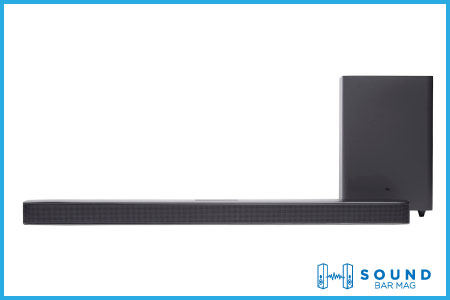 JBL Bar is a 2.1-channel soundbar with a wireless subwoofer and punchy bass to set an expansive soundstage for everyday music listening. The bar measures 2.3 x 38 x 2.7inches (HWD) and weighs around 4.2 pounds, making it a portable device to move around the house easily.
Besides, the soundbar is super easy to use with the touch-sensitive control buttons at the top panel. They may seem sensitive but looks stylish and attractive.
The metallic grille at the front conceals the four racetrack powerful built-in drivers and dual tweeters. The front-facing drivers produce loud, pure, and powerful sounds without distortions.
The soundbar can fill the room with quality audio in no time and can entertain crowded rooms with its clear sound projection capability. We tested it with a huge audience, and it worked just fine with audio and dialogue delivery.
Moreover, the soundbar features multiple modes to customize the sound and optimize the playing content. So, whether you watch TV shows, movies, documentaries, or play games or music, it will adjust the audio components automatically to ensure an immersive listening experience.
Besides, the wireless subwoofer produces deep and punchy bass with its down-firing driver that delivers 200W maximum power with a frequency range of 40Hz to 20 kHz. Connecting the device is seamless via Bluetooth, Optical digital, and HDMI support.
The included remote is icing on the cake because it is detailed enough to help operate the device from your couch's comfort. The soundbar gives value to your money while adding life to your boring entertainment life.
Pros
• Attractive yet subtle design
• Different sound modes
• Virtual
surround sound
• Handy remote control
• Wireless streaming
Cons
• Bass is not punchy at loud volume

4. ZVOX SB380 Aluminum Sound Bar
ZVOX SB380 is a multichannel soundbar with compelling accessories and terrific sound performance for music and podcast listening.
Though it is designed for TV streaming, the excellent dialogue delivery with next-level clarity makes the device optimal for vocal-sensitive content. We tested it with a diversity of content and were impressed by the performance.
The soundbar integrates AccuVoice technology, high-performance speakers, and a digital amplifier that works together to keep you hooked with remarkable performance.
The virtual surround system stage makes the sound projection wider for the theatre-like vibes, making the purchase worth making. In addition, it comes with a premium and sustainable aluminum material and offers easy setup via Bluetooth.
It is a 3.1 channel soundbar that packs 2-inch front-firing drivers and a 4-inch bass subwoofer. Since it includes a woofer that performs significantly well, it does not have an external woofer jack, so you cannot add an external subwoofer.
However, it allows pairing to external devices via Analog input dual optical digital. Yet, the lack of Bluetooth at this piece is a shame the brand faces. The input ports were easy to reach and didn't make much mess.
Nevertheless, the audio delivery is bright and vibrant, making it the best under-300 dollars soundbar and valuable for everyday listening. Moreover, even without AccuVoice technology, the dialogue performance is clear and big.
Still, the 6 boosting levels make them more understandable and make the soundbar best for the hearing impaired. It also softens the commercials without enabling any specific mode not to disturb you with irritating background tunes.
Pros
• Portable soundbar
• AccuVoice technology for dialogue enhancement
• Best soundbar for hearing impaired with pure dialogues
• Gets loud and thrilling
• Tames loud commercials by output leveling
• Affordable

5. Samsung HW-N450 Soundbar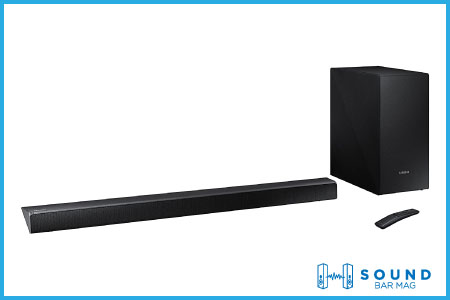 Samsung HW-N450 is a 2.1 setup soundbar perfect for audiobooks, podcasts, and casual music streaming but struggles with content optimization for movies.
It is an ideal device for stereo content, like everything involving dialogues, since its vocal presentation is better than ever. It is also a plug-and-play device with easy setup and wireless streaming; however, it is a shame to discuss the lack of an internet connection.
The soundbar has an attractive profile with dark grey color in plastic-built quality and a metallic grille at the front. The grille protects built-in drivers that are responsible for sound production. Besides, the subwoofer's plastic body is also environment-friendly and portable enough to move effortlessly.
Furthermore, the soundbar can get loud enough to fill crowded rooms with quality audio output that does not throw compressions and distortions in max volume.
The soundstage is also decent, and we can call it wide for certain content. In addition, the phantom center channel strives to enhance the dialogue delivery by simulating right and left channels, which sometimes sound diffused but are better for everyday listening.
The fruitful sound with weighty bass under 300 is like a dream come true. Its treble, bass, and virtual surround sound adjustments allow you to customize the sound projection according to your taste.
However, the soundbar does not have height channels or Atmos support, but the lack of accessories at this price makes sense.
Pros
• DTS and Digital support
• Budget-friendly
• Solid design
• Bluetooth streaming
• Decent soundstage

6. Polk Audio Command Sound Bar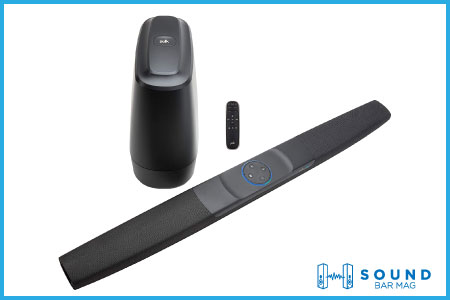 Polk Audio Command Soundbar has an unusual but attractive design that blends with any home environment and catches your attention in no time.
The soundbar is designed to upgrade your TV speakers, but the sound projection is excellent enough to use for different purposes. Luckily, you can consider it a center speaker for a home theatre setup that would satisfy your craving for loud, clear, and pure music.
The soundbar is not coming alone, but a wireless subwoofer that delivers deep and weight bass fills the room. The shaking vibrations mix with premium sound frames and tunes and deliver a thrilling acoustic experience.
So, once you try the Polk Audio soundbar, there is no going back for TV watching or audiobooks/podcast listening without it.
Unlike other soundbars we discuss, this brilliant soundbar features Dolby Atmos and DTS, ensuring sound comes from different directions and hits you from above. Its voice adjust technology isolates the spoken word, filters out any audio tunings, and makes it clear to understand.
The clarity remains intact even without a dedicated channel that works to improve it. So, if you are looking for a soft soundbar for audiobooks, podcasts, or even casual music listening, it is an ideal choice to consider.
Moreover, Alexa compatibility makes the device always ready to perform. It easily controls the soundbar functionalities and continuously learns/monitors the playing history to work smoothly with you.
Also, the soundbar allows customizing voice levels for producing crisp, clear, and pure sound according to the playing content. We absolutely loved the functionality and feature-rich profile of the bar has a lot to offer at such less price.
Pros
• Flexible setup
• Atmos and DTS
• 4K and HDTV compatible
• Alexa ready with smart home control
• Sound customization levels
• Online music streaming

7. Sony HT-MT300/B Mini Soundbar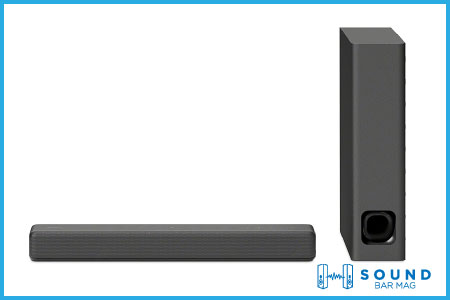 This portable mini soundbar with an external wireless subwoofer ends your journey of finding a soundbar for under 300 for TV, games, and music streaming. It brings thunder to the room with its powerful and loud sound that instantly mixes with the environment and changes the vibes.
It has a slim, subtle design with soft angles that fit different environments and complement your home décor. Also, a few touch buttons at the top panels entertain walk-in functions like adjusting volume, selecting input, switching connections, etc.
Surprisingly, the soundbar offers exciting pairing options, including Bluetooth and NFC protocols that require putting the Android device near the device and allow pairing hands-free.
It will start playing through your smartphone by beautifully syncing the content, and we liked the smart action of picking up notes to energize them. Since there is no Wi-Fi or Chromecast compatibility, it is a reasonable alternative.
It is an entry-level soundbar when it comes to sound production. It sets a decent soundstage, but we were hoping for more immersive and expansive. The clarity is inspiring for audiobooks and podcasts, and the bass delivery is punchy enough to feel during pop music listening.
Also allows adjusting bass and treble levels to set it according to your preferences, and the virtual surround adjustment is also worth noticing.
Undoubtedly, it is an affordable soundbar for basic needs like regular TV watching or music listening because it gets loud in no time, fills the room with stunning energy, and gives value for the money.
Pros
• Portable design
• Solid sound performance
• S-Force Pro virtual
surround sound
• Sounds great for movies and music
• User-friendly
Best Soundbar Under $300 – 2023 Buying Guide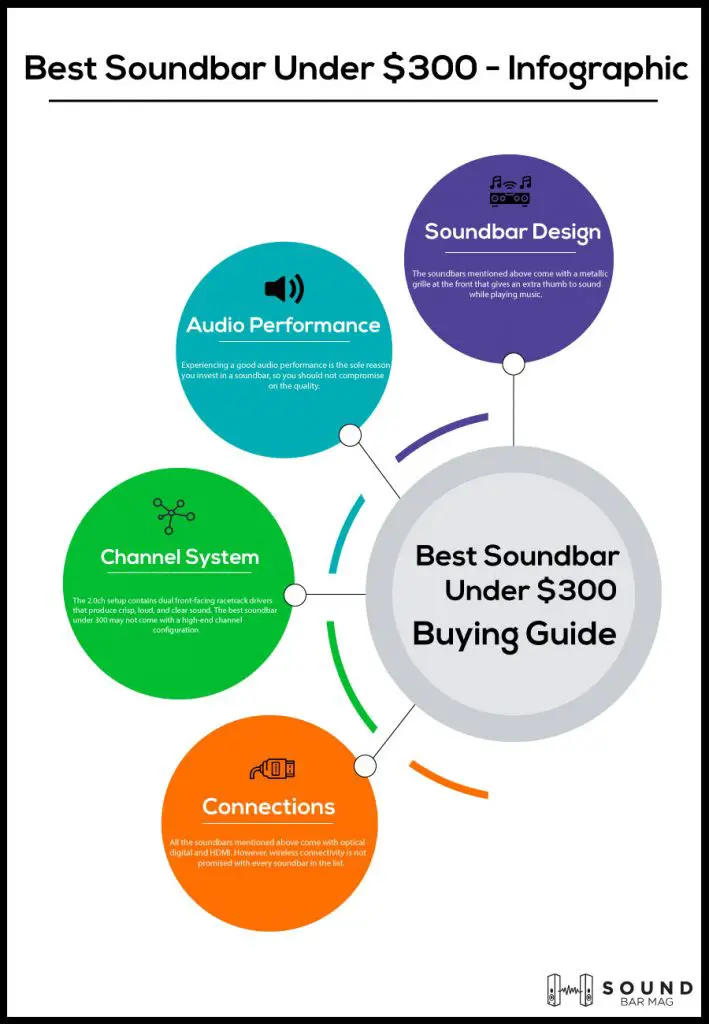 Having high expectations from soundbar is normal but having expectations according to the price you are willing to pay is thoughtful. The soundbar under $300 may not come with high-end features still; you cannot make the purchase blindly.
Whether you pay 300 or 1000, the soundbars should know their purpose and create a high soundstage for a better listening experience. We have tested and reviewed some best soundbars under 300 that can deliver powerful and energetic sound with basic yet useful features. We have also narrowed down our research according to:
Soundbar Design
You can find modern looking soundbars that can blend in different environments and throw luxurious vibes while sitting in the living room. Usually, the soundbars get wide due to the driver's placement and get heavy due to their sizes. This article will help you find heavy as well as portable soundbars, so you can choose according to your preferences.
Moreover, the soundbars mentioned above come with a metallic grille at the front that gives an extra thumb to sound while playing music. The good quality plastic panels are also sustainable yet make the device affordable. However, Aluminum built soundbars are durable but relatively expensive.
Audio Performance
Experiencing a good audio performance is the sole reason you invest in a soundbar, so you should not compromise on the quality. Every tune should be well-balanced to understand in different contents. Moreover, many soundbars offer different sound modes for easy customization of sound.
These sound modes make a difference if you get a soundbar for mixed usage. For example, the sound or music mode boost the volume, invite the weighty bass, and mix the treble and other tunes to create an exciting environment. However, the news mode would isolate the spoken word from background music and make it clearer to understand.
Channel System
The 2.0ch setup contains dual front-facing racetrack drivers that produce crisp, loud, and clear sound. The sound bar under $300 may not come with a high-end channel configuration, but you still can enjoy terrific sound quality with a 2.0, 2.1, or 3.0 channel system. You will also get a built-in woofer for the reasonable bass.
Similarly, the 3.0 and 3.1 channels are high-end channel updates with a few additional drivers to make the sound delivery more detailed with decent soundstage and center channel.
Connections
All the soundbars mentioned above come with optical digital and HDMI. However, wireless connectivity is not promised with every soundbar in the list. Physical input ports keep the device connected to the other devices, so it is essential to have multiple options for convenience.
What is the best soundbar under 300?
Polk Audio is the best soundbar under 300, even with the entry-level profile. It offers impressive features like voice assistant support and Atmos to deliver a thrilling sound performance. The soundbar is compatible with 4K and HD TVs and syncs the content beautifully for an immersive listening experience.
Does a soundbar really make a difference?
Yes, having a soundbar than regular speakers makes a difference while watching movies or listening to music. It expands the sound makes it more energetic, crisp, and clear to understand by isolating the background.
Are soundbars worth it?
Investing in a reliable and compelling soundbar is worth every penny because it transforms the sound listening experience in a good way. It sets a decent soundstage and provides a theatre-like experience using a multichannel source.
Bottom Line
Soundbars are a worthy investment if you are concerned about your everyday audio-sensitive content streaming. Unfortunately, the latest TV models have an awful sound production capability that raises soundbars' needs.
So, this article comprises the best soundbar under 300, which are a valuable upgrade to those failed TV speakers and deliver a decent sound performance.
In addition, you can also have a look at a mini buying guide if you are a beginner stepping into the soundbar market, and it will help you make the right decision about this valuable purchase.
Mia Evelyn is a soundbar specialist and she love to test and review different soundbar brands. She shares her neutral and in-depth reviews through the Soundbar Mag.