As technology continues to evolve, soundbars have become popular for those seeking a high-quality audio experience without the hassle of setting up a full-fledged home theater system.
The TCL Alto 5 soundbar is a new addition to the market, and we're excited to see how it performs against its competitors.
In this review, we'll look in-depth at its features, performance, and overall value for money. So, let's discover whether the TCL Alto 5 soundbar is worth your investment.
TCL Alto 5 2.0 Channel Home Theater Soundbar
Unboxing the TCL 5 Soundbar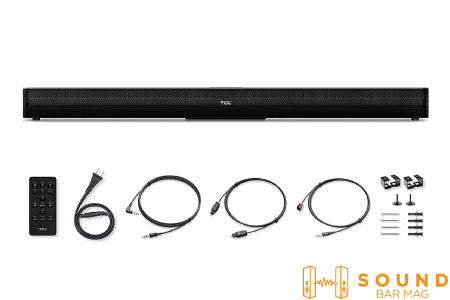 Thanks to its minimalistic and straightforward packaging design, unboxing the TCL Alto 5 soundbar is a breeze. The device arrives in a compact, sturdy box, with a clear image of the soundbar and its essential features printed on the front.
Upon opening the box, we found the soundbar neatly wrapped in a plastic cover, a power cord, remote control, and a manual guide for setting up instructions.
Size and Design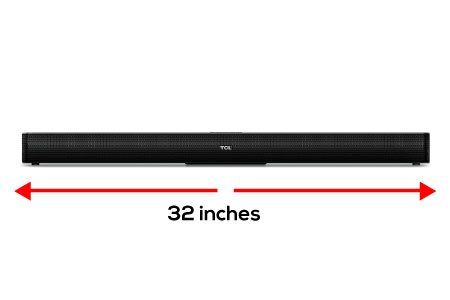 The TCL Alto 5 soundbar is a single device that measures 32 inches long, making it a perfect fit for most modern TV screens. Its compact and streamlined appearance allows for easy placement on a TV stand or wall mount without consuming too much space in your living room.
The soundbar's design is simple yet elegant, with a matte black finish that complements any home entertainment setup. Its curved shape and rounded edges add a touch of style, while the front-facing speaker grille gives the device a modern and sleek look.
One of the most notable design features of the TCL Alto 5 soundbar is its low profile, which allows it to blend in seamlessly with your TV without obstructing the screen. This design choice makes it an excellent option for those who prioritize aesthetics and want to maintain a clean and minimalist look in their living space.Top of Form
Channel System
The Alto 5 soundbar has a 2.0 channel system, with two speakers (left and right) working together to produce high-quality sound. This configuration allows the device to deliver a powerful audio experience without needing a separate subwoofer or surround sound system.
The 2.0 channel system in the TCL soundbar has been optimized to provide a balanced and immersive audio experience, with clear vocals, crisp treble, and deep bass.
The device uses digital signal processing (DSP) technology to enhance audio quality and reduce distortion, producing more accurate and realistic sound reproduction.
Connectivity Options
Like the TCL Alto 7 and 6+, this model also features various connectivity options that make integrating with different entertainment devices easy and won't let you think twice before bringing on the fun at home.
Though an entry-level profile, it features Bluetooth support that allows instant connection with smart devices to access your favorite playlists, TV shows, and much more. It doesn't require a cable connection, so it is a win-win.
Moreover, for the wired connections, it features multiple input ports of USB, IR pass-through, HDMI, USB, and AUX. These cables can elevate the fun with non-smart devices or if Bluetooth gives you difficulty connecting.
All these connectivity sources don't let you compromise on your fun and keep the party going. Besides, you can also connect an external subwoofer to expand your entertainment or home theater system.
Control and Navigation
The TCL Alto 5 soundbar has an intuitive navigation system that is easy to use and allows you to customize your audio experience. The device features a simple LED display showing the selected input, volume level, and sound mode.
Navigating the different settings and options on the TCL Alto 5 soundbar is a breeze, thanks to its user-friendly buttons at the top panel.
The buttons allow you to adjust the volume, bass, and treble levels, switch between different sound modes and even control audio playback from your Bluetooth-connected device.Top of Form
Sound Performance
The TCL Alto 5 soundbar delivers surprising sound performance with its 2.0 channel system and advanced audio technologies. The device produces a clear, dynamic sound with excellent clarity and balance across all frequencies.
One of the standout features of the TCL Alto 5 soundbar's sound performance is its ability to produce deep and powerful bass without needing a separate subwoofer. The device uses a built-in bass port and advanced digital signal processing (DSP) to enhance the low-frequency response, resulting in a more immersive and impactful sound experience.
In addition to its impressive bass performance, the TCL Alto 5 soundbar also produces clear and detailed mid and high frequencies, making it suitable for a wide range of content, from music to movies and TV shows.
It also features different sound modes, such as Movie, Music, and News, which are optimized for specific types of content and provide an even more immersive sound experience.
Pros
· Space-saving design
· 2.0 channel
· Bluetooth connection
· Quick and easy setup
· Sound modes
· Clean and loud sound

Cons
· No remote
· No audio formats

Bottom Line
At last, the TCL Alto 5 can turn the tables for your TV watching or music listening if you are still relying on your awful TV speakers.
The 2.0 channel system with wireless connection can provide an incredible audio listening capability that you'd be surprised to receive at this price.
Mia Evelyn is a soundbar specialist and she love to test and review different soundbar brands. She shares her neutral and in-depth reviews through the Soundbar Mag.