Are you also a gamer like me who thinks that powerful, multidirectional, and bass-heavy sound can fuel enthusiasm while gaming?
Then take your gaming excitement to the next level by connecting the loud, affordable, best soundbar for PS4 & PS5. Unlike TV or traditional Bluetooth speakers, the soundbar can deliver high-definition, accurate, and bass-heavy sound- exactly what a gamer needs.
Let's quickly check the top 3 soundbars for PS4 and PS5 that offer smooth setup, quick pairing, and stunning spec sets for TV watching, music listening, and unlimited gaming.
List of the PS4 and PS5 soundbars are as under:
Samsung HW-N950 Soundbar
Soundcore Infini Pro Integrated Soundbar
Yamaha YSP-2700 Soundbar
List of the Best Soundbar for PS4 & PS5 in 2023
1. Samsung HW-N950 Soundbar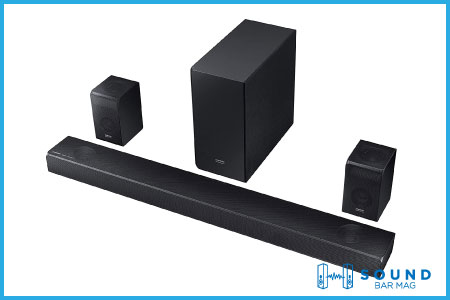 Samsung HW-N950 is a premium 7.1.4 channel system soundbar that creates a wide soundstage with side-firing and up-firing speakers compatible with Atmos.
It doubles the fun by ensuring a home-theatre experience with a multidirectional 3D sound that hits you from every direction. And Alexa compatibility will take care of functioning, switching connections, adjusting volume, browsing content, etc. 
The subtle appearance also catches the attention, but the performance of the 17 built-in speakers is mind-blowing. The center channel enhances the vocal clarity, and the built-in subwoofer delivers thumpy bass.
We call it a complete entertainment package as it has rear wireless speakers and a subwoofer for spectacular entertainment. Whether you connect the bar to a TV or gaming console, it will perform to its full potential.
The entire setup, installation, and mounting of the bar on the wall process are seamless with the kit and remote control. WiFi, USB, Bluetooth, and HDMI will help you pairit with external devices.
It is a one-of-a-kind soundbar from Samsung designed to listen to quality audio despite the content you stream. We tested the bar for music and movies and loved the bass performance at the max volume level. 
While connecting a TV with HDMI 4K pass through gives a realistic and lifelike watching experience and makes gaming more interesting and fun with dimensional sound.
Hence, this best soundbar for PS4 and PS5 is worth investing in if you are conscious of the sound quality while involved in fast-pacing games.
Pros
• Dolby Atmos and DTS: X technologies
• Excellent sound consistency
• Great stereo dynamics
• Best dialogue clarity
• Beautifully crafted bar

Cons
• A little expensive
• Heavy setup

2. Soundcore Infini Pro Integrated Soundbar
Are you also obsessed with the sound of racing cars, gun firings, or running in the game? If yes, you deserve a sound system that delivers sound with detailing and perfect clarity so that you will feel more engaged and excited. 
We recommend you try the Soundcore Infini Pro soundbar, which may not be famous yet, but a great 2.1 system bar designed for gamers and music lovers.
It has a portable and elegant profile in black and is covered with a grille at the front. The great built quality hints at its durability, while the appealing profile complements the entertainment setup.
Besides, it contains multiple physical input ports like USB, HDMI IN and HDMI ARC to have a stable connection with gaming consoles. The HDMI pass through is worth noticing, making the sound and TV content align with perfection.
The soundbar also features Bluetooth for wireless music streaming because the built-in speakers compatible with Dolby Atmos can deliver sound beyond imagination. The clarity is amazing even without a center channel, giving you precise details of whispers, walking, and moving objects in the game.
Apart from front-facing mid-range drivers, the soundbar is also equipped with a built-in woofer, bass reflex ports, one-inch tweeters, and bassUp technology that reproduces low-frequencies for the deep and heavy bass with some serious rumble.
The room-filling sound of up to 105dB is enough to cater to a large audience, and the cinematic sound can also be adjusted using a mobilephone-compatible app.
So, in case you want to upgrade your TV speakers or enjoy gaming with friends or siblings, get this Soundcore which is the best soundbar for PS4 so far in the market.
You may also like to read our guide on the connection of PS4 to Soundbar.
Pros
• Clear and loud sound
• Two-way sound with HDMI-ARC
• 120W of power output
• DSP technology
• Bluetooth streaming
• Dolby Atmos support

Cons
• No sound customization modes

3. Yamaha YSP-2700 Soundbar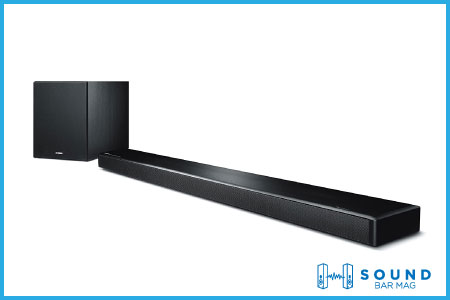 Yamaha is a huge name in the electronics industry with its extensive and incredible product line, and YSP-2700 is no exception with a wireless subwoofer and a great set of features.
It is an elegant ultra-thin soundbar that looks spectacular sitting under the TV. It may complement your home décor, but the audio quality is what we are after.
It reproduces high-resolution audio with 16 built-in speakers powered by amplifiers. The realistic and lifelike sound has all the bonus points that deliver clear, detailed, and loud audio.
Also, there are rarely any harmonic distortions in the max volume, so you can rely on it while playing PUBG, Free Fire, etc. Besides, the low-end notes are hard-hitting, thanks to the woofer.
Moving on, TV watching, listening to music, or even gaming in high-quality vision and sound is no longer a dream with the Yamaha YSP-2700 soundbar.
The versatile connectivity gives you enough room to pair a gaming console, DVD players, and TV to enjoy consistent, perfect syncing over an HDMI with a 4K passthrough.
WiFi and Bluetooth make it the ideal wireless speaker for online music streaming, and physical inputs make it the best soundbar for PS4 and PS5. Besides, you can connect it to a smartphone and catch up to your favorite playlist in incredible notes.
The Alexa compatibility would browse the games or playlists for you and play them without having you mess with the remote. It can also help with volume management and channel switching.
At last, it can deliver an immersive listening experience with the perfect upper and mid notes. We tested the bar for movies and music, and we can safely say that it is a valuable addition to any entertainment setup.
Pros
• Slim profile
• HDMI with 4K HDR passthrough
• Wireless connections
• Heavy and powerful sound performance
• Well-balanced upper, mid, and low notes

Frequently Asked Questions (FAQs)
What is the best soundbar for ps4?
Soundcore Infini Pro is the best soundbar for PS4 for its attractive profile, durable build, and maximum power output. It offers multiple connectivity options to pair a PS4 for stable pairing, and the sound performance is incredible for gaming or music listening.
Can you use a soundbar with a PS4?
Yes, you can use any compatible soundbar with PS4 and enjoy consistent, loud, and clear sound while gaming.
What soundbar is compatible with PS4?
Any soundbar with an HDMI cable is compatible with a gaming console like PS4. We have added some reliable soundbars like Yamaha YSP-2700 or Samsung HW-N950 that feature versatile connections and advanced specs compatible with PS4.
Conclusion
Whether you want to directly connect a soundbar to a PS4 or enjoy a sound via TV, you can rely on the top 3 soundbars mentioned above.
The soundbars are designed to work with gaming consoles, delivering dimensional sound that moves with the actions and dialogues.
So, why not check out these best soundbars for PS4 and PS5 and transform your gaming experience with premium sound and convenient use?
Happy gaming!
Mia Evelyn is a soundbar specialist and she love to test and review different soundbar brands. She shares her neutral and in-depth reviews through the Soundbar Mag.