Looking for a much more cinematic and home entertainment setup with your record player and turntable? Get a soundbar!
A soundbar packs dedicated speakers designed to provide you with the detailed version of dynamic landscapes found in modern blockbusters. It integrates advanced audio technology that helps you enjoy high-definition sound irrespective of the content.
However, finding a compatible soundbar could be hectic, especially with the not-so-modern entertainment devices, like record players and turntables. Therefore, we have tested the 5 best soundbars for the record player and turntable that will instantly connect and give you a noticeable upgrade to the sound.
List of the record player and turntable soundbars are as under:
Polk Audio Signa S3 Soundbar
VIZIO SB3821-C6 Soundbar
Bose TV Speaker
Polk Audio Signa S2 Soundbar
Sonos Beam (Gen 2) Soundbar
Best Soundbar for Record Player and Turntable Comparison Table 2023
1. Polk Audio Signa S3 Soundbar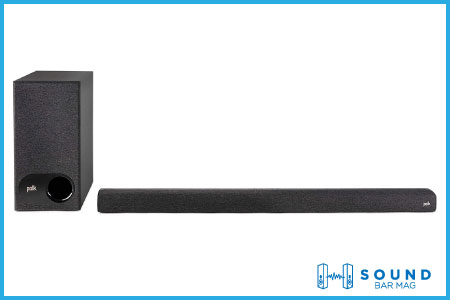 Polk Audio Signa S3 is a premium choice that can turn your space into an entertainment hub with a loud and clear sound quality. It has an elegant ultra-slim design that easily slides under the TV or adjusts right within the record player to enhance its audio outcome.
Connectivity is also seamless with WiFi and Bluetooth. But considering you are getting the soundbar to pair with turntables or record players, it is equipped with AUX, optical, and HDMI for effortless wired pairing.
Turn tables and record players are both tremendous in their ways and bring out the memories of listening to quality music in the old era. But the soundbar has its own charm.
Polk Audio Signa S3 doubles the fun by upgrading the audio outcome with its Polk Voice Adjust technology that customizes the sound with multiple tuning and adjustment options and maximizes the power based on the ambience.
The soundbar houses multiple speakers with dedicated tweeters that balance the tuning while purifying it and polishing the spoken word performance. The upper and mid notes hit right on the beat, giving you enough room to enjoy every bit.
Besides, installation and setup area breeze, with built-in voice control support. A built-in Chromecast gives you a flex of modern music streaming with a clear, crisp, sounding sound.
However, despite the incredible home entertainment setup, the lack of height channels and Atmos compatibility is a shame. Still, the affordable price tag comes into action to compensate for the only drawback.
Pros
• Pocket-friendly
• Wired connections for record players and turntables
• Google Home support
• Voice control
• Polk's voice adjust technology
• Well-balanced sound

Cons
• Height channel struggles
• No advanced sound effects

2. VIZIO SB3821-C6 Soundbar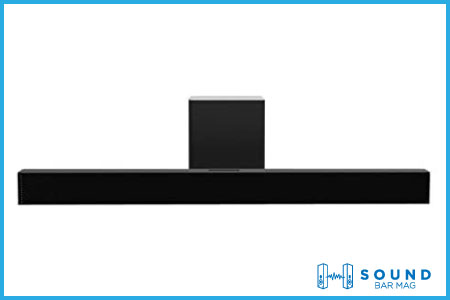 The next best soundbar for record players and turntables is Vizio SB3821-C6 for apparent reasons. It reproduces a well-balanced sound, exactly like the turntables, keeping in mind the respect of upper and low notes. It is a decent addition to our list with all the necessary features one would need to enjoy quality music.
The aesthetics may not offer much except the black flat profile, with a plain top panel and input ports at the back. The squared shape subwoofer with a wireless pairing with a bar also sits easily anywhere in the room and performs at its full potential over a single push.
The 2.1-channel system comprises dual-full-range drivers with dedicated tweeters to deliver excellent mixed-use acoustics. We tested the bar with classical music and loved how every mid, high, and low note was delivered on point.
Surprisingly, it can get loud and deliver up to 100dB of sound level without noticeable harmonic distortions. It should be enough to enjoy room-filling soft music while connecting to a TV, record player, and turntables.
Moreover, the driver's compatibility with Dolby Digital to reduce voice delays is not surprising. However, DTS TruSurround and DTS TruVolume can enrich sound delivery, enhance clarity, and deliver realistic surround sound with absolute consistency.
Moreover, setting up Vizio SB3821-C6 is not rocket science. It is merely a plug-and-play soundbar that is easy to connect via USB, RCA, optical digital, and a mini stereo jack input. It also offers Bluetooth technology to make it a little fancy smart device. However, the lack of WiFi is surprising.
Pros
• Deep bass quality
• Rich connections
• Dolby Digital and DTS TruSurround decoding
• Clear and balanced sound

Cons
• No WiFi
• Lack of Atmos

3. Bose TV Speaker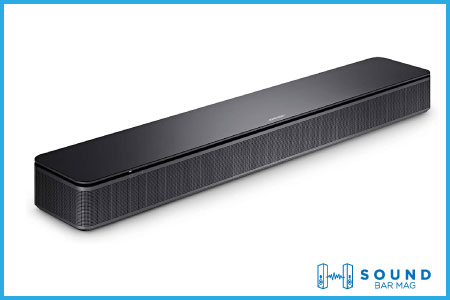 Hands down, this is the best soundbar for a record player and turntable for its affordable price, excellent sound reproduction capability, and wireless technology.
If you want to enjoy quality music under a tight budget, give it a shot, as it meets all the essential music listening requirements and provides anold-vibe cinematic experience with a record player.
Bose TV speakers are designed to upgrade the built-in speakers of TV, but it performs pretty well with other devices. The elegant profile looks adorable sitting under the TV or on any furniture, ultimately complements the home décor and throws good vibes.
The bar houses a pair of full-range drivers with dedicated tweeters that balance the sound before coming out. No matter what connection type you choose, the quality will remain intact and maintain consistency like a pro.
The 2-angled design also complements the audio delivery, but the built-in woofers turn the tables with deep and rich bass performance even at extreme levels without compressions.
The dialogue performance is decent and polished despite lacking a dedicated centre channel. On top of that, dialogue mode enhances the spoken word delivery until you understand it better to make the overall listening experience worth having.
Moving on, all the built-in functions, volume, and power on/off are easily managed with a handy remote control. Some random buttons do the specific job and save you time and hassle.
Therefore, a great soundbar checks the different requirement boxes, including affordable price tags, clear audio, elegant design, and rich bass.
Pros
• 2-angled design
• Dialogue mode
• Bluetooth streaming
• Sleek and portable design

Cons
• Lack of app support
• No advanced features

4. Polk Audio Signa S2 Soundbar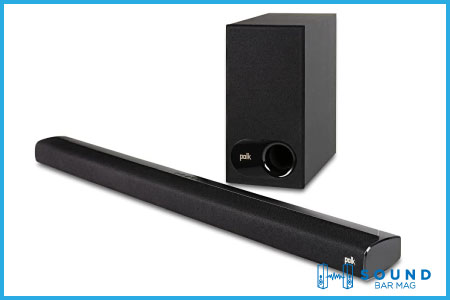 You wouldn't regret investing in the Polk Audio Signa S2, an entry-level soundbar featuring a 2.1 system configuration and a wireless subwoofer to turn your music streaming experience with record players and turntables.
It is designed to satisfy your music-listening needs while not being harsh during the setup and installation. The user interface is smooth, and the slim profile wouldn't take much time to mount or adjust on the furniture.
Also, connecting with other devices, including record players, are easy peasy with optical digital, HDMI, and AUX. The Bluetooth technology lets you get fancy and enjoy wireless music, TV streaming, podcast listening, and much more without cable clutters.
Despite not supporting Atmos or DTS, it performs pretty well with built-in speakers. It detects the sound nature and adjusts the volume, treble, bass, and tunes accordingly. We tested it with pop, jazz, and classical music, except for the low-frequency notes; it sounded incredible.
Besides, the loud volume with max power output and Dolby Digital decoding makes the killing combination, keeping the sound consistent while maximizing the clarity.
Therefore, it is a decent overall addition to your entertainment setup and makes you wonder about the existing TV speakers or turntables. It is also equipped with some EQ modes that automatically adjust the audio output according to the content and ambience, so you spend less time adjusting the built-in functions and enjoy more.
Pros
• DSP technology
• User-friendly
• Dolby Digital decoding
• Clear sound
• High-definition sound

5. Sonos Beam (Gen 2) Soundbar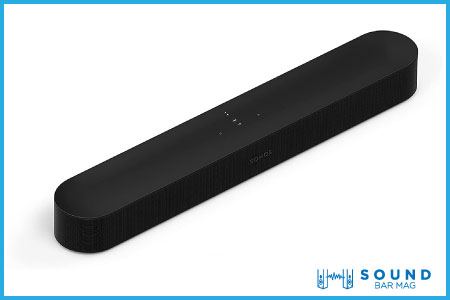 Who doesn't know about the Sonos soundbar?
Sonos is a name that has made its reputation high in a short time through its extensive soundbar product line, featuring impressive specs and high-resolution audio delivery despite the channel configuration and advanced technology.
Dolby Atmos format support is the value addition that ensures 3D sound delivery, making the sound hit you from different directions while maintaining quality.
The Sonos Beam (Gen 2) is a compact soundbar, so connecting with the record player and turntable should be a perfect consideration. The superior audio output and high midrange delivery make the sound more thrilling.
The top-notch dialogue delivery hardly lets you miss a single spoken word, making the overall listening experience more immersive. We tested it with a record player listening to old songs and enjoyed how every note hit on point while sounding better than random speakers.
Understanding and setting up the soundbar should not take more than two minutes. The built-in voice assistant helps with browsing, adjusting the audio elements, and finding the devices to connect.
Moreover, the built-in optimal speech enhancement function further emphasizes the audio, eventually making it the best soundbar for record players and turntables because they tend to play with soft voices.
Surprisingly, treble performs beyond expectations. Unlike other speakers, it gets insanely loud while balancing the tuning and upper and mid notes without any compressions.
However, the subwoofer couldn't perform with hi-fi music as it should. The bass wasn't deep like we listened to with other soundbars on the list. So, we call it the reasonable soundbar for regular average music streaming.
Pros
• Clear and rich sound with Atmos
• No distortions
• Decent stereo dynamics
• Speech enhancement function
• Voice control support

Cons
• The bass is not deep enough

Frequently Asked Questions (FAQs)
What is the best soundbar for a record player?
Boss TV soundbar can be a great choice to connect with a record player and enjoy crisp, loud, and well-balanced sound. It offers multiple inputs, dialogue enhancement mode, and deep bass performance with a max power output to enjoy acoustician your lungs.
What is the best soundbar for a turntable?
Sonos Beam (Gen 2) is a high-quality soundbar with an elegant profile, high stereo dynamics, and Atmos compatibility. With an easy setup and multiple wired connection options, it is ready to deliver refined music listening experience.
Is a soundbar good for a turntable?
Yes, a soundbar is a dedicated speaker; it will be powerful enough to handle the multiple-volume spectrum and perform better than any other speaker. It produces clear dialogues, so you will be less likely to miss anything.
Can you use a Bose soundbar with a turntable?
Yes, a soundbar with RCA or Aux input port will be compatible with connecting with a turntable, and the Boss soundbar fits right into the requirement.
Bottom Line
Soundbars are not only designed to upgrade TV speakers but can also help boost the sound quality of any audio-sensitive device. Connect one of these soundbars to your record player or turntables and enjoy the high-definition sound quality at max volume.
We have found the best soundbars for record players and turntables that are easy to set, produce max power output, and are affordable. It can take your music listening experience to the next level by only pairing it over a single cable.
Happy listening!
Mia Evelyn is a soundbar specialist and she love to test and review different soundbar brands. She shares her neutral and in-depth reviews through the Soundbar Mag.