It was quite an experience testing the LG S75Q soundbar, which is another powerful, bold, and valuable addition to the LG sound bar product line.
With the 3.1.2 channel LG Soundbar and wireless subwoofer, we assume it can take your music-listening or gaming experience to the next level with rich and dynamic sound performance.
Another surprising fact about the soundbar is if we compare it with the predecessor LG SP8YA, the S75Q takes it up a notch with its advanced features and enhanced performance.
So, if you're looking for a soundbar to enjoy a depth of home theater system, the LG SP75Q is definitely worth considering. Keep reading to learn more about the product.
LG S75Q 3.1.2 ch Soundbar with Dolby Atmos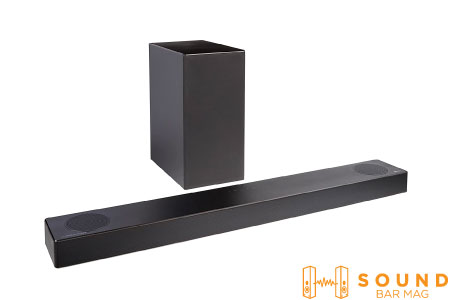 Unboxing the LG S75Q Soundbar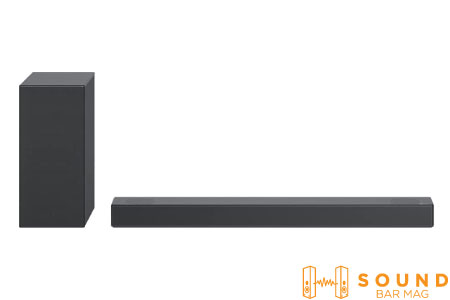 As we always say, unboxing the LG soundbar is an experience in itself. From the moment you open the sleek and sturdy packaging, you can tell that you're about to encounter a premium audio device.
And the S75Q soundbar shipment wasn't an exception. It came in a big box that holds a soundbar and other accessories with the necessary packaging to keep it safe.
As we removed the soundbar from the box, we noticed that it felt solid and well-built, with a satisfying weight that speaks to its quality. The wireless subwoofer is similarly impressive, with a compact and stylish design that belies its powerful sound.
The box's contents include an easy-to-follow setup guide, remote control, batteries, and all the necessary cables, including an HDMI and optical cable.
Size and Design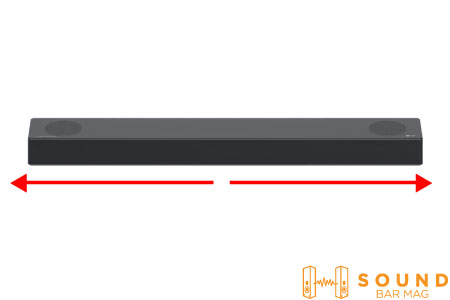 The LG S75Q soundbar is designed with both style and functionality in mind. Its slim and stylish profile makes it easy to integrate into any home entertainment decor setup, while its solid build quality ensures that it will stand the test of time.
The wireless subwoofer is similarly compact and stylish, with a minimalistic design in black that complements the soundbar perfectly. Its wireless connectivity lets you place it anywhere in your room without worrying about tangled cords or unsightly wires.
The soundbar and wireless subwoofer are a testament to LG's commitment to creating audio devices that are both aesthetically pleasing and functionally superior.
Channel System
The LG S75Q Soundbar is a powerhouse of an audio system like its predecessor SP8YA, featuring a 3.1.2 channel configuration that delivers an immersive and dynamic sound experience.
With three front speakers placed at right, left, and center, and two upward-firing speakers, the S75Q creates a three-dimensional soundstage that envelops you in a rich and detailed sound.
The side speakers expand the soundstage, and the center one isolates the dialogues and clears them for better understanding. It works great for movies, news, sports, music at extreme levels, and games.
The wireless subwoofer is the perfect complement to the soundbar, delivering deep and punchy bass that adds an extra layer of excitement to your favorite movies, music, and games.
Connectivity Options
The LG S75Q Soundbar offers several options to ensure you can easily connect the soundbar to other devices, including the home entertainment/theater system.
With built-in Bluetooth support, you can stream audio from your phone or other Bluetooth-enabled devices directly to the soundbar without any cables or wires.
On the other hand, the S75Q also features an HDMI and optical input for more traditional audio setups, allowing you to connect it directly to your TV or other audio devices.
In addition, the S75Q also features built-in Wi-Fi that lets you access the internet and stream audio from your favorite streaming services, such as Spotify or Pandora.
Control and Navigation
The soundbar offers several control and navigation options, making it easy to customize and optimize your audio experience.
It comes with a sleek remote that helps adjust the volume, change the input source, and access different sound modes, including the built-in Atmos technology.
In addition, the S75Q offers voice control capabilities through Google Assistant, allowing you to control the soundbar with simple voice commands.
This is particularly convenient when your hands are busy or when you're on the other side of the room. So, with multiple navigation sources, it gets you covered and becomes an incredible device if you're a party, movie night, and game lover.
Sound Performance
The LG S75Q Soundbar is a true powerhouse when we talk about its audio output and overall sound performance.
With its 3.1.2 channel configuration, wireless subwoofer, and impressive 380W power output, the S75Q delivers a bold, accurate, and immersive audio experience that will take your entertainment to an extreme level.
The S75Q features Dolby Atmos, which creates a three-dimensional soundstage that envelops you in sound from all directions. The upward-firing speakers in the soundbar add an extra layer of height and dimension, creating a truly immersive sound experience.
The wireless subwoofer provides deep and powerful bass, adding excitement to the bass-sensitive content and making your moment worth enjoying.
The S75Q also supports DTS, a high-quality audio codec that delivers clear and detailed sound. That ensures you get the best possible audio performance no matter what you're watching or listening to.
Pros
· Modern appearance
· Wireless subwoofer
· 380W power
· Dolby Atmos
· HDMI with Dolby Vision
· Bluetooth connection

Cons
· Some find it a little expensive

Bottom Line
Finally, the LG S75Q soundbar is a top-of-the-line soundbar in our list with an upgraded channel system and terrific sound performance that goes well with a diversity of content.
It adds life to boring parties and makes intense games more fun. It may sound a little expensive to some users, but every note coming out of this beast is worth every penny.
Mia Evelyn is a soundbar specialist and she love to test and review different soundbar brands. She shares her neutral and in-depth reviews through the Soundbar Mag.