Setting up a home theater calls for good quality and well-working speakers that promise long-term durability and reliability to the users. Contrary to this, having a soundbar instead is no less than a cherry on the cake. Both a 2.1 speaker and a soundbar are highly efficient in their functioning.

The melodious and rhythmic sound that soothes your ears due to the quality and design of the additional subwoofer of the speakers is tremendously effective. Hardly is there any match to that! On the other hand, the soundbars are worthy in the fact that they are compact and modest in their outlook.

But sometimes, you get confused between purchasing a soundbar vs. a 2.1 speaker. If such is the dilemma you face, then you are at the right place! We will be providing you with a handy and quick description of what works how and which of the two will better suit your need!
Soundbar VS 2.1 Speakers – Comparison
If you are confused between a 2.1 speaker and a soundbar to be placed in your home theater, then here you will be assisted in making the best decision accordingly.

Primarily, a 2.1 speaker is the first revolution in terms of speakers accounting for the fact that not only does it have two audio channels, a left, and a right, but it does also support an additional subwoofer that provides even more bass and depth to the sound.

On the other hand, soundbars are more expansive and slightly tall speakers that offer you a good range ideal for your small room or to be placed near your television or speakers.

Considering the primary factors that cause distinction between the two, below is the guide to help you in your journey of buying loudspeakers.
Size
Space is the most common and significant issue that is faced alike by most users. Accordingly, if you are tight on space and you want a sleek, smooth, and more miniature space-consuming device, you must go for having a soundbar.

In case of size is not an issue with you, try having a 2.1 speaker because, more or less, it is equipped with more features than a soundbar. For instance, you get to experience a wide bass and crisp audio more on a 2.1 speaker than a soundbar.
Purpose
Each device is built to serve certain specific purposes. A 2.1 speaker is primarily designed to be operated in a comparatively bigger space than a soundbar can work.

Moreover, a 2.1 speaker has an additional subwoofer or a soundbar included in its setup, thereby becoming more efficient of a device than a soundbar.

Though the audio quality offered by the 2.1 speakers is better than a soundbar, that does not mean that a soundbar compromises the user's speaker experience.
Cost
Having a device that matches your budget is like a mozart in disguise. As a user, you would prefer affordable and durable speakers for you. Regarding the device's reliability, both 2.1 speakers and soundbar are commendable.

Talking about the price, both the 2.1 speakers and the soundbar are the same in their cost. You can have any of these well-working devices between the price of $100 to $1000.
Apperance
Evidently, 2.1 speakers are huge and bulky, and having them would mean compromising the space in your home. They are easily visible, and this accounts for giving a glorying outlook to your home theater system.

Contrary to this, a soundbar is compact, sleekly designed, and an easily portable device. It is primarily meant for personal use. The audio quality offered by the soundbar is perfect for one to a few people's benefit.
Sound Quality
The reason that 2.1 speakers are already equipped with a soundbar, or a subwoofer undoubtedly provides the user with a better sound quality experience. The bass offered by 2.1 speakers is very prominent.

According to their size and purpose, soundbars have excellent sound quality. They transmit clear and crisp sound signals, thereby giving an enhanced experience to the user.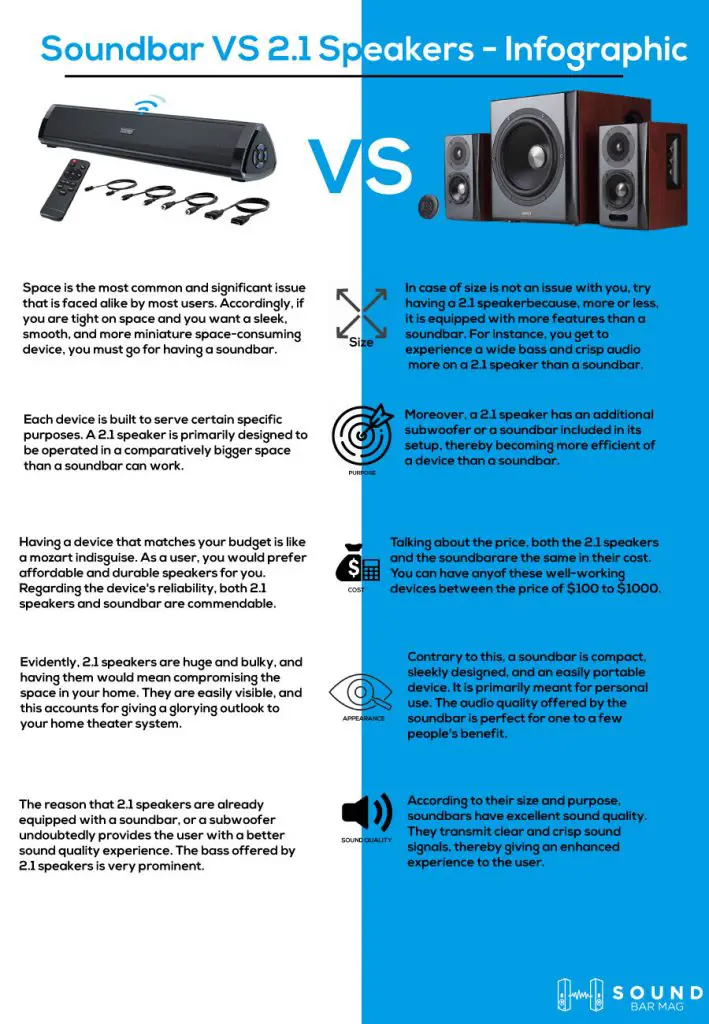 Conclusion
Depending upon your needs and preferences, you can make a clear decision of buying a 2.1 speaker or a soundbar. With enough understanding regarding both, it becomes easy for you to come to a conclusion.
Both the devices are smooth in their functioning and hardly does a user face any significant issue in operating the two speakers.
Mia Evelyn is a soundbar specialist and she love to test and review different soundbar brands. She shares her neutral and in-depth reviews through the Soundbar Mag.