Due to increased technological advances and the constant demand to make all electronic devices thinner, lighter, and sleeker, many televisions have adopted this modern design. However, the sound system suffers as a result of this modernization.
Sound systems and speakers in Television are generally the heaviest parts and, therefore, can hinder engineers from designing a slimmer and sleeker TV.
If you have a new TV or living room setup, you should consider investing in a pair of speakers. It takes a lot of effort, money, and time to purchase a new pair of speakers.
When it comes to adding to your home theatre system, there are some decent soundbars you can consider buying.
Soundbars such as the Sonos Beam and Bose Soundbar 500 are entry-level models from top speaker brands. Even though they are not the cheapest soundbars in Sonos' and Bose's line, they are still quite affordable.
Here we analyze the features and quality of these soundbars to help you decide which will be the best addition to your home.
Sonos Beam VS Bose Soundbar 500 Comparison Chart
| | | |
| --- | --- | --- |
| Model | Sonos Beam | Bose Soundbar 500 |
| Wall Mountable | Yes (mount is sold separately) | Yes (mount is sold separately) |
| Dimensions (W x H x D) | 25.6″ x 2.6″ x 4.0″ | 31.5″ x 1.7″ x 4.0″ |
| Weight | 6.2 lbs | 7 lbs |
| Remote Control | No | Yes |
| Speakers | 5 | 1 |
| Apple AirPlay 2 | Yes | Yes |
| Microphones | 5 | 8 |
| Wi-Fi | Yes | Yes |
| HDMI Port | 1 | 1 |
| Built-in Voice Assistant | Amazon Alexa, Google Assistant | Amazon Alexa, Google Assistant |
| Bluetooth | No | Yes |
| App | Sonos | Bose Music |
| ADAPTiQ Headset | No | Yes |
| Audio Decoder | Dolby Digital 5.1 ch, PCM Stereo | Dolby Digital 3.0 ch expandable to 5.1 ch |
| USB input | No | Yes |
| Audio Input | Optical (through an adapter for the HDMI ARC) | Optical, HDMI ARC |
| Year of Release | 2018 | 2018 |
| Colors | Black, White | Black |
Descriptive Comparison of Sonos Beam and Bose Soundbar 500
Lets compare both of the products in detail.
Design
The Sonos Beam and Bose Soundbar 500 look sleek, but their grilles are made from different materials. Despite having similar matte finishes and minimalist, elegant designs, the Sonos Beam and Bose Soundbar 500 differ in size and grille materials.
Sonos Beam is six inches shorter and almost an inch thicker than Soundbar 500. The Beam and the Soundbar 500 both feature grilles that match their bodies. However, the Beam has a cloth grille that extends around its frame, while the Soundbar 500 features a metal grille that extends to its side panels.
When used with a TV stand, the Sonos Beam can fit in between the legs of most TVs due to its smaller footprint. Both soundbars can be mounted, but you must purchase their mounts separately. Touch-capacitive controls are located on the top panels of both.
Sound Quality
It's impossible to choose between the two soundbars because both offer clear, crisp, dynamic sound, but the Bose Soundbar 500 comes out slightly ahead of the Sonos Beam.
With their built-in speakers, Slim TVs can't compete with the audio quality of a soundbar. They make viewing and gaming more enjoyable to match the beautiful picture of today's 4K televisions.
If you've ever used a soundbar, you'll never watch TV or play video games without it. The Sonos Beam's audio is crisp and clear, making it perfect for small and medium rooms.
Three passive radiators provide better bass, four full-range woofers, one tweeter, and five Class D amplifiers that work together to offer great dynamic sound and a wide soundstage.
You will hear Beam's best sound when listening to music or watching dialogue-heavy content. You'll have difficulty using the Beam for sound effects that demand deep bass, such as booms and explosions. Despite that, it still provides excellent sound value for the price.
You can pair the Beam with rear speakers and a subwoofer for an immersive full surround sound, but this can be expensive.
The Bose Soundbar 500 delivers slightly more full and detailed sound, featuring strong mids and trebles and punchy bass. The sound quality is very clear, even at higher volumes.
Its ADAPTiQ technology allows excellent audio to be heard from any viewing spot in the room. Just make sure you calibrate when you rearrange your furniture.
Combine your Bose Soundbar 500 with the Bose Bass Module 500 for even better audio to match your 4K videos.
Features
Sonos Beam has Speech Enhancement, while Bose Soundbar 500 features an ADAPTiQ system. Both soundbars offer limited EQ customization.
Another noteworthy aspect of both the Sonos Beam and Bose Soundbar 500, in addition to Alexa and Google Assistant, is their respective apps that let you adjust the equalizer settings to achieve the desired audio output.
Speech Enhancement is a feature that Sonos Beam has in its app that increases vocal clarity when decoding sounds are softer, such as when characters whisper in a movie.
Bose's ADAPTiQ calibration system takes it to the next level. You receive an ADAPTiQ headset with your Soundbar 500 purchase.
Put on your headset and choose five spots to sit when watching TV when using your new soundbar for the first time. As your Bose Soundbar 500 detects the sound quality from multiple locations in your room, it will enhance the sound for the best possible listening experience.
This is why you should calibrate your ADAPTiQ system again after rearranging the room. ADAPTiQ works only with iOS devices.
Setup and Control
With the Sonos Beam and the Bose Soundbar 500, you can control them using touch, apps, and voice commands, but the Beam does not have Bluetooth or a physical remote. Setting up these soundbars is straightforward.
By connecting the soundbar to your TV through the HDMI cable, you will be able to set up and configure settings through the Bose Music app or the Sonos app, depending on which one you are using.
Sonos has a highly intuitive and user-friendly app that is hard to beat. While the Sonos Beam and Soundbar 500 may be entry-level soundbars, they include smart features that improve the viewing experience.
Their built-in Google Assistant, Amazon Alexa, and Apple AirPlay 2 capabilities are ideal for smart home use.
Unlike conventional soundbars, these smart soundbars are equipped with microphones so that your voice assistant can easily hear you even while music is playing.
There are five far-field microphones on the Sonos Beam, while eight custom microphones are on the Soundbar 500.
Both devices have Wi-Fi connectivity so that you can stream music directly from them. Bluetooth and remote control are two features that the Bose Soundbar 500 has, but the Beam does not have.
Sonos only provides Wi-Fi connectivity, and its Remote Control is the Sonos app. Bose's app has better functionality than the remote despite having a physical remote control.
Price
I always start my search for a soundbar on Amazon, and I must admit that the price on the Sonos Beam right now is insane! They're asking $569 right now, but this thing was $399,99 when it was released initially.
In my opinion, the Bose Soundbar 500 was thrown to the curb fairly quickly. Eventually, Bose released their Smart Soundbar 700, which became their number one (though it has since been surpassed) soundbar.
Currently, you can purchase this product on Amazon for a little under $500. Bose Soundbar 500 retains its value at a relatively similar price (I'm sure) as it was first released. Excellent work!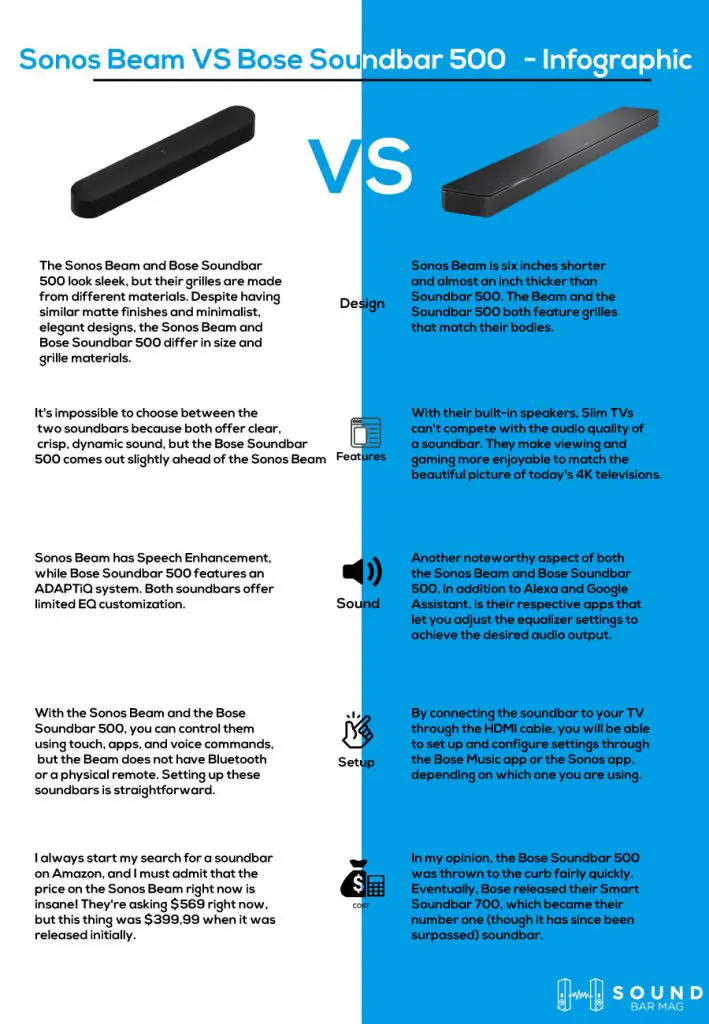 Frequently Asked Questions (FAQs)
Is Bose 500 better than Sonos Beam?
Compared to the Bose Soundbar 500, the Sonos Beam is a better soundbar. Sonos Beam has a wider soundstage, and it feels more immersive. Soundbars like the Sonos are more compact, louder, and have a more accurate stereo frequency response.
Is Sonos or Bose soundbar better?
Both products are almost similar in most parts, but in our opinion, bose has a slight edge over Sonos when it comes to audio quality. Bose has overall better surround sound resulting in better sound quality than Sonos. Bose 700 is designed to accentuate the decor of your room.
Has Bose Soundbar 500 been discontinued?
With their Soundbar 500, Bose proves they know a few things about crafting excellent sound. In addition to having a choice of voice assistants, it's also among the most straightforward TV speakers around – and one of the most worthy of comparison with soundbars. Unfortunately, it has also been discontinued.
Conclusion
Compared to the Bose Soundbar 500, the Sonos Beam offers better value overall. The Sonos Beam is the clear choice for multi-room audio, as the Sonos is impossible to beat in this department.
Sonos' user-friendly interface makes it easy to connect your soundbar with other speakers in your house.
Whether you want to enhance viewing in just one room or have it throughout your home, the Sonos Beam is a better value.
Despite not sounding as good as the Bose Soundbar 500, the Sonos Beam delivers crisp, clear sound that significantly improves audio quality.
Even as a more affordable entry-level soundbar, its sound quality, smart features, and ease of use will not disappoint you.