There is no doubt that Bose manufactures high-quality audio devices. With the creation of high-quality listening tools since 1964, they have made everything from personal items, like headphones, to larger entertainment systems, like soundbars.
As well as engineering innovation, they are big on sustainability and work culture. This is a very well-known brand and manufacturer of premium sound systems.
Soundbars 500 and 700 both fall under the premium category of Bose. The question is, are their performances worth their price tags? More importantly, which is the best choice?
You'll find all the details on this Bose Soundbar 500 vs. 700 comparisons.
Bose Soundbar 500 VS 700 Comparison Chart
Here is a quick comparison of both soundbars to help you decide on the best soundbar for your entertainment system.
| | | |
| --- | --- | --- |
| Feature | Bose Soundbar 500 | Bose Soundbar 700 |
| Dimensions | 1.75″ H x 31.5″ W x 4.0″ D | 2.25″ H x 38.5″ W x 4.25″ D |
| Weight | 7 lbs | 10.5 lbs |
| Remote Control | For soundbar | Universal Bluetooth remote |
| Wi-Fi Streaming | Yes | Yes |
| Ethernet port | Yes | Yes |
| Smartphone app | Yes | Yes |
| HDMI ARC / eARC | 1 input | 1 input |
| Channels | 3.0 | 3.0 |
| Optical audio cable | No | Yes |
| Built-in Alexa commands | Yes | Yes |
| Bluetooth | Yes | Yes |
| Built-in Google Assistant commands | Yes | Yes |
| HDMI cable | Yes | Yes |
| Optical port | Yes | Yes |
| Optical audio cable | No | Yes |
| Subwoofer | Separate purchase | Separate purchase |
| Discrete speakers | Separate purchase | Separate purchase |
| Built-in Chromecast | No | No |
| DTS | No | Yes |
| Dolby Digital | Yes | Yes |
| Dolby Atmos | No | No |
| DTS:X | No | No |
| Adaptiq Room Calibration | Value | Value |
| Colors | Black | Black, White |
Descriptive Comparison of Bose 700 and Bose 500
Without wasting our time lets discuss Bose Soundbar 700 and 500 features in detail.
Size
Bose Soundbar 700 has larger dimensions than Soundbar 500 despite their similar design. Soundbar 700 measures 38.5 inches long and 2.25 inches tall. Despite its size, it boasts a premium sound system.
This Bose soundbar is among the best on the market, and the sound is excellent. It feels comfortable in a large room or a home theatre but might feel too big in a small living room. Bose soundbars in this size deliver some of the best sounds. However, some might find it too bulky.
Soundbar 500 measures 31.5 inches long and 1.75 inches tall. This mid-range size is suitable for many different spaces and is about the size you want for a small to midsize room. This would look dwarfed in a large room, so it probably isn't the best choice if you have a huge home theatre. This site is just suitable for most people.
This is a perfect choice for those who are just starting in the world of high-quality sound but do not wish to splurge on the larger sound bars. In addition, you can add new components later without purchasing another soundbar.
There's not much difference between the 700 and the 500 in terms of depth, with the 700 having 4.25 inches and the 500 having 4 inches. Due to these differences, the Bose Soundbar 700 is also heavier, with 10.5 lbs.
Design
The 500 and 700 have similar, luxurious designs that exude a modern vibe. Designed with sleekness in mind, an aluminum grille surrounds both.
Bose's Soundbar 500 looks like a high-end speaker. However, there are some differences. The top of the Soundbar 700 is made of glass. However, the top of the 500 is a matte black finish that doesn't show fingerprints easily.
Ultimately, it comes down to personal preference. With the same upscale style and elegant lines as the rest of the collection, the Soundbar 700 looks great with any decor. There is, however, a higher likelihood of dirt and fingerprints appearing on the glass top of the 700. The soundbar comes with one cleaning cloth, but if you don't want to clean the top of it often, then the 500 might be a better option.
Both soundbars come with capacitive touch-sensitive buttons at the top, which you can use to control the built-in microphone and smart assistant.
Like most soundbars, the inputs are located on the back. Both the 500 and 700 support HDMI ARC and optical audio input.
We find the 500 a more practical choice, as cleaning off the glass top on the 700 can be bothersome, especially if you have children.
Sound Quality
Sound quality is the most critical factor in our Bose Soundbar 500 vs. 700 comparisons. The Bose Soundbar 700 presents a more immersive and enveloping high-end audio experience than the Soundbar 500, making sense since it comes with a more expensive price tag.
The speaker consists of four midrange drivers, including two on each side of the tweeter. Bose has also included two side drivers and three mid-range drivers in its Soundbar 500.
The latter factor might seem like an advantage over the 700, but it is overtaken by the PhaseGuide technology of the Bose Soundbar 700.
The PhaseGuide feature is exclusive to some Bose soundbars. With this technology, you can create surround sound, even without physical speakers. The technology combines timing, direction, and the physics behind how sound waves travel. Comparing the Bose 700 to the 500, we found that the 700 has a richer, better soundstage.
Additionally, the bass and vocals sound better, creating a better atmosphere during movies and TV shows.
Regarding the bass, the 700 provides deep and punchy low notes, although you might be able to improve them with a subwoofer. The Bose Soundbar 700 delivers exceptional sound quality in large rooms because of its broad soundstage.
Compared to this, the 500 can't match the sound quality of this Bose bar when placed in the same room.
Furthermore, the 500 is incompatible with DTS. It can decode Dolby Digital, whereas the 700 can decode both. 
However, the 500 isn't a terrible rig. In the same field as other soundbars, it's one of the strongest competitors. With well-balanced highs and mids, and resonant bass, it enhances the movie-watching experience.
It's just that when compared to the 700, the 500 does not achieve the same level of high-quality audio.
The 500 soundbar is a great choice if you prefer a soundbar for a smaller room and have a limited budget.
Setup & Connectivity
Many connection options are available with Bose's soundbars, unlike competing models like Sonos's Playbar. These two devices come with HDMI ARC, digital optical audio inputs, Ethernet, ADAQPTIQ inputs, and a USB port for service updates.
Wireless connectivity is also available through Wi-Fi, Bluetooth, and Apple Airplay 2. Furthermore, both soundbars are expandable systems, so they have additional ports for connecting bass modules or rear speakers. If you wish to add Bose speakers, consider the Bass Module 500 and the Surround Speakers 700.
Both soundbars are easy to set up. Connect your TV with either an HDMI or a digital optical cable, and download the Bose Music App. You can follow the steps on the app, but we recommend you don't skip the ADAPTIQ step.
One of Bose's proprietary functions is ADAPTIQ. It analyzes the acoustics and surfaces of a room to optimize the sound you hear. You, therefore, get sound that's tailored to your space, providing you with the best possible sound.
We are declaring the Bose 700 winner in this Bose 500 vs. Bose 700 comparison simply because some Soundbar 500 users report that only the HDMI cable is included with the Soundbar 500. Still, the digital optical audio cable is missing.
Controls
Each speaker has different remote controls, even though both speakers are set up essentially the same. With the 700, you'll receive a universal remote control with a more modern, upscale design.
You can even see which source is active via the keypad lights, whether your Blu-ray player, TV, or another. Especially for beginners, these lights were extremely useful. Sometimes, we press the wrong touch button or forget what we just set. Having keypad lights prevents that from occurring, making it great for beginners.
In contrast, the Soundbar 500 comes with a basic IR remote. Despite the fact that it isn't as fancy as the remote that came with the 700, it still works nicely. If you want the remote that comes with the 700, it is compatible with the 500 if you'd like to buy it separately.
Both soundbars can also be controlled with the Bose Music app. Your soundbars can also be connected wirelessly via Wi-Fi and Bluetooth.
In our opinion, it is pretty intuitive and easy to figure out for newcomers, so we have no complaints.
However, it is worth noting that Bose might offer another app – such as the Bose Connect and Bose Soundtouch – depending on the model of the soundbar. For some, this may seem not very clear. If you are the type who always loses your remote, the app is a great alternative.
Through the built-in microphones of most soundbars, Amazon Alexa and Google Assistant can take commands through the sound of your voice. The soundbars also have Alexa, Google Assistant, and Apple Airplay 2. When Bose first released the 700 and 500, they were not compatible with smart assistant features like Amazon Alexa or Google Assistant; however, they are now compatible thanks to recent updates.
Price
The Bose Soundbar 500 is a few hundred dollars cheaper than the Bose 700. A few factors come into play here, such as the number of mid-range drivers, universal remote, PhaseGuide technology, HDMI cable, digital optical cable, cleaning cloth, and overall sound quality.
Ultimately, it depends on what you need. Choose the 700 models if you have a large TV, a large room, and looking for the best sound quality.
The Soundbar 500, on the other hand, is an excellent choice if what you're looking for is a simpler model that provides excellent sound for small to medium-sized rooms. For those who don't need all the bells and whistles that higher-end speakers come with, the 500 is a good choice.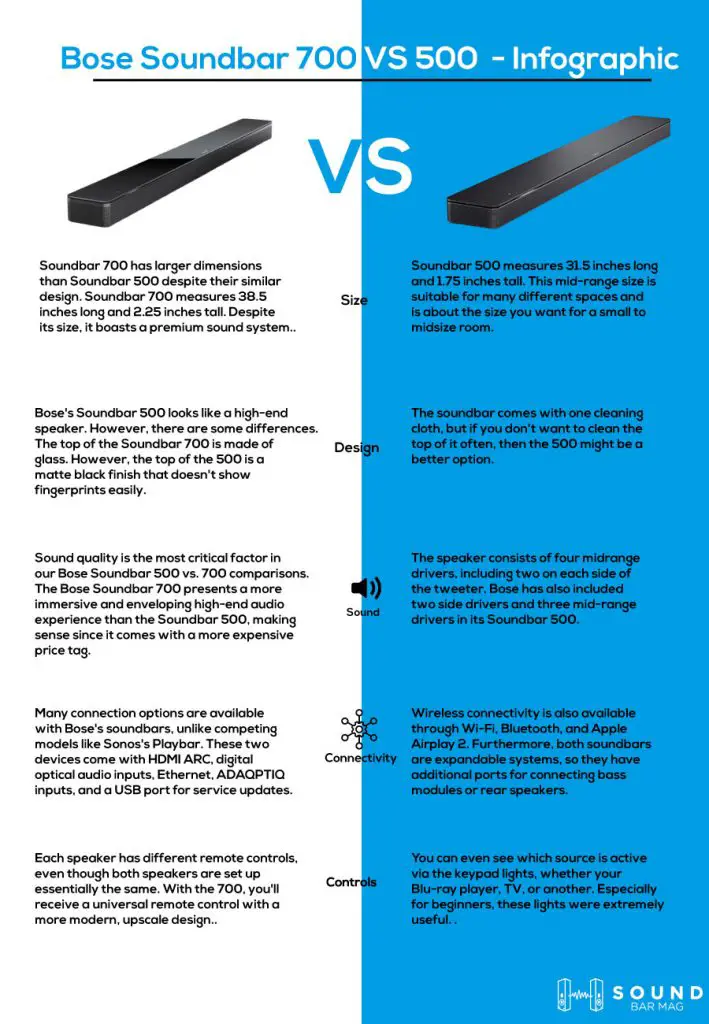 Frequently Asked Questions (FAQs)
What is the difference between the Bose Soundbar 500 and 700?
Smart Soundbar 700 is a superior soundbar to Bose Soundbar 500. With the 700, audio quality is better, it gets louder, and there is less compression at maximum volume. The 700 can also support more audio formats and is slightly more durable. The 700 can also support more audio formats and is somewhat more durable.
Has Bose Soundbar 500 been discontinued?
The Bose Soundbar 500 is an excellent example of Bose's expertise in building high-quality sound systems. Smart and simple, this TV speaker offers a choice of voice assistants and is among the best soundbars on the market. The speaker, unfortunately, has been discontinued.
Does Bose make good soundbars?
Speakers made by Bose are among the best in the music industry. In addition to advanced engineering and producing psychoacoustic sound, they are among the most popular and reliable brands. Overall, the build, features, flexibility, and audio quality are impressive and likable. Despite this, some users do not like the sound of a Bose system.
How to connect both the gaming console and TV to Bose 700 soundbar?
As the Bose 700 soundbar has only one HDMI port, you have no other choice but to connect it to your TV. To connect gaming consoles or other devices, connect them to your TV.
Conclusion
The Bose Soundbar 700 won in our comparison of the 500 and 700 models. With DTS, Dolby Digital, and PhaseGuide technology, it offers a superb sound experience. The device also features a universal remote, voice assistant built-in, ADAPTIQ, and a wide range of connectivity options.
Overall, Bose is a top manufacturer of high-quality sound products. The 700 will be ideal if you're in the market for a high-end soundbar.
Some may disagree, but it's worth the additional cost for the extras. The price difference between the 500 and the 700 is significant, depending on your needs and budget.
For those who don't want to upgrade, the Bose Soundbar 500 is an excellent choice. It also tends to stay cleaner, which is always a bonus. If you wish to start small and upgrade later, you can do so.
Mia Evelyn is a soundbar specialist and she love to test and review different soundbar brands. She shares her neutral and in-depth reviews through the Soundbar Mag.