With many audio options offered in the market, finding a good quality soundbar best suited for a person's home theater system can be very challenging. In this article, we'll be evaluating two of Bose's best premium equipment, the Soundtouch 300, and Soundtouch 130. 
We have gathered the information for consumers who are planning to buy soundbars but are confused as to which one is better for them in terms of features as well as in terms of budget. 
Bose Soundtouch 130 VS 300 [Comparison]
In terms of sound quality, Bose Soundtouch 130 provides a flexible sound performance. It is very clear in its sound, and its sound quality does not scatter if played on full sound. It is a small and compact soundbar and can be moved from one place to another very easily. 
It has four HDMI inputs for providing a good experience to its users and it comes with flex mount technology. It automatically customizes its sound to the room size of the consumer.
On the other hand, Bose Soundtouch 300 provides a phenomenal sound quality. It comes with HDMI connectivity and has a 4K passthrough. It automatically adapted audio room calibration. It comes with Bluetooth and WiFi connectivity. It is compatible with voice assistance technology and supports Alexa devices. Its body has a premium glass finish and metal grille. 
Features of Bose Soundtouch 130 & 300
Lets discuss all the major terms of both products in detail.
Design
The design and visual comparison between Bose Soundtouch 130 vs 300 is a very tough battle. Both the speakers have a long sleek black design that can be easily set up and put together on tabletops. 
The Soundtouch 130 soundbar is made up of nearly twelve inches along with a subwoofer. While Soundtouch 300 is an exceptional/out-of-the-box soundbar with a slim and glass finish profile. It is merely two inches tall, imposing its space-saving quality. As per people's choice, Bose Soundtouch 300 is considered to be better in terms of design. 
Sound Quality
One of the most important and difficult l parts of the Bose Soundtouch 300 vs 130 feature review that we gathered was the sound quality differentiation. Although both the two sound systems have an in-built audio calibration feature, our research on sound tests revealed that both soundbars provide a different feel when it comes to listening to music in a memento or in a zone.
Bose Soundtouch 130 has guides that are two-phased and it produces a virtual surround audio effect, while Soundtouch 300 produces a detailed bass sound through its QuietPort technology.
Bose Soundtouch 130 has a fully-equipped feature with six drivers and two-phase guide radiators tailored and emphasizing the customized listening experience. 
Bose Soundtouch 300 has the advantage of advanced and upgraded technology, but people prefer the quality of Bose Soundtouch 130 to be better between the Bose Soundtouch 300 and 130 by a slight margin. 
Channels
Both, the Soundtouch 300 and Soundtouch 130 soundbars offer the typical 2.1 channel configurations containing the left and right audio output. Along with a good-quality subwoofer, a person's sound system can upgrade to a 5.1 channel integration surround sound format.
Unlike Bose Soundtouch 300 which has a separate wireless subwoofer, Bose Soundtouch 130 already includes a subwoofer in its home theater package. Despite this, people still find that Bose Soundtouch 300 generates a profound bass sound effect that provides a full-on surround audio experience to its listeners. 
Connectivity of the Bose Soundtouch 130 and 300
Both systems, Bose Soundtouch 300 and Soundtouch 130 provide connectivity to wireless technologies such as WiFi and Bluetooth, Soundtouch 300 is one step forward with its NFC data transfer feature. On the other hand, both the models can control their functions via the Soundtouch app and can be synced perfectly with other Soundtouch products to play media from different audio sources.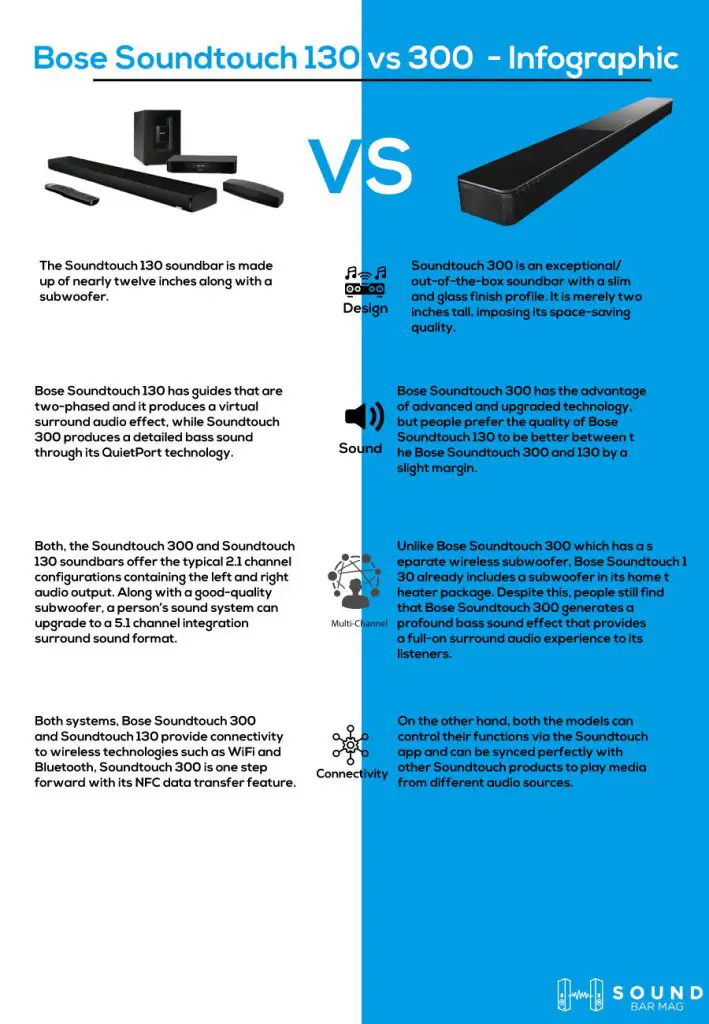 Conclusion
Our information and reports found that Bose Soundtouch 300 is a better sound system Between Bose Soundtouch 300 and Bose Soundtouch 130 after evaluating all the features and qualities offered by both the devices. 
Despite the very close similarity between the two top-tier audio packages, Souchtouch 300 has emerged as the better device mainly because of its HDCP 2.2 compliant feature that allows 4K video content to integrate seamlessly into new entertainment settings. 
Along with its less space-consuming design and QuietPort Technology suited for any modern home, its ample network options ensure a limitless audio quality experience for its listeners.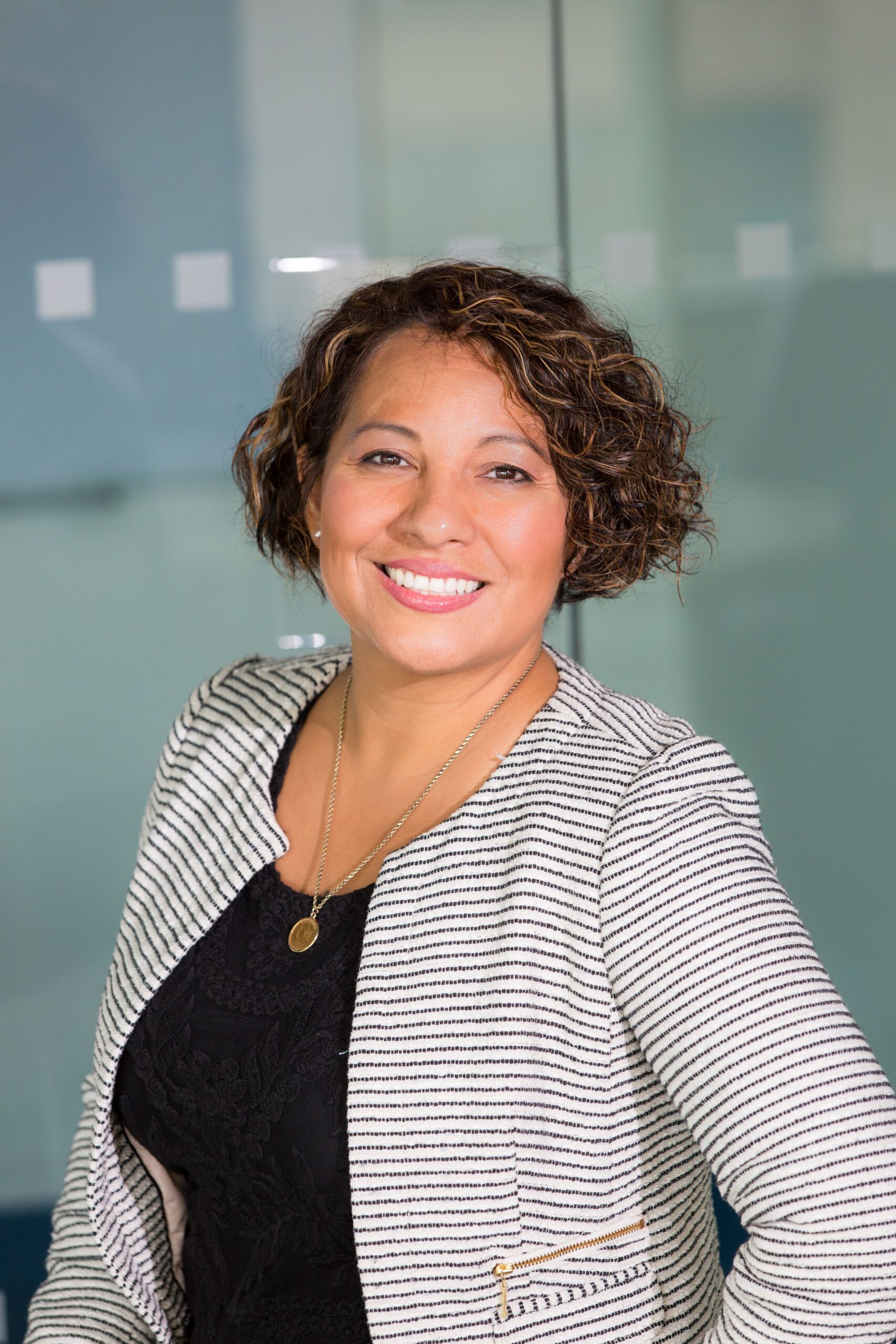 Mia Evelyn is a soundbar specialist and she love to test and review different soundbar brands. She shares her neutral and in-depth reviews through the Soundbar Mag.