Audio music equipment manufacturer Sonos is one of the most renowned brands in the industry. They offer a wide variety of premium speakers that will help you enjoy listening to music to the fullest extent. Installing a home theater system or sound system in your home will require you to use different kinds of speakers throughout the room to fill with excellent and perfect sound.
Moreover, your home theater system will need specialized speakers that match your television to deliver a world-class entertainment experience.
Therefore, Sonos Beam vs. Playbase makes sense.
Sonos Beam and Sonos Playbase are two excellent speakers designed to pair or sync with televisions.
When it comes to technology, there is no 'one-size-fits-all' solution. When looking for the 'best,' you need to know what will work best for you. Does design matter to you? Do you prioritize sound? The latest features? Cost? We'll break them down to choose which speaker is best for you!
With our detailed comparison of the Sonos Beam vs. the Sonos Playbase, you will be able to make an informed choice.
Sonos Beam VS Playbase Comparison Chart
| | | |
| --- | --- | --- |
| Model | Sonos Beam | Sonos Playbase |
| Weight | 6.2 lbs | 18.85 lbs |
| Dimensions | 25.6″ x 2.6″ x 4.0″ | 28.35″ x 2.28″ x 14.96″ |
| Speakers | 5 | 10 |
| Drivers | 1 tweeter, 4 woofers | 10 speakers |
| Amplifiers | 5 Class-D digital amplifiers | 10 Class-D amplifiers |
| Microphones | 5 | No |
| Connectivity | Ethernet, WiFi, Apple Airplay, HDMI, optical cable | Ethernet, WiFi, Apple Airplay, optical cable |
| Built-in Voice Assistant | Amazon Alexa, Google Assistant | Optional |
| WiFi | Yes | Yes |
| App | Yes | Yes |
| Wall Mountable | Yes (mount is sold separately) | No |
| Remote Control | Yes | Yes |
| Bluetooth | No | Yes |
| USB Input | No | No |
| Audio Input | Optical (through an adapter for the HDMI ARC) | Optical |
| Apple Airplay 2 | Yes | Yes |
| Subwoofer Size | No Subwoofer | No Subwoofer |
| HDMI Port | 1 | No |
| Dolby Digital | Yes | Yes |
| Dolby Atmos | No | No |
| Audio Decoder | Dolby Digital, PCM Stereo | Dolby Digital, PCM Stereo |
| Audio Return Channel | Yes | No |
| Interface | Touch controls for volume, play/pause, previous/next track, & mute mic, LED indicator, Voice command (with Alexa) | Touch controls for volume, play/pause, previous/next track, LED indicator |
| Year of Release | 2018 | 2017 |
| Colors | Black, White | Black, White |
| Price | | |
Sonos Beam VS Playbase Descriptive Comparison
Now, I'll discuss some features of both Sonos Beam and Playbase in detail to find out which speaker will be suitable for you.
Design and Size
The Sonos Beam and the Playbase are pretty different in size, but they look elegant, sleek, and simple. Both the Playbase and the Sonos Beam have sleek, minimalist designs and are available in both black and white.
The Playbase has a larger design than the Beam, but the height is shorter when it comes to the surface area. Playbase requires more space to place, but it can slide into tighter spaces.
Sonos Beam is more compact than Playbase and takes up less space than it but is a bit thicker.
The Beam is approximately three inches shorter and slimmer than the Playbase in terms of size and shape. It only takes up 4 inches on your TV stand for Beam, while Playbase requires at least 14 inches. Playbase is a sound base designed to hold TVs up to 75 pounds, while both can fit between the legs of most televisions.
You should only get the Playbase if you do not intend to mount your wireless speaker. Playbase comes with a metal grille with 43,000 holes, while the Beam comes with a cloth grille that wraps around the frame. Each of them has a top panel with touch-sensitive controls.
Both devices are available in black or white to match your interiors, but the tan indicator light on the Sonos Beam lets you know the settings without looking at your TV.
Sound Quality
In terms of clarity, power, and immersive sound, both Beam and Playbase deliver outstanding results, but the Sonos Playbase has better audio overall.
The Sonos Beam is as powerful as Playbase, and it can deliver high-definition sound. The Playbase and Beam deliver the same high-quality audio that Sonos has become known for, but the Playbase has an advantage in terms of its size. Due to its compact form factor, Sonos Beam carries fewer sound drivers than Playbase.
The Playbase's bass is deeper and more powerful, with ten amplified drivers for more power. Sonos Playbase was explicitly designed to optimize all content, and the Sonos Beam will not be able to match the Playbase's capabilities with regard to audio strength. Furthermore, Oscar-winning sound engineers have tuned the Sonos Beam to enhance dialogue so that you can hear each word clearly.
Set up and Control
There are touch and app controls on the Sonos Beam and Playbase, but only the Beam has an integrated smart voice assistant. The setup of the Sonos Beam and Playbase is effortless, as Sonos has one of the most user-friendly and intuitive interfaces among wireless speakers. Connect the Sonos app to your TV using the provided cable, plug in the soundbar or base, and then follow the instructions on the app. It is important to note that the Playbase can only be connected via optical while the Beam can be connected via HDMI ARC (Audio Return Channel).
The top of the panels of both devices feature responsive touch-capacitive controls for essential operation, but neither comes with physical remote control. Everything else is controlled through the app.
Those who own Apple devices can also control them with AirPlay 2. Its built-in voice assistants make the Beam superior to the Playbase. Five far-field microphones are integrated into the Beam smart soundbar so your voice can still be detected even if the room is not quiet. Using the Sonos Playbase, you will have to integrate a smart home assistant separate from the Sonos Playbase to use voice controls.
Both feature WiFi connectivity to stream music right from your device. Using the Sonos app, either the Beam or the Playbase can be configured with other wireless Sonos speakers for a fuller surround sound experience.
Subwoofer
The Playbase and Beam do not have a built-in or external subwoofer, so you must purchase one separately. However, both the Sonos Playbase and Sonos Beam feature interfaces allow them to connect to wireless subwoofers and other components, just like these other top soundbars.
Subwoofers add reverberation to sounds and provide a thumping bass that fills the room. Regardless of the size of your room, low tones are crucial to a full spectrum listening experience.
Connections
Our experts have selected Sonos Beam versus Playbase as a major winner in the category of connections. With the Sonos Beam, you've got an easy setup that uses HDMI ARC to set it up quickly and efficiently while supporting the highest quality content.
There are no HDMI ARC ports on the Sonos Playbase. It allows digital content, but the quality is nowhere near that of HDMI ARC. Both video and audio frequencies can be supported by HDMI ARC, which is an improvement over regular HDMI.
Bluetooth LE
The Bluetooth connection on Sonos Beam is better than Playbase. The Bluetooth LE specification, also known as Bluetooth Low Energy or simply BLE, was introduced by Sonos. Bluetooth lets you stream content wirelessly from external devices.
Sonos Beam Bluetooth also saves power due to its Low Energy feature. In terms of connectivity, the Sonos Playbase and the Sonos are both equipped with Bluetooth but not with LE.
Both devices offer WiFi capabilities, enabling you to connect them to other components of Sonos for a complete home theater system.
Voice Control
With Amazon Alexa built-in, the Sonos Beam provides voice control for convenience. It does not require an external device, and you can use its essential functions without purchasing an external device.
The Sonos Playbase does not support Alexa, but it supports Siri and Apple Airplay 2. Both Sonos Playbase and Sonos Beam can be controlled with the Sonos app, but only Sonos Beam can be controlled via voice control.
Some Other Features
Both speakers have almost the same technology and essential features. Both give you the option to adjust the EQ settings resulting in automatic audio calibration to your room. Also, both have speech enhancement features and true play tuning.
After setting up your wireless speaker, do a true play tuning to get an optimal audio output for your room.
If you have an iOS device, then with the help of this device, the true play feature will optimize the audio after detecting any sound bouncing off of your furniture and room walls. Therefore, you will experience high-quality sound in your viewing area.
On the Sonos app, by adjusting the EQ, you can fine-tune the audio to your choice and get the desired output. The Sonos app also has a sound enhancement feature that enhances vocal clarity and allows you to hear softer sounds, such as dialogues when characters whisper to each other.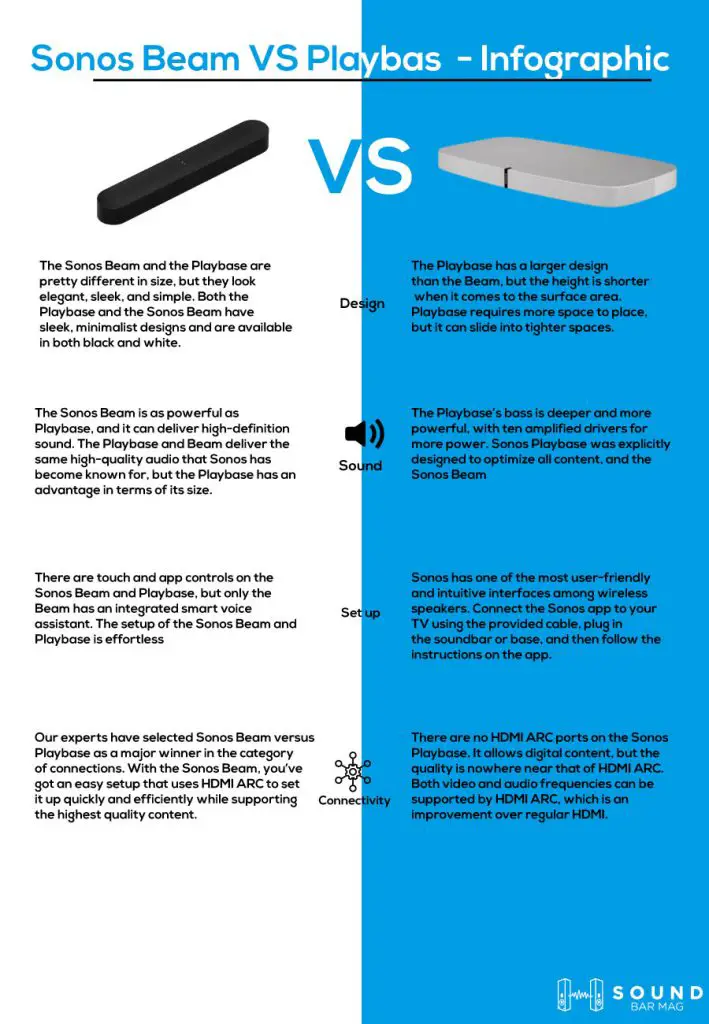 Frequently Asked Questions (FAQs)
Which is better, the Playbase or Playbar?
Playbar reproduces basslines perfectly without distorting. The Playbar provides a bit better audio quality than the Playbase. Despite Sonos' statement that the two should sound similar, many buyers have expressed dissatisfaction with this claim. I think the Playbar is well worth its price, even though the cost can be a bit staggering at first.
Did Sonos discontinue the Playbase?
The Sonos Playbase has now been discontinued, but when it was launched, Sonos' take on the soundbase (a soundbar that goes under your TV stand) was an impressive product.
Is Playbase better than Beam?
Playbar, if you can find them, is recommended for large rooms, and Playbase remains the best option in some specific setups; however, for most people and most rooms, Beam is the best Sonos soundbar solution.
What is the benefit of the speech enhancement feature in Sonos sound systems?
A majority of speakers can play a wide variety of sound effects. This feature enhances the clarity of dialogues, which results in very clear background sound effects so each word can be heard clearly.
Sonos Playbase: Is it worth the money?
You can enhance your TV's sound with the brilliantly crafted Sonos Playbase. This top-tier standalone speaker has excellent sound quality and plenty of basses. It can be configured as a 5.1 system if you add additional Sonos speakers and a subwoofer.
Is Sonos no longer selling the Playbase?
To focus on Arc and Beam, Music By Sonos is phasing out the Playbase speaker, which was intended to fit underneath some TVs. Despite its price of $800, the Arc is $100 more expensive than the Playbar, but Sonos claims it sets the bar higher for soundbars.
Conclusion
Based on our review of the Sonos Beam and Sonos Playbase, we concluded that the Sonos Beam offers the best value. It has won in just about every category above and delivers high-quality sound and convenience to viewers. Sonos Beam offers convenient functions like voice control, so it can almost operate on its own!
Oscar-winning sound engineers have customized the design to be much smaller than the Playbase. You can also create a multi-room streaming system based on the Sonos Beam if you want more in-depth sound at any time.
So, Sonos Beam offers better value and more features than Sonos Playbase.